A Pandora bracelet is a very fashionable type of charm bracelet that can be personalized for you, and can be made up from a wide range of breads and charms. Pandora jewellery is very popular with brides the world over, and can also make wonderful gifts for bridesmaids, maids of honour, or the mothers of the bride and groom.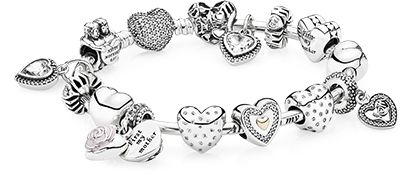 What is so special about Pandora beads?
Pandora beads are available in a range of exquisite designs and a number of materials including sterling silver, oxidised silver, gold, glass, and wood. They can be combined with gold or silver charms to create a personal story wheel bracelet that highlights key events and achievements in the life of the wearer. Each Pandora bracelet is unique as it is designed by you at the time of purchase.
For brides, there are numerous Pandora beads and charms designed with weddings in mind. These include the Pandora heart charm, the gold love Pandora bead, and the Pandora wedding cake charm. Pandora bracelets can be combined with coordinating earrings, rings, and necklaces to achieve a stunning bridal look, and each part of the jewellery set contributes to the bride's story.
Pandora bracelets have various features that add to their high quality:
When the bracelet clasp is closed it looks like a Pandora bead, giving a seamless effect
Pandora beads are screwed onto the bracelet for security; when the clasp is undone the beads can not fall off
The Pandora bracelet is divided into three sections by fixed beads which allows even spacing of the beads around the bracelet
Where can I buy Pandora beads?
Pandora beads are sold through a network of retailers around the world, and visiting a retailer yourself is generally the best way to ensure you get a Pandora bracelet that fits perfectly. There is an online bracelet builder and a wish list tool, both found on the official Pandora website, where you can show friends or family what you would like if they are buying Pandora jewellery as a present for you.
If you are not trying on the bracelet at a retailer, you can measure your wrist with a tape measure to find out what size you need. Just make sure you insert a finger between your wrist and the tape measure to allow room for beads and charms. The bracelets are available in sizes 17, 18, 19, 20, 21 and 23 cm, and chains are measured from end to end including the clasp.
Various other manufacturers produce bracelets and beads similar to Pandora jewellery, and often these are cheaper to buy. However, trying to combine an existing Pandora bracelet with non Pandora beads and charms doesn't always work as they may not fit together, and the original bracelet may become damaged.
How do I know my Pandora beads are genuine?
Most items of Pandora jewellery, including beads and charms, are marked with a signature. It consists of the letters ALE, followed by 925ss on silver jewellery and 585 on gold jewellery.