Among the many countries commemorating Kate and Wills' big day on a stamp is New Zealand, which today released these gorgeous Royal Wedding stamps.
They're based on couple's official engagement portraits and had to be signed off by the Queen!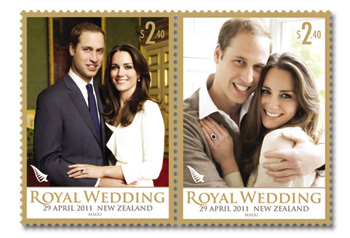 "Her Majesty conveyed that she likes the designs very much, which is gratifying," NZ Post Stamps and Collectibles general manager Ivor Masters told stuff.co.nz.
"There is always tremendous interest in royal-themed issues. We expect there to be a heavy demand here and overseas."
New Zealand's last round of royal wedding stamps featured Will's parents, Prince Charles and Princess Diana, who married three decades ago in 1981.
"It is remarkable 30 years later the appetite and interest in royal weddings is undiminished."
Will and Kate will tied the knot at Westminster Abbey in London on April 29, 2011.