The 1950s and 60s were the golden era of Hollywood and the memories of its starlets still shine brightly to this day. Modern brides continue to emulate the style and pizazz of these queens of the silver screen- the hollywood brides.
Although they were not the perfect marriage role models, with four of these five style icons having more than one wedding (we all know Elizabeth Taylor wins hands-down in that category!), we can still ooh and aah at what they pulled together for their wedding days.
Audrey Hepburn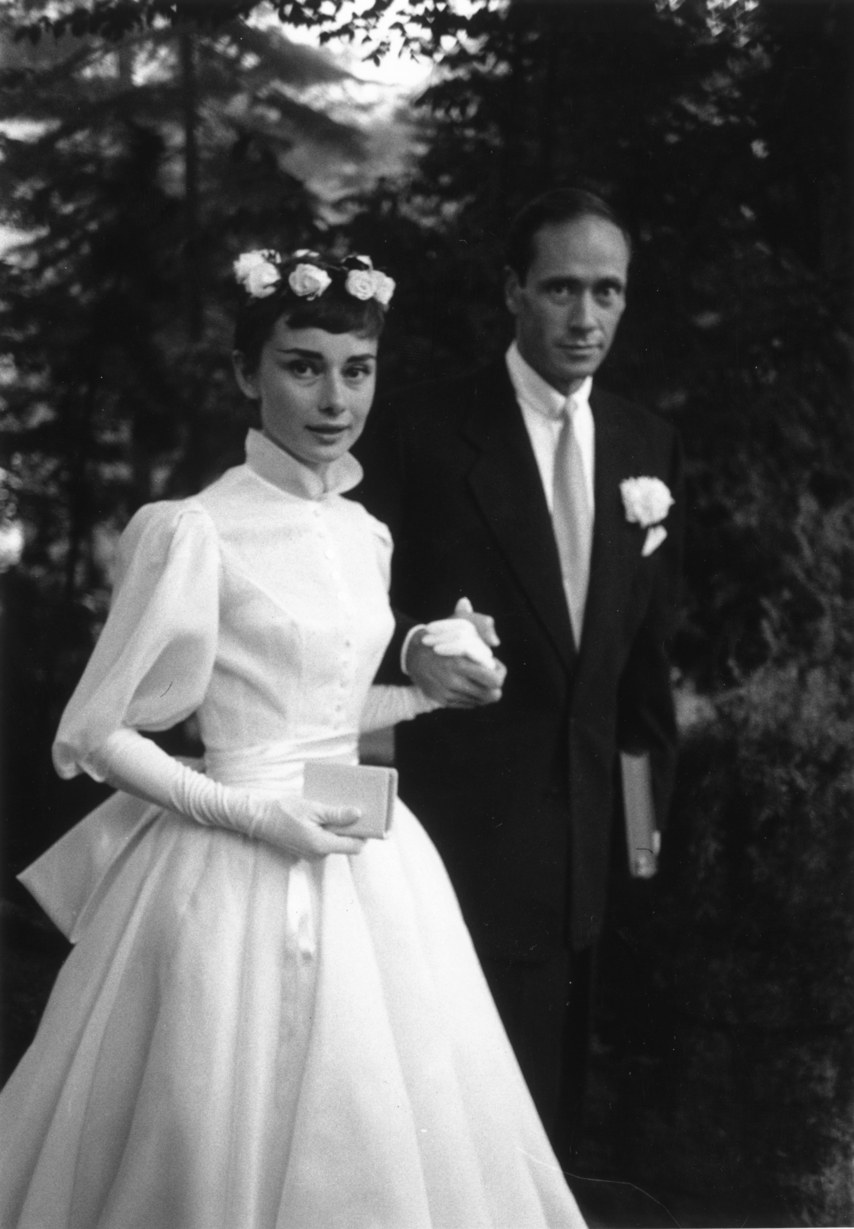 When you picture Audrey Hepburn, you immediately picture her dressed in a black gown with a diamond tiara perched atop a delicate bun.
This classic elegance and minimalism were a feature in both of Audrey's weddings, the first of which was to Mel Ferrer in 1954.
She wore a gorgeous Pierre Balmain tea-length flared dress with a satin sash, ballgown sleeves, and a high Peter Pan collar paired with elbow-length gloves. The floral garland with white roses completed the ensemble. This is arguably the most iconic dress of all of the hollywood brides of this era.
They were married in Burgenstock, Switzerland with a ceremony that has been described as "magical". They had a child together, Sean Ferrer.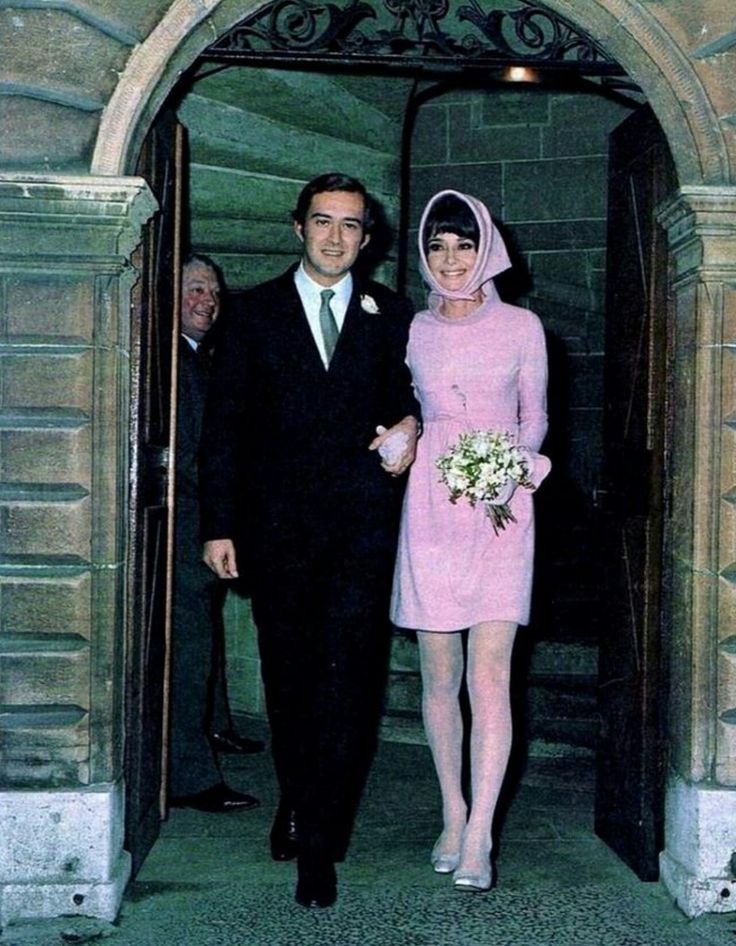 Things were toned down in all areas for Audrey's second wedding, which was held in a town hall in Switzerland.
Audrey wore a Hubert de Givenchy long-sleeved mini dress with a funnel neck and she teamed the pale ballet pink dress and matching headscarf with white tights, ballet flats, and gloves. Not your typical gown- but unique and very different from the other hollywood brides.
Grace Kelly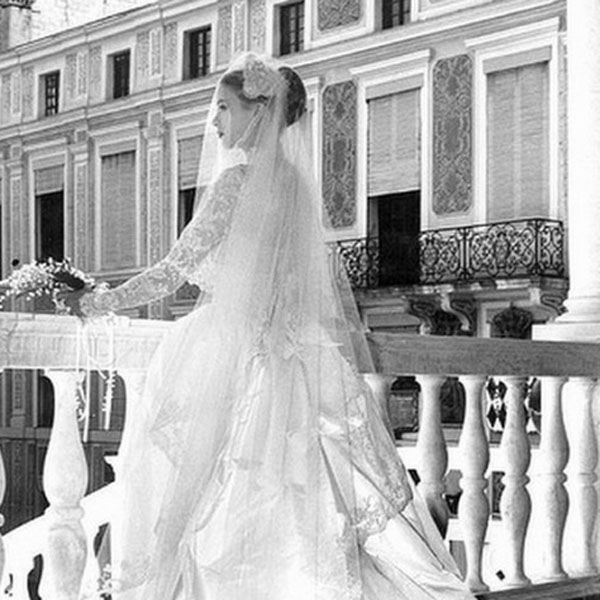 As we saw when Kate Middleton married Prince Charles and Australia's own Mary Donaldson married Crown Prince Frederick, there is nothing at all small about a royal wedding.
And although Grace Kelly married
Prince Rainier
61 years ago, their wedding was no exception.
The Palace of Monaco underwent extensive redecorating and repainting for the ceremony and Grace was greeted by more than 20,000 people, who lined the streets to welcome her to Monaco before the wedding.
After meeting at the Cannes Film Festival and getting engaged eight months later, the couple held what was dubbed at the time as "the wedding of the century".
As is customary in Monaco, they held a short civil ceremony on the Palace Throne Room of Monaco followed by a reception attended by 3,000 citizens. The next day, they held a ceremony at Saint Nicholas Cathedral in Monaco in front of 700 distinguished guests, which was said to have been watched by more than 30 million people on live TV.
Grace's stunning gown, which was designed by Helen Rose, took three dozen seamstresses six weeks to create and was made with 125-year-old vintage Brussels lace, tulle, and silk taffeta.
Its iconic volume was created by the fact that Grace was, in fact, wearing three dresses, with a sheer lace bodice underneath another strapless dress made of silk crepe.
Marilyn Monroe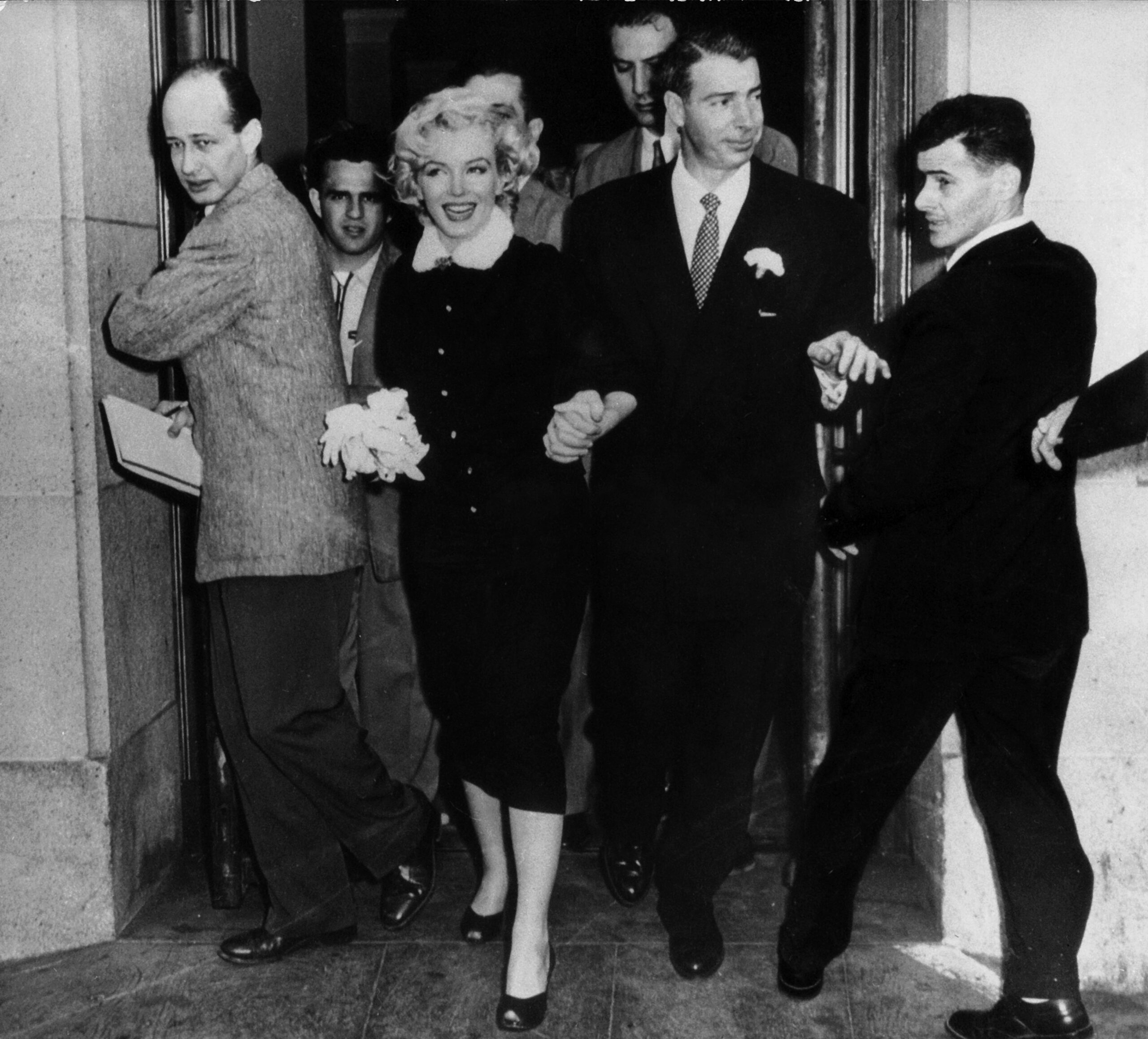 Two of Marilyn Monroe's weddings were high profile, but you may not know Norma Jeane was married at the age of 16 to a young man named Jim Dougherty in 1942. The then brunette wore a traditional floor-length A-line dress with long sheer sleeves and a ruffled neckline.
After finding her place firmly in the spotlight, she married baseball legend, Joe DiMaggio. Despite her bombshell status, Marilyn dressed in a demure dark brown suit with a white fur collar. The outfit perfectly suited their low-key San Francisco City Hall ceremony.
Well, it was low-key until reporters caught wind of their wedding location! They divorced after 276 days.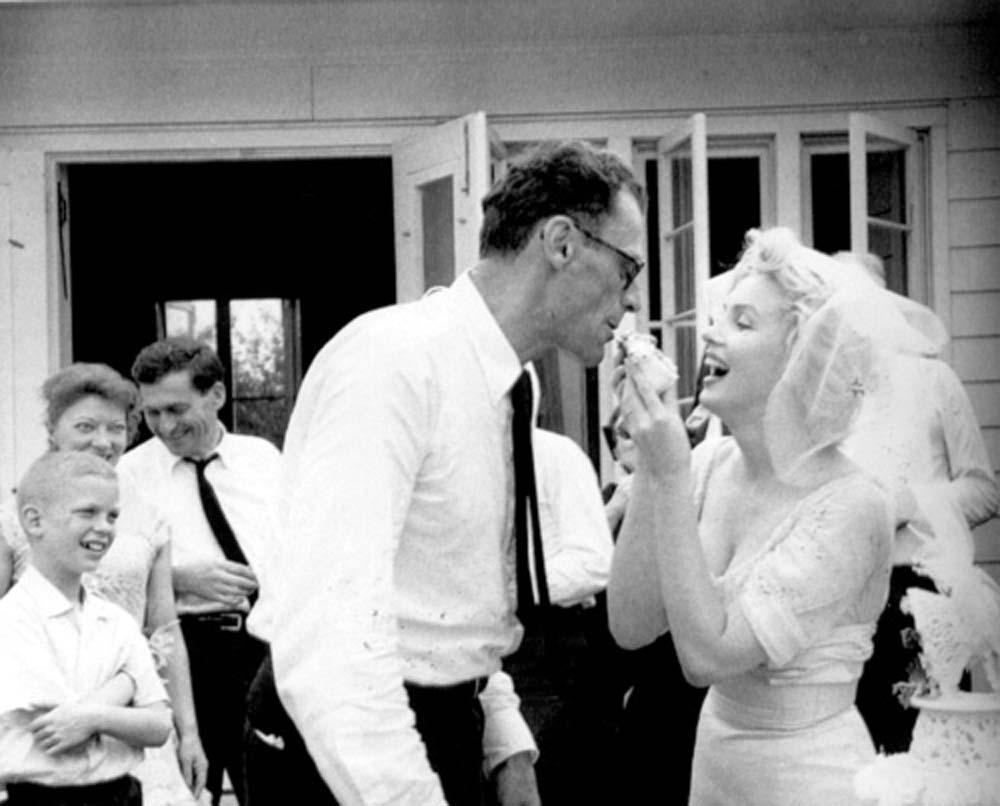 For her last walk down the aisle, she ventured back to the traditional for her bridal fashion, but it was still quintessential Marilyn – flirty and sexy.
She wore a mid-length sheath dress with an empire waist and ruched bust, essentially accentuating all of her curves. She accessorised this with a chin-length veil attached to a pillbox hat to embody the iconic 50s wedding look.
Julie Andrews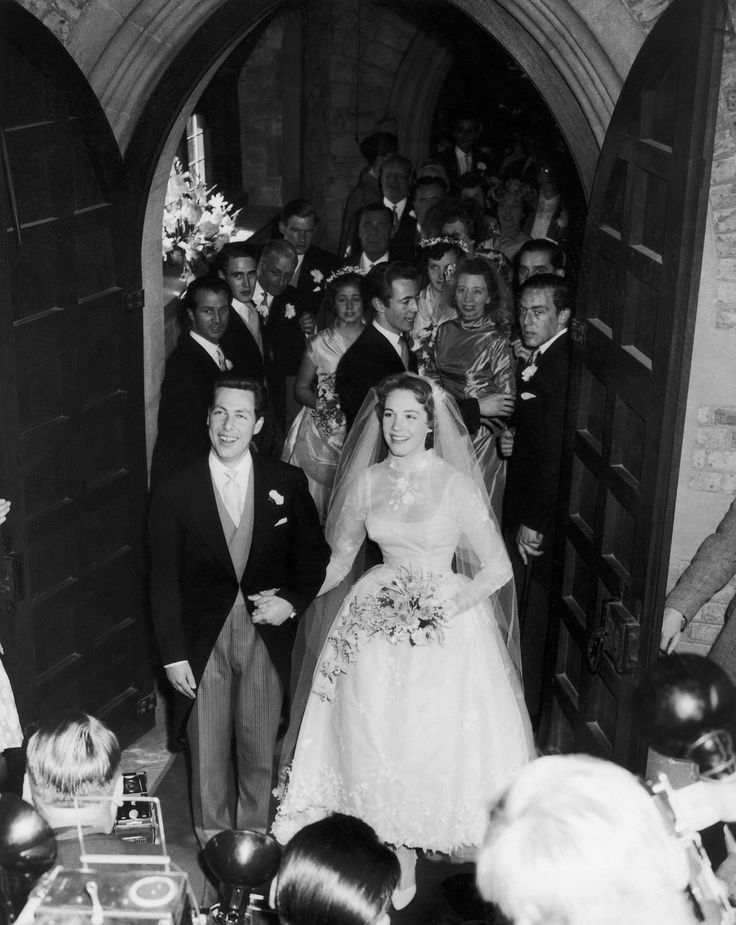 The woman who brought Mary Poppins and The Sounds of Music to life and into the hearts of generations walked down the aisle twice, the first time with set designer Tony Walton.
They were married in Weybridge, Surrey in a traditional church wedding.
Julie wore an A-line 7/8th length dress with sheer high neck and long sleeves accentuated with floral embroidery and a veil that flowed down to the hem of her dress.
While there is an abundance of photos on the internet of Julie's first wedding, there are absolutely none of her second marriage to Blake Edwards, whom she shared a 41-year union with before he passed away in 2010.
Elizabeth Taylor
A darling of the silver screen, Elizabeth Taylor quickly became a wedding expert, marrying four times throughout the 1950s and a total of eight times throughout her lifetime.
She was just 18 years old when she married Paris and Nicky Hilton's great-uncle Conrad in front of 700 guests. Elizabeth's gown was very on trend with 1950s fashion, featuring a sheer high neckline with embroidery and a long veil.
Her gown was designed by Helen Rose, the same talented seamstress who designed Grace Kelly's wedding dress. Elizabeth's marriage to Conrad lasted 12 months.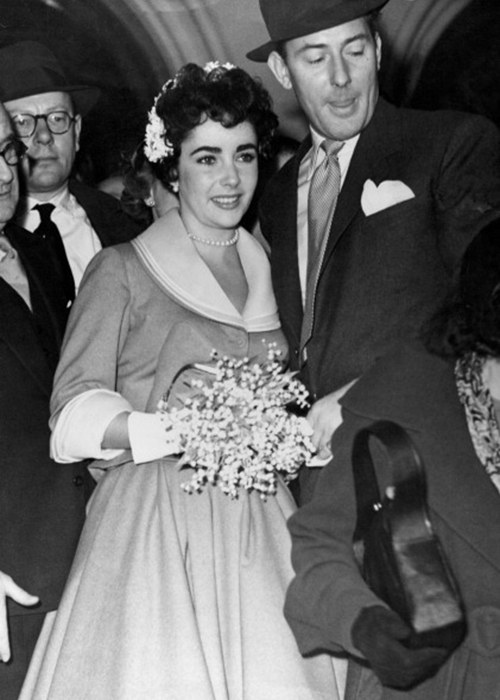 Two years after her first marriage, Liz married Michael Wilding, who was 20 years her senior.
Helen Rose designed a modest flared suit that featured a white collar, sleeve caps and white gloves for the wedding, which was held in Spain. The veil was replaced with a simple, yet elegant, floral headpiece for the hollywood bride.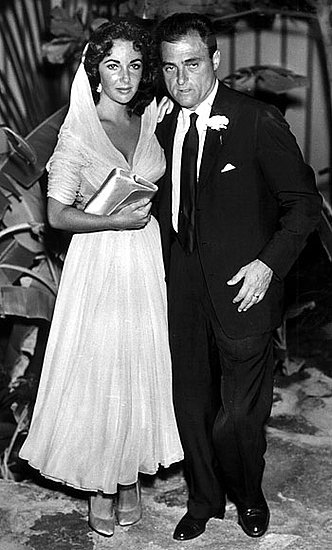 Liz called her third husband, film producer Michael Todd, one of the "great loves" of her life. They were married in Acapulco, Mexico and Liz donned a very different look on her wedding day, with her silk organza gown featuring a dramatic hood.
Sadly, Liz was widowed one years later when Michael dies in a private jet crash.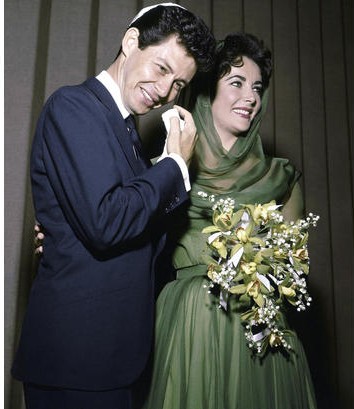 Next up, Michael Todd's best friend (and the husband of Liz's maid of honour at her previous wedding), became her third husband.
Liz married Eddie Fisher in a synagogue in Las Vegas and Liz once again donned a hooded wedding dress, but this time chose an emerald green gown with sheer long sleeves. Not the kind of dress we have come to expect of Liz- but the most unique of all of these hollywood brides!