It's time to rock your curls! Curly hair is so gorgeous yet so challenging and we know that. And when it's time to think about bridal hairstyles, many brides choose to play it safe by ironing their hair and taming the curls the most they can, and that's ok too! But if you are going for a natural look that embraces your beautiful hair the way it is, we have some ideas for you. Keep on reading to find wedding hairstyles for curly-haired brides.
As our curly readers might know, curly hair reacts differently than straight hair under many circumstances. Whether it is rain, humidity, cold, sun or heat, the curls have a mind of their own. But with the help of a good hair stylist (and some forecast research prior to the wedding) you could pull off an amazing hairstyle that shows your natural hair.
Medium length combover with bridal hair comb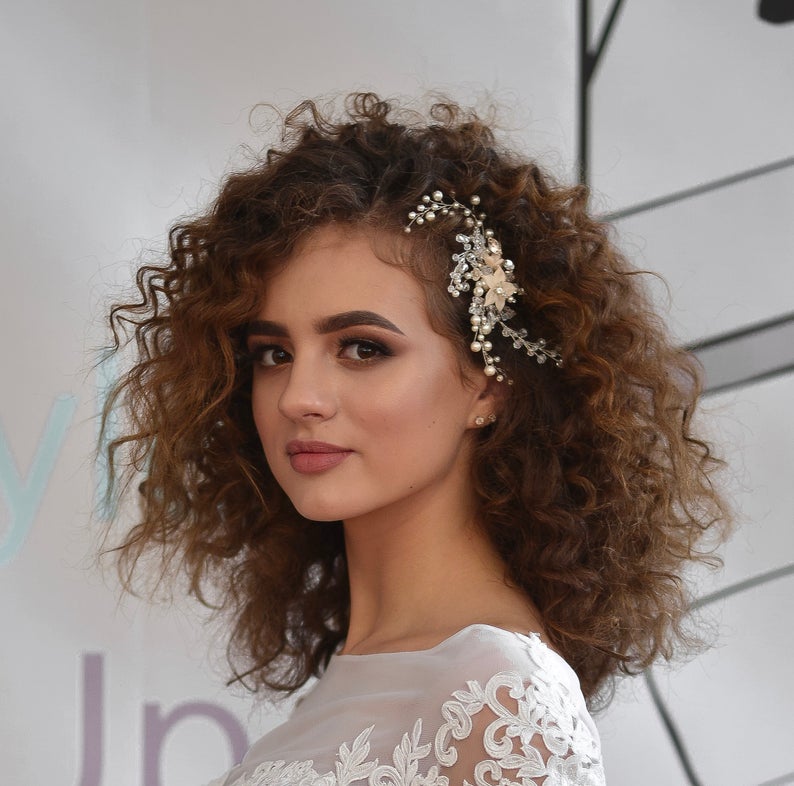 If you have medium length hair, a side-part combover that lands right at the shoulder, could be a lovely style for you. Your hair will look less heavy with no curls weighed down by gravity. Looking bouncy and fresh!
Extra-long V-cut with a bridal headpiece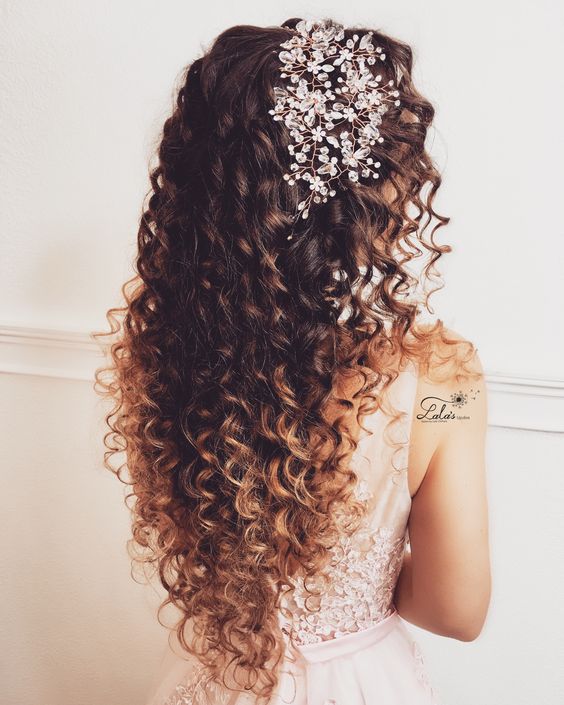 Do you love your extra-long curls? They look natural and free! Long curls have the tendency to frizz, but with the right hair products you could keep it together for many hours. Add some bling with a crystal headpiece and ta-da!
Low bun with loose curls and flowers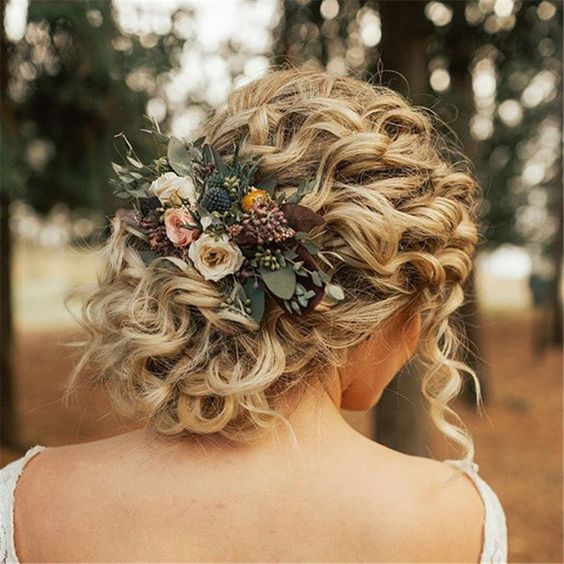 Another style for long-length curls is a relaxed and low up-do. This loose style looks super romantic and feminine and could match perfectly with a spring wedding. Add your choice of flowers to look even more beautiful.
Loose boho braid with bridal clips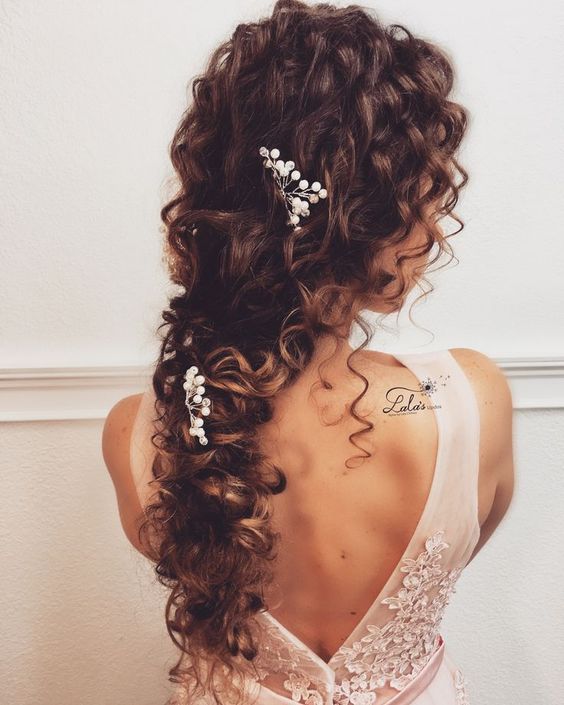 Let your hair relax with this bohemian loose braid with lots of texture and character. Simple and snazzy! And for the final touch, add your choice of bridal clips or hair accessories. This look could be your go-to for a garden or winery wedding.
Romantic pinned up-do with floral headpiece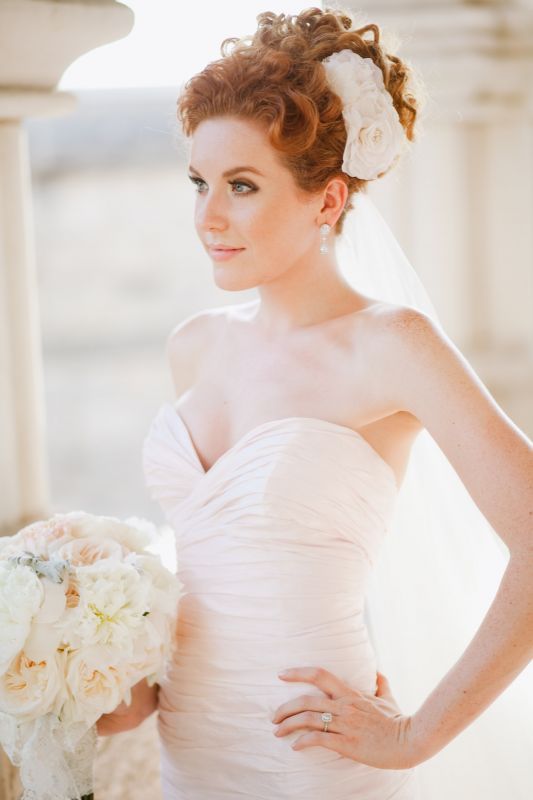 Do you have short hair? A pinned up-do could be your perfect match! Super romantic and classy. A great choice for a classic, elegant or romantic wedding style. To complete this hairstyle you can add a floral headpiece and your veil at the back.
Natural side up-do with headpiece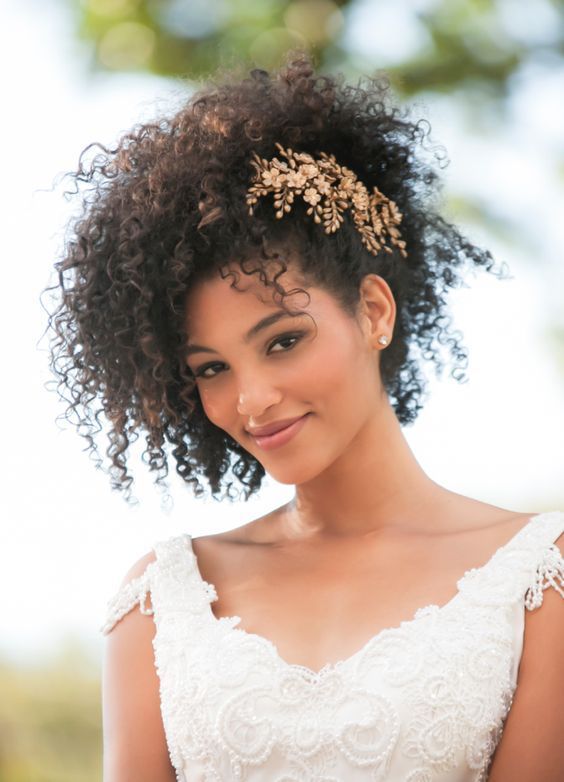 Another perfect option for short curly hair! This lovely style will show your perfect locks while keeping it secure on the front. Easy to maintain through the night and by having just half of your hair out, reduces volume. Add a bridal headpiece, flowers or even a cage veil! Choose the option that goes with your wedding style and rock your curls.