If there's one occasion for a woman to take the spotlight, it's her wedding day. In fact we think ALL brides should look and feel like an A-list celebrity. Part of this is making an effort to bring a little glamour into every part of the big day. Here are some ideas to get you started.
Choose a showstopping dress
The crucial part of enjoying the glamour is to start with just the right dress as the focal point of your preparations. Look at celebrity wedding gowns and designer collections for inspiration and think about plenty of embellishments to really add that allure. The ultimate effect you're going for should be nothing short of showstopping.
Indulge in a champagne tower
A glamorous bride knows it's all about the details, so look for special touches that will make a huge impact. One of the best examples of this is a champagne tower. They are a relatively simple set-up, as it's all about how you position the glasses, but the sight of sparkling bubbles cascading though them will be sure to entrance your guests big-time.
[ew-supplier-carousel]
Have Hollywood-style hair and make-up
This idea, much like choosing a great gown, is all about making sure you look and feel your best. And one of the easiest ways to do this is to hire a professional make-up artist and hairdresser. As experts in style, they have everything down pat, from how to hide blemishes to the right hair for your face shape. If you can afford the investment, it's definitely worth doing.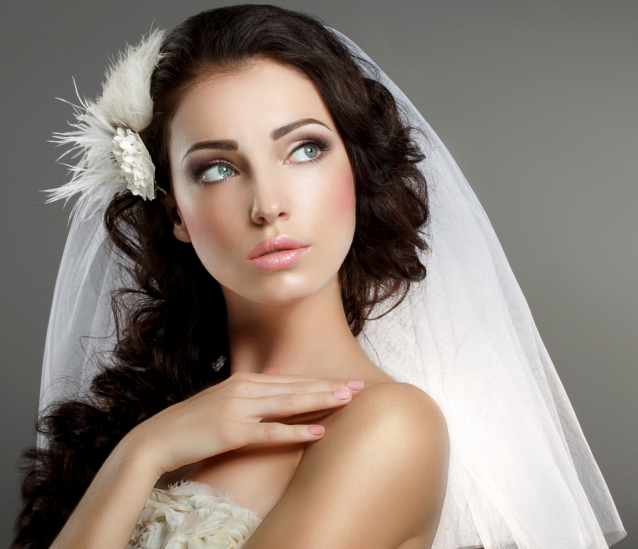 Toast with golden bubbly
There's probably going to be a lot of toasts at the reception, many of them dedicated to the glamorous bride. So why not look to really stand out from the crowd and serve your guests champagne with real gold flakes. They look stunning as they dance among the bubbles and guarantee that little bit of wow factor during the official part of proceedings.
Look for a grand venue
True glamour is about making an impact. So you'll need just the right backdrop to follow through the mood. You could look for grand hotel ballrooms, gorgeous gardens or stately homes, but don't feel too discouraged if that kind of venue is outside your budget. With clever lighting and some opulent decorations, any reception can feel like a million dollars.
Add some glam to your bouquet
Another easy way to up the oh-la-la is to dress up the bridal bouquet, or give it a little twist with bling. Brooch bouquets and similar are all the rage, and they can incorporate everything from crystals, feathers and diamantés to pieces of jewellery or even some lush blooms. It's basically an excuse to have a touch of concentrated glamour in your arms.
Showcase the sparkle
Diamonds are a girl's best friend, and part of the reason is their gorgeous sparkles, so go crazy and use them everywhere from your jewellery and tiara to your decor. They won't all be the real thing, of course, but crystals and diamantés can help embellish your wedding invitations, your centrepieces, your head table and more.
Travel in style
A glamorous bride is one who travels in style, so factor this in when choosing your transport. You might opt for a celebrity-style stretch limousine, or a carefully restored convertible car. Even an old-fashioned vintage London taxi has great appeal – it's all about making the most of that dramatic moment when you arrive at the church. And again when you leave it as a newlywed.
It's all about the shoes
Ah yes, the shoes. The subject of that age-old dilemma about style versus comfort. We say you should go for both. Have flats for the dancing if you want them, but until then think dazzling heels to perfectly peek out from under your gown. Even if you can't afford a pair of red-soled Louboutins, shoes with sequins, diamantes or even a bold splash of colour are in huge supply.
Image: The Paris Photographer
Lay down a red carpet
Another way to inject some pizzazz is to arrange a literal red carpet at your reception venue to make both you, and your guests', arrival a little bit special. You could even have some 'paparazzi' – perhaps hired from a local art college – to snap everyone's photo as they walk along. These could then be shared as great keepsakes of the big day.
Implement a black tie dress code
As a final touch, if you want your wedding day to be the epitome of glamour and style, then you might want to ask your guests to adhere to a black tie dress code. With all of your friends and relatives decked out in tuxedos and evening gowns to honour your vows, you truly will feel like the glamorous bride you knew you could be.