You don't need to have kids to be familiar with Elsa, Princess of Arendelle from the 2013 box office smash, Frozen. You don't even have to be a kid to want to walk down the isle in a Frozen-inspired Disney wedding dress.
Here are 15 gowns we're confident we'd find hiding inside Elsa's wardrobe:
1. All-weather ready
For those with cryokinetic powers capable of producing ice, frost and snow on cue, a full-length hooded coat should protect you from your own frosty powers.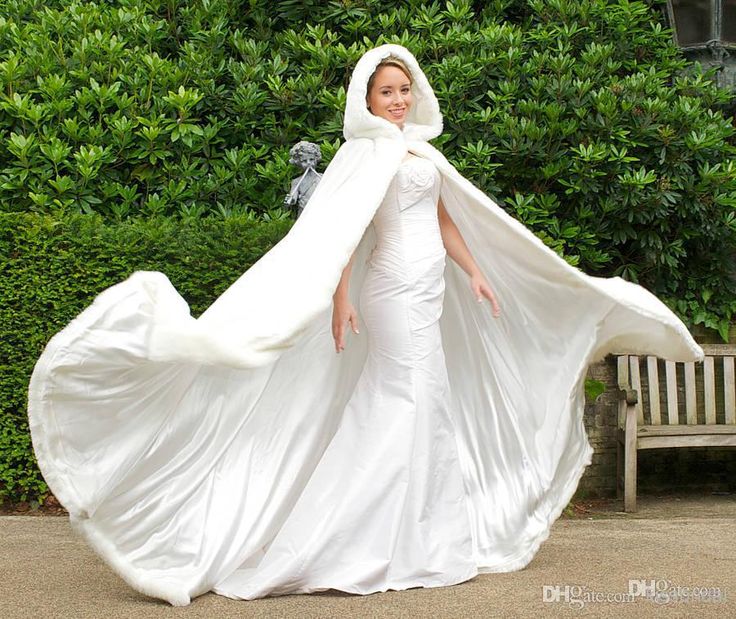 2. Ice Queen
Dubai-based, Filipino designer Michael Cinco grew up on the island of Samar fantasising about dressing Hollywood sweethearts like Grace Kelly and Audrey Hepburn. Thankfully, he chased that dream, and is now creating Swarovski crystal embellished beauties like this.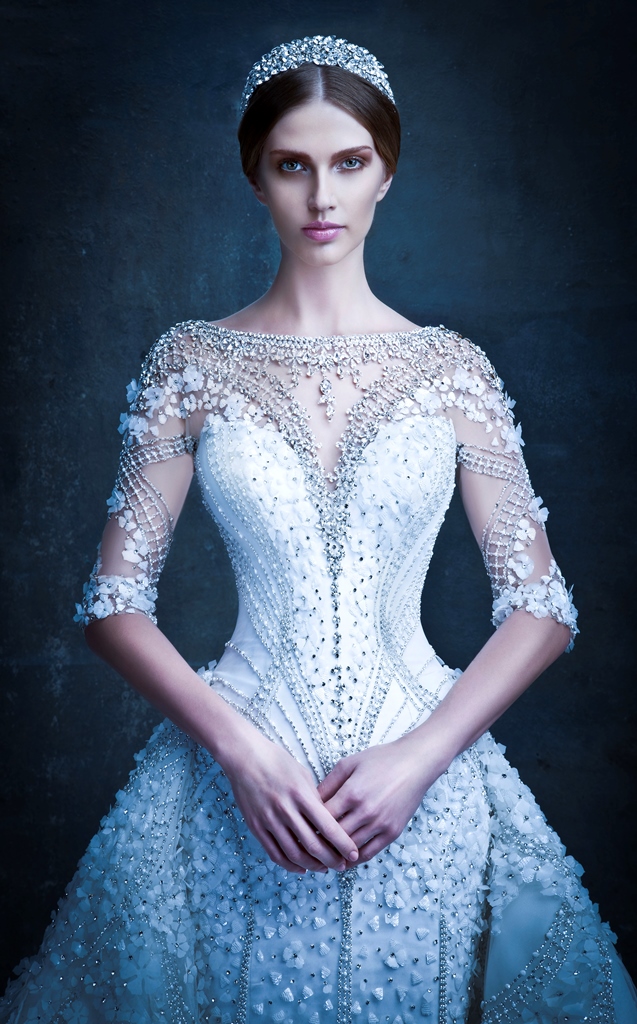 [ew-supplier-carousel]
3. California dreaming
This dreamy, embroidered lace and chiffon semi-fitted bodice with deep v-back is balanced by long sleeves and A-line skirt with 3ft train. An investment of $2,565.79AU is required to get it all the way from sunny California.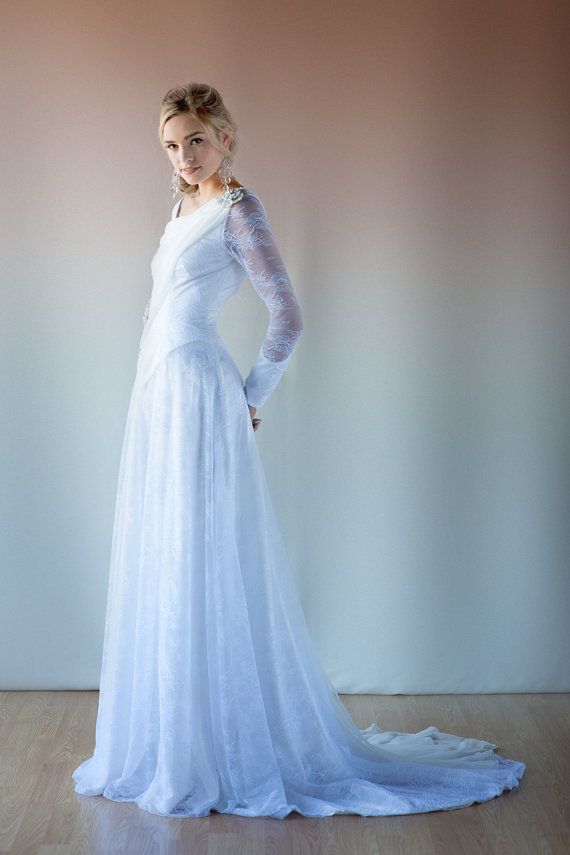 4. Royalty
This ice blue, floor-length gown just needs a tiara and a cape to complete the Disney princess dress code.
Source:
PRLOG
5. Icy receptions
Why stop at the dress when you can have a Frozen-inspired wedding reception, like this bride who took a trip to Utah's Midway Ice Castles in a crisp, white, lace-sleeved number.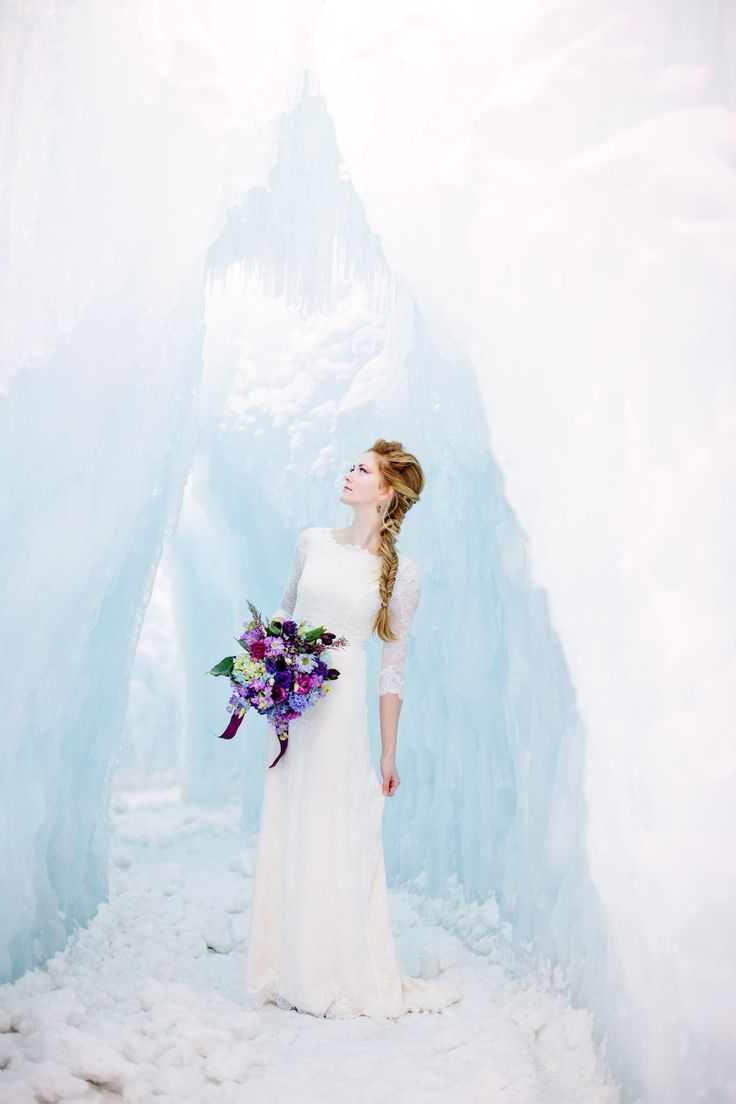 6. Feeling blue
This could actually be Elsa in human form, with those thick blond tresses grown only by Disney princesses.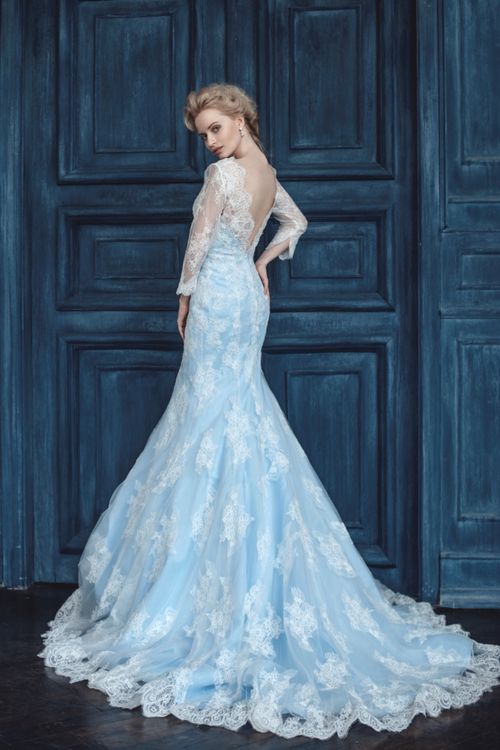 7. Degrading
Self-taught Lebanon-born Elie Saab began honing his skills at the age of nine, making clothes for his sisters and selling his designs to women in the neighbourhood. This embroidered A-line, white degraded to blue, long-sleeve Frozen affair is bound to turn heads.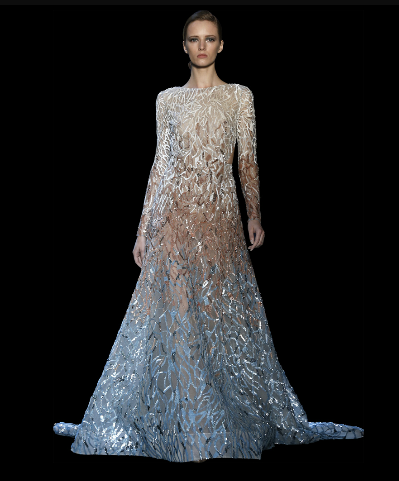 8. Barely there
If Elsa's parents hadn't died at sea during a storm in her teenage years, they would have lived to tell her this snowflake-laden dress was wildly inappropriate for a wedding, but rules are made for breaking, no?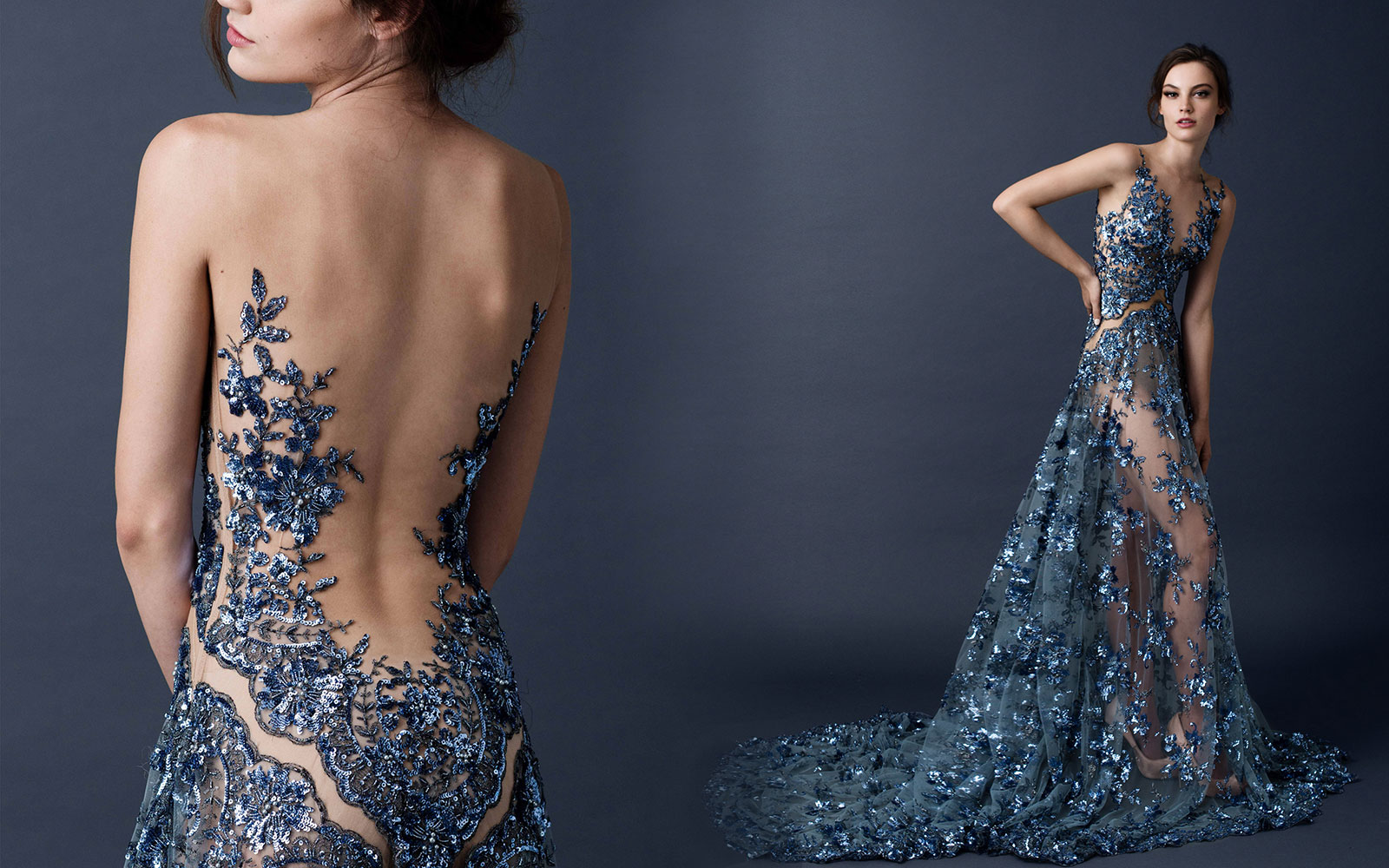 9. Disney approved
Blue satin silk with manilla lace, chiffon sleeves and crinoline underskirt – what could be more appropriate for a fairytale wedding? Available in any colour with a velvet cape and hood, we're certain Elsa would opt for this sky blue ensemble.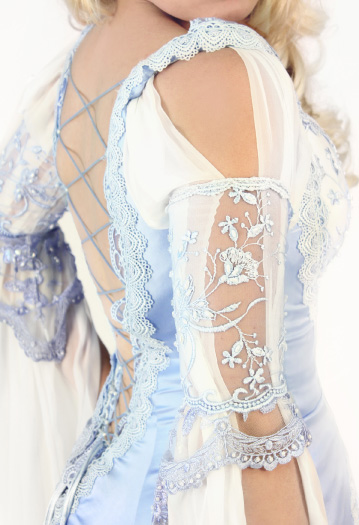 10. Bluish hues
There's not a prince in all of Arendelle – or anywhere else for that matter – that wouldn't go weak at the knees for a bride wearing this strapless blue-green wedding gown.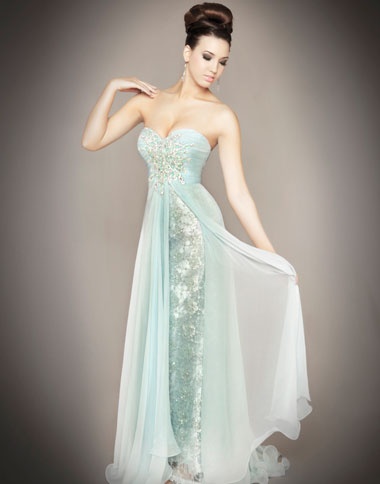 11. Polar princess
Lebanon-raised Rami Kadi might not have cryokinetic powers, but he has enough vision and couture experience to make this hand-embroidered Swarovski fairytale dream dress a living reality.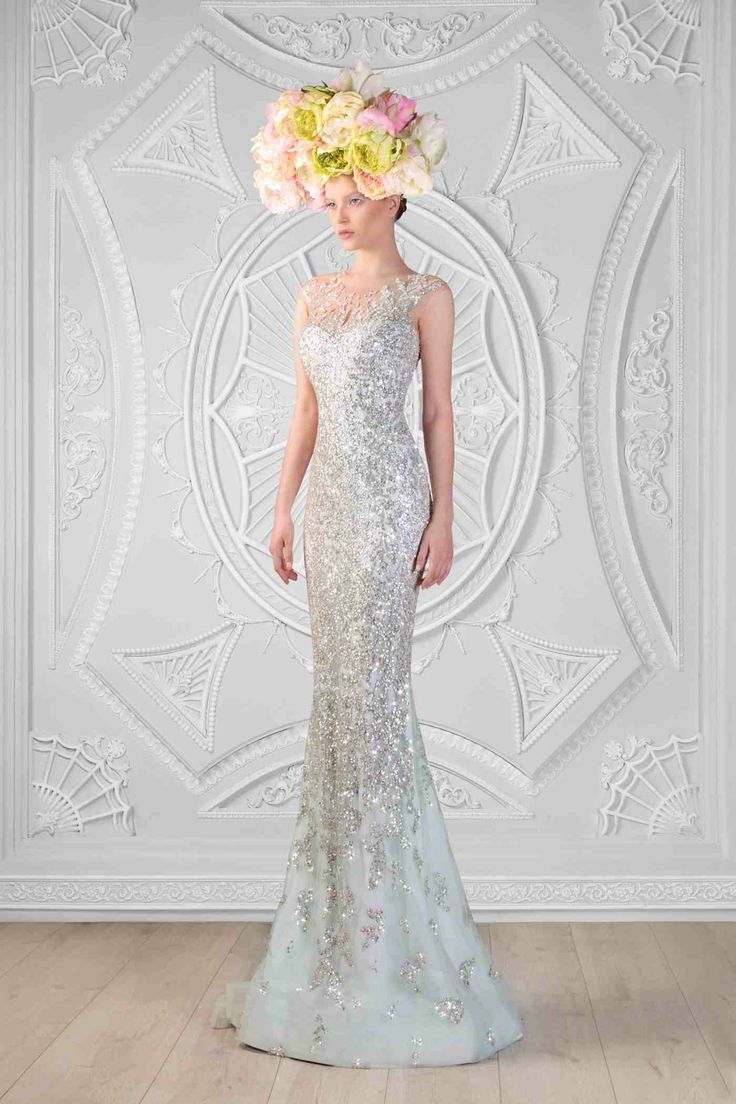 12. Whimsical wedding
If anything actually grew in Arendelle there would be a lot more garden weddings, and the princesses would wear flowing gowns like this whimsical Jim Couture design.
Source: Jim
Couture
13. Mashup
If there ever was a Disney classics mashup where Frozen merged with Hercules, we imagine the fusion of Roman Goddess and Ice Queen inspired wedding gowns would look something like this.
14. Glacial goddess
This Ziad Nakad wedding gown might be set against a warm Autumn backdrop, but those icicle stripes make it perfect for a fairytale Frozen-themed wedding.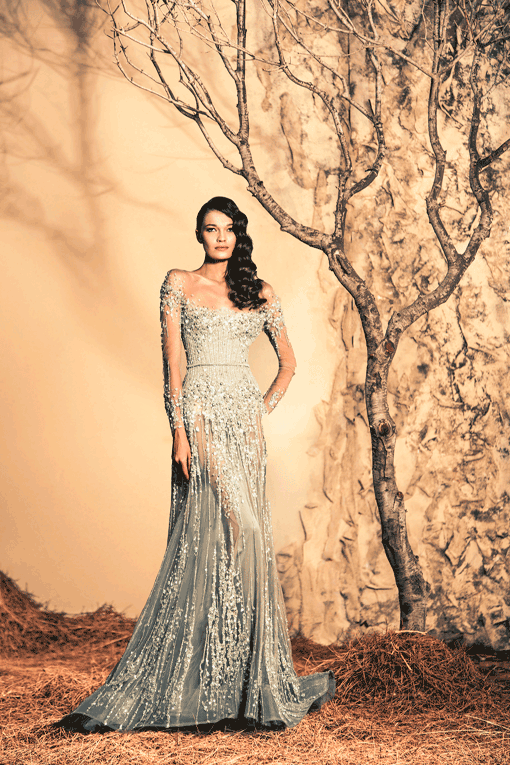 15. Celestial satin
This celestial blue, one-shouldered, satin-sashed gown is bound to turn heads, even in a snow storm!
Source: Rock Pretty For Life
Would you consider a Disney-inspired wedding? Let us know in the comments which animated princess you'd most like to represent on your day of days.