The style of wedding gown you have chosen, as well as your personal body shape will determine how many dress fittings you need, but most brides will need at least two fittings and will want to try their gown on again when they pick it up.
Scheduling your final fitting six to eight weeks before your wedding date, and arranging to collect your dress around two to three weeks before the big day, will give you plenty of time for any last minute alternations. Many brides change size in the final weeks leading up to their wedding, either due to pre-wedding dieting and stress, or over indulging in pre-wedding celebrations.
Use your final fitting to learn about your dress
By the time you have your final fitting, your dress should be just about right, so instead of focusing simply on how it looks take the opportunity to find out a bit about how it works. Make a list of questions to ask the fitter. Here are a few ideas:
What type of fasteners does it have and how do they work?
Can the straps or bodice be altered, and if so what arrangements are most comfortable and flattering?
What is the dress made of and is what can you use to get rid of stains?
How should the dress be stored before and after the wedding?
Can the dress be ironed or should you steam it to get rid of creases?
If the dress needs bustling how do you do that?
If possible make sure the person that will be helping you dress for your wedding goes to your final fitting with you. Whether it's your mum or your maid of honour, the more they know about your dress the more they can help you relax on the day.
What to take to your final fitting
At the time of your final fitting, you will probably already have all the other elements of your bridal outfit. Take your wedding lingerie, your shoes, your jewellery, your handbag, and any accessories like a tiara or veil to make sure they look just right with your dress. If you find out that some of your accessories don't look right with your dress at the final fitting, you still have plenty of time to shop for replacements. If you wait until you have collected the dress it may be too late.
What to look for in the fit of your bridal gown
After each dress fitting, it is useful to write down all the changes and alterations you have requested, so that you can check they are all complete at the next session. At your final fitting you will want to move around in the dress as much as possible to check that it is comfortable and that it doesn't slip down or ride up.
Check for areas where the material is pulling or wrinkling, or where it doesn't quite sit properly. If, like the majority of brides, you have chosen a full length dress, make sure the bottom of the skirt just skims the top of the front of your shoes. Walk around in your dress as casually as possible to make sure you aren't going to get a heel caught in the hem.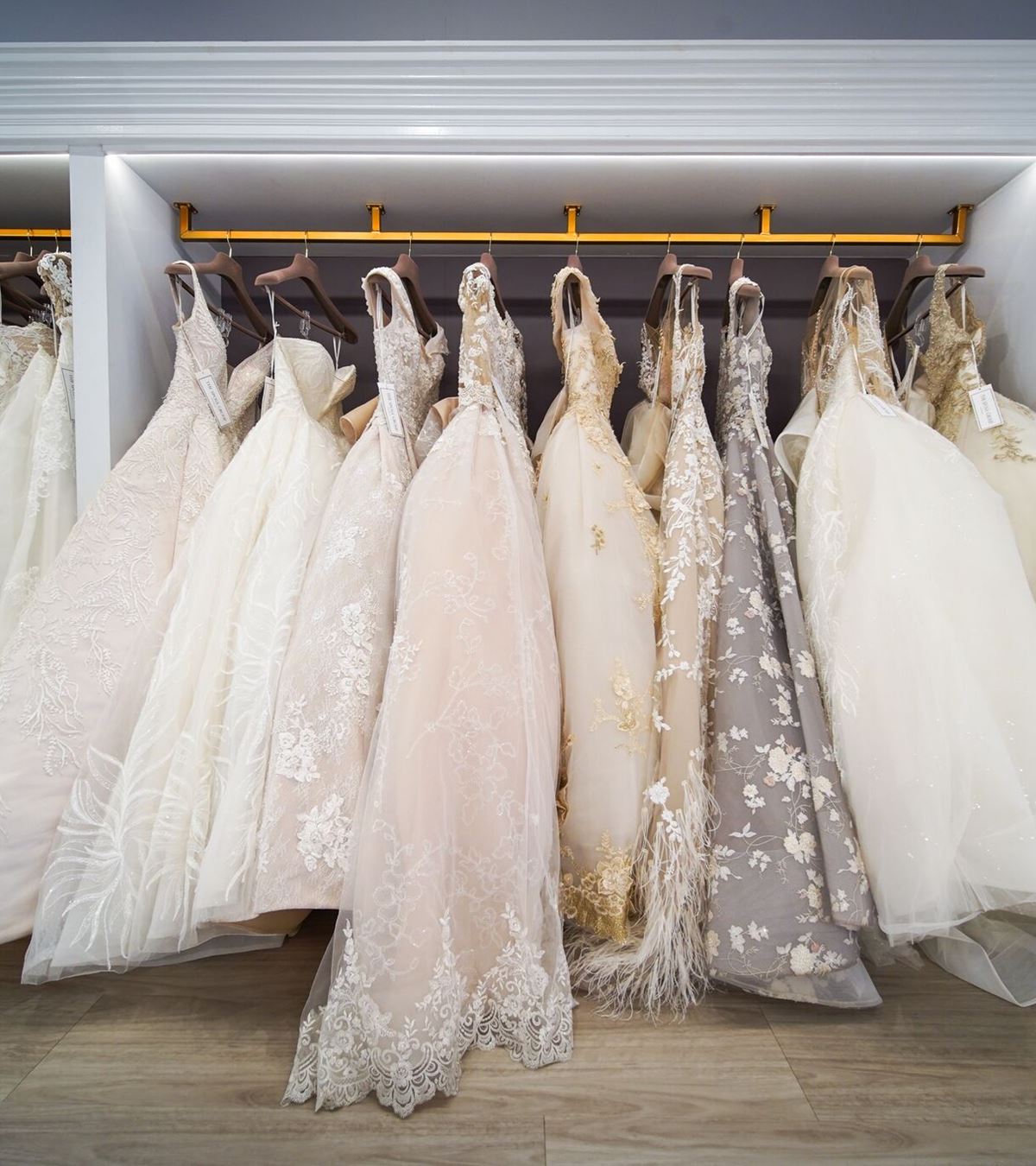 The groom's final suit fitting
As the groom you will probably only need one initial fitting for your suit and a final one when you pick it up. Here are a few things you should look out for during that final suit fitting to make sure you make your beautiful bride proud:
Whatever type of suit you have chosen, it will look best if it fits close to your body, so make sure it is not loose or baggy, but at the same time it shouldn't wrinkle when you button the jacket. You will need to be able to move around easily in your suit, don't forget you will be dancing with your bride, shaking hands, hugging guests, and wearing the suit for a whole day.
Check the length of the sleeves both when your arms are by your sides and when they are out in front of you. Your hands and arms will feature in numerous photos, including the exchange of rings and the signing of the register, so they need to be displayed to perfection.
Take the shoes you are planning to wear to make sure they suit the style of your suit and to check that the trousers are the perfect length. The trousers should stop over your instep, around a third of the way down the shoe. Take your shirt along as well, unless it is being supplied by the same tailor, to make sure it sits well under the jacket.
If you are planning to carry anything with you on the wedding day, whether that is a wallet or a card with your wedding vows, take it with you to your final fitting to make sure it will fit neatly in your pocket with no unsightly bulges.