British music legend Elton John has wed his partner of 21 years, film-maker David Furnish, having formally converted their civil partnership to a marriage on Sunday.
The couple became civil partners in 2005, however, England's marriage laws changed in March to allow same-sex weddings and Sir Elton and David decided to marry formally.
Their wedding ceremony, which was attended by an array of family and friends, including Victoria and David Beckham, Liz Hurley, Ed Sheeran and comedian David Walliams, took place on the couple's Windsor estate and their sons, Zachary and Elijah, were ring bearers.
Elton and Liz Hurley. Image: Instagram
Several celebrities Tweeted their congratulations to the happy couple, including fellow muso Gary Barlow who wrote, "What an incredible day." Graham Norton said: "Huge congratulations to Sir Elton John and David Furnish. Married at last!!"
British actor Hugh Grant also Tweeted: "Groom Groom – Britain races into the future. Congrats Elton and David. Congrats enlightened UK."
Elton's caption: "The exchange of vows. #ShareTheLove" via Instagram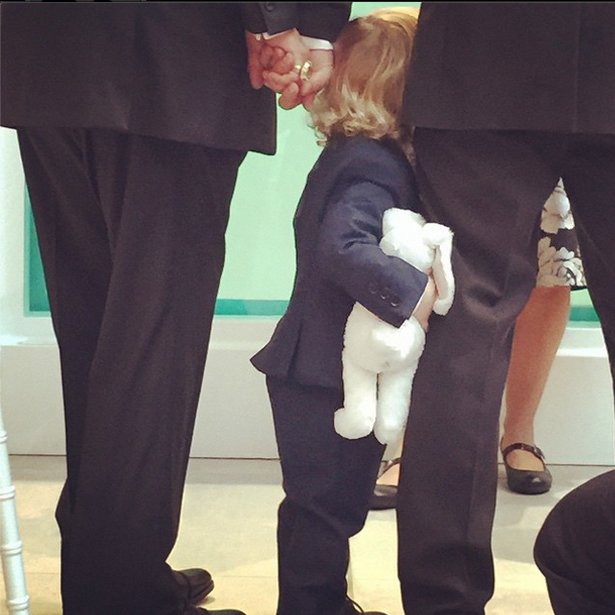 "That's the legal bit done. Now on to the ceremony! #ShareTheLove @DavidFurnish." Image: Via Elton John's Instagram account
[ew-supplier-carousel]
"The tables look stunning! We had red roses at our Civil Partnership 9 years ago and they brought us so much luck. #ShareTheLove," says Elton John on Instagram.
"It's beginning!! The Registrar welcomes our guests. #ShareTheLove," is Elton John's caption on this image which he posted on Instagram.
"Our little ring bearers are fast asleep, and their shoes are polished and ready for tomorrow's celebration. @DavidFurnish #ShareTheLove." Image: Elton John via Instagram
Elton and David's sumptuous wedding lunch menu. Image: Elton John via Instagram
And the tables are set for a delicious lunch. #ShareTheLove. Image: Elton John via Instagram
"The perfect end to the perfect day. So many kind thoughts and wishes. #ShareTheLove," says Elton John via Instagram