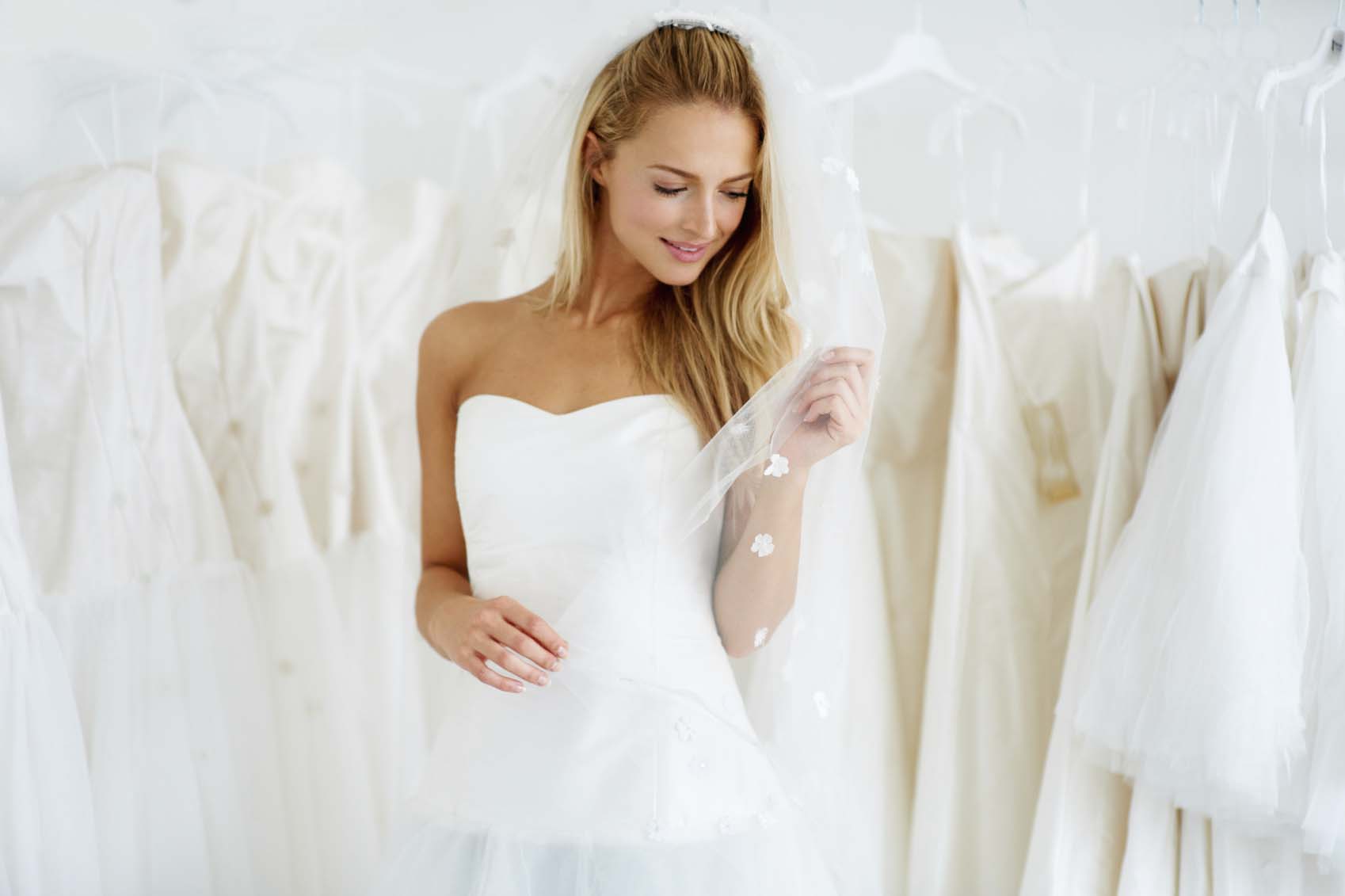 Off-the-rack wedding gowns aren't for every bride. Perhaps you have a very specific dress in mind, one you cannot find ready-made, or, maybe, just once in your life, you want to experience having a gown made just for you? Whatever your reason, if you can afford it (and it isn't nearly as expensive as you may think), the allure of custom-couture is intoxicating.
Sydney bride Natalie Harding spent six-months having the dress of her dreams sewn for her and, she says, "it was exhausting and so much more involved than I thought it would be, but the result was so worthwhile, I'm in love with my dress."
Natalie shares her eight biggest lessons for having your wedding dress custom-made.
What does having your wedding dress custom-made mean?
A custom-made wedding dress is one which is made for an individual order and is, essentially, a one-of-a-kind gown sewn from scratch.
Choosing to have your wedding dress custom-made is "very exciting, but also a bit, time-consuming and, sometimes exhaustive process and one that you shouldn't enter into lightly," says Easy Weddings bride Wendy who spent more than six months having her wedding dress made by a Sydney seamstress.
"It's important to know what the potential cost will be, as well as the time frame, and, it's good to have a general understanding of what the experience will be like," she adds.
If you're considering having your wedding dress custom-made, Wendy has shared eight things she believes every bride should know before picking up the phone and booking an appointment with the dressmaker.
"Have a budget in mind"
"Before you select and meet with your chosen dressmaker, it's imperative that you have a budget in mind," says Wendy who estimates she ended up spending 20 per cent more than she originally budgeted for.
"This figure will help to determine what fabrics your dressmaker will use, as well as any limitations your budget may bring."
An example of this is a bride who wants a full ballgown skirt made from expensive tulle, but her budget doesn't allow for enough fabric to really fill out the skirt to make it as big as she wants.
This would mean that the bride would either have to alter the shape of her skirt, or opt for a cheaper tulle, which some designers won't do. Many designers will only use premium bridal fabrics, as they pride themselves on producing quality gowns.
"It's very important to have this conversation at the very start of the process so your expectations are clear and you are comfortable with the chosen fabrics," says Wendy who spent more than six months to-ing and fro-ing with her very experienced seamstress.
"Most designers will work within your budget and can make suggestions that will still incorporate elements that you really love without completely blowing your budget."
"Be open to the process and prepare for your ideas to evolve"
It's great to have an idea of how you want your dress to be when you meet with your designer, however, "be prepared for that idea to possibly change," says Natalie whose fashion and design background meant she turned up to the first meeting with her dress designer armed with photos and some rough sketches.
"Creating a gown from scratch is a very individual, personal and creative experience, and, like most creative endeavors it can organically evolve, so be open minded and prepared for change."
Natalie also recommends you should, "allow yourself to be open to fabrics, silhouettes and patterns that you may not have been interested in before as there is a chance you might find something you like better than your original idea."
While this may not be the case for every bride, it's important to enter into the experience open-minded and feeling inspired to create a gown that fits you like a glove and enhances your best features.
"Be aware the price may change"
Some designers cap the price of their gowns and some will even include the veil and accessories in that figure too. In saying this, if your original design idea or choice of fabric changes, you may have to be prepared to kiss your capped price goodbye. Here's an example of what this means; if a bride originally wants dry lace, (meaning no beads or sparkle) but changes her mind and opts for a beaded lace with hand-sewn crystal embellishment, then this may increase the price.
"It's important to ask your dressmaker where you're at in terms of price when you start making changes," says Wendy. "Otherwise you may end up a little surprised when the price has increased considerably."
If the changes you'd like to make are too far outside the realm of your budget, then ask your dressmaker what other fabrics or design choices you can make that will give you a similar effect. Communication is key.
"You may need more fittings than you think – especially if you plan to lose weight"
Rome wasn't built in a day, and, the same goes for a custom-made wedding dress. "Having your wedding dress made takes time. For me it took six-months, and I had around seven fittings in total," says Wendy. The amount of fittings you will have depends on the style of your dress, your choice of fabrics, and the way your designer likes to do things.
Initially the designer may create a 'toile', (a toile is a test version of a dress made out of cheap fabric such as calico), and then he or she will start to build the base of your real dress. Usually the first few fittings will be about cementing the shape of your dress, and once the shape is perfect, you and your designer will discuss the embellishment, (embellishment is the decoration your put on your dress.)
Ultimately, having a gown made from scratch can be a lengthy process and many designers recommend that brides begin having their dress made six to eight-months before the wedding.
Natalie also recommends that brides should tell the designer from the very first fitting if they plan on losing weight, as the designer will take this into consideration when making the gown. In this situation a bride may need a few extra fittings to ensure that the dress is being made-to-measure according to her slimming physique.
However, Natalie does warn, "if a bride ends up losing a lot of weight just before her last fitting and the designer wasn't told the bride was planning on losing weight, this can become quite a challenge. It's easier to take make a dress smaller than to make it bigger."
Keep in mind that if you lose a lot of weight or gain a lot of weight just before your final fitting, there's a chance the price of your dress will increase as the dressmaker will have to frantically make major alternations last minute.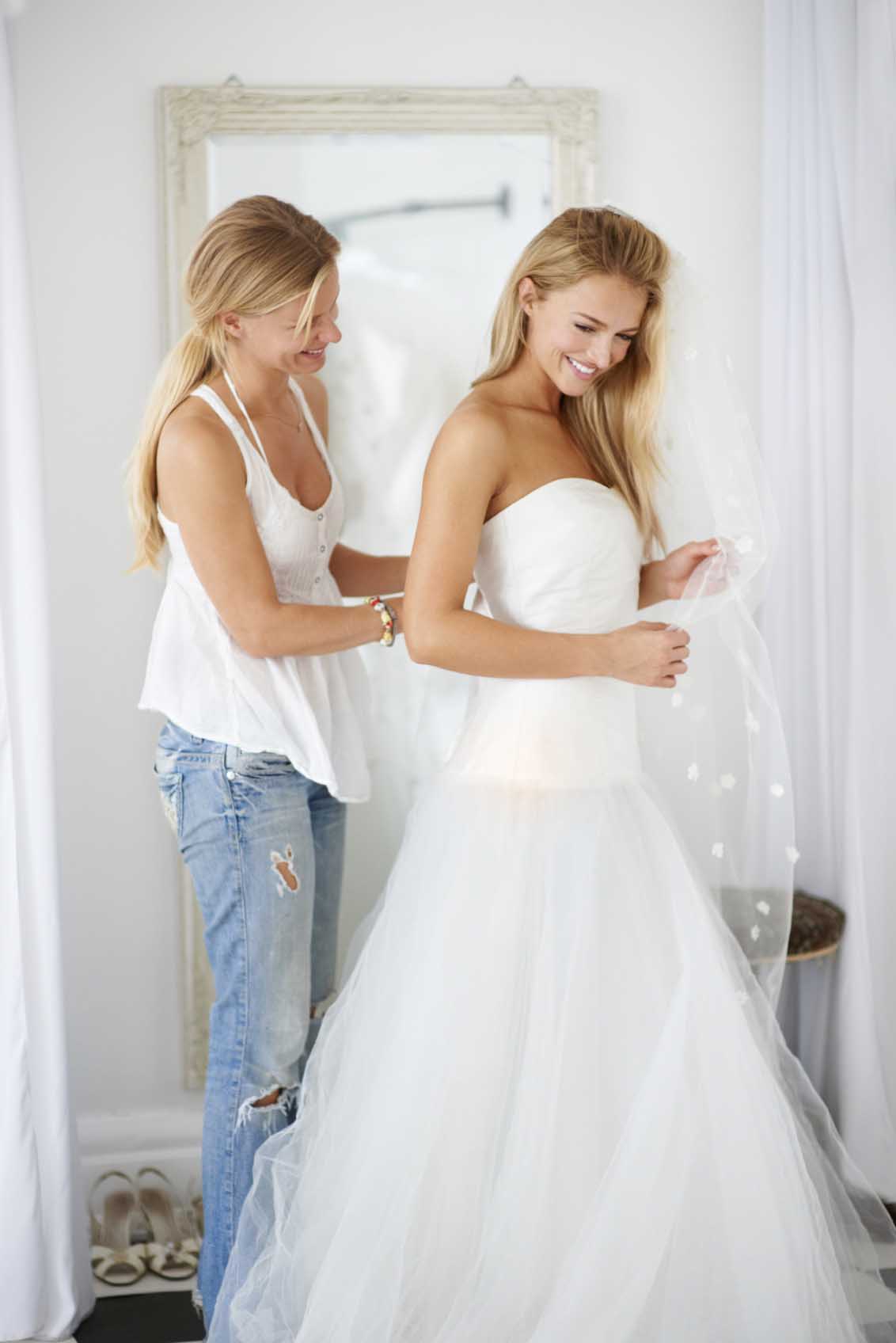 "Don't let other people get into your head"
If you're getting your wedding dress custom-made then it's very likely that you have a very specific look in mind and the design of your dress is very important to you. Creating a dream wedding dress can put a fair bit of pressure on brides and in some cases that pressure can make brides lose sight of what they really want. Add some opinionated family members or suggestions from the dressmaker and you can end up with a fairly frazzled bride who is unsure of how she wants her dress to look.
"I ended up feeling very overwhelmed and confused at one point during the process of having my dress made. I'm surrounded by very opinionated people in my family and bridal party, and I ended up questioning myself and doubting my decisions about the dress," says Natalie of her own experience.
While friends, family, bridesmaids and even the designer will have opinions, the decision of how the dress looks is ultimately up to the bride, and she must find a way to stay true to her style, vision and what really makes her happy.
It can be easy for brides to feel overwhelmed when they receive varying viewpoints, especially when the advice is coming from people whose opinions they really value. However, whilst another perspective is always helpful, sometimes too many can be a little too much.
"It's important to try to stay true to yourself and what you want."
"You're likely to become over-critical"
The pressure of creating your perfect dress can not only confuse your thoughts about what you want but it can also cause you to over-analyze every little detail and question every decision. It can be hard to escape the pressure to have the perfect dress, particularly for brides who are having a very specific theme and look for their wedding.
Even the most easy-going brides may find themselves feeling perplexed over things like buttons or the placement of some beading. It's important to take a deep breath when feeling stressed and look at your dress from another perspective. How would you feel about it if it wasn't for your wedding? What parts of the dress do you really love? Is it a representation of your style and personality? Does it suit your figure well? Ask yourself these questions so you can see things from a clearer perspective.
"In the end I had to take a deep breath and try and look at the situation from another angle. I thought to myself; does this dress suit me and does it tick all my boxes?
"When I realised it ticked every single box the anxiety melted away because the pressure and stress was all in my head and what I had in front of me was a beautiful dress which was perfect for me."
"Trust the professionals"
For those type-A personalities it can be difficult to allow another person to have creative control, however, when dealing with a professional it is important to trust their opinion and technical experience.  While you may find it hard to not micro-manage your designer, it's important that your trust their opinion and process, as what they deliver may exceed your expectations.
Natalie says that, "although it's important to always ask questions throughout, particularly if you don't understand something, it's also very important to have trust in your designer's ability because this will make the whole process a lot smoother for both you.
Try to relax and let it be a magical experience rather than a stressful one."
"Take photos with and without flash"
Most designers will allow you to take photos throughout the process, however some won't. This depends on who you choose to make your gown. If you can take photos, then do so at every opportunity.
Often you will have a few weeks between each fitting, which allows you plenty of time to look at the pictures to decide if you really like the way your dress is coming along and consider what elements you love and don't love. This means that next time you go to a fitting you are very certain about the changes you wish to make.
Natalie also says that, "having photos to refer back to will also help you to see how the dress photographs on your figure, which will be useful knowledge for when you have your wedding photos taken on the wedding day."