In honour of Father's Day, we answer all of your most frequently asked questions regarding dads at weddings — how to include them, how not to, and how to pay tribute if your dad is no longer with you.
Are you wondering how to involve dad in the wedding or the planning process? Would you prefer he didn't attend? Or are you looking for ways to honour him if he's passed? Whatever it might be, we've rounded up your most frequently asked questions about dads at weddings in the hopes we can provide some insightful advice. If we missed your question, head over to the Easy Weddings Instagram and send us a DM — we're here to help!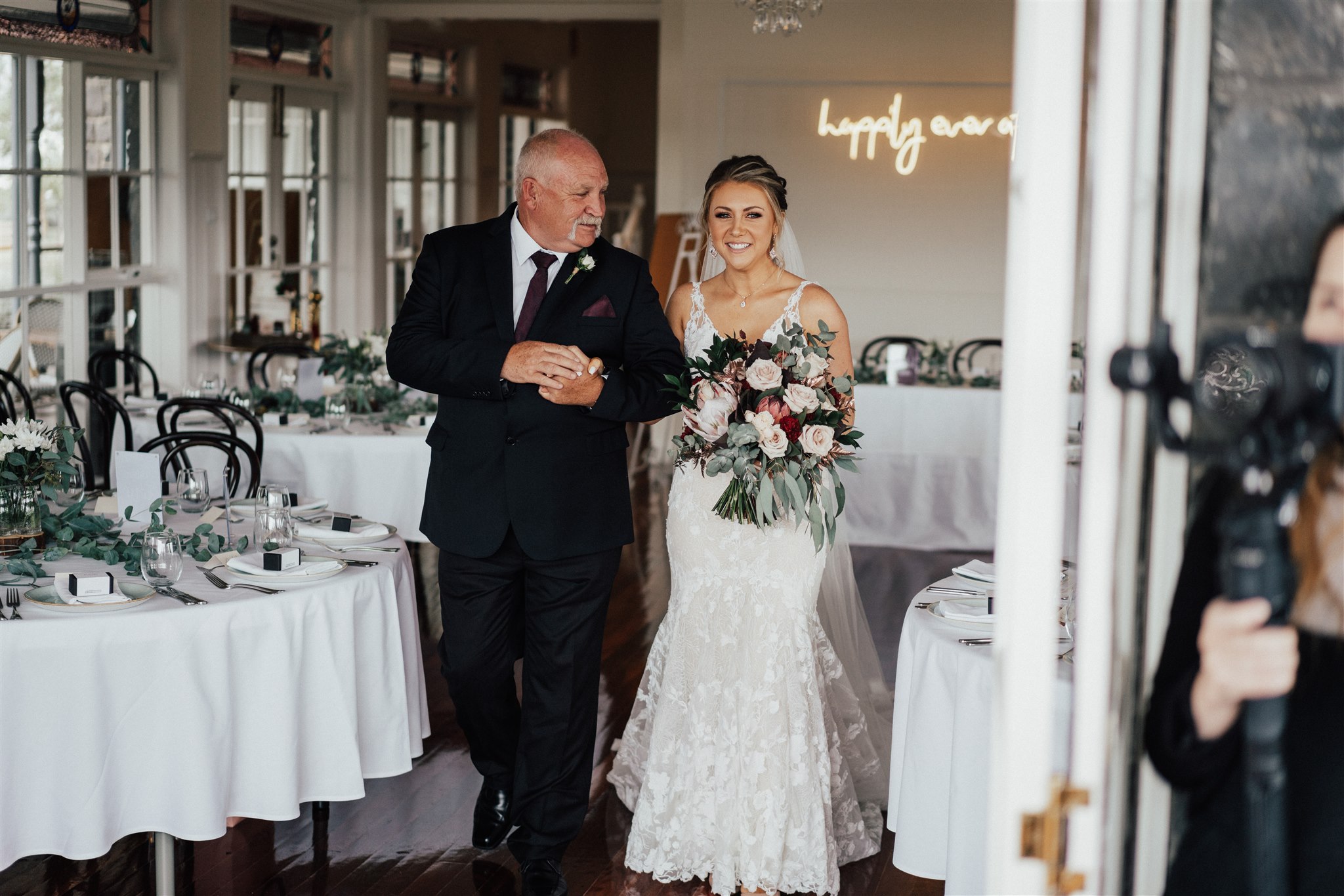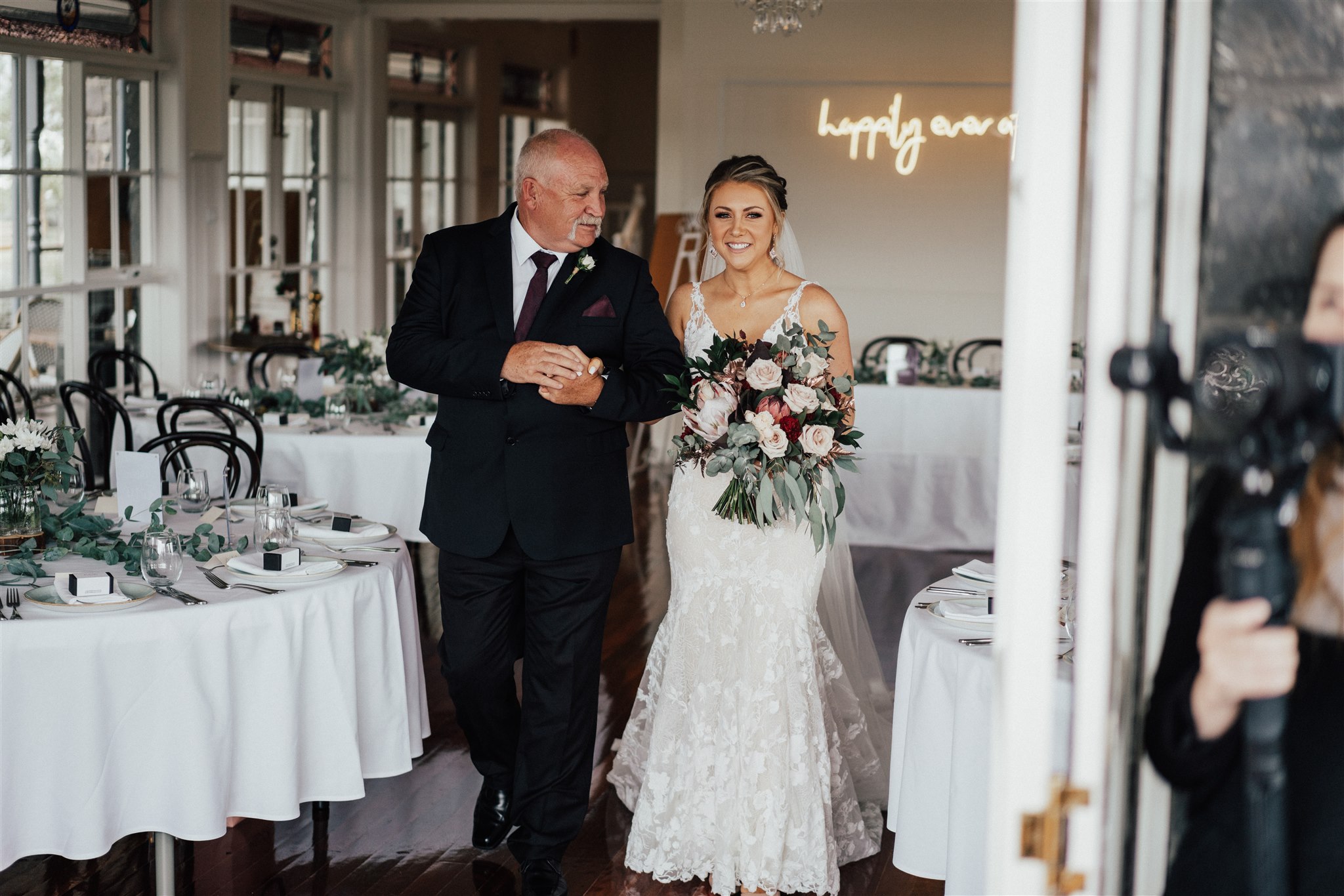 Get Expert Advice
How can I involve dad in the wedding planning process?
In the lead-up to the wedding, you'll have a seemingly never-ending list of planning-related tasks to complete. And while dad may not be your go-to person when choosing floral arrangements or wedding shoes, there are many things he will be able to help with. From touring venues to organising spreadsheets, here are some thoughtful ways to include your dad in the planning process:
Utilise his DIY skills by asking him to make an arbour or signage
Bring him along to venue visits or menu tastings
Ask him to help you with your wedding budget spreadsheet
Involve him in other planning tasks such as seating arrangements
Take him shopping for a new suit or tux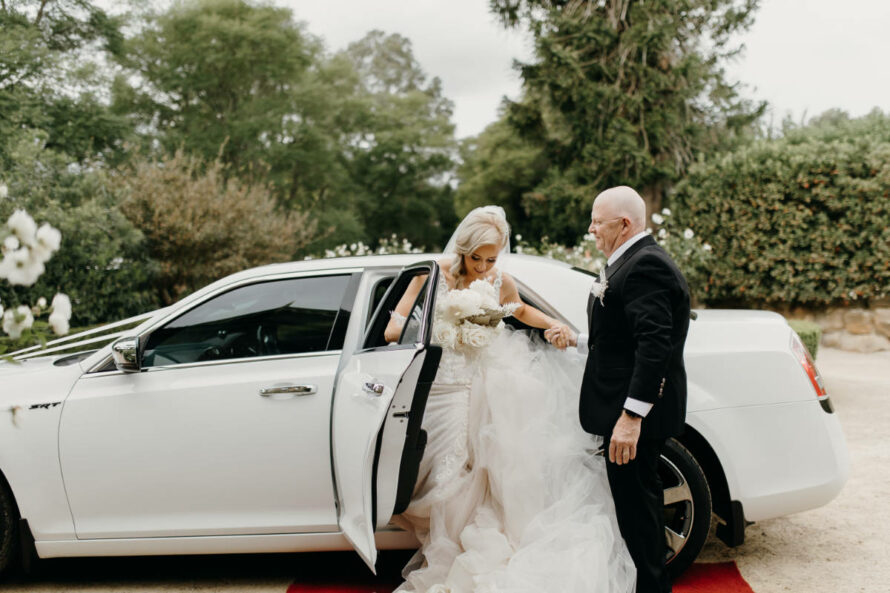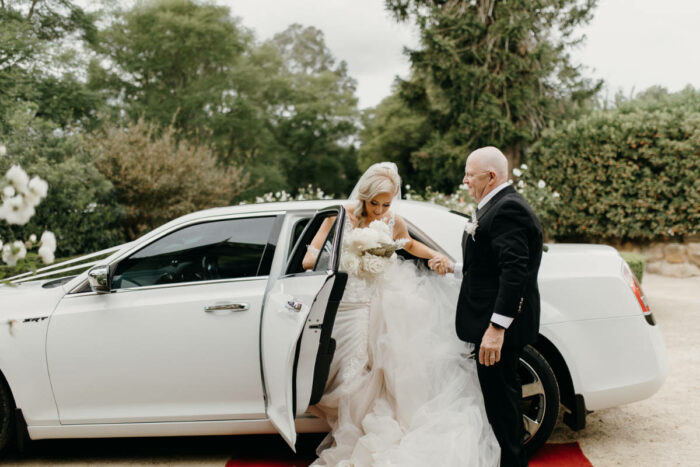 What are some on-the-day tasks for dads at weddings?
Traditionally, dads have two brief assignments for the wedding day — to walk their daughter or son down the aisle and to give a toast (which usually follows the best man's) at the reception. However, if he wants to be super involved during the day, here are some more fun ideas for father-of-the-bride or groom duties:
Be there for the father-daughter or father-son first-look photos
Travel to the ceremony with you
Walk you down the aisle
Give a speech during the reception
Hit the dancefloor for a father-daughter or father-son dance
Organise the sparklers/confetti/fireworks for your exit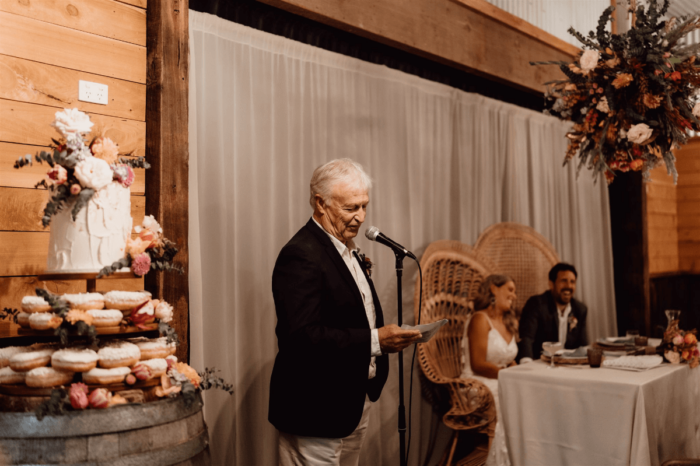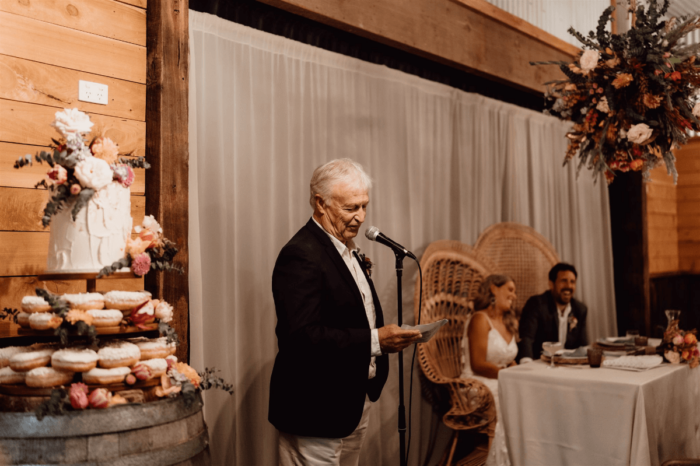 My dad is no longer with us — how can I pay tribute to him?
While you may be feeling excited about your upcoming nuptials, it can be incredibly bittersweet if your dad is no longer around to share your special day. If you're worried about bringing the vibe down on your wedding day, there are many beautiful, subtle and meaningful ways to honour your late father without dampening the mood, from lighting a candle in his memory to serving his favourite drink.
We understand that everyone deals with loss differently, and it's important to consider your comfort levels, so it's entirely up to you if it's too much and you'd rather not make mention of your late dad at your wedding. That being said, if you need some inspiration on ways to pay tribute, here are some suggestions for acknowledging a passed relative at your wedding:
Include an 'in loving memory' tribute in your wedding program
Reserve a front-row seat for your dad at the ceremony with a photograph, flowers or any other special objects that remind you of him
Organise a memory table with photos, candles and a small sign
Serve his favourite drink during cocktail hour
Light a candle in his honour during the ceremony or reception
Deliver a toast dedicated to your dad
Play his favourite song at your reception and invite family members to dance in his memory
For more ways to pay tribute to your late father on your wedding day, check out these expert advice answers from some of our amazing celebrants.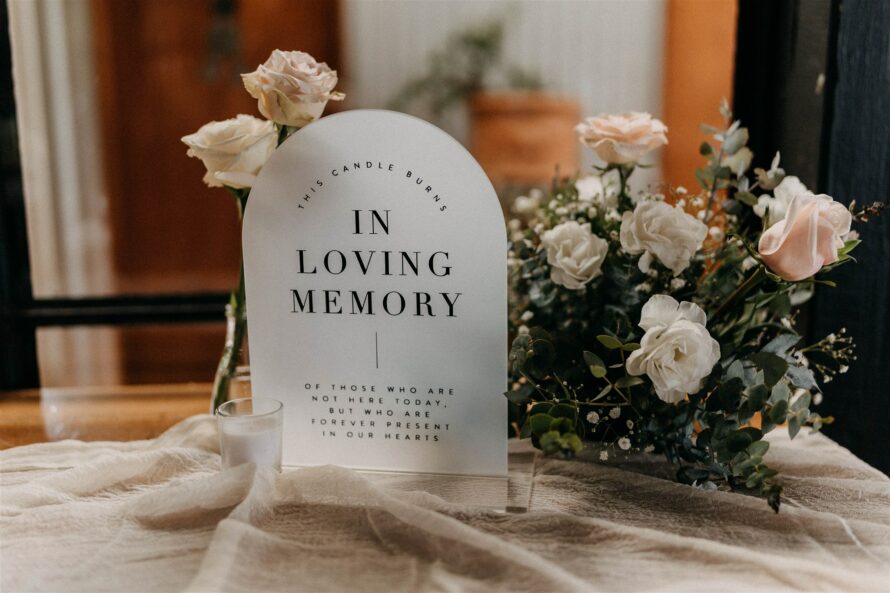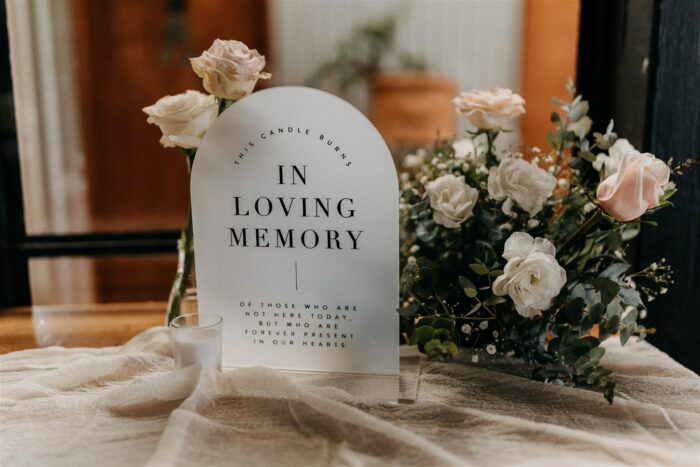 I have a difficult relationship with my father, do I have to invite him to the wedding?
While this question is tricky, as everyone's family situation is different, it's worth noting that you aren't alone if you have concerns about inviting a parent with whom you have a strained relationship or who hasn't been in your life for a long time. Deciding not to ask your dad to be part of this significant milestone may be painful and difficult, but it's important to prioritise your feelings and remind yourself that it's your day.
Set boundaries as early as possible to avoid unnecessary stress closer to the wedding day, and communicate your wishes clearly so your dad understands your reason for not inviting him. Lean on close family members for support and ask trusted loved ones to weigh in on the situation so you feel comfort and validation in your decision.
Does my dad have to walk me down the aisle?
Whether you're looking to steer clear of traditions and highlight your independence or prefer your dad not to be involved in your wedding, there are many alternatives to having your father walk you down the aisle. Consider asking your mum to walk you, have someone dear to you meet you halfway, or showcase your autonomy by making a solo grand entrance at your wedding ceremony.
According to Queensland celebrant Narelle Spencer, a positive approach is best if you need to break the news to your dad that he won't be accompanying you down the aisle. "I would recommend a simple and positive approach by letting him know it is not about him but you as an individual," explains Narelle.
"If there is someone else you want to walk you down the aisle, maybe you can talk about the importance of your relationship with this person. If you simply want to walk down the aisle by yourself to your partner, then talk about what this means to you — i.e. the significance of you coming to your partner as an individual and leaving as a couple."
A few of our wonderful celebrants weighed in on this topic — you can read more of their expert advice here.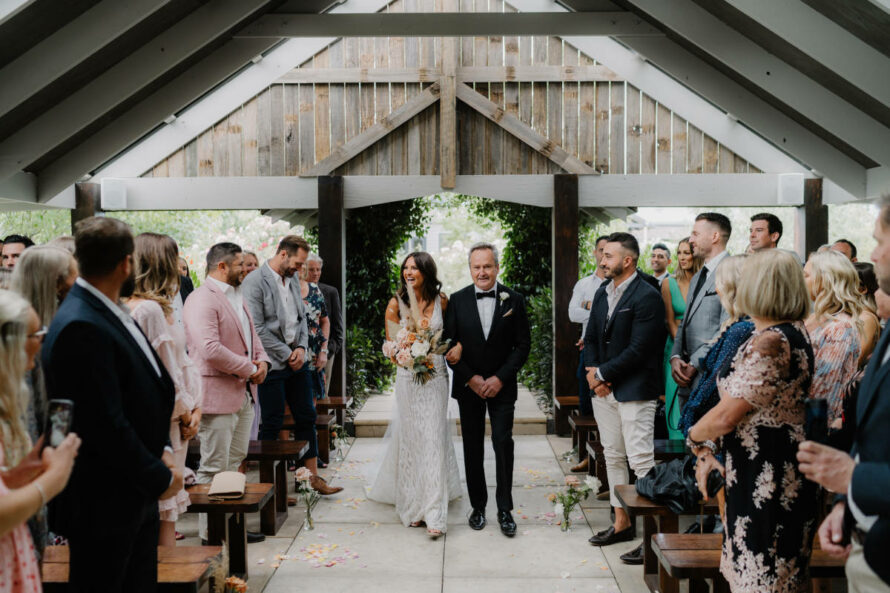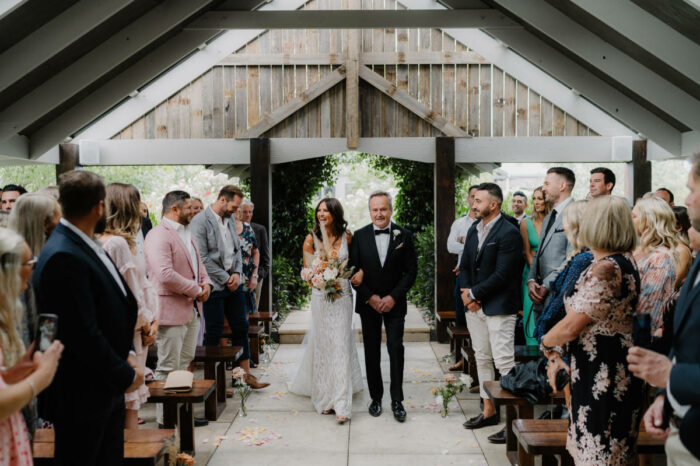 What are some father-daughter or father-son dance song recommendations?
Your first dance with dad will be a beautifully sentimental wedding moment, so it's important to pick a song that's meaningful for both of you. If you're struggling to find the right tune for your father-daughter or father-son dance, here are some of our favourite suggestions from real couples:
She's A Rainbow by The Rolling Stones
Fathers And Daughters by Boyce Avenue (Cover)
When I Look At You by Miley Cyrus
My Wish by Rascal Flatts
First Man by Camila Cabello
Wonderwall by Oasis
Lean On Me by Bill Withers
Sweet Child of Mine by Guns N' Roses
My Girl by The Temptations
Holding on the Years by Simply Red
What a Wonderful World by Louis Armstrong
For more wedding music inspo, check out this article filled with awesome wedding song recommendations from real couples.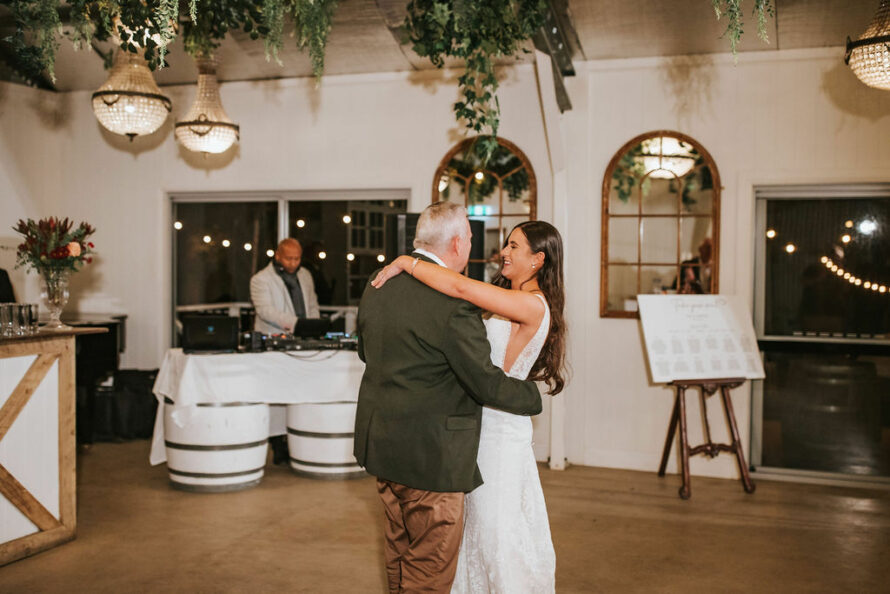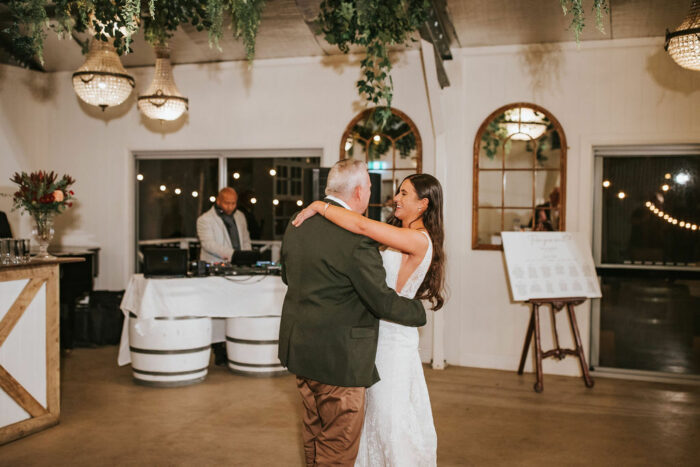 ---
In need of some more advice for your wedding? Head over to the Easy Weddings Instagram and send us a message — we're here to help! Our Expert Advice page is also filled with insightful answers from our amazing suppliers.
---