The famous Western Australian blogger and author, Constance Hall, 34, married her partner Denim on Saturday, January 6th, 2018 at Karriview Lodge, Cowaramup, near Margaret River in Western Australia in a commitment ceremony.
The ceremony is believed to have been unplugged, meaning that guests were asked not to take any images of the couple or the details of their day. Yesterday, Constance Hall shared the following image of her and her new husband on Instagram, with the caption: "From the bottom of my heart. I've never been this happy in my life." 

The bride wore a gorgeous and unique white and gold design by Ixiah the label, with the pattern created by Mina Mancini Couture. Ixiah the Label posted the image to Instagram with the caption: "What a pleasure it was to create a wedding gown for this absolute legend. @mrsconstancehall I think the entire time we were in stitches of laughter with your honesty and your incredible humor. Loved being a part of your magical day that I know everyone is dying to see more of. Sending you an (sic) Denim all the love and happiness in the world"
The photographer, Rolling Stills posted the same image with the caption: "A wedding we will never forget! Congratulations you rock stars. Thanks for sharing your epic day with us !"
Mrs Hall also attributed the styling to The Zest Group, an event styling and planning service in Western Australia.
On social media, Constance revealed two weeks ago that it would be acomittment ceremony because "I can't legally marry yet. We need no paper work or churches, even our rings were under $200 each. We only need each other. And I need my children."
The dress code for the event was written on the invitations as "whatever the f*ck you want", in true Constance Hall style!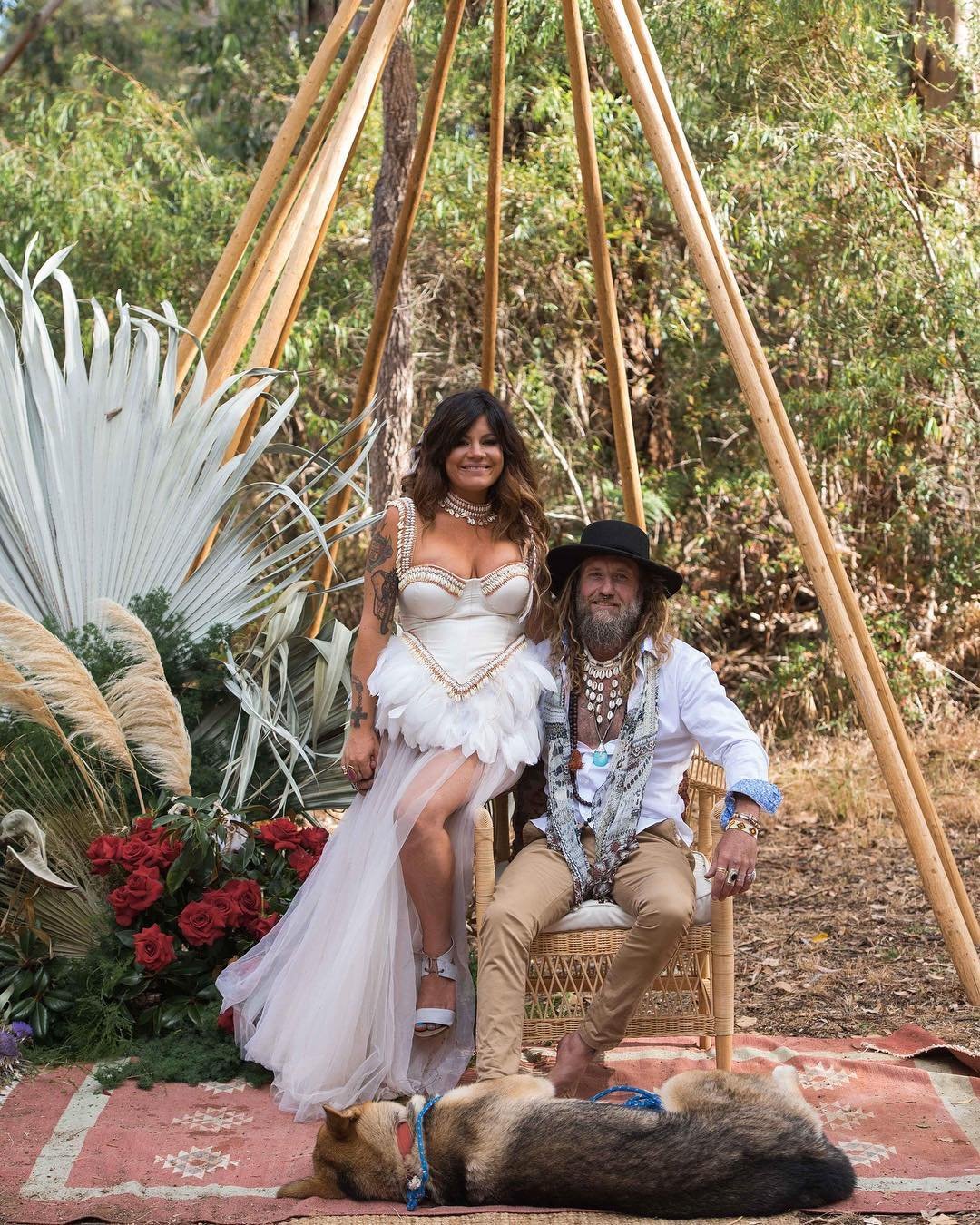 The day before the wedding, on Facebook, Constance posted an image of the pair, stating that the wedding almost didn't happen at all:
"Tomorrow I marry this guy.
I've eaten a whole jar of Cadbury Almonds for the nerves.
Of course the wedding almost didn't happen, for the first time we fought all week. A combination of stress and me pushing him to be more of a talker when he just wants a moment to think and him possibly having a realisation that he's about to marry a pregnant chick with four small kids who blogs and writes books about every detail of her relationship to the world.
I'm not your typical trophy wife.
And I'm not for everyone, but hey neither is he."
Constance Hall on Facebook
Together, the pair has six children and is currently expecting their seventh.
Congratulations to Denim and Constance, your wedding looks like a bohemian dream!