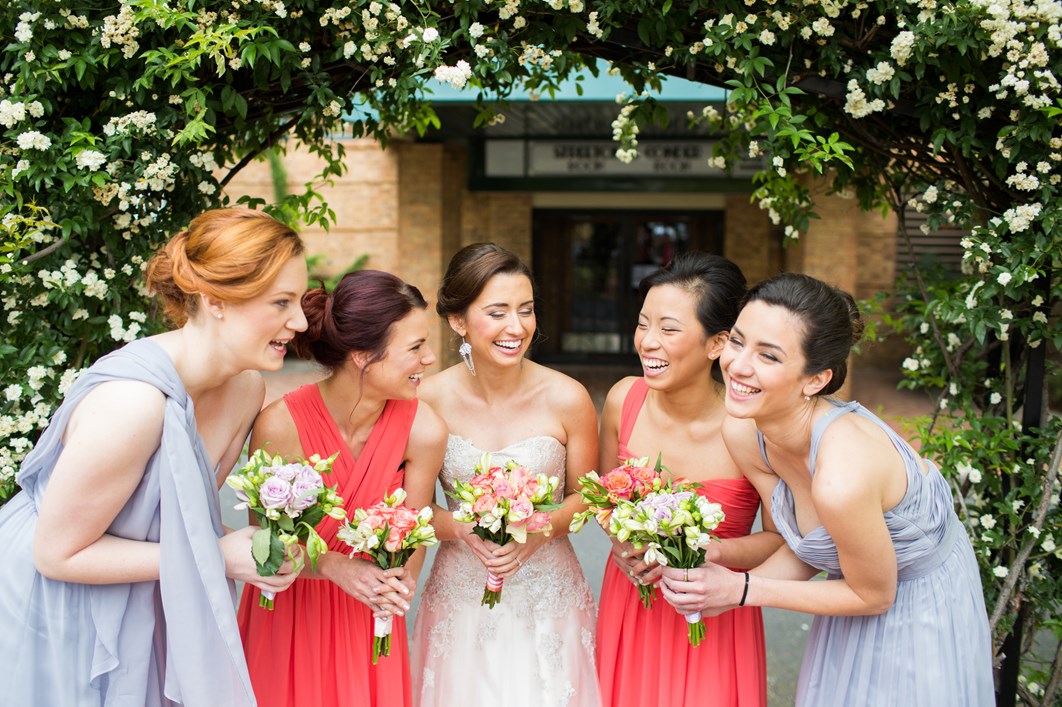 While the bride's wedding gown rightfully draws most of the fashion focus, it's not the only dress in the spotlight. Standing beside her are some of the most important women in her life – the bridesmaids – all decked out in gorgeous creations too.
But getting to that point can be a tricky proposition.
After all, in any group of bridesmaids you'll have a mix of heights, weights, sizes, colourings and personalities. So finding one gown to do them all justice can be a big ask. Here are some strategies to help you travel down the road to the perfect choice.
Be a good friend
Sadly, it's not just a cliche from the world of romantic comedies. There really are brides who force their attendants to wear hideous dresses that don't flatter them at all. But we say – don't be that bride!!! The women you choose to be your attendants are your closest friends and relatives, so why would you want them to look and feel like fashion victims? Especially on a day when you want them focused on you. So be a good friend and pick out some nice designs that fit well and suit their shapes. Some of the styles which flatter a good variety of body types include A-line skirts and empire-waisted gowns. Of course, it also goes without saying their gowns should complement yours as well – without overshadowing it.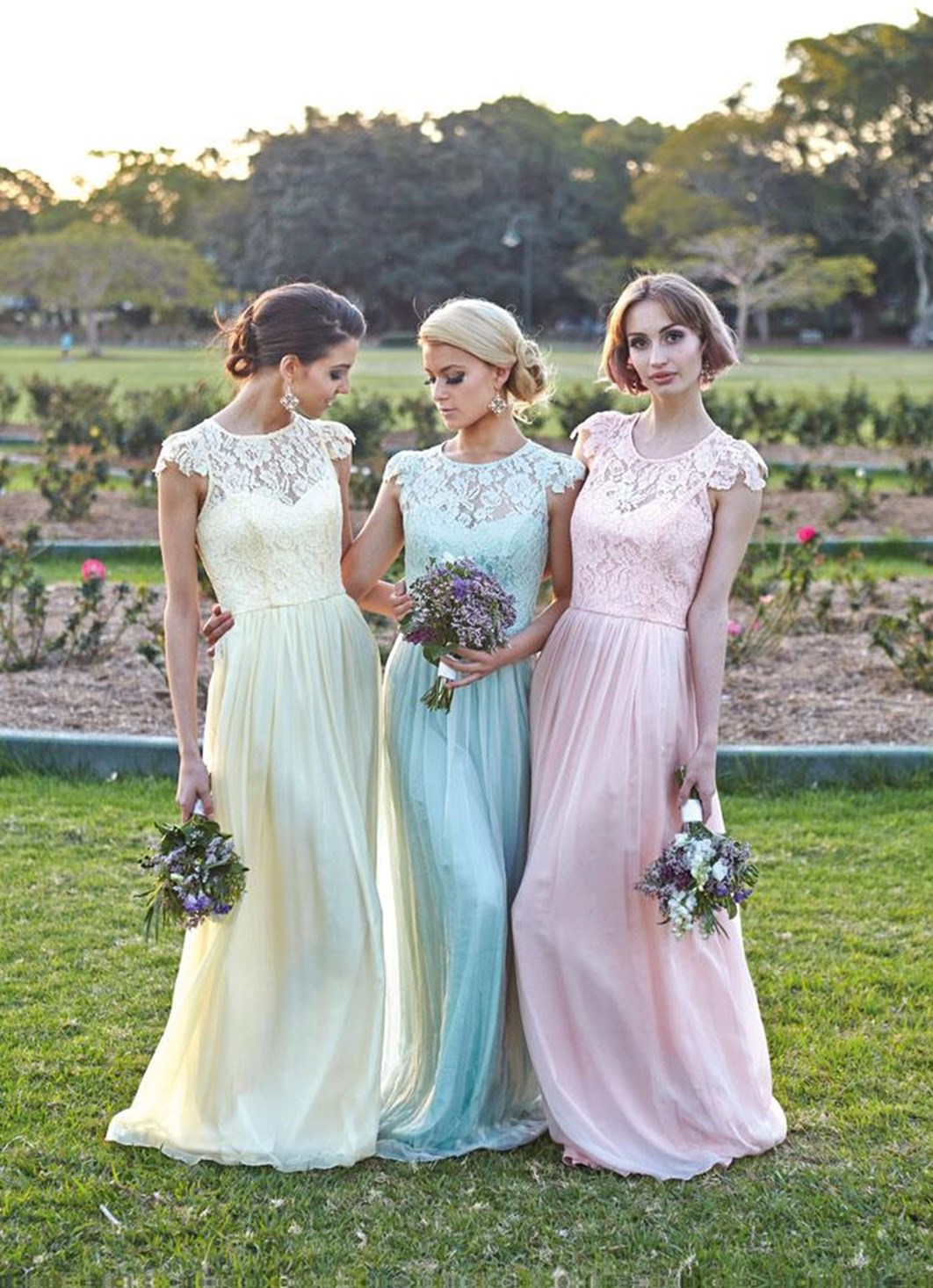 Don't be afraid to mix things up a little
There is a common misconception all bridesmaids have to wear matching dresses, but nothing could be further from the truth. In fact it's quite common in modern ceremonies to see attendants mix it up, albeit usually with an underlying theme. Some bridesmaids may wear the same colour, but in different styles. Others may opt for the same style but in different colours. Others may just work to a theme such as "green" or take a multiway dress and design it to suit, whether that's with or without sleeves, or with a lower or higher hem etc. As long as it suits their shape and colouring, and you get final approval, it can be a great way to ensure they feel beautiful and special while they're sharing your spotlight.
Look for reusable styles
If your bridesmaids will be footing the bill for their dresses, a clever – and thoughtful – idea is to choose something they could realistically wear again. If you are having a casual wedding or a beach ceremony, consider a pretty sun dress or a short cocktail frock that could work into their regular wardrobe. For a more formal affair, choose darker colours so they will be suitable for future events. That said, if you really want a dress that's not really wearable again, you're entitled to pick it – but that's maybe when you want to at least consider footing all, or some, of the cost.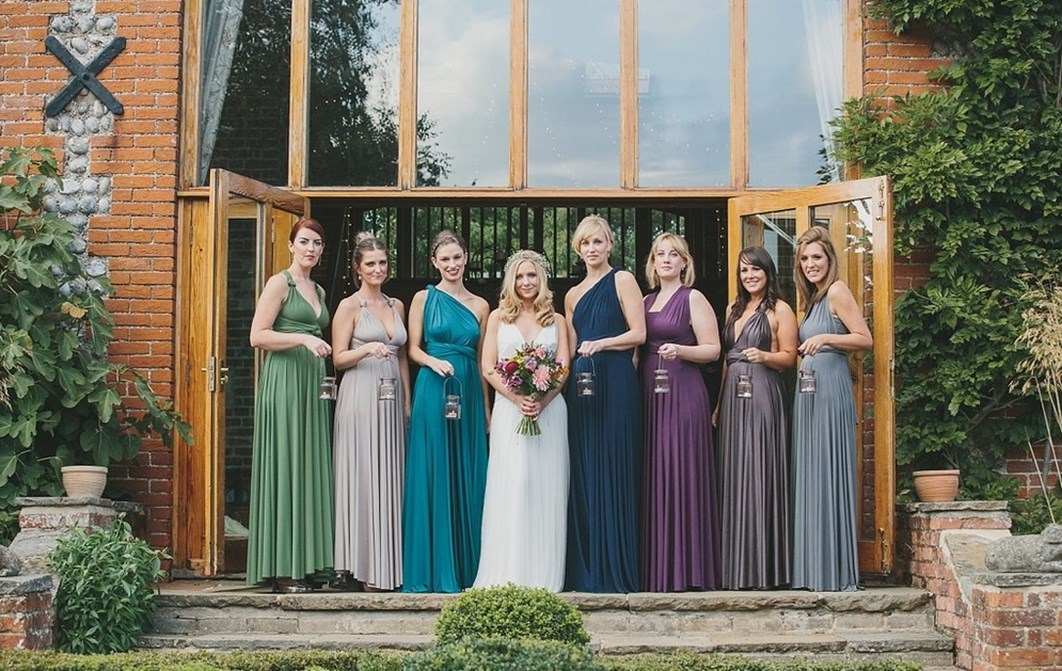 Think about the season, setting and timing
One thing many brides forget to take into consideration is when the wedding will take place. For example, what is considered perfect for a lunchtime wedding might be very different to an evening ceremony. Similarly, if you are having a winter wedding, you might opt for rich jewel tones, as opposed to pastels that pair perfectly with spring. Something else to factor in is the setting. After all, if your celebration is planned as a summer garden party, formal evening gowns – with matching shoes – probably aren't going to cut it.
Stay true to your vision
Finally, at the end of the day, while you want to look after your best girls, always remember it is your day and not theirs. So while compromise is a good thing, you don't want to be swayed too far from your original vision or desire, especially as it will have been crafted to fit in with the day's theme and colour scheme. Best bet is to set out your vision at the start and invite conversation and input then, so by the time you actually set out to go shopping, you're all on the same page.