Although your main focus may be on finding bridesmaid's gowns that fit with your theme and co-ordinate well with your wedding dress, it is important that the dresses you choose are flattering to your bridesmaids. Taking their body shapes into account when you choose a dress style may save tears and tantrums on the day, and will ensure confident smiling bridesmaids in your wedding photos.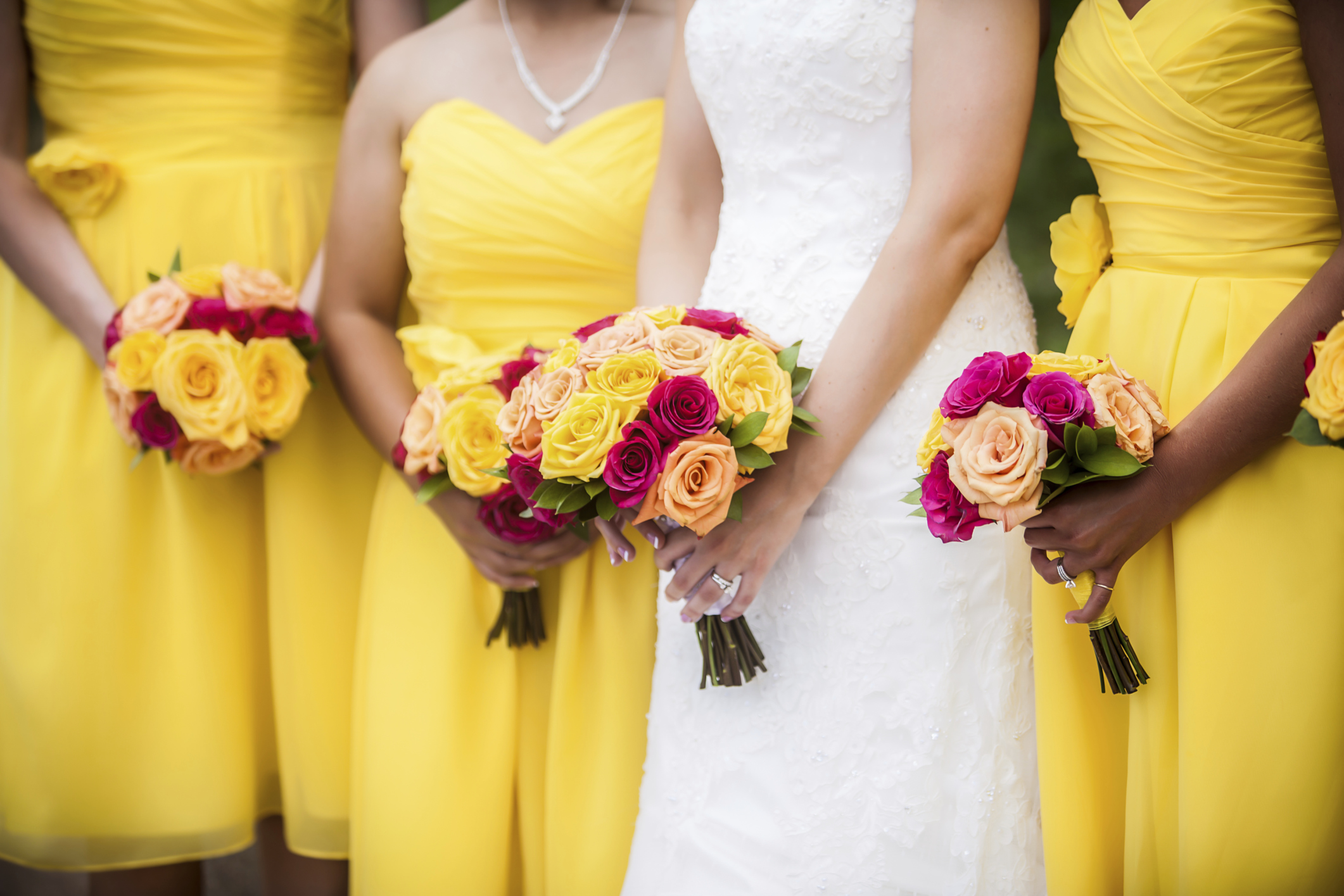 Here are a few popular bridesmaid dress styles along with the body shapes they are suitable for.
Empire line bridesmaid's dresses
This is an extremely popular style for bridesmaids' dresses as it is very elegant and feminine but flatters just about any body shape. The waistline is raised to just below the bust, and is usually complemented by a deep v shaped neckline, making it perfect for larger busted bridesmaids. For smaller busted ladies try an empire line with a halter neck.
The full length skirt of the empire line gown skims the stomach, hips and thighs, cleverly hiding any lumps and bumps. The length of the skirt gives the illusion of height, so it is a great choice for petite bridesmaids, or those with short legs.
Baby doll bridesmaid's dresses
The baby doll is a shorter version of the empire line gown, often with a sweetheart, round, or scooped neckline rather than a v shape. This style of bridesmaid's dress is most suitable for informal modern or beach weddings, or for younger bridesmaids. The short skirt requires long legs; shorter bridesmaids will only look stumpy in a baby doll dress.
Flapper style bridesmaid's dresses
1920s vintage fashion is currently providing inspiration for many modern wedding outfits, and flapper style bridesmaid dresses are sure to be a big hit. Sleeveless and high necked, with dropped waists; they skim the body in a straight line so aren't especially flattering to curves. They look great teamed with a tousled up-do and a wide coordinating hair band.
Shift or sheath shaped bridesmaid's dresses
A tailored classic, perfect for curvy figures, the shift or sheath dress can be almost any length, although just below the knee is a popular choice for bridesmaids. Small chested bridesmaids can get away with a high neck, while bustier ones will look better with a lower wider neckline.
For those that have the confidence, this style works well in strapless form but try to balance a strapless look with a longer skirt. A sheath dress tends to have a deep v shaped neckline, and is generally more figure hugging than a shift.
Tea length bridesmaid's dresses
Taking inspiration from 1950s Hollywood, tea length bridesmaids dresses have full skirts with layers of underskirts, which finish around mid calf. A very defined waist means that they are only really suitable for slimmer figures, but they can make a perfect statement for a fun themed wedding.
Wrap over bridesmaid's dresses
A wrap dress may not seem like an obvious choice for a bridesmaid's gown, but for a daytime wedding it can be a very flattering style. Best suited to curvy figures, the wrap over front draws attention down between the breasts, suiting larger chested ladies, and then skims over the hips and stomach. Keep wrap style dresses fairly short, perhaps knee length, to avoid the appearance of drowning in fabric. Wrap style dresses work best with sleeves for those that don't want to show off their upper arms.