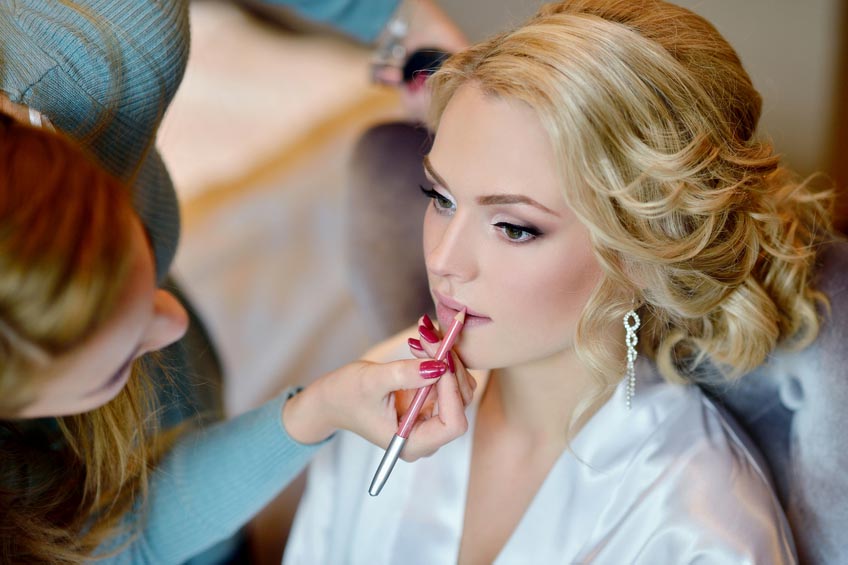 We've asked recently married brides what their top wedding day beauty tips were – and the results were quite surprising. Here are their top suggestions.
"I cut back on my salt intake"
If you cut sodium out from your diet in the two weeks leading up to the wedding, you'll notice you don't retain as much fluid and, hopefully also, red and puffy eyes will be less of an issue. You don't need to eliminate salt completely, but do try to reduce it as much as you can.
"I wish I still looked like myself… "
It may sound old-fashioned, but this was one of the most cited tips by the brides we spoke with. Though you definitely want some elements of your wedding-day look to be a surprise, you don't want to look like a completely different person when you walk down the aisle towards your betrothed!
So, when planning your make-up, ensure that whatever look you go for is something that isn't completely unfamiliar to the person standing opposite you at the top of the aisle!
"I was so glad my bridesmaid packed a small emergency beauty kit for me"
There's a reason emergency beauty kits are always listed as a wedding day must-have. Things to include range from miniature versions of your make-up products for touch-ups to items such as deodorant, safety pins, hair pins and baby wipes for cleaning off stray make-up, dirty hands or, even, sweat.
"I forgot about the weather"
You've no doubt considered the time of year, season and weather when choosing your venues, but it's worth considering these factors when you're picking out your wedding day hairstyle. If it's expected to be windy or humid, or anything else that can play havoc with your do, have that discussion with your hair stylist. Remember, your wedding day is going to be a very long one, so your hairstyle needs to hold up for the entire day and night.
"I held my hair and make-up trials on the day of my hen's party"
Here's a clever tip. If you book your hair and make-up trials for the day of your hen's party, then not only will you look great for the night of celebrations ahead, you will get a perfect opportunity to see how well it holds up when you are dancing the night away!
"Tie your look into your wedding theme"
When choosing your wedding look, you need to think about the overall theme you've chosen. Or, perhaps, it should be vice versa? After all, if you love the idea of vintage Hollywood glam for your hair and make-up, it's not really going to work with a rustic wedding in a converted barn, is it? Or, if you really love a particular look and it clashes with a theme you also love, then talk to your make-up artist about adapting it to fit. Their expert advice might have just the inspiration you need.
"You don't have to be a traditional bride"
You don't need to look like every bride that has come before you, you really don't! It's your big day and you should be happy and confident with the way you look, especially since you'll remember the day forever – and appear in hundreds of photos, too! The thing is, as long as you're comfortable with how you look, it doesn't matter if you have your hair up or down or if your make-up is flashy – or not! Hell, some brides don't wear any make-up. Whatever your look, traditional or otherwise, ensure it's YOUR look, not a look you think you should adopt!
"I should have gone easy on the blush"
Using the right amount of blush is a fine line to tread, so bear in mind that, many times during your big day, you will be flushed with excitement and, perhaps, a little hot, so the last thing you need is a heavy dose of blush.
Really, a light dusting of blush will bring out your cheekbones and, for most brides, that's all you really need.
"I was glad I chose a neutral colour for my manicure"
If you're having a manicure done for your big day, really think about what colour you opt for. Bold and trendy colours can pop with vibrancy on the day, but for a classic look that won't date, a neutral manicure may be the best bet – and will stand the test of time.
Think classic french manicure or, maybe, a pale shade of blush.
"I really should have used waterproof mascara"
It's your wedding day so the chances you're going to shed at least a few tears are pretty high. You may even end up sweating a little when you hit the dance floor. To avoid rocking panda eyes, ensure you use – or ask for – waterproof mascara that's guaranteed not to run.
"Don't sweat the small stuff"
Wedding planning can be an exercise in stress, but the more hung up you become, the more you will run the risk of physical signs of stress emerging in the form of spots, blemishes and, even, hives. The best advice is: don't stress – or, at the very least, don't sweat the small stuff. That said, if you do get a pimple the day of your wedding, it really is not the end of the world.
That's what concealer is for!
"I set aside a little 'me' time every week in the lead-up to my big day"
As well as letting go of small stresses, another way to ensure you're totally relaxed on your big day, is to set aside some time once a week to have a bit of 'me' time, such as a personal spa ritual. Simply choose a favoured beauty treatment – or a few of them – and have it done every week for the 6-8 weeks leading up to the wedding. This will carve out important me time, where the focus is on pampering and relaxation. Plus, if you choose something practical, such as a facial, it will have the side benefit of ensuring you look your best on your big day.
"Dirty hair is the secret behind great updos"
We're a bit torn on this tip, but it's one that came up again and again with many brides suggesting you don't wash your hair for 48-72 hours before your big day. Yes, it might feel a bit icky, but it's an absolute fact that slightly dirty hair will hold a style much better than soft, freshly washed hair! Of course, a professional hair stylist may be able to get the same look (with clean hair) and some hair styling wizardry!
"I wish I'd taken photos at my hair and make-up trials"
Once you have selected and tried out your look for the big day, make sure you take photographs of it from every angle. This will give you and the make-up and hair artists appropriate reference material for the big day and let you see how it all works through the lens..
You'll look spectacular on your big day with these wedding day beauty tips and the help of an experienced professional. Find wedding hair and make-up experts here.