When you're choosing your bridal shoes, you will be influenced by a number of factors such as the colour and length of your wedding dress, your ability to walk in heels, your height, and the type of wedding you are having. Don't be tempted to buy the first thing you try on because nobody will see them anyway, you can be sure they will find a way to peep out from under your skirt and ruin that perfect photo.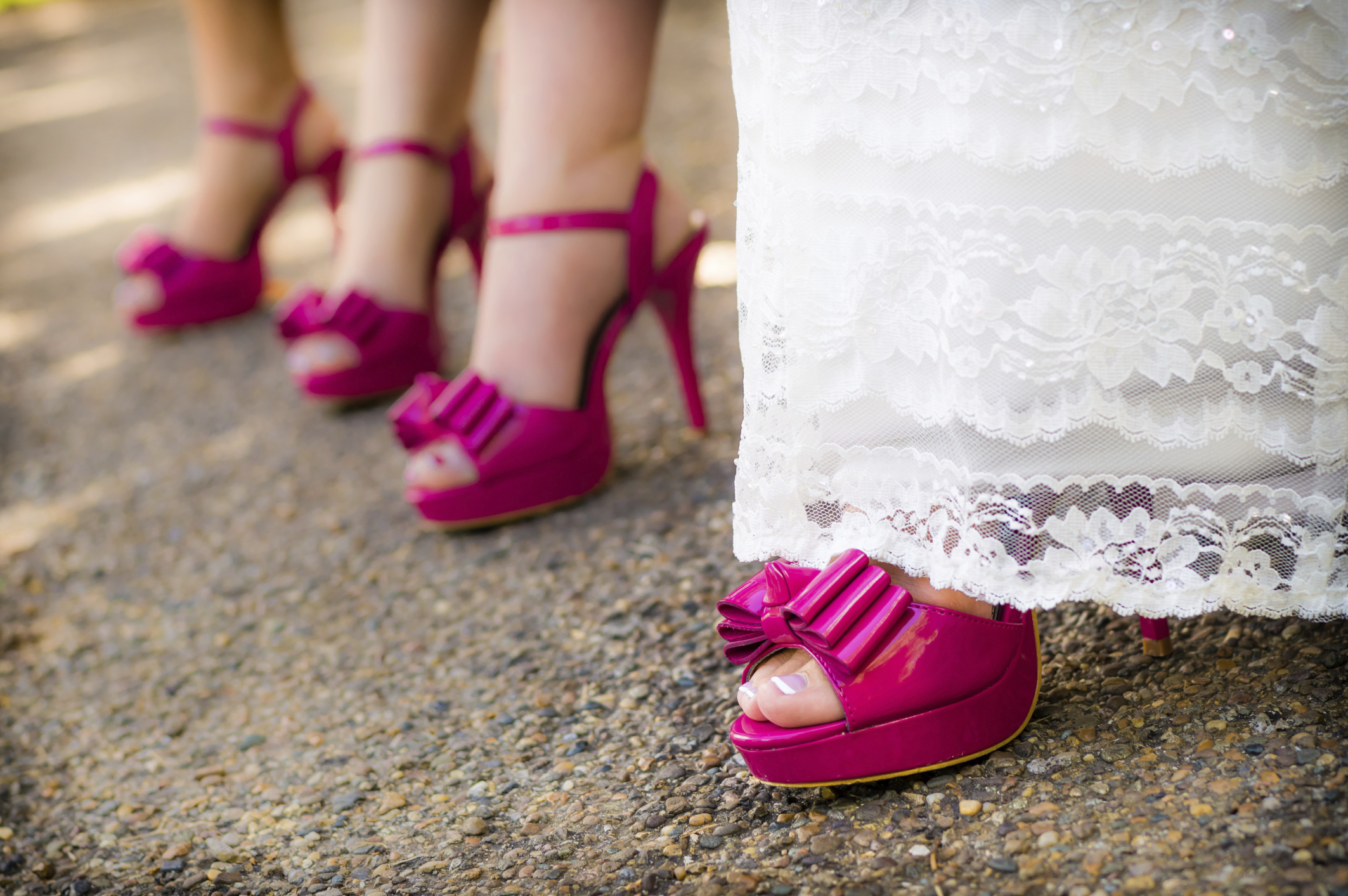 Here are some of the colour and style options for modern bridal shoes:
Bridal shoe colours
If you are looking at purposely designed bridal shoes, they are usually available in a choice of ivory or white to coordinate with most wedding dresses. You can also have shoes dyed to match the exact colour of your gown, and that may be a good option if you are having a dress in an unusual shade.
Recently there has been a move towards statement wedding shoes, with brides using shoes to express their true personalities under their pure white dresses. Any colour from red and orange to green and purple is possible, and plenty of brides are choosing to use their shoes as their something blue. As long as you co-ordinate your bouquet with your shoes, they won't look at all out of place.
Metallic shoes are also a trendy choice for brides wanting a change from white, but looking for a subtler option than hot pink. Bridal shoes are available in gold, silver, bronze, and metallic pink; just make sure they co-ordinate with your wedding jewellery.
Bridal shoe accessories
You might think that the shoes themselves are the accessory, but accessorising your accessories has become big news in wedding fashion. Bridal shoes can be personalised with fabric corsages or rosettes, ribbons, feathers, crystals or pearls to give a really unique look. Show off your accessorised bridal shoes with a shorter skirted gown.

Bridal shoe toe shapes
Closed toes are the most formal style bridal shoe and are often a popular choice as the toe is the most often seen part of the bridal shoe. Pointed toes are still fashionable, especially for elegant evening weddings, and they make the foot appear slimmer. Round toes give a cuter, more casual effect, making the foot appear smaller but wider.
Open toed bridal shoes, or strappy sandals, give a sexy flirty look, and are perfect for petite women that are confident about their feet. A good pedicure is vital if you are wearing open toed shoes, as your feet will feature in your wedding photos. Open toed shoes with heels are great for evening and formal weddings, while flat open toed shoes can also be suitable for casual beach or garden weddings.
As a compromise, peep toe bridal shoes just offer a glimpse of one or two polished toenails, but provide more cover and structure. Peep toes offer a classic look that is perfect for daytime weddings, but still looks great in the evening.
Bridal shoe heel types
Many brides choose high heels to give them confidence and elegance as they sweep down the aisle, and platform shoes with stacked soles are a very fashionable choice this season. Making sure you can walk in your heels is vital, and having a back-up pair of pumps for later in the day is never a bad idea. High heels and platforms are very effective with shorter skirts as they elongate the leg.
Flat bridal shoes are a comfortable option, and they are perfect for taller brides that don't need the extra height. Flat sandals are ideal for a garden or beach wedding, and they look great with the current trend for Grecian goddess style gowns. Flat shoes are generally better worn with a full length skirt as they can make legs look stumpy in a short skirt.
If you are looking for a combination of extra height and comfort, look for bridal shoes with a wedge heel. These are great for daytime weddings, and suit all figure shapes. From the front and the back they will look like regular high heels, and for most of the day the wedge can be hidden under a long dress.