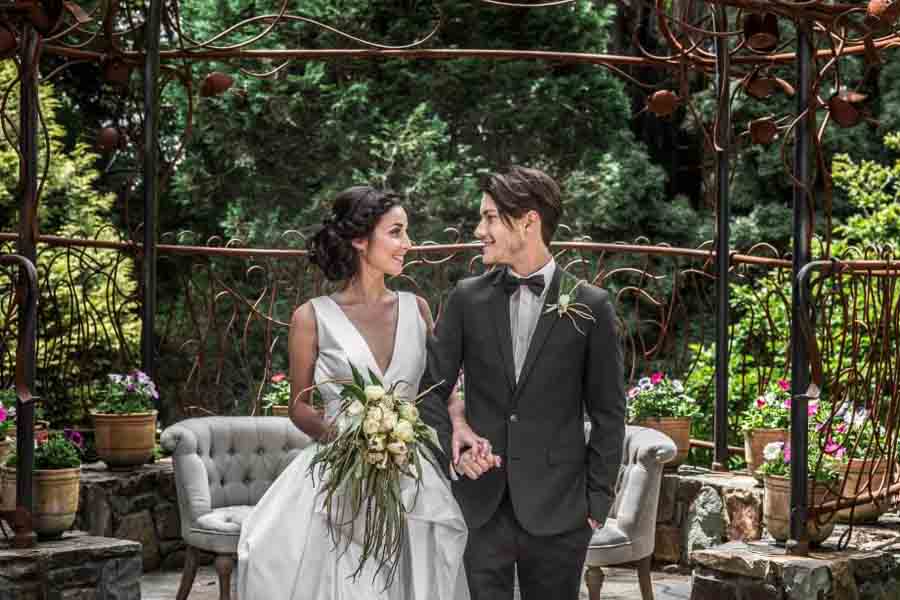 The Dandenong Ranges are a natural slice of paradise, found only an hour from the bustling Melbourne CBD. With beautiful forest environs to explore, fresh country air to breathe and nature to enjoy by way of waterways, wildlife and everything in between, it's a stunning environment that lends itself perfectly to a woodland wedding. And that's something Claire Watson knows only too well.
As the senior wedding coordinator at Tatra Receptions, a premier wedding reception venue set on 10 acres of established gardens, Claire has the privilege of a first-hand view as couples plan their dream day in partnership with Mother Nature.
Building on great partnerships with everyone from florists to event stylists, it's given her a wealth of great ideas on how to create a gorgeous woodland wedding. Here are some inspirations you can tap into, perhaps following the lead of the couples pictured, who brought in some of the featured props to capitalise on the woodland setting.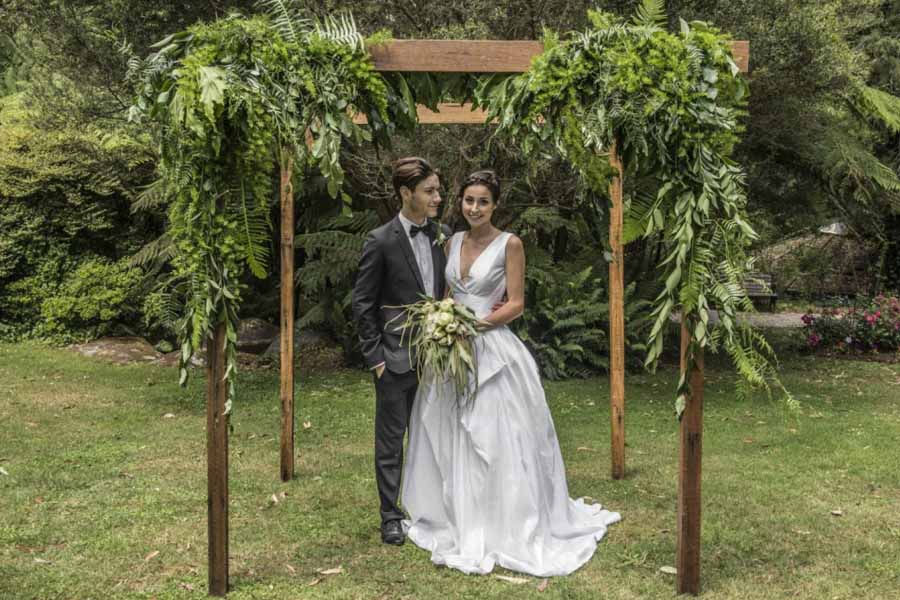 Think timber talls
A big part of tying the knot in a forest-themed setting is tapping into that beautiful earthy connection to Mother Nature, and weaving elements of it into your ceremony. With the current popularity of wedding arches and canopies, you have the perfect opportunity to do just that, through creation of a signature style element. By drawing on the warmth of timber for the frame, you effectively create a kind of natural grove for your ceremony that almost looks to have evolved organically, while the pared back use of greenery drawn straight from native surrounds helps to underscore a mood that is both rustic and elegant.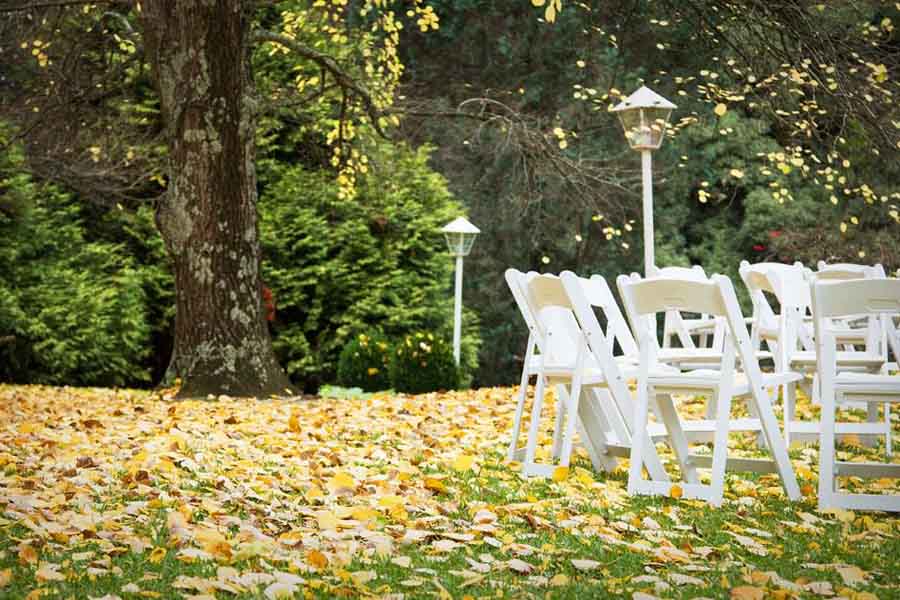 Take the fall
For many people, an outdoor wedding is all about a blazing blue sky sharing its warmth and sunshine. But when you turn your thoughts to the other seasons, a forest theme can really come into its own. And yes, we are talking specifically about autumn. Not too hot and not too cold, this season's ace up the sleeve is a kaleidoscope of rustic tones you just don't get at other times of year. Think burnished shades of chocolate, muted yellow accents and dappled copper tones, set off perfectly by the vibrant green of forest perennials. Then there's the crunch of fallen leaves underfoot, something that might be a nuisance on your driveway, but at a wedding becomes an alluring natural alternative to the red carpet. Or, if you've always dreamed of a rugged-up ceremony, consider a magical winter celebration as the mercury plunges south. It may be a little chilly on the side, but that's easily offset by all the advantages.
Prop up your photographer
Mother nature is a photographer's dream, with a profusion of lush greenery that offers the perfect backdrop and framing. But to really enhance your woodland wedding it's worth digging a little deeper and looking for the unexpected, both in moments and in settings. Take the photo below. To the untrained eye it was probably just a log pile whose sole purpose was to keep a fireplace blazing. But in the hands of an artful snapper, it became a photo you just won't find in other albums – one that offers a moment of spontaneity and contrast among the day's more posed and glamorous poses. The motto is – look down, look up and look around. From moss on a tree to a bird's nest and beyond, we guarantee myriad photographic opportunities you just won't find anywhere else.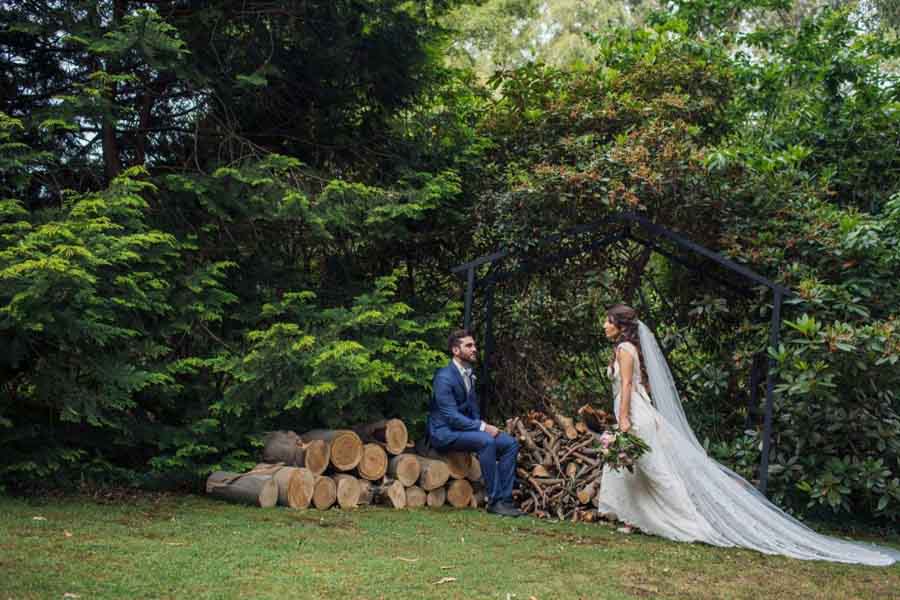 Explore the night
There's nothing quite like the absolute stillness that settles on a forest as twilight bids goodnight. As the moon and stars come into focus and the sky turns an inky black, you can capture a silence and a mood like no other. It all adds up to the perfect photographic backdrop. As Tatra owner Andrew Lazaroy explains, many couples do grab their snapper and head outside. "Being in the mountains, the sky is not as polluted, you're surrounded by lush greenery and, depending on the time of year, you might be able to incorporate fallen foliage or, if you're incredibly lucky, a dusting of snow," he says. Throw in a few sparklers, and you have the perfect recipe for a memorable night-time image – one that is equal parts mysterious and memorable. And the best bit? You've then got a great excuse to head back inside, hit the dance floor and warm up. As the song so memorably reveals: "Baby it's cold outside."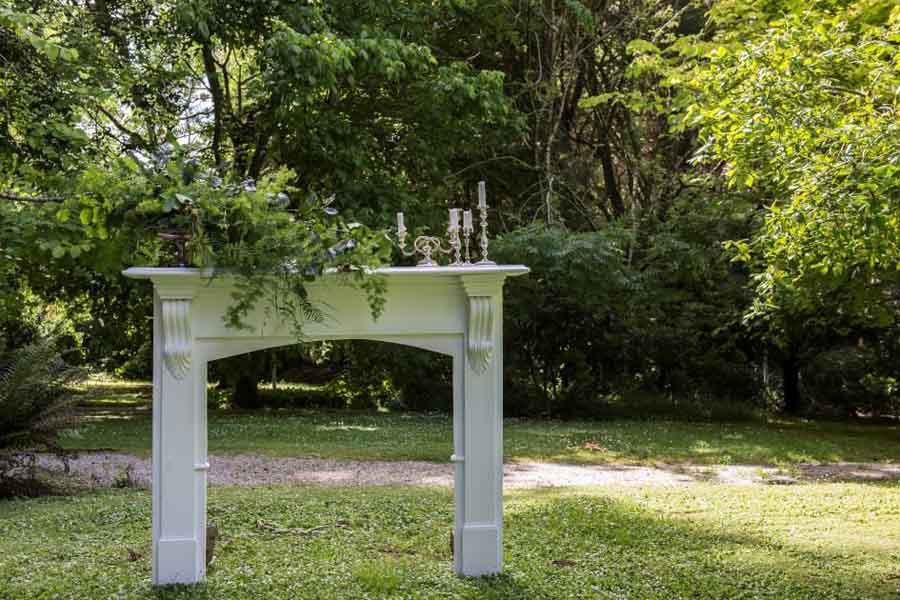 Bring the inside out
The very virtue of marrying in a forest setting means that indoor elements can enjoy extra appeal just by way of a change of backdrop. Take this mantelpiece above. Indoors, you probably wouldn't look at it twice, but outdoors it immediately captures the eye, creating a ceremony backdrop that is as memorable as it is magnificent. The same goes for lounge room furniture. In fact, one of the most stunning ways you can capitalise on a spacious sculpted lawn or wrought-iron cupola, such as those found at Tatra Receptions, is to set them up as a meeting place, complete with comfortable seating such as Americana chairs and places for guests to linger in between topping up their glasses at the venue's specially designed garden bar. It's a sensory sensation that is rarely found but adds that extra touch of class to a woodland celebration. "Tatra was designed to take advantage of its gorgeous surrounds, so we encourage couples to showcase them as much as possible," says Andrew, who explains they are pretty flexible with allowing people to bring in their own styling elements to decorate the spaces. "The ceremony area, for one, overlooks the forest and is surrounded by a tree canopy, so it's like you have this natural stage where couples can say their vows against a beautiful backdrop. It really is an incredibly special way to tie the knot." It's all about bringing together that fusion of elements that will both captivate, and comfort, your guests. The overall mood is spellbound by nature.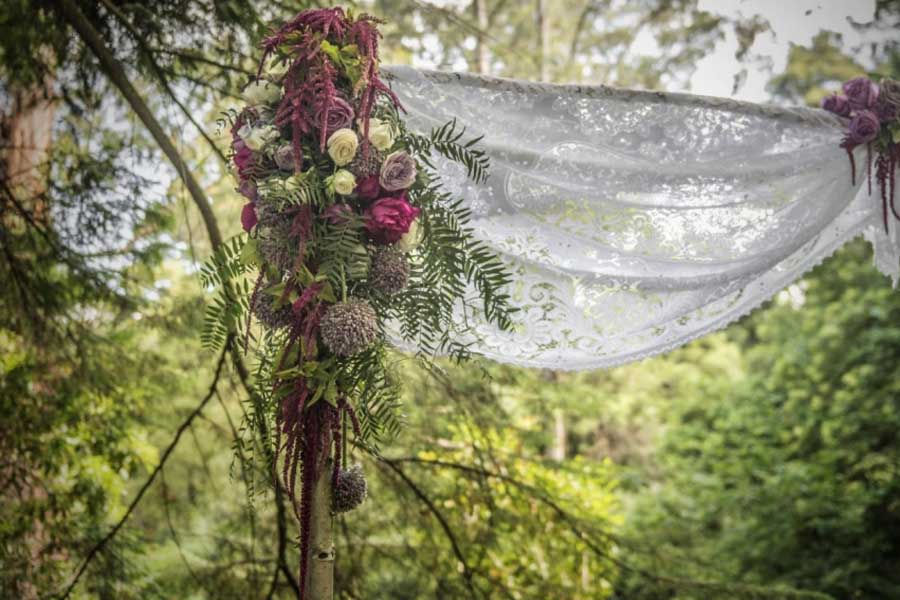 Play with unexpected design and texture
Mother Nature is a gorgeous extravaganza of tones and textures, so a forest wedding offers carte blanche to follow suit in a way that looks and feels incredibly authentic. So throw away the rule book in favour of what you love. Think deconstructed and cascading floral designs rather than precision-arranged flowers, materials such as lace in an unexpected combination with ferns, or even something as simple as a tree branch coming into focus as a canvas for beautiful style. Other ideas for gorgeous texture contrasts include picnic blankets set on a forest floor or a canopy of vines interwoven with soft lanterns. It's all about tapping into the beautiful yet blank canvas that is the world around us.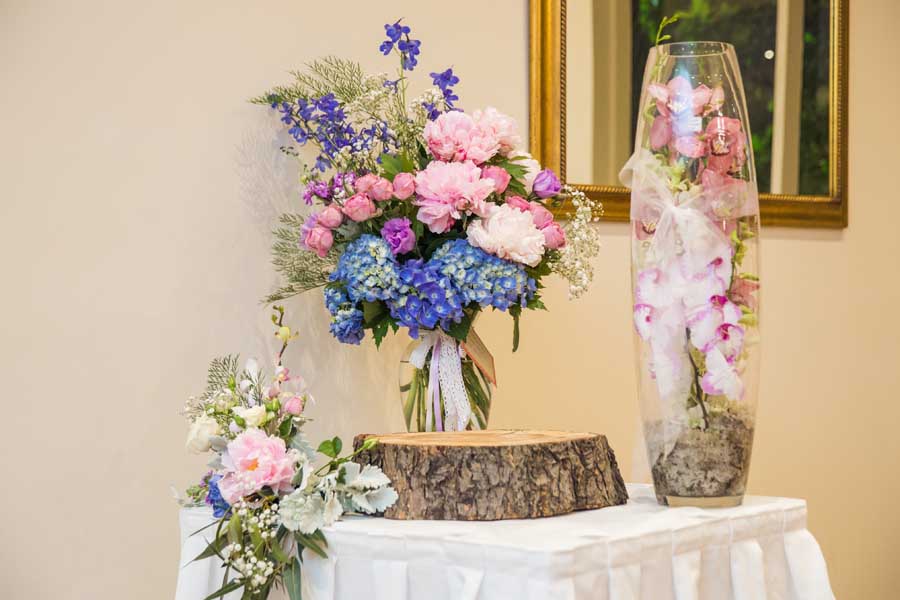 Embrace small touches
The experts will always tell you that small statements can make a big impact, and nowhere is this more true than at a woodland wedding. Even for the indoors portion of the celebration, it's still possible to flow through a sense of earthy elegance, as shown in the above photo by the use of a hewn piece of timber on a table. Not only is it beautifully rustic, it also captures a sense of the forest surrounds, looking stunning when paired with vibrant flowers. But more than just looks, it's also incredibly practical, whether you use it to showcase a cake, hold shared platters or even simply act as a centerpiece.
Claire, a highly experienced and long-term member of the Tatra Receptions team who has helped myriad couples plan their dream day, says a growing number are embracing the beauty of nature. And the evolution ties perfectly into the venue's extensive renovations this year, geared towards the forest theme suggested by its surrounds.
"Our aim with the renovation was to create that really romantic atmosphere, with interiors and furnishings that showcase and reflect our breath-taking forest setting," Claire says.
With couples enjoying exclusive use of Tatra's grounds, the seamless integration between the great outdoors and spaces such as the ballroom and pre-dinner drinks area allows for the creation of dream days.
"The beauty of Tatra is that it very much comes down to each couple's individual vision," says Claire, who delights in the fact they will soon be able to make use of gorgeous Napoleon chairs.
"They have the convenience of showcasing Tatra's beautiful tailor-made setting as is, or they can really personalise it to create the look they have in mind. Whatever mood and ambience they want to evoke, we can help them fulfill it."
Ultimately, it all comes down to the focus on location, building on the fact Tatra can cater for between 80 and 250 wedding guests and boasts onsite accommodation across 28 studio rooms catering for two to eights guests each.
"For us, it's about the woodland theme being perfect for where we are and what we do," says Claire. And ultimately, that's the beauty of saying "I do" in the Dandenongs.
* Some of these photos were in collaboration with:
Photography: Gus Reyes Photography
Styling: Miss Mooi
Floral Design: Floretta
Floral Design Assistant: Lauren Henderson
Bride dressed by: Bonita Bridal Couture
Venue: Tatra
Hair and Makeup: Ally Jenkins Makeup
Bride: Gabby Grech
Groom: Jamie Fairbanks