Your choice of hairstyle can affect your overall bridal look dramatically
So, it is important to pick a hairstyle that will not only be comfortable, but will match your style of dress and overall wedding theme. One very versatile look that matches most themes is braids – and there are plenty of elegant, stylish and, even, fun options – that won't make you look like a little girl!
1. Braided crown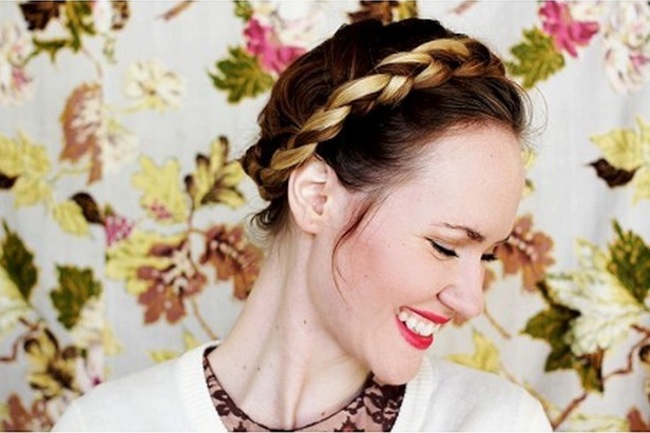 If you have long hair and want it all off your neck but prefer not to just wear a standard bun, a braided crown is an excellent option. With the long hair braided carefully around your head, it can appear as though it is a literal crown of braided hair in place of a floral crown. For added detail, incorporate some flowers.
2. Hidden fishtail braid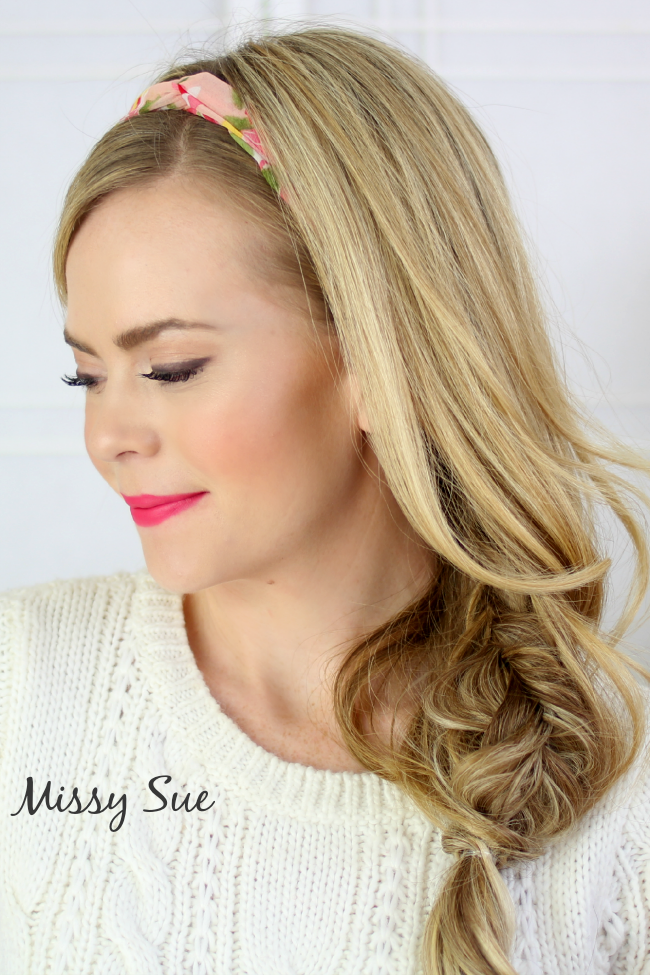 The hidden fishtail braid adds a touch of style to your hair. Wear the rest of your hair down while incorporating a small fishtail braid that appears hidden in the rest of your hair. This works well with a messier, more bohemian hairstyle.
3. Half-up braided crown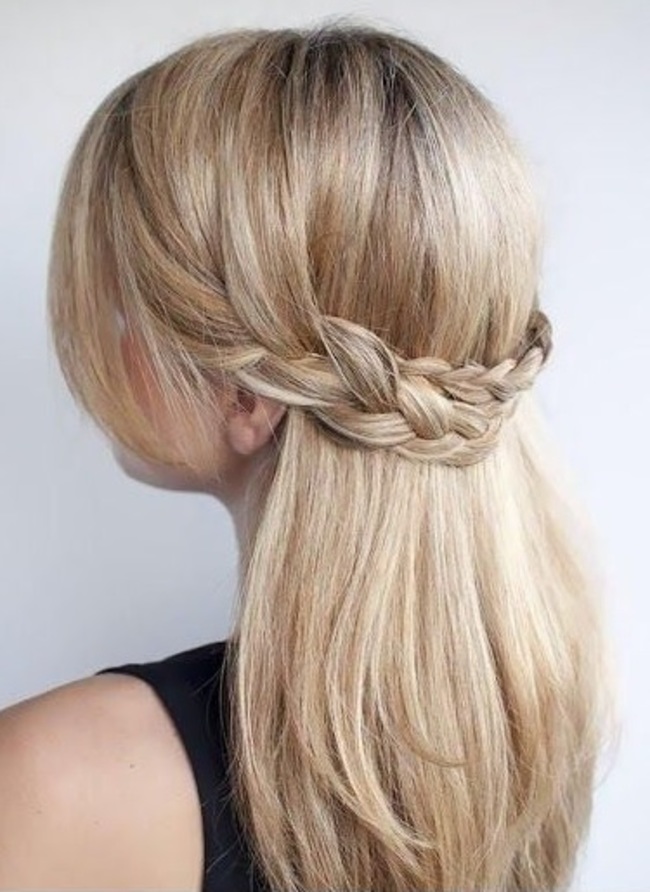 The half-up braided crown is an excellent and romantic option for those that what the look of a braided crown but still wants hair hanging down over their shoulders. This works well for women with thick curly hair.
4. Braided updo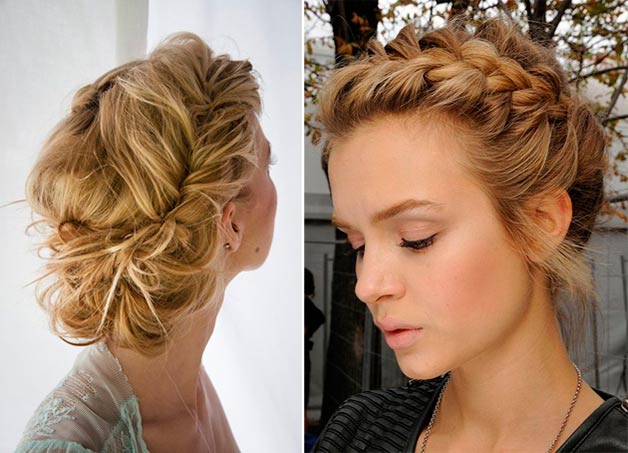 The braided updo is an elegant way to get long hair, or even shorter hair, up off the back of the neck. Simply braid the hair and swoop it up into an updo. To add an extra touch to the braid frame the face with some loose tendrils of hair slightly curled.
5. Multiple long loose braids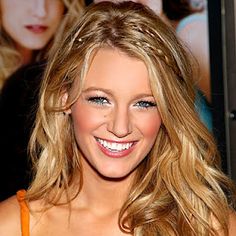 If the bride to be has a lot of long hair, an assortment of loose braids scattered through long flowing hair makes a great look. This style is better suited for a more casual wedding.
6. Modern bun with fishtail braid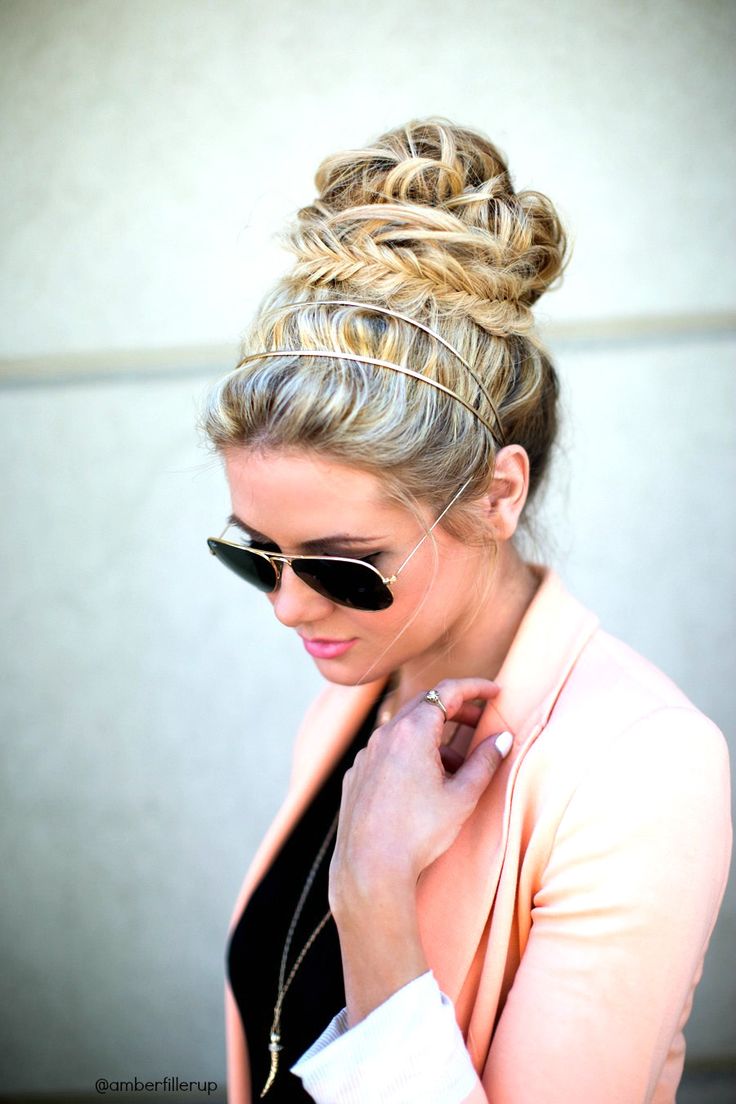 This combination of fishtail braidswrapped around a messy, modern style of bun creates a hairstyle that is a refreshing and fun change from the traditional bun that sits high on the head. Keep some hair loose around the face to give it a bohemian or casual feel.
7. Fishtail braid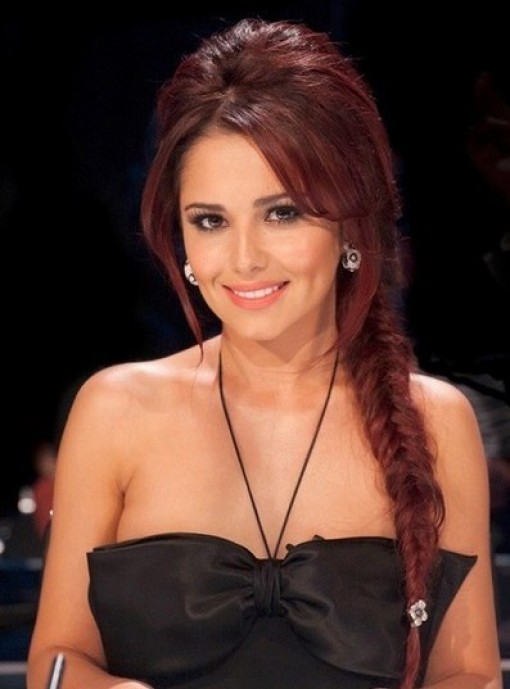 Brides with long hair can make a statement with a single fishtail braid that flows down the back. The braid can be loose for weddings that are more casual or tighter for a crisper or refined look for more elegant affairs.
8. Fishtail braid with ribbons or accents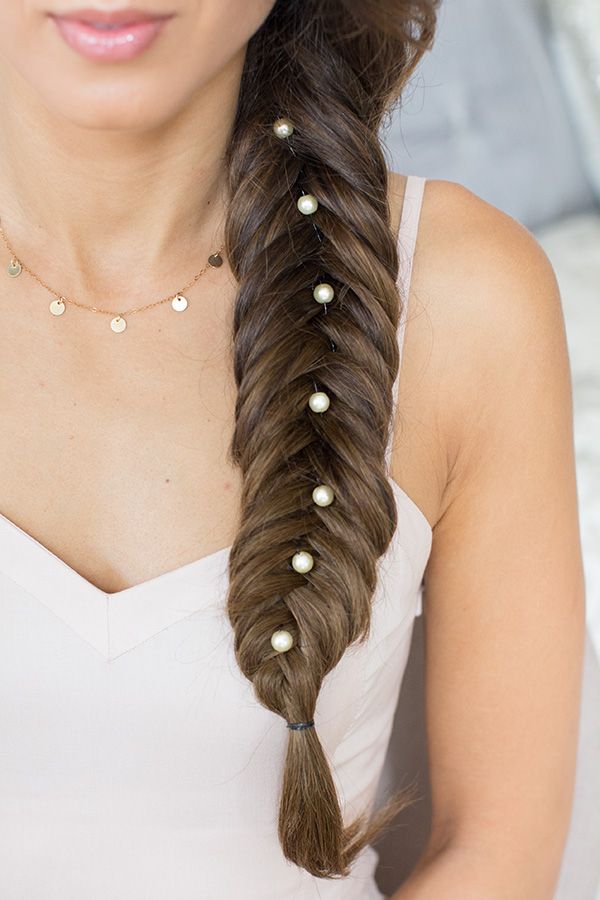 The fishtail braid is incredibly versatile. While making the braid incorporate ribbons, lace, or even flowers throughout for an added touch. A bride can even incorporate a touch of blue in her hair to have that "something blue."
9. Braided side bun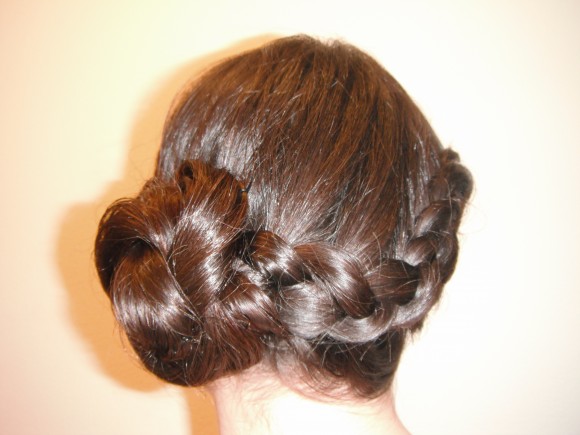 For the bride looking to have a traditional look of a bun with the added texture of a braid, the braided side bun is the ideal option. Braid the hair and work it into the perfect side bun to give the texture and details desired. Omit the veil and go with flowers to add a special touch to the look.
10. French braid
The French braid is a beautiful hairstyle that can look elegant for a more upscale wedding. If you prefer a more casual wedding, a loose French braid with flowers, beads, ribbons, or other accents works well.
11. French braid and fishtail combo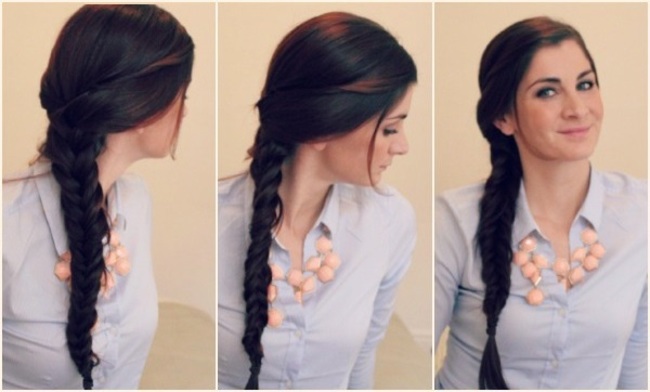 Any bride that loves the look of the fishtail braid and the French braid can have the best of both worlds by combing the two. Start the top of the hair in a traditional French braid then pull it to one side while transitioning into a fishtail braid.
12. French braid with low bun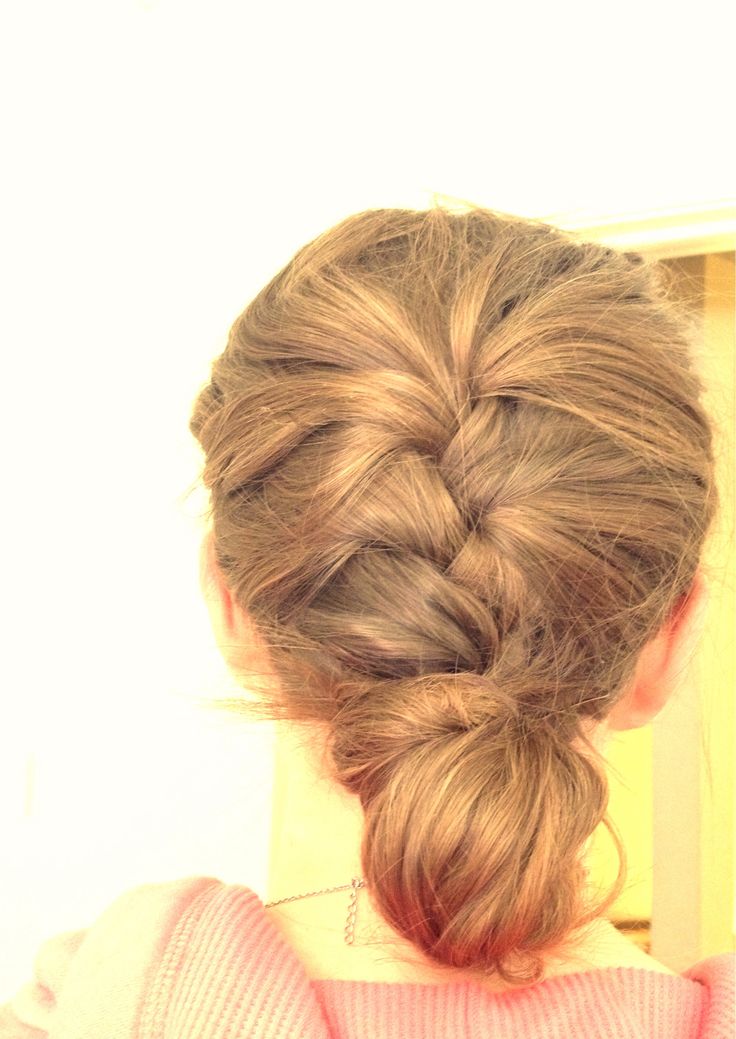 Brides wanting the look of the French braid but not wanting to have their hair down can opt for this hairstyle combination. The front and top of the hair would give the gorgeous look of the French braid while the back can be in an elegant bun.
13. Waterfall braid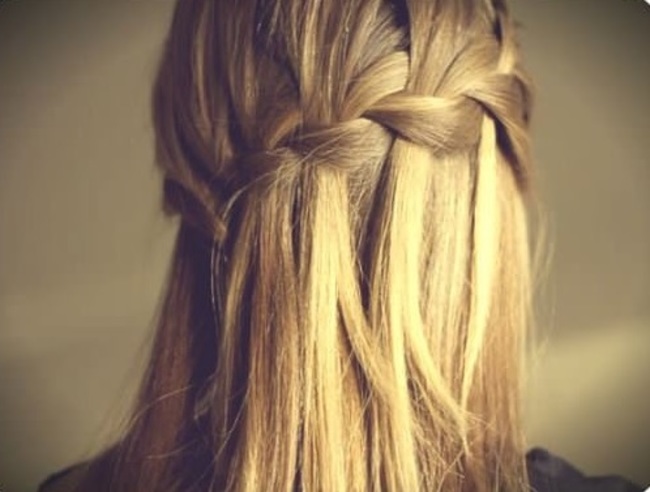 Waterfall braids are a beautiful way to give a woman with long hair a romantic look. The hair can be braided loosely across the back of the head allowing for the rest of it to hang loosely about the shoulders.
14. Waterfall braid with cascading curls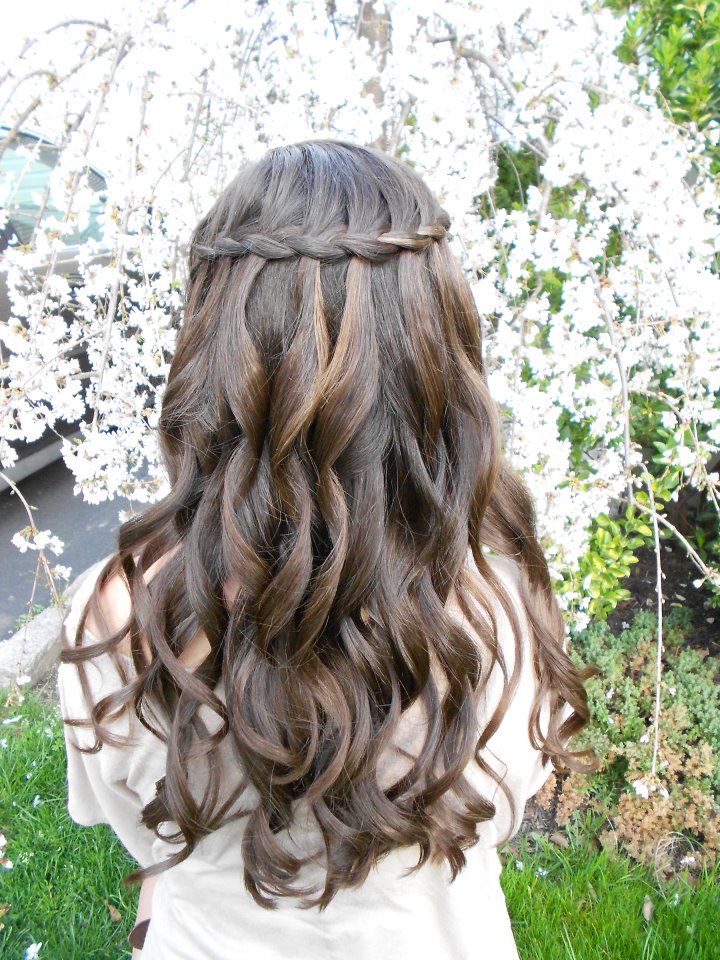 The waterfall braid provides a soft and flowing look at feel to the bride's hair. Combine the freshness of the waterfall braid with a lot of thick cascading curls and you have a hairstyle any bride would be happy to wear.
15. Loose side-swept braid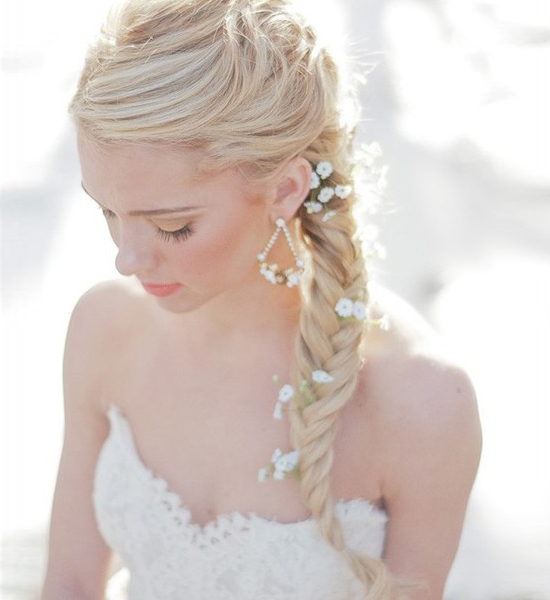 Some brides with long hair want to keep their hair down while giving a bit of style to it at the same time. By pulling the hair to one side, the bride can loosely braid her hair providing her with a romantic, relaxed look.
16. Braid-wrapped bun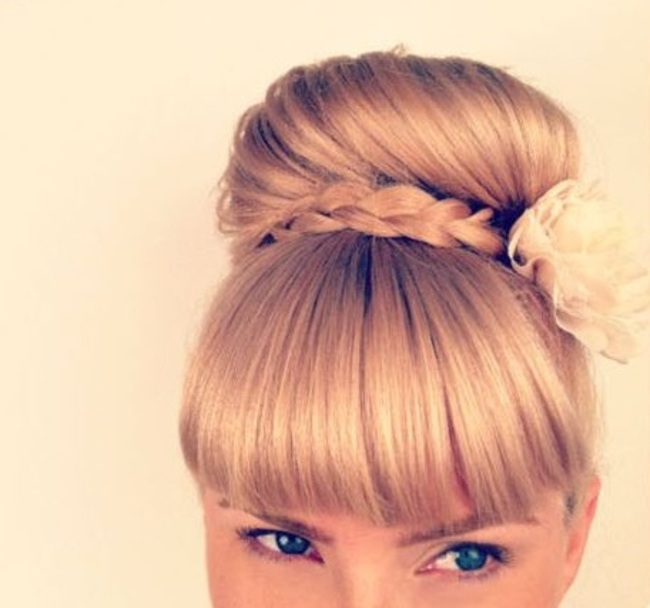 Brides in search of a classic look with a bit of style should consider this hairstyle. It is a classic bun placed at the nap of the neck accented by a simple thick braid wrapped around it close to the head. Wear this along, with a veil, or with floral accents.
17. Bohemian side braid combo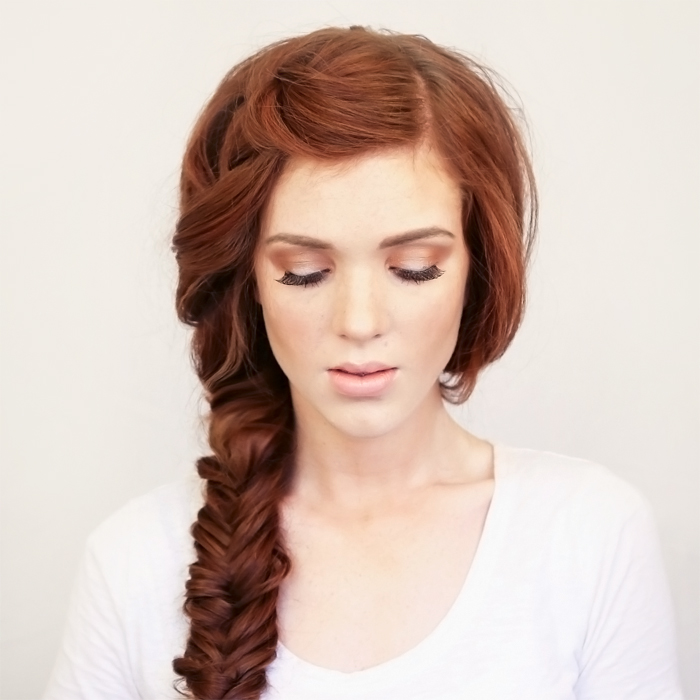 The Bohemian side braid combo is an excellent option for those brides having a casual wedding in a park or woodland setting. A French braid is loosely done along one side of the head, the rest of the hair is pulled over from the opposite side and either continued in the French braid, or for a more modern look, and it is transformed into a fishtail braid. The braid can then loosely hang over the shoulder.
18. Braided low bun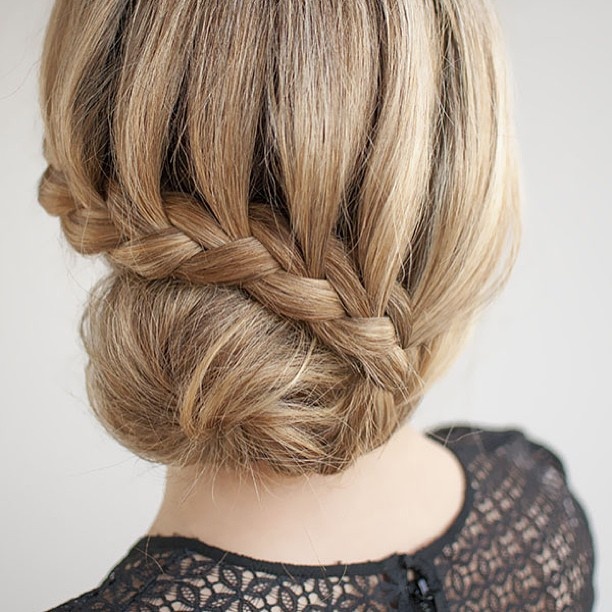 The Braided low bun is a great way to combine an assortment of plaits and braids together to form the perfect low bun. The mixing of the braids, plaits, and non-plaited sections makes for a relaxed yet put together look.
19. Half-up with twists and braids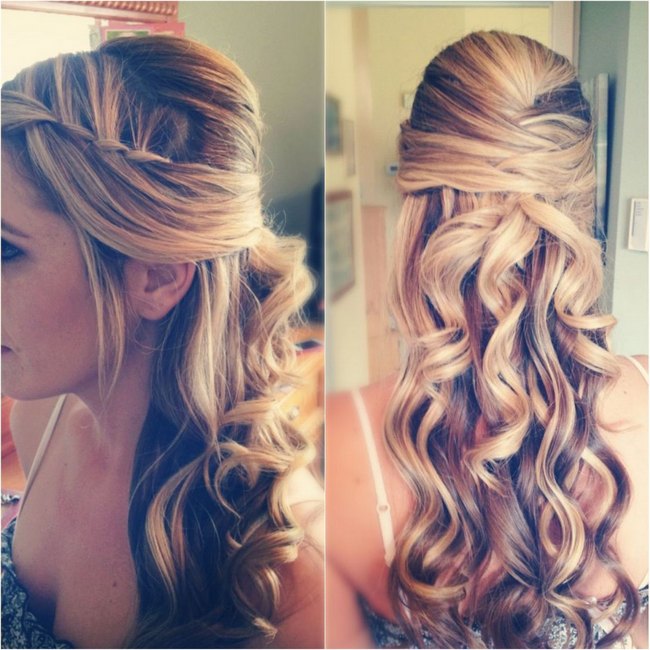 This hairstyle mixes different hair techniques to get the desire look. Place a thick crown at the top of the head, giving it a braided crown or headband effect. The next step is to make some small twists from the front and side of the head and pull them to the back. This gives a detailed, yet not overly busy, look.
20. Braid-wrapped ponytail
This lovely hairstyle seems to have an endless amount of braids, twists, and detail. Incorporate and assortment of braids and twists throughout the hair, varying them in sizes, and join them all together in a ponytail. You can even wrap some of the braids around the base of the ponytail to hold it together.