With the average Australian wedding costing around $30,000, many couples scrimp and save for months on end to bring their dream wedding to life.
But did you know Kim Kardashian spent $10,000 just on invitations to her first wedding? Or that the wine alone at Tom Cruise's wedding to Katie Holmes cost $18,000?
These are just some of the exorbitant things you will find in this list of celebrity couples with the most expensive weddings…
David and Victoria Beckham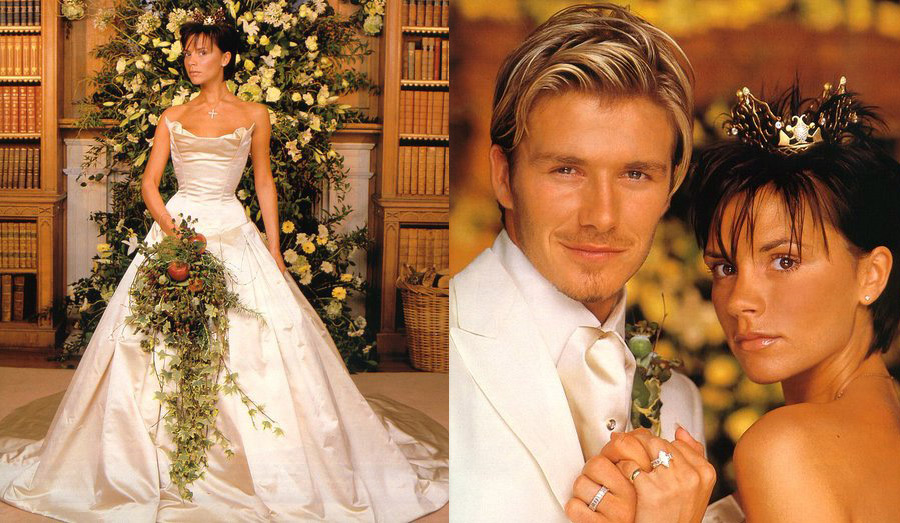 1999: $800,000
The couple that were considered akin to British royalty for a time might cringe to see their $800,000 wedding held at Luttrellstown Castle in 1999 could actually be considered a budget affair in the realm of celebrity weddings.
Adjusted for inflation, their Dublin wedding would cost $1.2 million today. Their 250-strong guest list included Elton John, who performed for them during the reception, and their decadent cake featured nude figurines of the bride and groom.
The couple's eldest son Brooklyn was just four months old at the time of the wedding and wore a miniature version of his dad's white Antonio Berardi suit.
Brad Pitt and Jennifer Aniston
2000: $1 million
The '90s saw the world fall in love with Brad Pitt and Jennifer Aniston's love. After dating for two years, they threw a $1 million wedding (about what Jen would earn from one episode of Friends) with 50,000 flowers brought in to create a zen garden look.
They were Hollywood's golden couple for the seven years they were together, and Jen's embellished gown set a trend for the time. Their lavish affair featured four bands, a gospel choir and fireworks.
Madonna and Guy Ritchie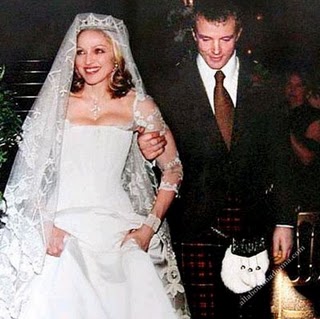 2000: $1.5 million
The material girl went all out for her second wedding. She got hitched to prolific director Guy Ritchie at the Skibo Castle in Scotland in 2000.
The high profile guest list included Gwyneth Paltrow, Donatella Versace, and Stella McCartney, who designed Madonna's $80,000 wedding dress.
They booked out the entire castle for their big day. Unfortunately, they split eight years later.
Elton John and David Furnish
2005: $1.5 to $2 million
Elton John and David Furnish said "I do" not long after the United Kingdom legalised same-sex civil unions.
They held an intimate ceremony at Windsor's Guildhall before celebrating their marriage with a massive 600 guests in luxury tents on the grounds of their Windsor mansion
They reportedly spent $130,000 on caviar and pink champagne, which was enjoyed by the likes of Victoria and David Beckham, Donatella Versace, Sharon Stone and Claudia Schiffer,   and $10,000 on their designer tuxedos.
Christina Aguilera and Jordan Bratman
2005: $2 million
There was an almighty party when Christina Aguilera married Jordan Bratman – their reception didn't wrap up until 5am!
The couple hired a private vineyard in Napa Valley, California, and included a 14-piece orchestra in their ceremony and they exchanged vows underneath an arbor of fuchsia, red, and blush roses.
Wedding planner Michael Gapinski is said to have transformed the reception area into a winter wonderland featuring hundreds of birch trees, white roses, and hydrangeas.
Sadly, they separated five years later.
Tom Cruise and Katie Holmes
2006: $3.5 million
Collectively known as TomKat, Tom Cruise and Katie Holmes were married after Cruise's infamous couch-jumping on Oprah.
They were married in a 15th century Italian Odescalchi Castle in Bracciano, and the entire bridal party's ensembles were custom designed by Giorgio Armani.
Guests included Will and Jada Smith, David and Victoria Beckham and Jennifer Lopez, who helped to polish off 300 bottles of red Barbesco wine, (at a cost of $18,000) and enjoy the fireworks display and a reception backed by classical music.
Liza Minelli and David Guest
2002: $4.5 million
When Liza Minelli walked down the aisle for the fourth time, she hosted one of the most extravagant Hollywood weddings ever.
With Michael Jackson as her best man and Elizabeth Taylor as the maid of honour, the reported 1000 guests knew they were in for a show-stopping ride.
Jackson and Taylor actually arrived late for the wedding, while Liz was at New York's Marble Collegiate Church an hour early to change out of the black dress she arrived in, into an ivory Bob Mackie gown.
The ceremony included a 50-piece orchestra and the reception boasted a 12-tier wedding cake. Sadly, their marriage lasted little over a year.
George and Amal Clooney
2014: $4.6 million
George and Amal chose to have a destination wedding AND foot the bill for all of their guests to travel to Venice, Italy. Soooo, it's no surprise that the biggest chunk of their wedding costs (almost $3 million to be exact) went on paying for 95 Cipriani hotel suites for three nights and travel.
Amal looked stunning in her custom-designed Oscar de la Renta gown, which set them back a cool $380,000. In comparison, George's Giorgio Armani tuxedo costed a paltry $5,000.
The stunning couple also splashed out $250,000 on Munaretto flowers and around $160,000 on a five-course reception dinner accompanied by champagne and Grey Goose vodka.
Justin Timberlake and Jessica Biel
2012: $6.5 million
Italy was also on the radar for Justin and Jessica, who booked out the entire Borgo Egnazia resort for their wedding day.
Not content that would keep the paps at bay, they also paid to close down surrounding buildings!
Jessica bucked tradition by wearing a gorgeous pink wedding gown, which was custom designed by Giambattista Valli. The veil, which was also created by Valli, was embellished with Jessica's heirloom pearls.
Michael Jordan and Yvette Prieto
2013: $10 million
The king of air time married his love in Palm Beach, Florida with a ceremony at the Episcopal Church of Bethesda-by-the-Sea followed by a reception at a nearby luxurious private golf club, where they celebrated with 300 guests, including Tiger Woods, Patrick Ewing, Spike Lee and Ahmad Rashad.
Entertainment was provided by Robin Thicke and Usher and the couple cut into a crystal encrusted seven-tier wedding cake before a stunning fireworks display erupted in the sky.
The handmade silk in Yvette's dress was created especially for her custom-designed gown.
Kim Kardashian and Kris Humphries
2011: $10 million
This could be one of the most expensive, as well as short-lived, marriages in Hollywoodland. It is also one that everyday viewers had a chance to be a part of – thanks to dozens of cameras catching the occasion for two special episodes of Keeping up with the Kardashians.
Kim wore Vera Wang – three times – after being unable to decide on just one gown for her big day, and she wore more than $40,000 worth of diamonds in the form of a headdress and a bracelet.
More than 400 guests were invited to the affair, which was watched at home by millions of viewers. Being a guest was not cheap either, with the gifts on the registry adding up to more than $170,000. The least expensive item, for those on a budget, was a clock that cost $1115.
The couple spent $2 million on flowers and $6000 on the cake, which was eight feet tall and weighed more than 270kgs.
Kim ended the marriage 72 days later.
Kim Kardashian and Kanye West
2014: $12 million
Not to be outdone by her previous wedding, Kim once again spends big on her second marriage to Kanye West.
The venue in Italy cost a cool $400,000 and Kim's gorgeous gown was $500,000. Not to be outdone, Kayne ordered a 70-meter long marble table, especially for the reception. For $478,000, it was a steal.
Turning their big day into an intercontinental week, with a visit to Paris before the wedding in Forte di Belvedere, Florence the couple paid for guests to stay at a cost of $68,000 for 100 rooms and also sprung the $70,000 needed for transport around the city as well as $74,000 to fly between Paris and Florence.
Prince William and Kate Middleton
2011: $34 million
Sure, the figure would make you gasp in awe (and slight horror), but when you consider that $32 million was spent on security, it doesn't seem all that bad… right?
Kate's stunning gown was designed by Alexander McQueen creative director Sarah Burton at a cost of $434,000, the couple spent $800,000 on flowers and $600,000 on a lunch for 600 guests at Buckingham palace and a second reception with a more intimate crowd of 300, which was hosted by Prince Charles.
Their wedding cake cost a cool $80,000, but the ceremony with a guest list of 1900 at Westminster Abbey was completely free – there must be some perks to being a royal after all.
Prince Charles and Princess Diana
1981: $110 million
This figure is, of course, adjusted for inflation, but if Prince Charles were to hold the same wedding he did to the late Lady Diana Spencer in 1981 today, it would cost a whopping $110 million.
3500 guests attended the ceremony at St Paul's Cathedral, which was chosen above the traditional Westminster Abbey. But an estimated 750 million people watched on their televisions.
Two million spectators flocked to the wedding procession route to get a glimpse of the future princess, requiring 4000 police and 2201 military officers to control the crowds.
Diana's iconic gown, with 25-foot train, would cost more than $52,000 today.
The couple separated in 1992 and divorced in 1996.