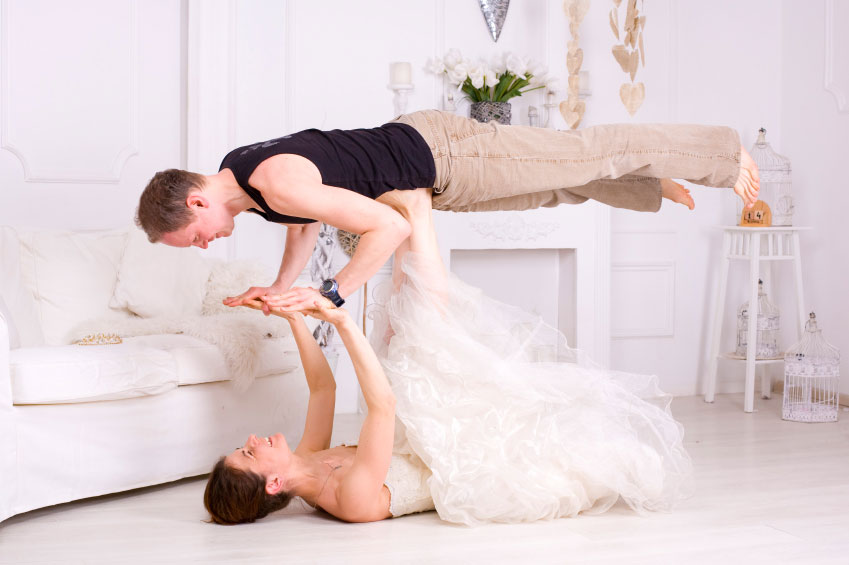 It may be one of the most important days of your life but, believe it or not, the best thing you can do on your wedding day is act perfectly normal!
Yes, we know it sounds crazy, but this sage piece of advice, handed down by generations of brides, suggests that the most effective way to ensure you get through your big day – without too much stress or distress – is to act as though it's like any other day…kind of.
Why? Because sticking to your regular routine means you won't likely be in for any nasty surprises or accidents.
After all, your wedding day is not the time to try new things – or even risky activities that may lead to any sort of disaster, big or small. That said, and we don't think we're being overly cautious here (because, well, we talk with a lot of brides), there's something to be said for erring on the side of caution.
You probably won't be your usual self on your big day. You'll, likely, be terribly excited, a little distracted, absolutely elated and, perhaps, even, a little nervous or shaky, so sticking to your normal routine and avoiding any activity that could go even slightly wrong is a very safe and very smart strategy.
So, don't even think about doing any of the following:
Don't be in charge!
Your only job is to be ready, look (and feel) terrific and enjoy yourself! Leave all the little – and, certainly, the big, stressful roles – required to be performed on your wedding day to someone else. Someone reliable, of course, but definitely not you. You've got enough to worry about!
Don't be the chauffeur
Even if you just need to zip up the road for something quick, have someone else drive you. You should be fully focussed on your upcoming wedding – and not on your steering – and the last thing you need is a bingle and, given you'll probably be excited, time-poor and, possibly, distracted, it's just not worth the risk.
Don't wear new shoes
Your feet are your foundation on your big day and, though we all want to look gorgeous, we don't want to be in pain. So, don't wear new shoes on your wedding day. Only wear shoes you have worn in so that you can rest assured they'll serve you well until the wee small hours without leaving you in crippling pain.
Don't wear different make-up
Stick to your normal make-up routine. Don't experiment with new products on this very big day. You don't want to find out your allergic to that fabulous new concealer you've never tried or that you simply cannot get that very thick new mascara off. Stick with what you know and, if you're worried, pay a little extra for a hair and make-up trial with whomever will be doing it on the day.
Don't neglect your timetable
Before your wedding day, write down a rough timetable of what's got to happen and when.
Keep this list with you at all times (with a back-up copy handy) and stick to it. Don't wing it on your big day as you don't want to forget or miss any step.

Don't skip a meal
The last thing you need on your jam-packed wedding day is to faint from hunger. Avoid the pangs, mood swings and low blood sugars that can come with skipping meals and eat your breakfast! That'll get you through to your lunchtime wedding or, if it's being held in the evening, be sure to make time for lunch, too. If you're not going to have time (and you really, really should make time), ask a family member or your Maid of Honour to organise something beforehand.
Don't eat badly
Just because you are eating doesn't mean it's OK to fill up on anything that's quick and easy. You'll need plenty of energy, enough to get you through a very long day, one that can last more than 18 hours – and a night of dancing, too! Overly sugary foods will lead to blood sugar spikes and junk food that is high in calories may not offer any real nutritional value, so when you eat, eat good, healthy food.
Don't have a massage
While the thought of a relaxing massage on your big day sounds like a very sensible idea, it's not. While massages can be most relaxing as they happen and shortly after, depending on what you're having soothed, you may feel the sting and burn of sore, complaining muscles many hours later, like right in the middle of your wedding ceremony or reception!
Don't go exercising
By all means keep to your regular routine but avoid exercising. You don't want so much as a scratch on you, let alone a sprain or strain or, worse still, something broken.
You can exercise all you like on your honeymoon.
Don't drink too much
Avoid too much champers, certainly until after you are married! Aside from wanting to remember your big day, legally, if you are truly so incapacitated you cannot give consent, your celebrant does not have to go ahead with the ceremony! And, yes, it has happened!