Colour scheme trends for invitations come and go. One year brights are just right, another it's all about the pastels. However there's one colour scheme that remains timeless – monochrome black and white.
Hello Lover
Image:
The Print Fairy
Sleek and simple is sometimes the best way to fashion a wedding invitation, especially if your day is planned as an elegant and understated affair. This design from the Letterpress Collection showcases the ability to make a stunning impression with just one colour but a beautiful mix of typefaces, sizes and shades. It's the perfect blend of classic and modern.
Game of Thrones
Image: Lion in the Sun
Invitations are a great way to capture your unique relationship and personalities – and this one does the trick nicely. In case you can't tell, the design draws its inspiration from the cult series Game of Thrones, which is obviously much loved by the bride and groom. True, it may not be a show you would normally associate with romance, but as we always say, it's your day, do it your way.
Le Boutique
Image:
Alannah Rose
 (who also did the beautiful invitation at the top of this story)
We don't know exactly what it is, but something about this invitation makes us think of a beautiful day in Paris. Maybe it's the stripes, maybe it's the sense of restraint, or maybe it's the gorgeous combination of a beautiful font and just the right touch of artistic adornment. Proof positive you don't need to shout to have a big impact.
In Silhouette
Image: Direct Occasions
In some people's minds, the silhouette may have had its day. But as this stunning design shows – is anyone else thinking Cinderella? – they can be as modern and sophisticated as you like. Plus, there's plentiful options. You can either use a generic silhouette or opt for one of yourself and your partner for a truly personal touch.
Lace and Petals
Image:
B Studio Wedding Invitations
When you think of black and white invitations, you often think of black as being the dominant colour. But when it takes a secondary role as an accent, leaving white to claim centre stage, the results can be just as spectacular, especially when you add in structured 3D elements such as flowers, ribbon and lace. Feminine, romantic and divine.
Beautiful Embossing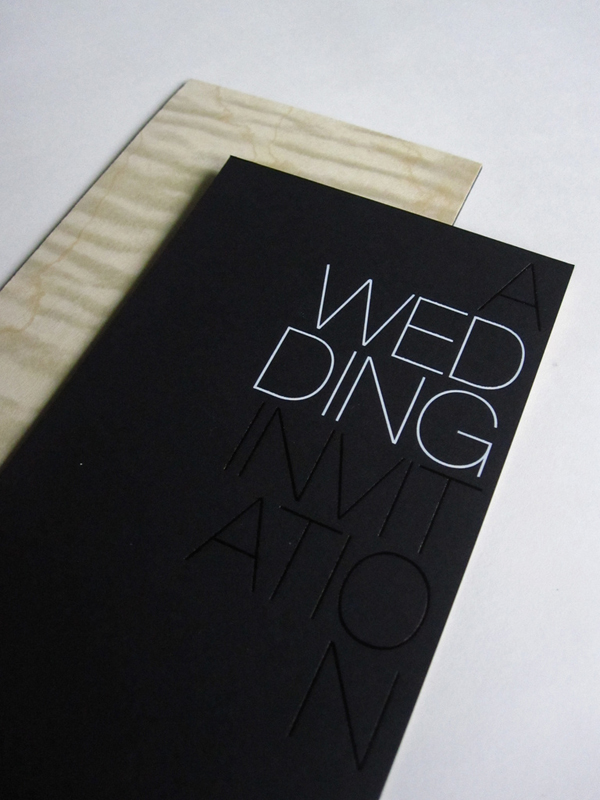 Metallic foil brings a uniquely urbane and sophisticated edge to any invitation. Team it with clever embossing and you then have a design that is just as much a work of art as it is an invitation. True, it wouldn't set the tone for just any ceremony, but for a modern black tie event or one with a black and white colour palette, it would be absolutely perfect.
Love Birds
Image:
Keen Eye Designz
Invitations that feature 3D printing are gaining in popularity, and this gorgeous cut-out creation shows just how versatile the technique can be. It turns the front of the invitation into a door to more, with delicate lettering that draws the eye, first and foremost, to the name of the couple planning to pledge their lives together forever. Very chic.
Opposites Attract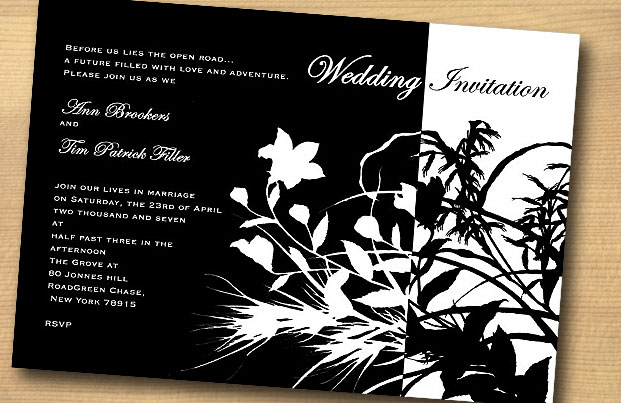 They've long said that opposites attract, and this is a pretty picture perfect illustration of why they were on the money. A gorgeous design brings the words and illustration to life in an always classic white hue, before a tonal change to a reverse colour combination adds a welcome depth and emotion to the mood. Simply stunning.
Chalkboard Invitation
Image: Pink Frosting
Chalkboard accents of all sorts having been having a moment of late, from seating charts to table numbers and beyond. But the effect also looks great on an invitation, lending a certain warmth and charm to the words. They would be particularly beautiful for a rustic or country-style wedding, especially if you plan to continue the theme right across the reception decoration.
Heartfelt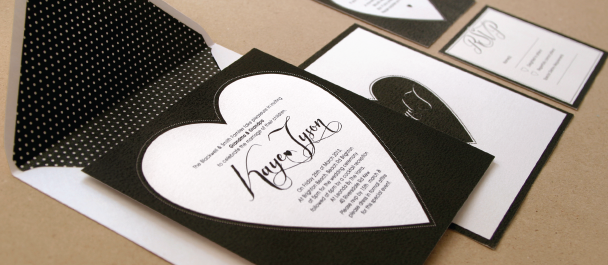 Heartfelt is the name of these cute-as-a-button invitations, which give a lovely sneak peek into the heart and soul of your relationship. What stands out most are the little touches, particularly the gorgeous black and white polka dots on the inside of the envelope, and the little heart that takes the place of the ampersand between the names. It all adds up to a pretty nice wow factor.