*This data has been updated. Read about the most popular ways to choose your wedding date in 2019.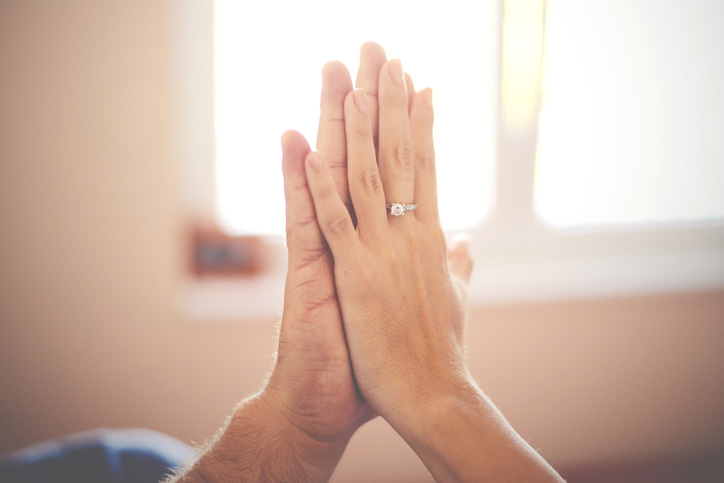 The first hurdle many couples have to overcome when planning their wedding is deciding on a date to hold their nuptials. There are many different factors that are just overlooked until you get down to the nitty-gritty and have to start making big choices. We've heard all sorts of reasons, and some of them might just help you to decide. Here are some ways to choose your wedding date.
"The venue we wanted was available on that day"
Often, wedding venues have a lot of competition when it comes to peak wedding seasons, with many couples looking for the perfect location for their big day all at the same time. It means that there is a fierce fight for the best, most sought-after venues.
That's why an overriding factor in many wedding date decisions is in fact the availability of a certain place, with some couples flexible on the exact date and would rather nail down that location.
"The venue fit within our budget if we chose that day"
Just as wedding seasons have their peak, they also have slumps which means that many suppliers, caterers, cake designers, and venues are all vying for a very small customer base. It means that couples who are flexible about their wedding date – or aren't too fussed about it – may be able to hire the venue of their dreams for less than it would have cost during the peak wedding season.
Of course, if you choose a mid-week wedding, that my be more cost-effective too, as many venues are available for significantly less during the week – and you get the same venue and the same service – just not on a weekend!
"That's when we want our honeymoon"
If you've planning on jetting off to the sunny Algarve or plan on exploring the quaint cobbled streets of Northern European towns, you'd better wait for the right time of year! Some bridal pairs want to take a honeymoon to remember and so plan their wedding accordingly. It might mean you have to plan ahead but it will certainly be worth it.
"We were both free that day"
It's your big day, so you don't want to put it slap-bang in the middle of a hectic few months; many couples decide their wedding date simply on ease alone. If you know your calendar is going to be absolutely rammed in one season, then it might be a better idea to adjust your nuptials accordingly.
Brides and grooms don't want to have to feel rushed on their wedding day, and the last thing you two want to be thinking about is what you have to be doing next week!
"It was the only time we could book our caterer"
Looking at adding a unique flavour flair to your wedding day? Be prepared to plan your wedding around the availability dates of a caterer, especially if they're niche. Many couples want a traditional taste of their culture and this might mean hiring a chef that specialises in, say, Swedish cuisine.
What you have to remember is that these suppliers will likely have a very small customer base and so won't expect to be taking on many weddings at a time. If you just can't live without them, then be prepared to alter your date.
"We wanted THAT date" and "We chose a date HE would always remember!"
Fans of memorable dates such as 11/11/11 and 12/12/12 have had plenty of options over the past few years. It's been a popular option for many couples. Of course, such dates are eminently memorable and one couple we spoke with said they married on 06/07/08 purely because the date was one the groom couldn't possibly forgot in coming years.
"We wanted a themed wedding"
Beach wedding in July? Think again. Couples looking to create the perfect wedding theme to coincide with their big day will have to think about the timing and the seasons before settling on a particular day.
Destination weddings too mean you might want to think about the time of year you've chosen. A serene beach wedding, flowing ivory linen, and a fire-pit watch the sun go down in Bali is a fantastic idea, but avoid monsoon season!
"It's a date that means a lot to us"
Wedding dates aren't often plucked from thin air – they start off with a particular time-frame or even specific date the couple would like to aim for. Overwhelmingly we see bridal parties selecting dates that hold a special sentiment to the pair such as an anniversary, the day they met, or the day they moved into their first home.
This might be the perfect date and if you can't imagine a wedding on any other day, then as with everything in wedding planning, compromises will have to be made.
"That's when our friends and family were free"
It isn't just the couple getting married who might be up to their eye balls in events, christenings, parties, etc… your guest list might be off-limits at a certain time because life is a bit hectic. This is particularly true of couples who are looking to book their wedding date around the holidays.
One of the most important elements of a wedding is that it includes your friends and family, so that's why many couples consult with their nearest and dearest to find the perfect date.
"It's our family tradition"
Many couples have their own family traditions that they would like to fulfill and, for some ,it may be that they always get married on a certain day, or in a certain month of a year.
This is your special day and so you can do whatever you want to make it your own. If it's your dream to be married, or want to honour your family, with a specific date then by all means do so.
Before you choose your wedding date, you need to find the perfect wedding venue. You can begin looking here.