Writing a father-of-the-bride speech
---
Most Dads can't wait to walk their daughters down the aisle, but, now that it's arrived, you've got other things on your mind, like writing the all-important father-of-the-bride speech. Don't worry, it's not as bad as it may sound…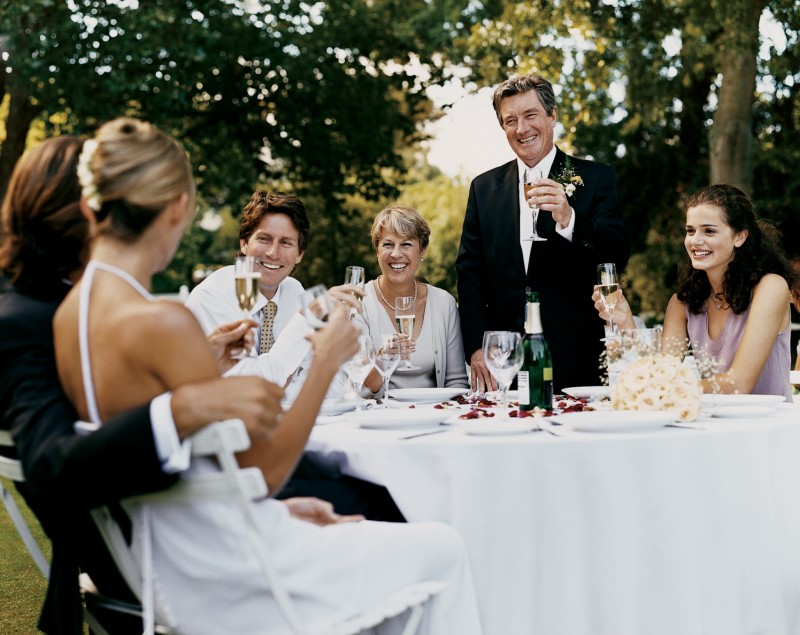 The father-of-the-bride's speech is a key moment in the wedding celebrations, and it can be a little daunting knowing you will have to stand centre stage for at least for a few minutes in front of your nearest and dearest.
The good bit is there is no need to worry. After all, they're all friends and family and want to see you do well. They know how proud you are and are probably dying to hear what you have to say!
Following are four simple step to putting together the perfect father-of-the-bride speech.
Step 1: Welcome the guests
If you have the confidence to start your speech with a joke or humorous one-liner, this can really help to break the ice. If, like so many fathers-of-the-brides, you are a little nervous, simply start by introducing yourself, thanking everybody for coming, and giving special thanks to those who have travelled to attend the celebrations, and don't forget to mention those who have helped in the planning and organisation of your daughter's big day.
Say a few words about the wedding day so far, and how perfectly everything has run. If you have some funny stories from the lead up to the wedding, or the early part of the wedding day itself, you can also include them at the start of the speech.
Step 2: All about your daughter
This is the portion of your father-of-the-bride speech everyone's waiting for. It's not often you get to discuss your daughter's many qualities and achievements, so make the most of it and indulge yourself. Make sure you compliment her; tell her how wonderful she looks and how proud you are of her.
Try to talk a little about your daughter's early years, perhaps tell a funny story or two about when she was like growing up. Feel free to tease her about some of the things she has done but be kind and don't say anything that you know will really embarrass her. Finally, talk about when she met her new husband, making sure you tell the story in a positive way.
This will lead you nicely into step three.

Step 3: All about your son-in-law
It is customary for the father-of-the-bride to welcome the groom into his family, and to express his happiness at the new connection between the two families that the marriage will bring. Anecdotes that work well in father-of-the-bride toasts include your first encounter with the groom, the first time you realised your daughter was in love with him, and your reaction to their engagement.
Depending on your relationship with your new son-in-law, it's probably fine to poke (a little) fun at him, and to joke about what he is letting himself in for in marrying your daughter.
It may be that you don't entirely approve of the groom, but the father-of-the-bride speech is certainly not the time to express such sentiment. If that's the case, keep your speech positive and focus on how your new son-in-law makes your daughter happy.
Step 4: Close with a few words of wisdom
At the end of your father-of-the-bride toast, you should congratulate the happy couple on a wonderful wedding, and express your confidence in their future happiness together. Your closing should also contain some words of wisdom about life and marriage, perhaps referring to the speech your own father-in-law gave at your wedding.
Finally, propose a toast to the bride and groom and have all the guests raise their glasses to the happy couple.
---
Related Articles
---
Comments  

---