Are you planning on popping the question soon? Get inspired by these romantic proposal stories, from the spontaneous and intimate to the carefully planned and public.
To celebrate engagement season, we thought we'd share six real proposal stories that we absolutely love, including an intimate rooftop setup and a surprise beach photoshoot. If you're in need of some more inspiration before you propose, be sure to check out these romantic proposal ideas.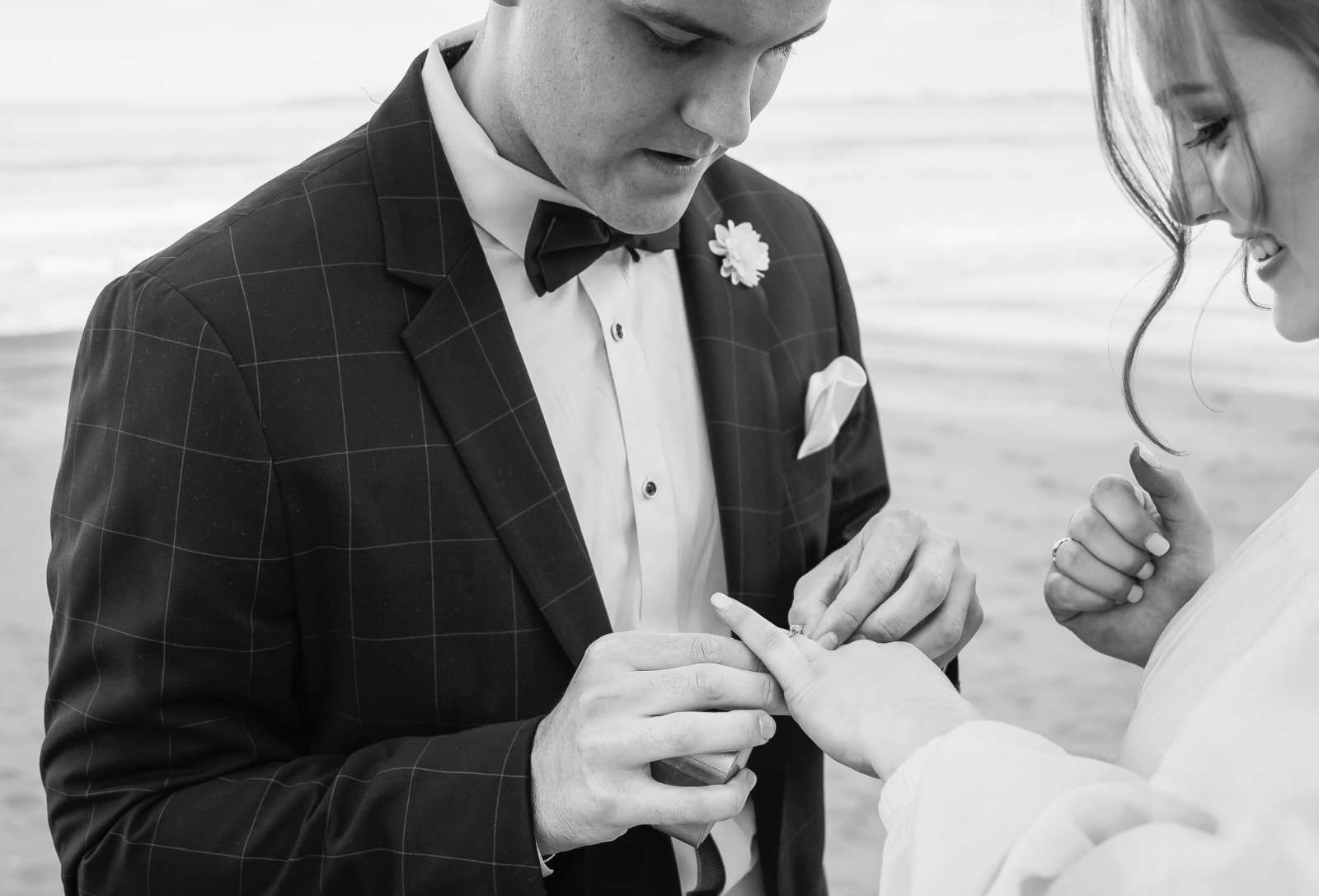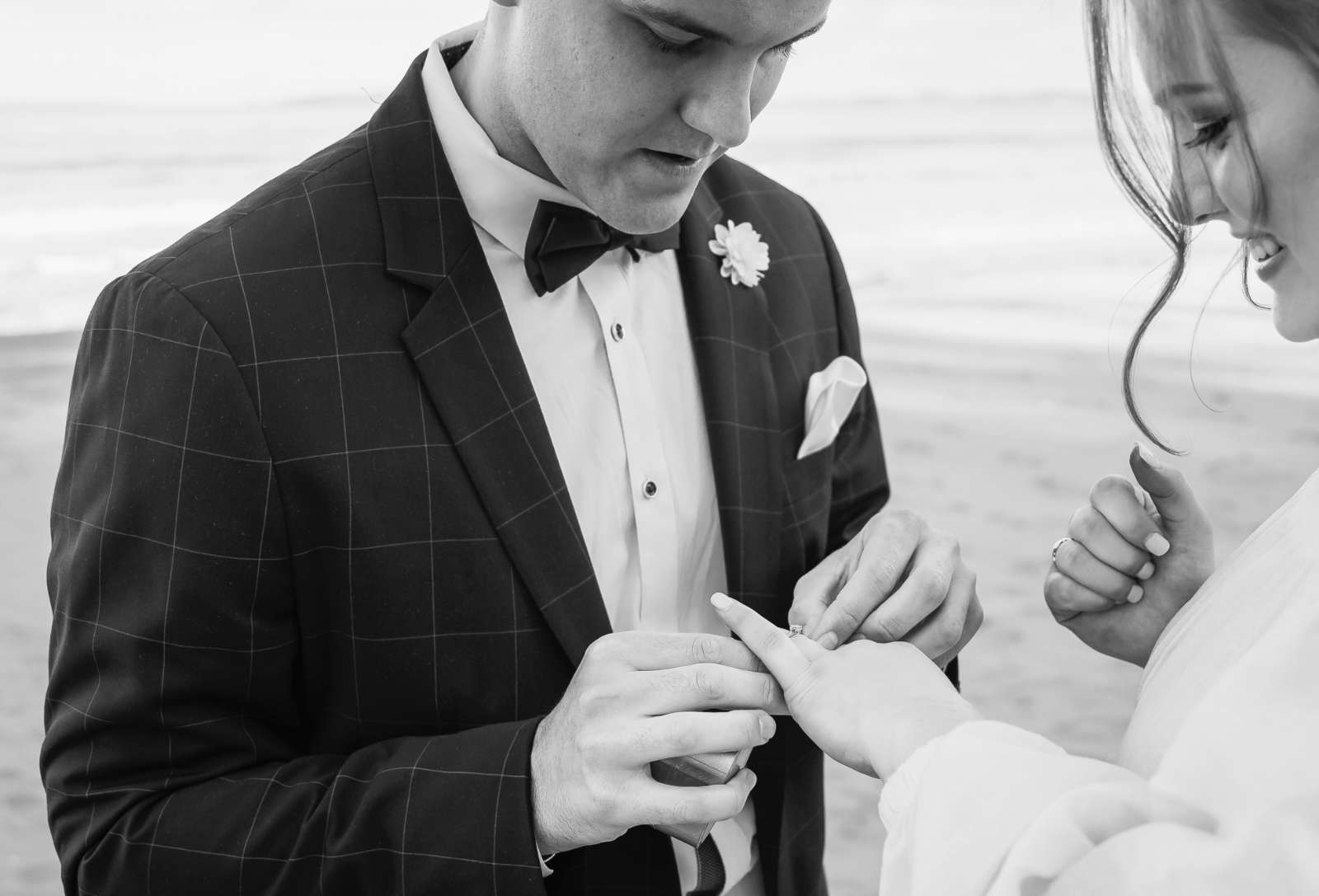 browse wedding jewellery
---
Tanay & Mike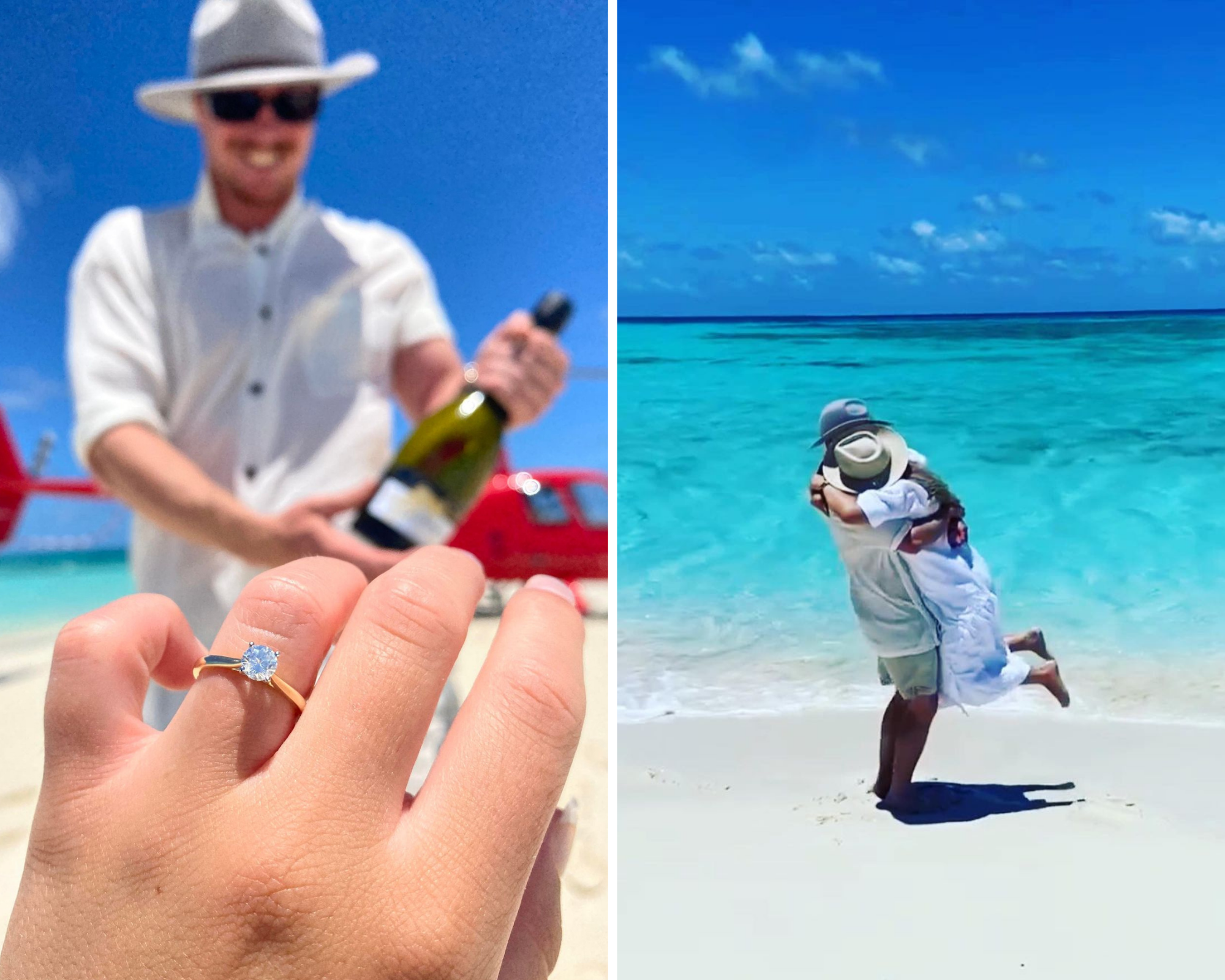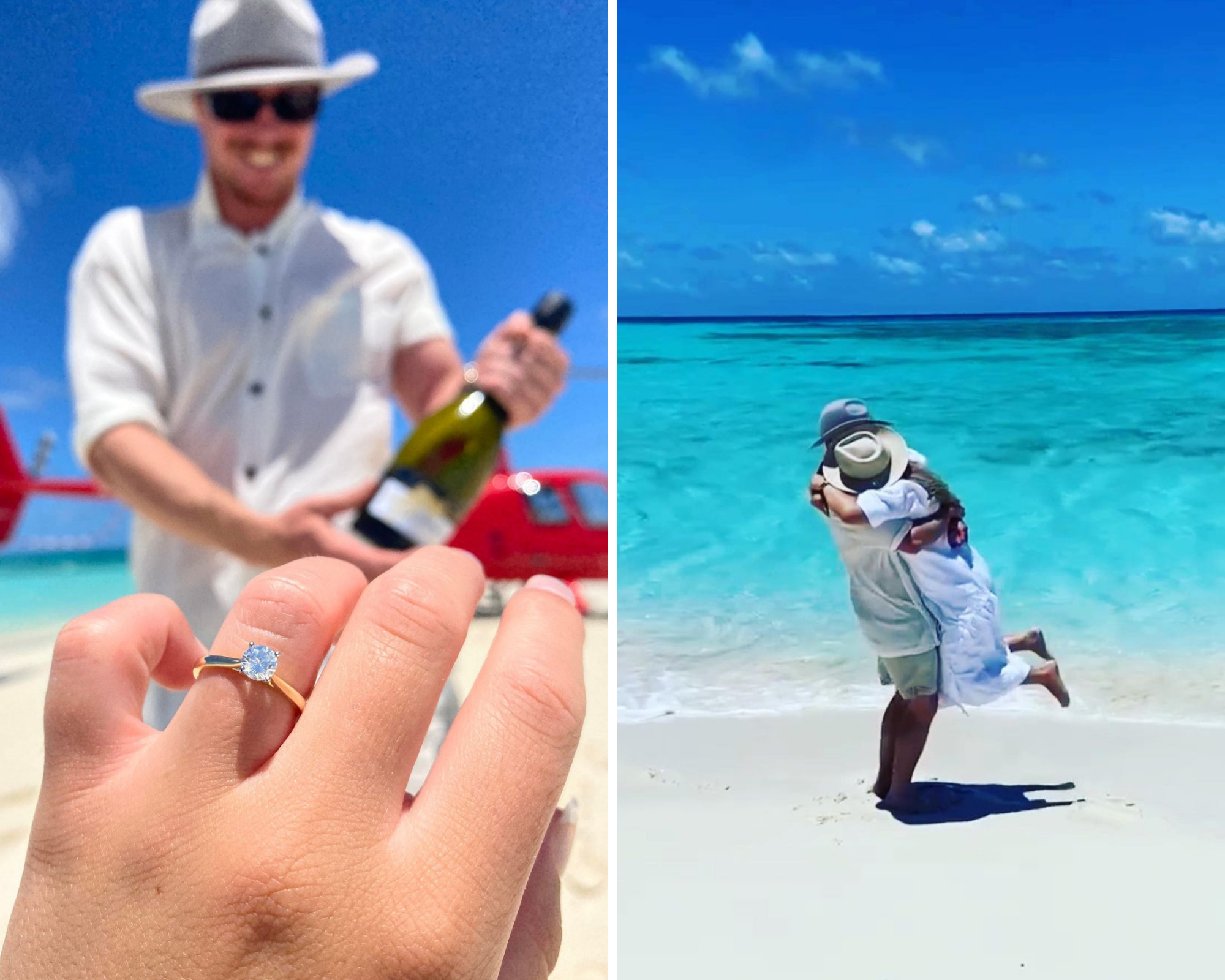 A tropical holiday to Cairns turned into the trip of a lifetime for Tanay when her now-fiancé Mike pulled off the most incredible surprise proposal. "We just got off the plane into Cairns, and I thought we were heading to the hotel, but it turns out we were actually going to a helipad," explains Tanay. "The helicopter ride took us over the Great Barrier Reef, and I was in awe at how breathtakingly beautiful the colours were!"
Landing on a secluded sandbank in the Great Barrier Marine Park, Tanay and Mike hopped out to discover a stunning private picnic setup. Mike dropped to one knee and popped the question to which Tanay answered an obvious "yes!" They basked in post-proposal bliss while enjoying champagne and a private picnic, followed by a spot of snorkelling in the crystal clear waters.
---
Anthea & Matt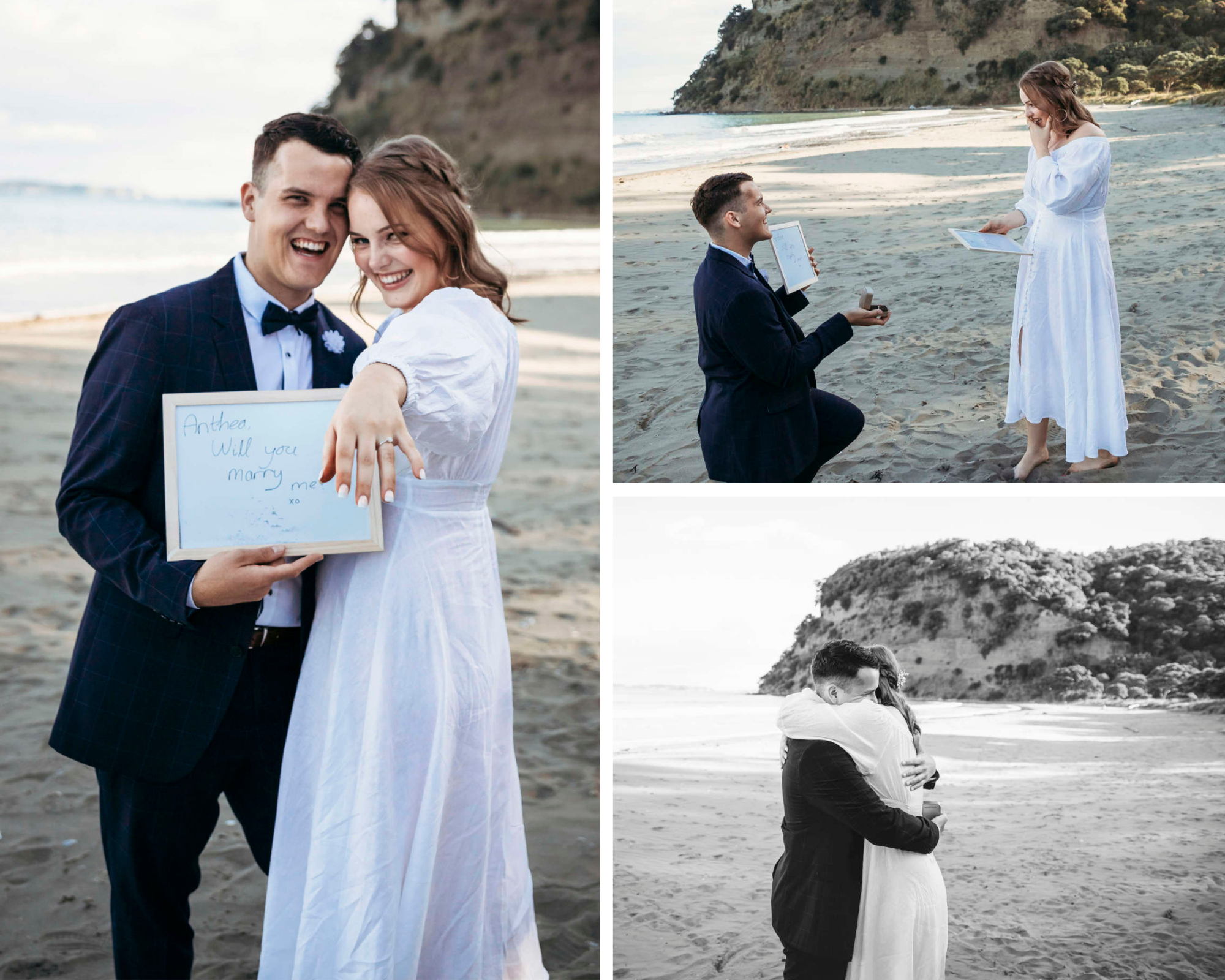 Anthea and Matt first met at work and dated for three years before Matt started planning the ultimate surprise proposal during a holiday to New Zealand in 2019. Matt told Anthea that they'd won a photoshoot with Qantas — the perfect cover for his romantic beach proposal. The shoot was set to take place on a secluded and picturesque beach in Auckland, with Anthea none the wiser about what was actually going to unfold.
During their photoshoot, photographer Hannah Webb handed Matt and Anthea each a whiteboard and a simple instruction: write down what you love most about each other. "When she said 'go', we turned around to show each other what we'd written," tells Anthea. "Instead, I found Matt on one knee; ring in one hand, the whiteboard in the other, asking me to marry him. He then took me out for a beautiful degustation dinner where flowers were waiting on the table."
see the real wedding
---
Hayley & Jarrett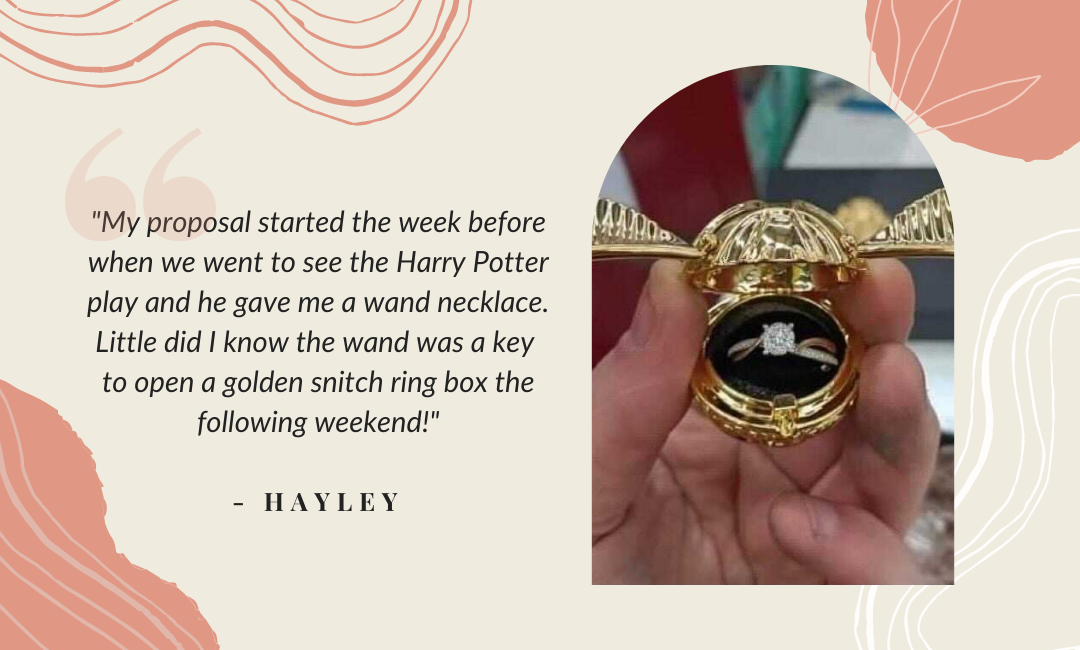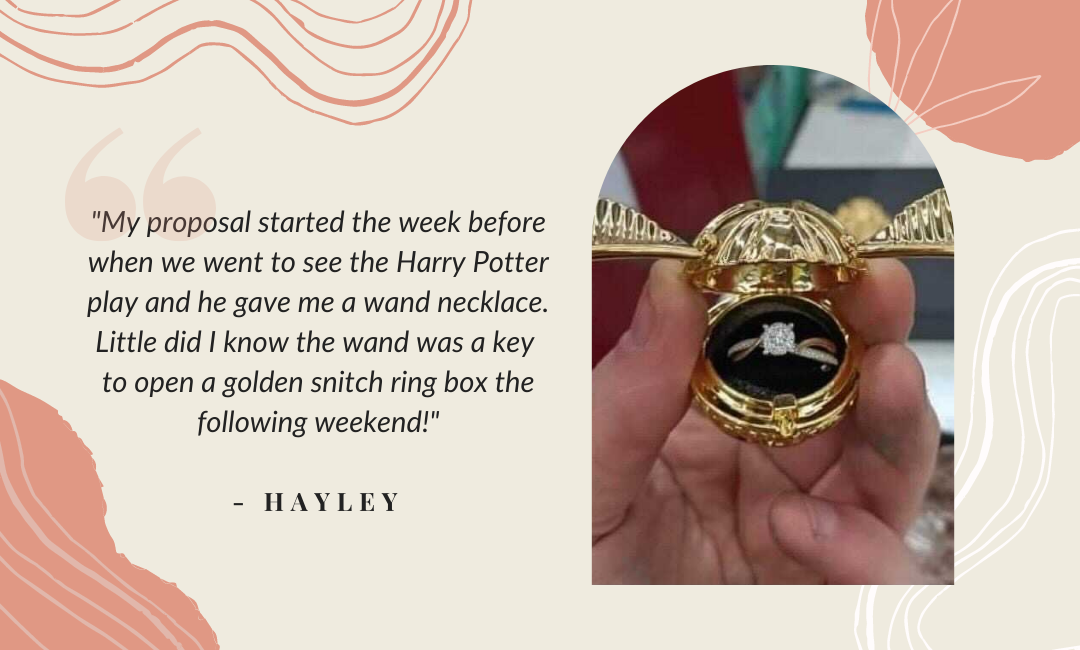 This perfectly planned proposal started when Jarrett gave Hayley a stunning wand necklace while watching the Harry Potter and the Cursed Child play in Melbourne. Little did Hayley know, the wand was actually a key to open a golden snitch ring box. The following weekend, while Jarrett and Hayley were at the drive-in movies, Jarrett pulled off the ultimate surprise proposal.
During the movie credits, a Simpsons version of the couple came up on the screen, with Jarrett on one knee asking Hayley to marry him and handing her a golden snitch from Harry Potter. This was followed by a Cameo video from singer Jesse McCartney, who sang part of his hit song Beautiful Soul to congratulate the happy couple.
"In case that wasn't enough, all of our closest family and friends were there," tells Hayley. "He had organised for our most important people to be there and all my favourite things. It was an absolute dream, and I am still in awe of how special, surprising, and incredibly planned it all was."
---
Emma & Jackson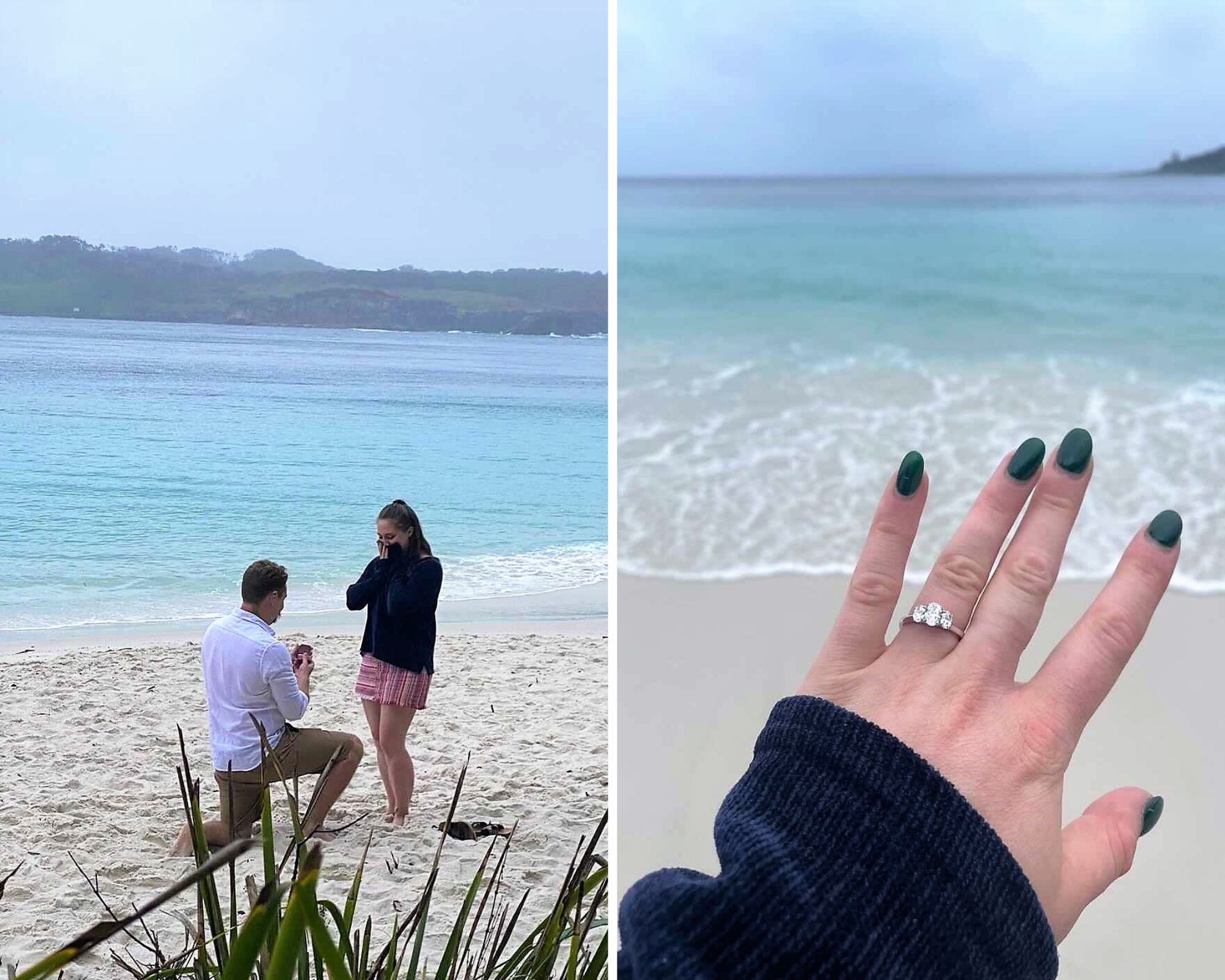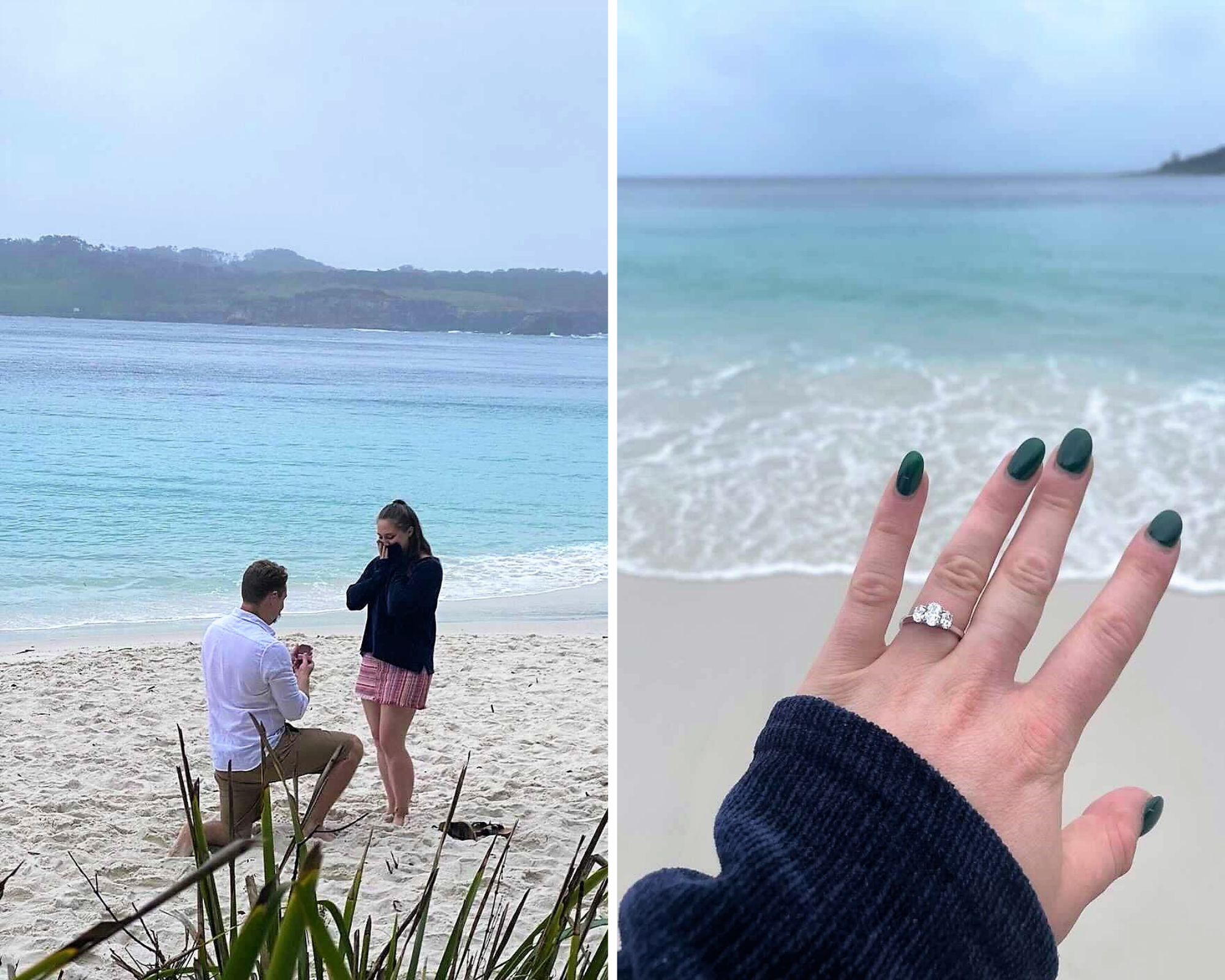 On Boxing Day, Emma was down at the South Coast with family when her now-fiancé Jackson popped the question. After inviting her to "lunch", Jackson drove Emma to a secluded beach where she noticed a fire and a romantic picnic setup.
"I was busy worrying about why someone would leave a fire unattended on the beach when Jackson turned to me and started talking about how much he loved me and how much I mean to him," Emma explains. "Then he got down on one knee, and my eyes welled with tears — I just kept telling myself 'don't say anything stupid don't say anything stupid' then he finally asked the easiest question I've ever answered and slid the most gorgeous ring onto my finger."
---
Cindy & Abdi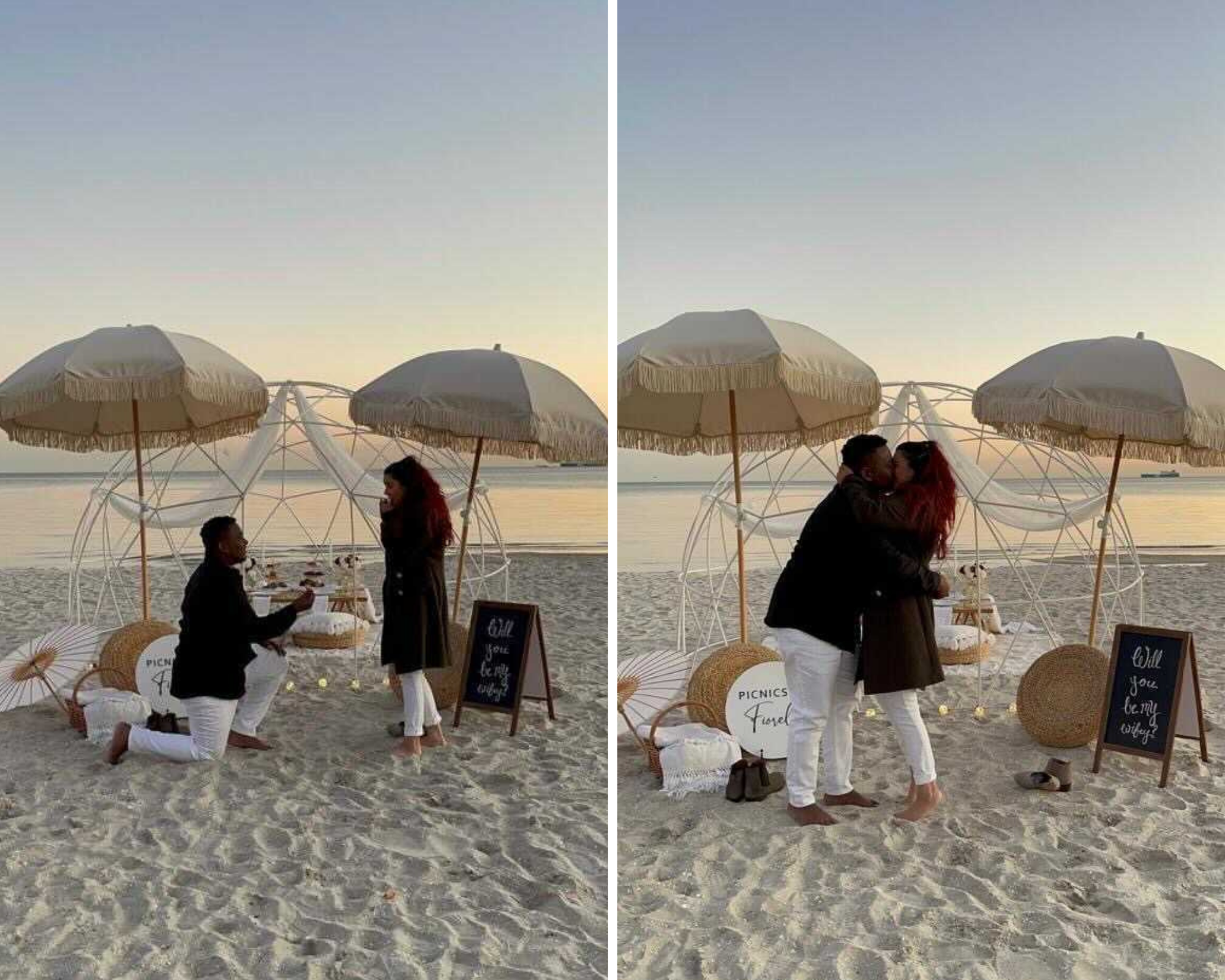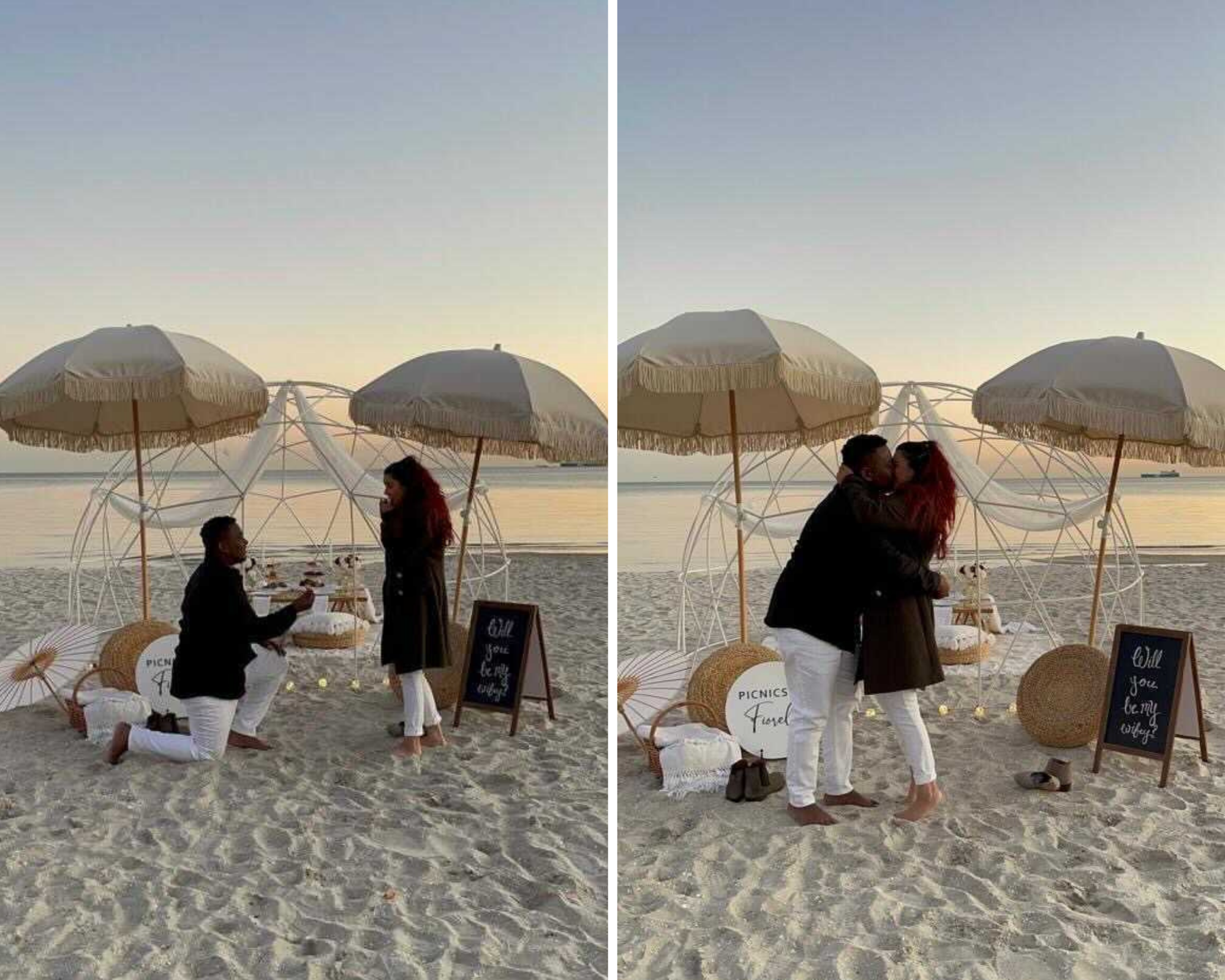 Using his niece's first birthday party as the perfect cover story, Abdi took Cindy for a romantic stroll along Port Melbourne beach, where a stunning proposal setup was waiting. "We were walking along the beach, and I wasn't wearing glasses, but I saw the dome in the distance asked what it was," tells Cindy.
Abdi's response was, "some knucklehead is probably having a picnic", and Cindy joked "think we can crash it?" but as they got closer, she realised it was a proposal setup, and that's when he got down on one knee to pop the question.
The pastel sunset over Port Melbourne formed a picture-perfect backdrop for Abdi and Cindy's romantic beach proposal. We're in love with the dreamy picnic setup, complete with a popup dome structure, fringed beach umbrellas, boho style props, and ring-shaped cookie cake.
---
Shan & David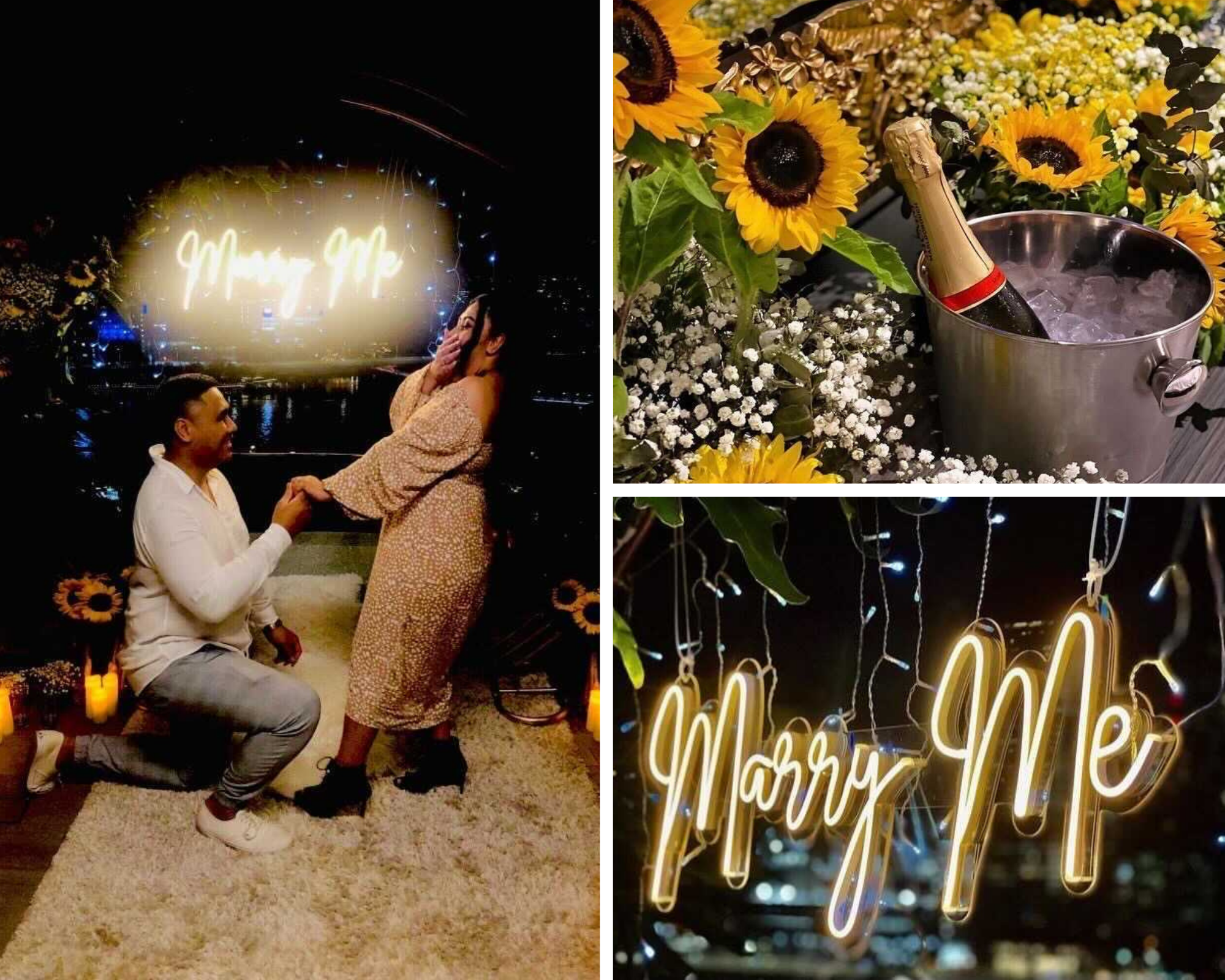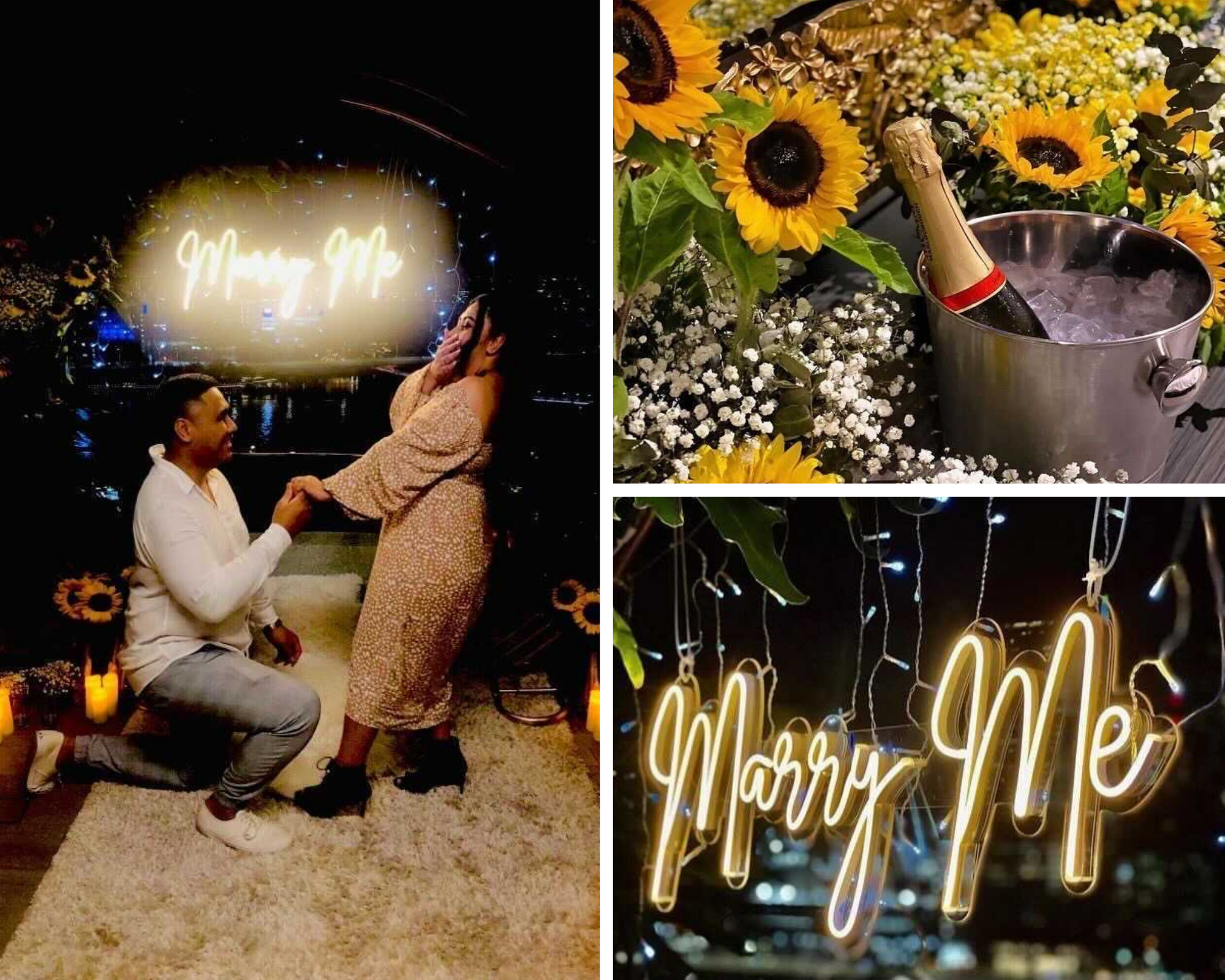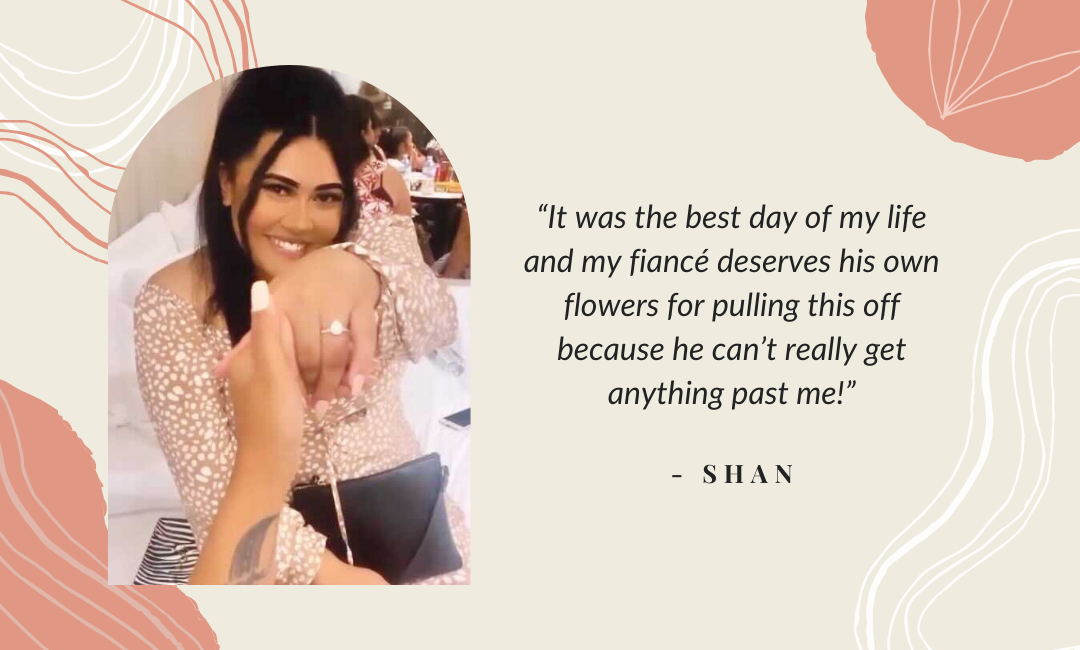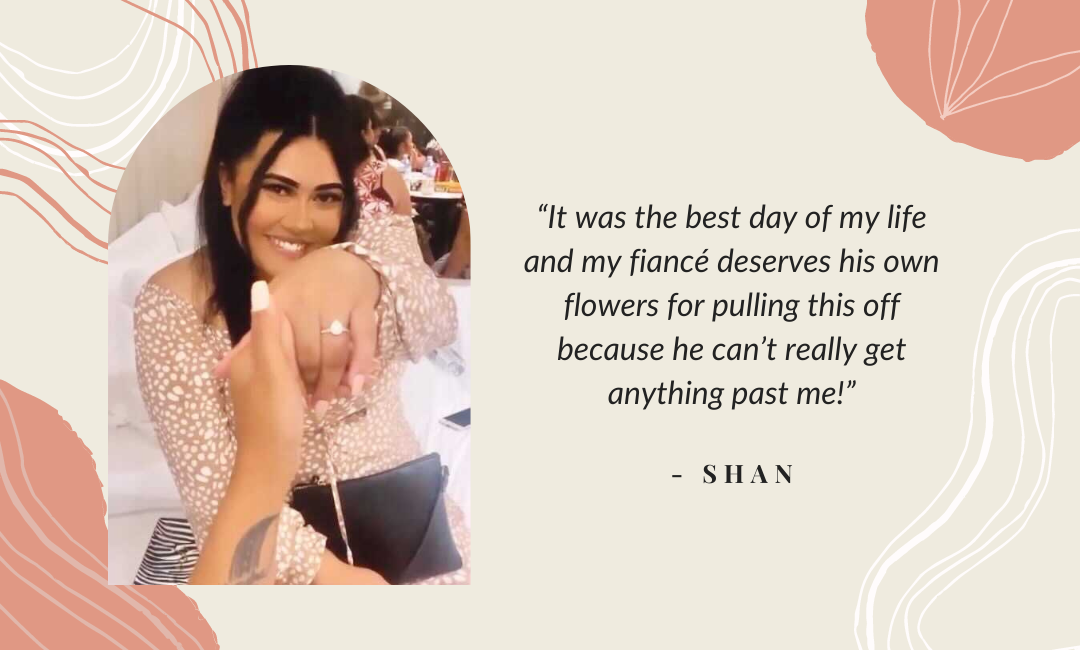 To celebrate their sixth anniversary, Shan's now-fiancé David planned a romantic dinner at the Emporium Rooftop Restaurant in Brisbane. Shan didn't suspect a thing, but when they returned to their hotel room, her whole family was waiting alongside a beautiful and intimate proposal setup complete with a neon 'Marry Me' sign. David also decided to use sunflowers instead of your typical roses because they're Shan's favourite florals — how cute!
"I couldn't believe he had event planners set up this romantic gesture in such a small amount of time as we were only at dinner for an hour," explains Shan. "It was the best day of my life, and my fiancé deserves his own flowers for pulling this off because he can't really get anything past me!"
---
browse wedding jewellery