Everything about weddings must be aesthetically impressive, from your wedding invitations and cakes, to bridal accessories and bombonieres, so it makes sense as a wedding business to have an Instagram account to visually communicate with customers. Instagram marketing however requires a little more knowledge than the fundamentals of filters and follows, so here are a few tips to get the most out of your Instagram business account:
Biography optimisation
If you're not one of 300 million+ Instagram users already, sign up for an Instagram account. Before you start snapping, ensure your account biography communicates everything you want your followers to know about your brand. Set your profile picture to your logo for instant identification, add a description and include the URL to your website. Since Facebook now owns Instagram, you can also link your Instagram account to your Facebook Page (and a series of other popular social media platforms), which allows you to simultaneously share your photos to those services.

Strike a balance
You might have the most bespoke handmade wedding invitations known to bridekind, but it doesn't hurt to change things up from time to time with non-promotional posts. Not everything has to be product-specific, it could be anything visually alluring that is wedding related. Got staff? Post some pics of them around the office or shop working hard to humanise your brand and give followers a behind-the-scenes look at your company.
Moving pictures
Experiment with video on Instagram, which allows you to upload up to 15 seconds of footage, apply 13 different filters and select your favorite scene from the recording to be your cover image so your video is eye-catching even when it's not rolling. Wedding shoe suppliers could film the unboxing of brand new stock; venues could pan across wedding setups to demonstrate how the space can be used; and dress designers can show off their bridal creations with 360 degree spin around a model.
Get involved
If you want to attract the attention of soon-to-be-brides, don't just sit there – get out and find them! If you sell wedding gowns, keep an eye out for brides in the market. There are over 14,000 #weddingdressshopping hashtags on Instagram posted by brides who are actively seeking a gown and might be interested in one of yours. Like a few of their images and leave some complimentary comments with links to similar styles on your website. Follow your competitors too to keep an eye on what they're offering and any competitions they're running.
Hashtag appropriately
If you make wedding cakes and have been hashtagging things like #yummy, #comegetit and #getinmybelly, you might not be attracting quite as many followers as you would like. Put yourself in your customers' shoes. Imagine you are a bride looking for wedding cake inspiration on Instagram. What would you search? Like our Easy Wedding supplier Jessi Cakes has done with her image below, use relevant hashtags like #cake, #weddingcake, #silver and other descriptive word combinations that your customers are likely searching.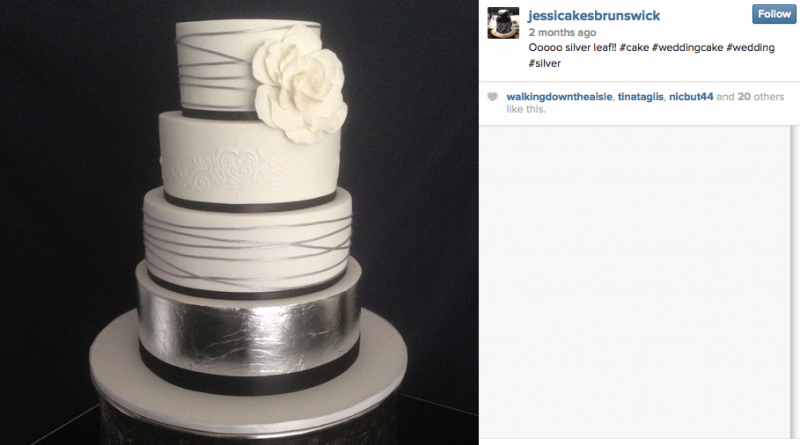 When you attend wedding industry related events or expos, also remember to upload a few pics with the event's unique hashtag, as the marketing team will likely reshare your image, which you can also do thanks to programs like Iconosquare: a tool that allows you to regram images and guides you to provide the type of content your followers want with optimal post times, the most effective filters and relevant hashtags.
Run a competition
Stir some interest and convert your Facebook fans to Instagram followers by hosting a photo competition. Choose an appropriate hashtag for the competition which can then be used to identify submissions. If for example you are a photo booth hire business giving away free wedding hire to one lucky winner, you could ask brides-to-be to post a pic of themselves wearing DIY photo props with the hashtag #photoboothbride. The only limit to entry requirements is your imagination – just remember to keep it in line with your branding and product, and promote the competition across your other social media accounts.
Reward followers
Give your followers an incentive to check your account by adding promo codes to your images. Text overlays can be added using a variety of photo editing apps, like Photo Editor. Incentives can include free shipping, $10 off, 10% off or a free gift with purchase for the first 20 orders. You can also encourage people to follow your business on another social media platform in order to claim the reward.
Are you following Easy Weddings on Instagram? Give us a follow and let us know you're an Easy Weddings vendor in a comment so we can give you a follow back!
Have you discovered a particularly successful Instagram marketing tactic for your wedding business? Let us know below what's working and what's not and together we can build stronger Instagram marketing campaigns for Easy Weddings vendors!