Scheduled to launch in August, the new Directory is designed to offer brides an easier way to discover information and an experience that encourages them to contact you.
Here is a summary of the key features you can expect to see when the new Directory launches in August:
Beautiful, modern design and layout with stronger calls-to-action
New listing page with carousel images on Premium Listings and larger listings for each level of advertising
Profile pages replaced with a Storefront – a beautifully designed 8-page mini website
Venues have more details including price range and seating capacity
Greater focus on generating more phone and email enquiries
Special Offers now available to all suppliers at no cost
Look awesome with beautiful hero images on your profile
Spotlight Feature will be displayed differently for greater exposure
What you need to do by 31 July 2016
We've done most of the hard work to ensure your new Storefront is as captivating to brides as possible, however, we need your help in two areas. It'll only take five minutes.
Visit Client Admin:
Upload 1 – 4 hero images (1600 pixels wide x 500 pixels high).
Add a Special Offer (optional)
---
1. New focus on bride enquiries
With our 15 years experience in the wedding industry, we've learned the best ways to turn a visit from a bride into an enquiry, across all categories. We also found, without the relevant technology, marketing expertise and internal resources required to maintain a high-converting website, many wedding suppliers simply miss out on bride enquiries. Therefore, the new Directory is designed to generate more enquiries right on your new Storefront rather than deliver website hits your way. By switching our focus from website hits to bride enquiries, we hope the value we offer is transparent and help us achieve achieve our biggest mission – to grow your wedding business.
How will you do this?
We believe by improving the way brides use and interact with the Directory, we also improve results for your business. We've redesigned the entire experience so that brides are inspired to take action and enquire right on your Storefront, just as we've seen on our mobile apps.
New features include:
New listing page with carousel images on Premium Listings and larger listings for each level of advertising
Beautiful Storefront which looks like a mini-website
Your Real Weddings displayed in your Storefront
Ability to offer expert advice related to your category
Participate in a Q&A with brides-to-be
More search filters to help brides find the right supplier
What results can I expect?
The changes mean you may see a drop in referral traffic from Easy Weddings. However, this is likely to be offset by an increase in highly-qualified bride enquiries coming from your new Storefront.
I'm not sure about this change, my website performs well in generating bride enquiries.
That's great, and we will continue to send traffic to your site. Every business should maintain a high-performing website. It's important that you do because brides may also find you on Google, social media and other marketing channels. Your website must perform at its best to convert website traffic into bride enquiries from these sources.
2. Your new Storefront
We now refer to your business profile as your Storefront. It looks amazing, is mobile-friendly and is designed to generate additional enquiries for your business.
Your new Storefront will include these pages:
About Us – Your new home page features a selection of important information about your business and shows off  your best hero images.
Photo Gallery – Display up to 100 of your favourite images.
Videos – Upload up to 10 of your videos from Vimeo or YouTube.
Reviews – Display all your reviews and responses (Hint: aim for 10+ reviews)
Real Weddings – If you're featured in Real Weddings, the story will be shown on this page.
Pro Network – Connecting with suppliers is a great way to promote your business and we'll continue to support this feature.
Question & Answer – A new section where brides can ask questions about your product or service without committing to a booking or consultation. This page will also display a history of all your Q&As. You can make some questions private, if need be.
Expert Advice – Brides can post category-specific questions and, suppliers that respond and offer expert advice will have their responses displayed on this page.
3. Add a Special Offer – it's free
With our focus on generating more bride enquiries, the new Directory will have a set of predefined percentage discounts available to all suppliers at no additional cost. You have the choice to offer Easy Weddings' brides the following: No Offer, 2%, 3%, 5%, 10%, 15%, 20%.
How to select a Special Offer
Login to Client Admin
Under "Advertisement", click "Edit Advertisement"
Located at the bottom of the page, select your Special Offer and click "update."
You may change your settings at any time. If you don't choose a Special Offer, your Storefront will not display any offer by default.
Please note: while you can pre-select your Special Offer now, brides won't be able to see it on your current business profile until the new Directory launches in August.
I'm already running a Special Offer, what happens to that?
It will switch over to the new Special Offer. Make sure to pre-select a Special Offer now so that your Storefront is set-up in time for the August launch. We will stop charging any fees that you may be paying currently for your Special Offer as soon as the new Directory launches.
If you have any questions, please email service@easyweddings.com.au.
What happens at the August launch if I don't do anything?
Your new Storefront will not display a Special Offer until you choose from our set of predefined options. If you had a Special Offer running prior to our August launch, it will no longer be active.
4. Look awesome with hero images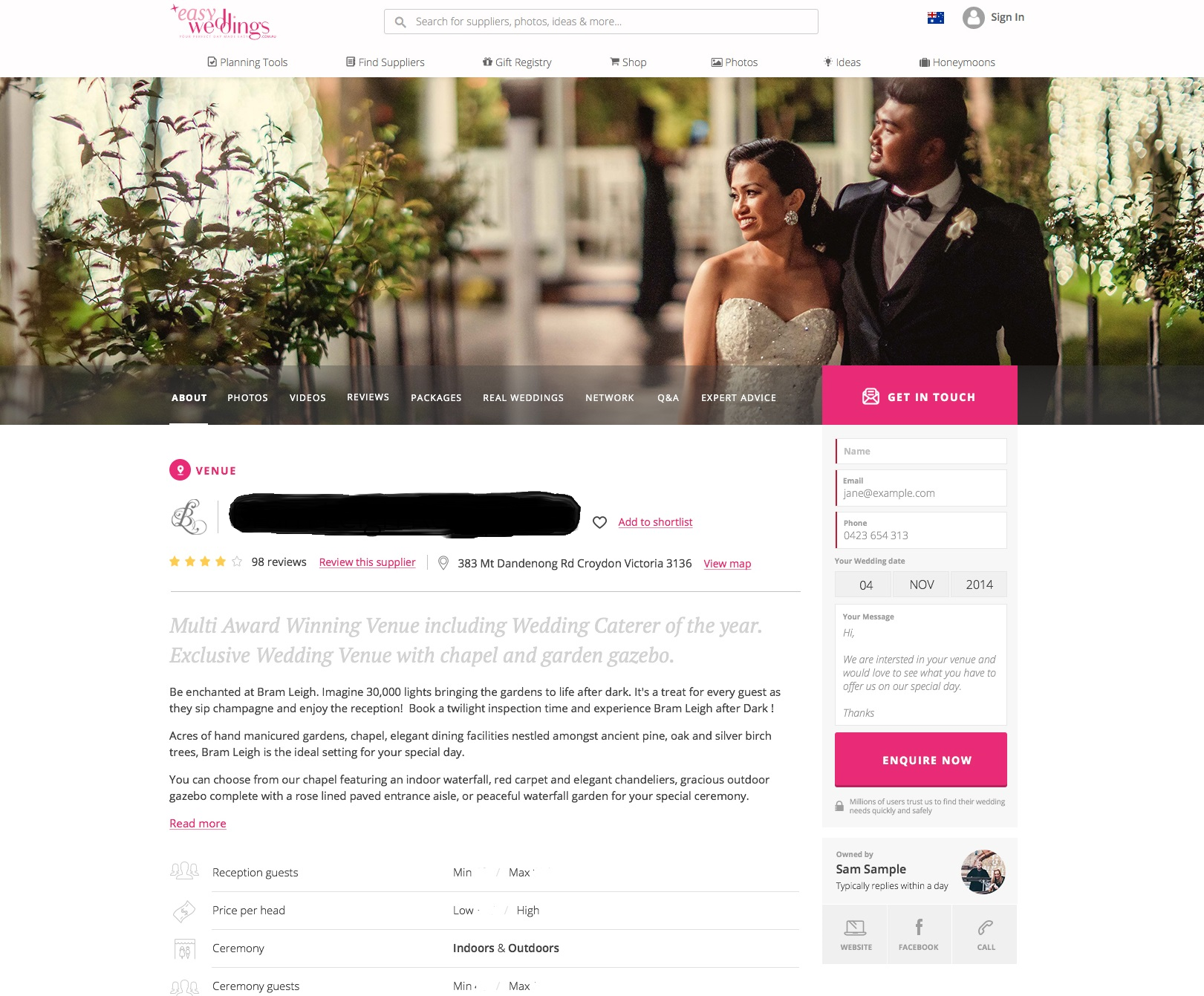 What is it?
Similar to a Facebook timeline cover, your hero images will appear prominently on your Storefront and is the perfect place to show off your work.
Hero image guidelines
Choose up to four high quality images that show your product or service in action.
For best results, images should be 1600 pixels wide x 500 pixels high.
How to upload
Log in to Client Admin.
Under "Advertisement", click "Edit images".
Upload up to four hero images under "Hero".
I don't have suitable photos…
No problem.  From August,  your Storefront will display a selection of beautiful Easy Weddings' default hero images, if you don't have your own.
5. Changes to Spotlight Feature
The three Spotlight ads will now display vertically, in chronological order, with Position 1 appearing first, Position 2 appearing second, and Position 3 appearing third.
6. Website visitor notification emails have been removed
After listening to your feedback, we recently stopped sending "Website visitor notification" emails to minimise the amount of emails you receive in your inbox. However, you can still access this information when you log into Client Admin.
7. Monthly website traffic report emails have been removed
With the move towards more enquiries on your Storefront rather than website hits, the monthly stats report will no longer be sent via email. However, you can still access your statistics and performance graph in Client Admin.