The colour scheme of your wedding will be one of the earliest decisions you make as it will influence the overall feel of your big day. Bold colours have been a key wedding trend in recent years and making sure you select the right combination is crucial to the overall look of your wedding. Many brides already have a couple of possible wedding colour themes in mind.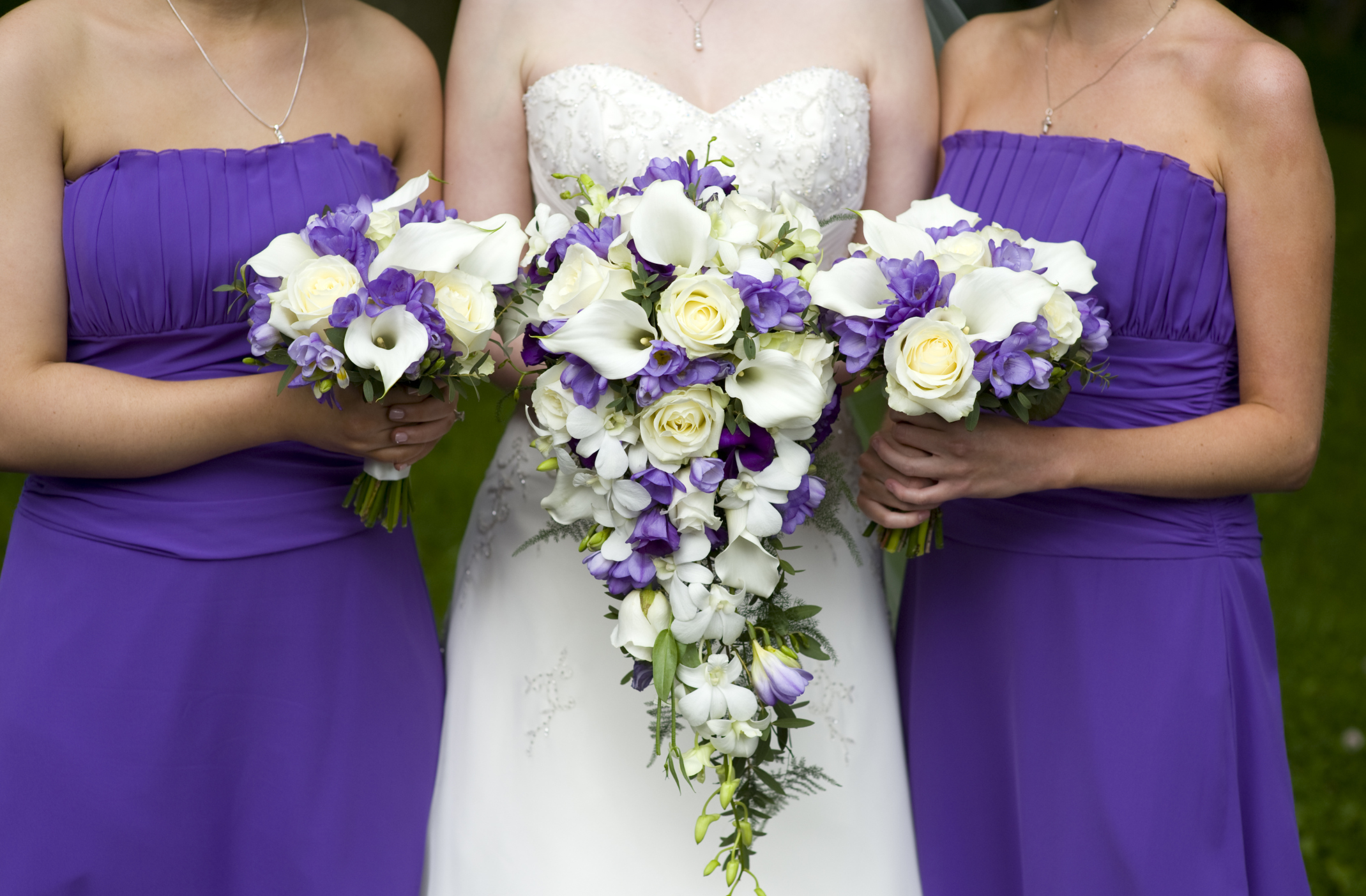 Here are a few of the ways to choose your wedding colours:
Check out your wedding venue
If you have a dream wedding venue in mind, the decor might influence your choice of colour. If the venue is decorated in bright strong colours, you might want to choose very simple colours such as white or cream to tone it down, or you may want to pick lighter shades of the venue colours. If, on the other hand, you know you want bold bright wedding colours, you should consider a plain and simple venue such as a pure white marquee.
The style of your venue might also influence the wedding colour scheme. If you have chosen a rural setting with garden views, fresh floral wedding colours would be an obvious choice. If, however, your venue is a chic hotel in the city centre, a dramatic black and white scheme, or urban colours like pewter or taupe can be very elegant.
Start with one wedding element
If you don't have a particular colour scheme in mind, just start with one element of your wedding and take it from there. Are there any flowers you really love, and if so what colours can you order them in? Take your chief bridesmaid shopping and see what dresses look good on her and use that colour in your wedding scheme. Take a look at a few wedding cake designs, and if you find one you love take your colour scheme from that.
Browse through wedding magazines and see if any particular items or themes stand out; what colour are they? Your invitation is the first impression your guests will get of your wedding so if you are having a definite colour scheme, this should be incorporated into your invites.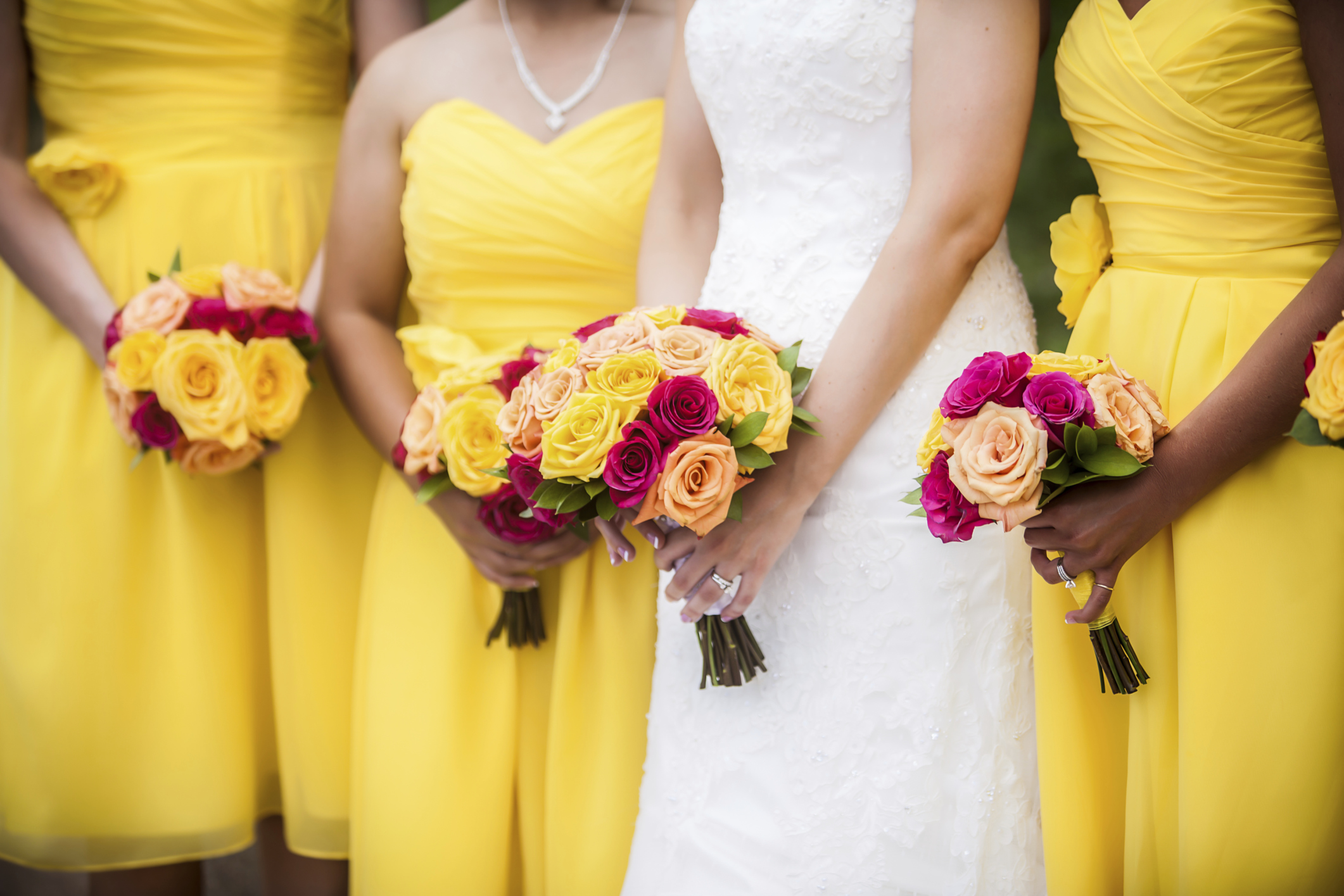 Be inspired by the season
When are you getting married? Colour schemes that work well for a spring wedding could look entirely out of place in mid winter. If you are having a spring wedding consider fresh greens and yellows, and perhaps look at pinks and pastels for a summer occasion. Warm earthy tones such as chocolate brown or burnt orange are perfect for an autumn wedding. Sparkling white with blue or silver can help you create a winter wonderland, or red and gold can add a touch of warmth to the winter chill.
Choose more than one colour
You may love hot pink, but if you use this colour for your bridesmaids' dresses, your flowers, your bomboniere, your car, your linen, your candles and your invitations, it might be a little overpowering. Deciding on an accent colour, and then combining it with another milder colour can be very effective. Metallics are very fashionable at the moment, and most accent colours work well with gold, silver or even bronze. You could also combine a bold colour with grey, white, cream, or a pale shade of the same colour.
Alternatively, look for a colour that complements your accent colour. Aqua or lime green can be effective with pink. If you choose purple as your accent colour various shades of yellow or lemon can set if off beautifully. Yellow can also complement blues, but for a warmer effect try peach or subtle oranges.
Don't be afraid to experiment with colour. Although classic white is making a comeback you can have absolutely any colour combination you like for your wedding scheme.
Creating a mood board incorporating photos of your venue, pictures of flowers you like, material samples from the bridesmaids' dresses, and card samples from your invitations will give you an overall feel for your colour scheme and will help you to see how your colours will work together.