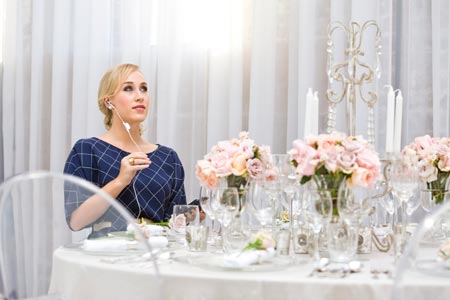 The Wedding Makers: The Business of Getting Married
Rebel Films (rrp $29.95)
Rating: PG
8/10
If you thought planning your own wedding was a lot of work, imagine how much more work is involved in planning someone else's dream day.
The Wedding Makers, by Rebel Films, offers a unique – and often amusing – glimpse into the wonderful world of weddings, but through the eyes of professional wedding planners and wedding expo organisers.
You'll follow wedding planners Angela and Paul as they attempt to put together two very different couples' big days, and it's a no-holes-barred view, from epic battles with celebrants and decorating disasters to the inevitable (and often catty) clashes that can occur when the key people planning your wedding don't exactly have the same vision in mind.
The eye-opening documentary also profiles Glen and Maryanne, both of whom are planning separate wedding expos in Melbourne.
Glen is an industry veteran whose expos are visited by tens of thousands of brides each year, while Maryanne is new to the expo game and shares the many difficulties she faces starting from scratch.
I actually enjoyed the doco's funny little moments; a minister taking the wedding rings out of a gorgeous box picked by the planners and telling the best man to wear them on his little finger; the unexpected drama surrounding a table set up and a wedding planner attempting to coerce a reluctant flower girl into the wedding cars.
What I liked best was the whole thing is so interesting and looks specifically at the Australian wedding industry. It is also a refreshing departure from the typical wedding-related coverage that focusses on scandal and intrigue.
I think as brides-to-be we tend to look at our wedding suppliers as entities and forget they are people – who get stressed, frustrated and make mistakes, and I loved being shown that some wedding planners take their weddings VERY seriously, more seriously than the couples, in some circumstances.
The Wedding Makers is a fascinating look at Australia's very unique wedding industry and, even if you're not involved in a wedding (or about to be), it is definitely an amusing story.
However, you'll get the most out of this doco if you are planning a wedding. Sit down and watch it with your fiancé and it will make all your wedding planning look absolutely sane!
It certainly worked for me!