You often hear wedding guests complaining that they've eaten too much, but surely that is better than having them stop for take away on the way home because their tummies are rumbling? When you are planning your wedding catering, take a look at the following five areas and decide how you are going to deal with each one.
Before the ceremony
While it's not traditional to serve guests food until after the ceremony, many couples are now providing something for their guests to snack on when they first arrive. Most guests will have spent the hours in the run up to the ceremony getting ready and making their way to the venue so many will be peckish when they get there.
If you are having your ceremony and reception at the same venue, you should be able to offer something simple, like coffee and cookies, before the ceremony. It's a great opportunity for the groom and best man to welcome guests, although they should be careful not to spill anything on those pristine tuxedoes.
At the drinks reception
Your guests will certainly be hungry when they arrive at your reception, especially if you don't offer pre-ceremony catering. They will also be starting to drink so you must provide something to soak up the alcohol.
Food served at the drinks reception should be in small portions that are easy to eat with fingers and don't make too much mess. Make sure there is plenty to go around; some people will arrive at the reception later than others and you don't want them to be greeted with empty plates. Fashionable hors d'herves include sushi rolls, satay chicken skewers, mini Thai fish cakes with a sweet chilli dip, falafels, and mini burgers with gourmet toppings.
The wedding breakfast
The wedding breakfast is the main attraction when it comes to wedding catering. Whether you choose a three course sit down dinner, a banquet style extravaganza, a simple buffet, or trendy food stations, your wedding breakfast should satisfy your guests' appetites and fuel them for the rest of the day.
You have a lot to fit into your wedding day, and between the ceremony and the wedding breakfast you will probably have a carriage ride, a photo session, and a receiving line to organise, but try not to make your guests wait too long for their dinner. Provide entertainment to keep them busy, and try to limit your initial drinks reception to one hour before food is served.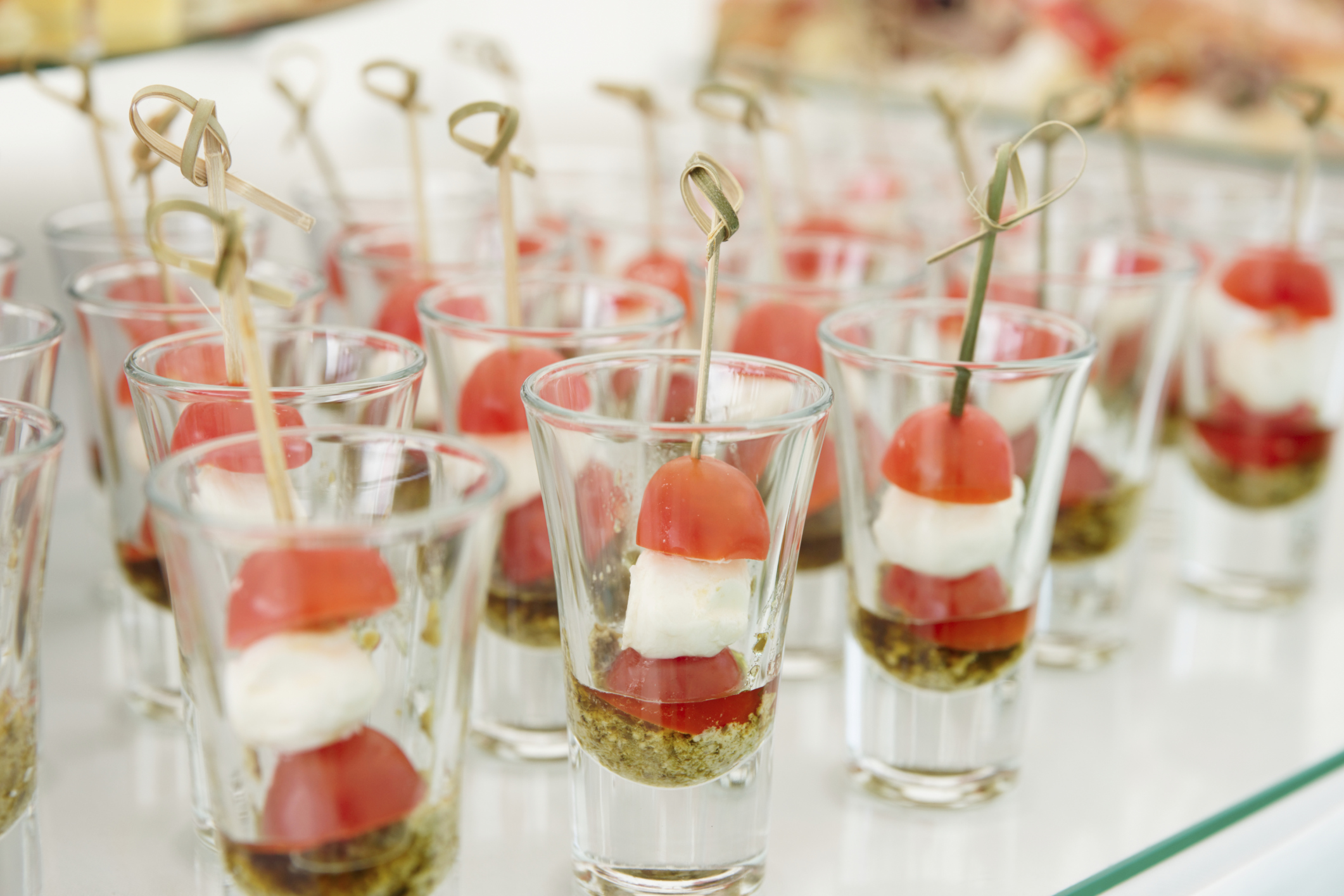 The wedding cake
Each couple has a different idea on how the wedding cake should be served. Some want to use it as the dessert for the wedding breakfast, some serve small pieces with coffee, and some just have the cake cutting ceremony and then send wrapped pieces home with the guests as bomboniere.
One fashionable option for your wedding cake is to set up a coffee bar in a lounge area away from the dance floor with your cake as the main attraction. Serve a variety of coffees and liqueurs alongside your cake and a couple of other sweet options. This means that your guests can choose when to indulge in a piece of your wedding cake rather than forcing it down after the main meal.
Late night snacks
You might feel stuffed after the main wedding breakfast, but if you expect your guests to keep dancing all night, you will need to provide sustenance later on. If you have some guests that are just invited to the evening part of your reception you will also need to provide food for them. Try to tie your evening snacks in with your wedding theme. A burrito bar, a hot dog cart, or a seafood grill are all popular options.