Flowers on your wedding day are a truly stunning addition to your wedding styling. They can be used for everything from a personal touch with your bouquet to a communal focal piece like your centrepieces. It doesn't matter how you use it; we love flowers!
And it seems like we're not the only ones. 92% of all couples will have floral features on their wedding day. But choosing the right suppliers or picking roses or peonies (or both!) might not be the only decision you need to make with your flowers. Many couples also need to consider whether they're going to have real flowers or artificial pieces for their day.
The majority of all couples (57%) will choose fresh flowers for their big day, while another 20% will opt for artificial. These are being used for bouquets primarily. However, buttonholes, centrepieces, floral cake decor and wedding arbours are also massively popular. Interestingly, 23% of couples will actually have a combination of both real and artificial flowers at their wedding.
We chatted with Ben from Flower Head Events and Lee from Just Fake It Bouquets to learn more about the differences between fresh or fake florals. So if you're on the fence about what to purchase for your day, here's what the experts say.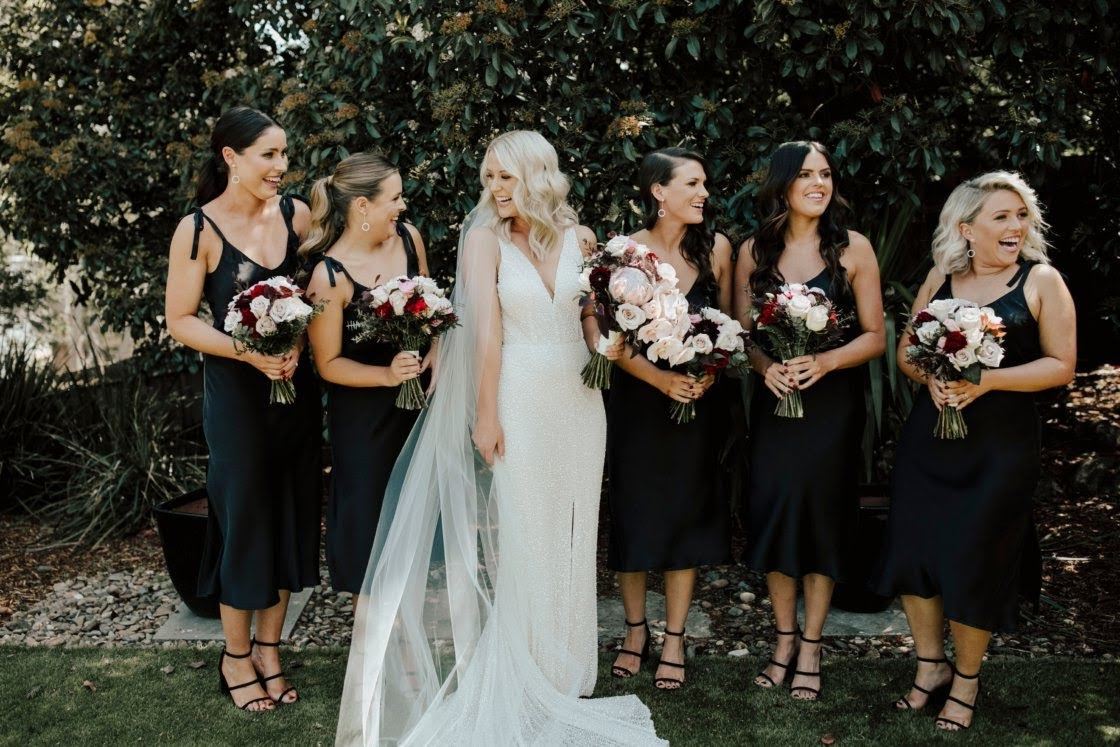 Why choose fresh flowers
Flower Head Events are a Melbourne-based florist who specialises in fresh flowers in the wedding market alone.
"The real smell of a flower can be quite memorable, especially on such a significant day of your life," Ben says.
"A lot of couples will have a sentiment to a particular flower or smell in their bouquet or floral decor. 10, 20 or even 30 years later when you smell that flower again, it can bring back memories of the day."
"We specialise in fresh flowers because that's where our passion is. There's something so special about the organic nature of a flower; holding it, smelling it and touching it."
"No, it doesn't last forever. But I think that's something that makes it a little bit more special for your wedding."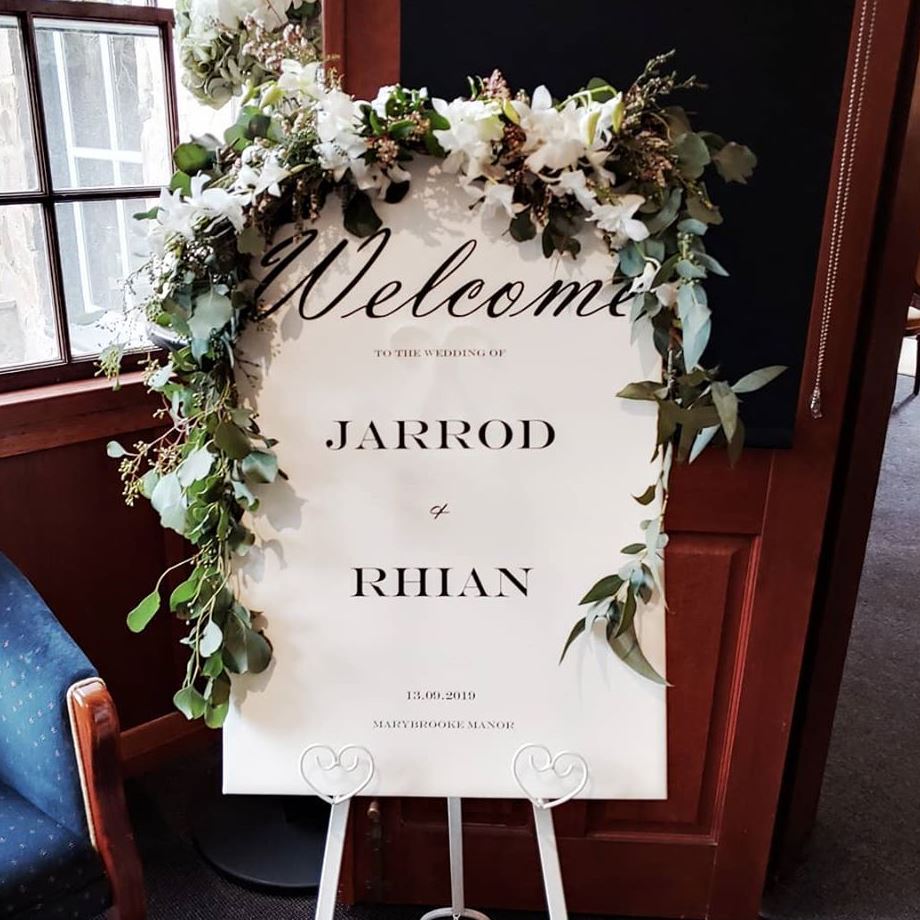 Why choose artificial flowers
Lee from Just Fake It Bouquets has been working with artificial wedding flowers for more than 10 years after discovering a gap in the market for quality artificial flowers.
"There are basically three main reasons people choose artificial flowers over real ones," Lee says. "Colour, longevity and memories."
"Some couples want specific colours in their bouquets, and things like Tiffany blue tulips and jet black roses just don't grow out of the ground. We have the ability to dye any flowers, any colour."
"Weather also comes into it since summers can be relentless and couples are seeing the benefits of not having to worry if their flowers will last the day without wilting or make their eyes water. Quality artificial flowers are also a great alternative for allergy sufferers."
"We have also had emails come through from couples celebrating their wedding anniversary whilst the bridal bouquet sits proudly, like new, on their dresser. It's a tangible object that holds personal memories from their wedding day."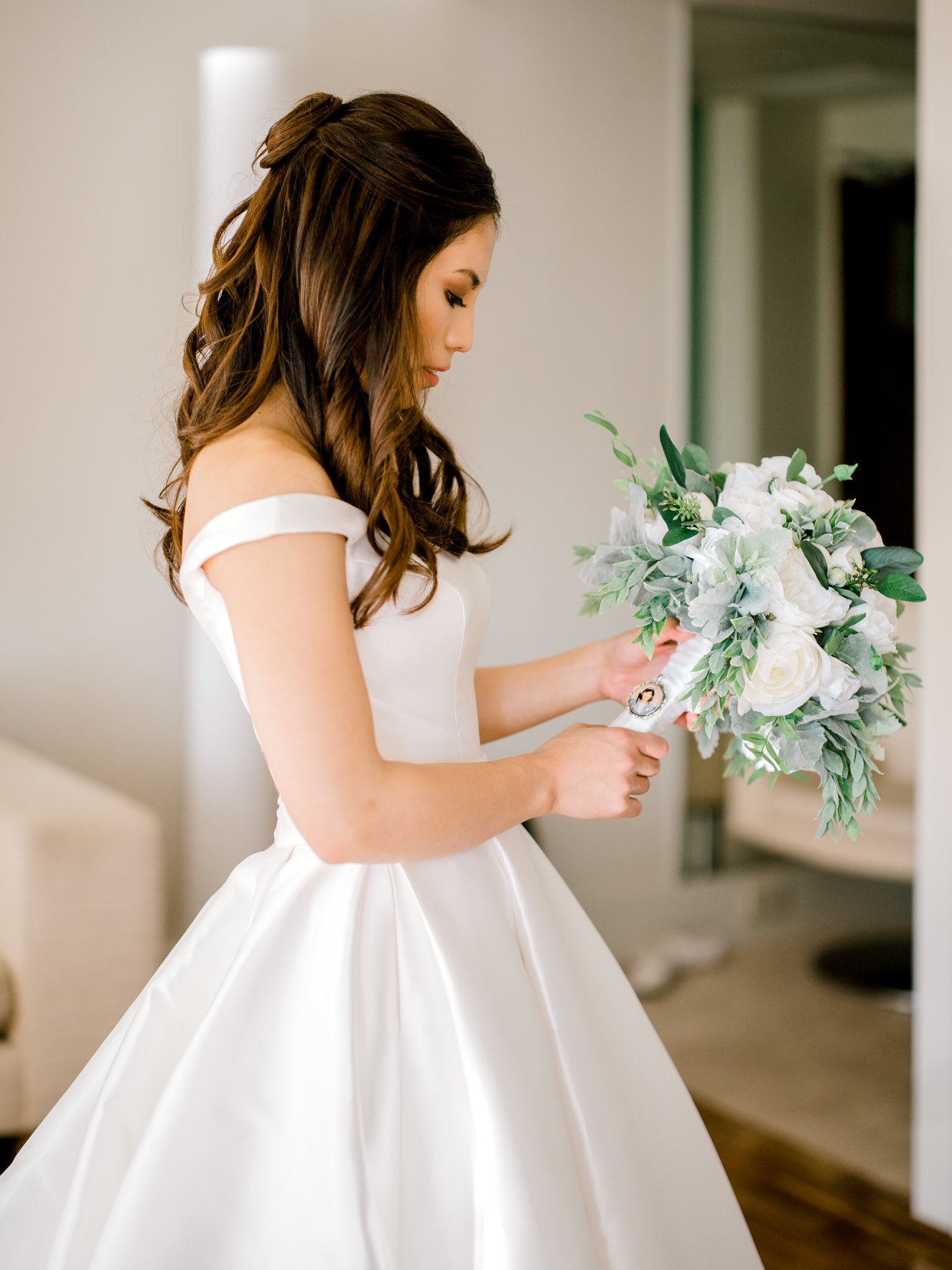 Why choose a combination of real and artificial
"The obvious reason a lot of couples want to use artificial blooms mixed with fresh flowers is because of availability," says Lee.
"The flowers they want may be out of season. Another reason could be that the couple wants a specific colour that is more easily achieved in an artificial flower than a fresh one."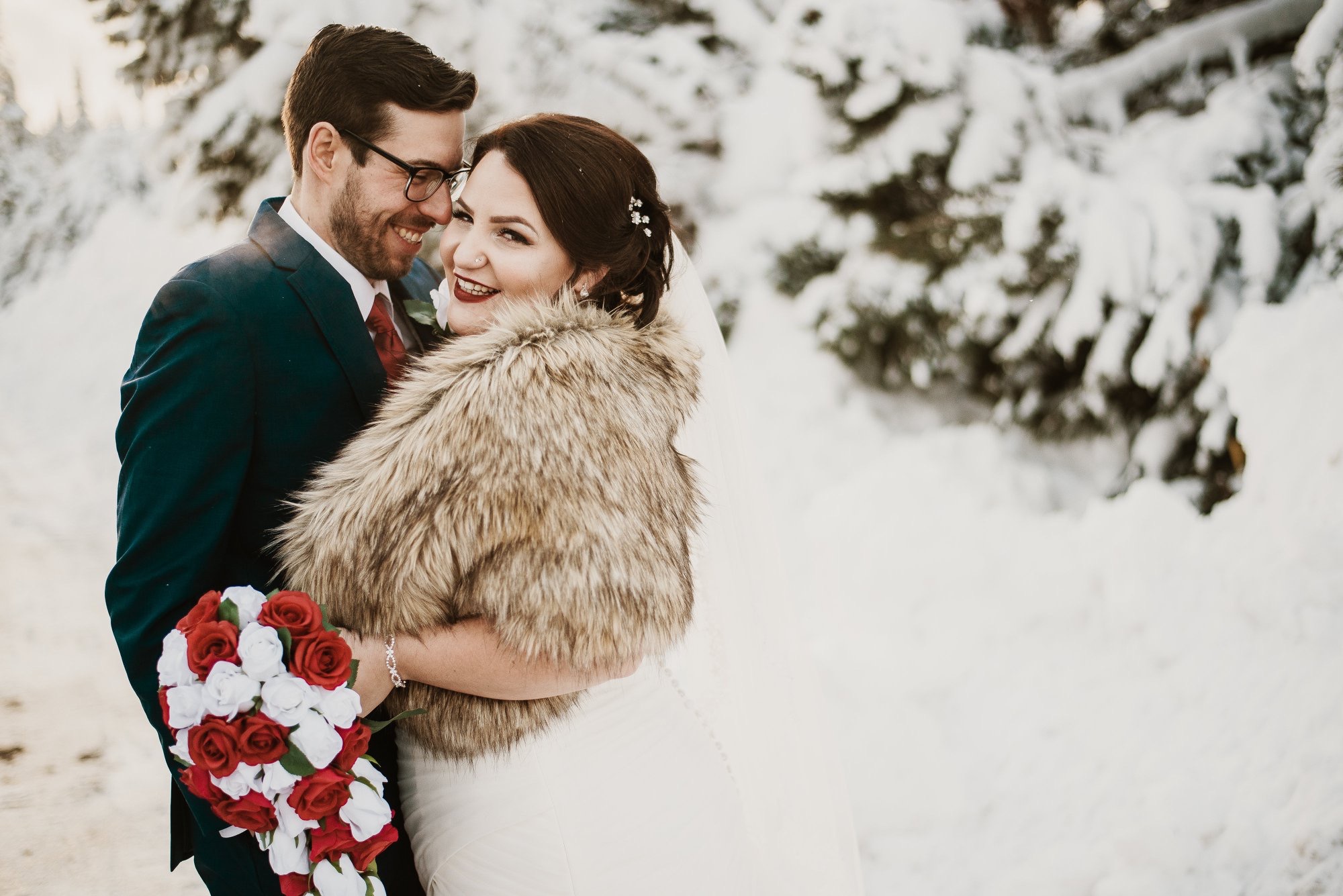 Real vs artificial wedding flowers on the day
Ben says: "The creations and arrangements you make with real or fresh florals are generally the same. When you are working with silk flowers you might be able to push the boundaries a bit further because your product doesn't need water. But there is the traditional element to real flowers that you can't deny."
"However, real flowers are a lot more delicate and you want to minimise physical contact. You don't want to bump them into things and if you're not wearing them or carrying them around as a bouquet, you want to keep them in a vase."
"Real flowers need to be treated with care. But it's your wedding day! Your dress is delicate. Your cake is delicate. Your flowers are delicate. It's a special day with special features and all of those should be given the same care. Including your flowers."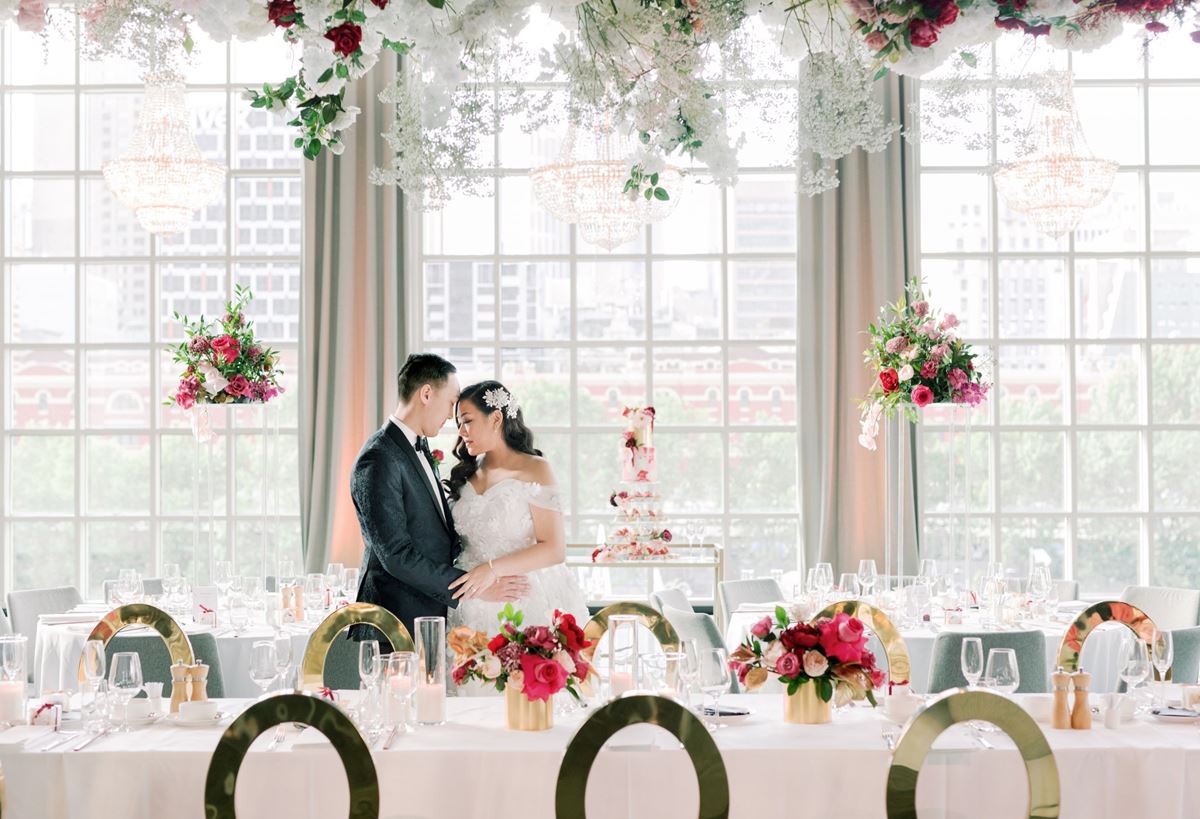 Lee says: "There is no limit to the possibilities of what you can use artificial flowers for. Bouquets are just the beginning."
"They are particularly fantastic in buttonholes or corsages because they won't get squashed or damaged, no matter how many hugs threaten them!"
"They're also great in flower crowns and flower wands for the young ones because they often end up falling onto the floor many, many times and come up perfectly fine. With no need for water, you can't go wrong with artificial for suspended installations, arbours and centrepieces. They keep their integrity and never look tired as the day progresses."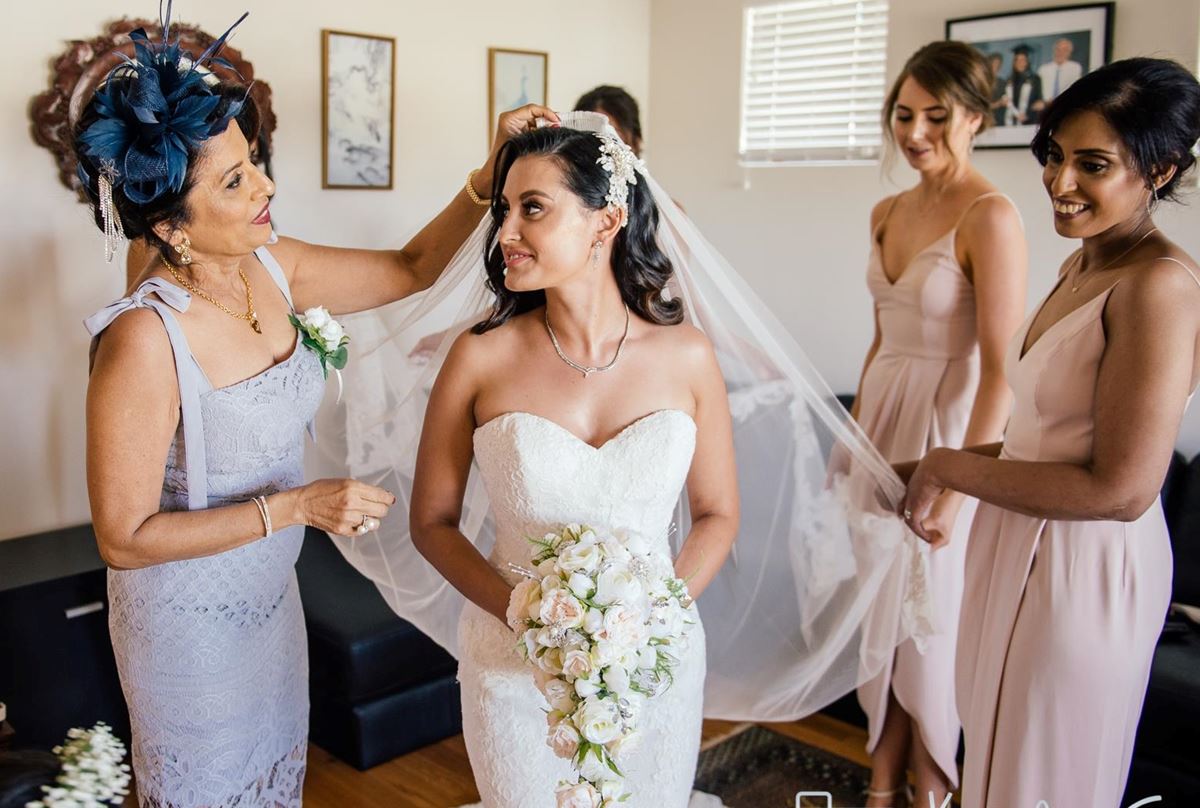 Flower seasonality and availability
"We are really fortunate that the floral industry is an international network, so we can import flowers in from all over the world," Ben says.
"It does depend on the season and the weather, and not everything will always be available. It's part of the skills of a good florist to be able to find a substitute to replicate the look for a couple."
"Floristry is an art, not a science. If you know the look and the colours that you want, we can recommend substitutes with what is available. Even if it's not available in Australia. There are hundreds of flowers, varieties and colours, and it's our job to know what will work perfectly for you; when and where you need it."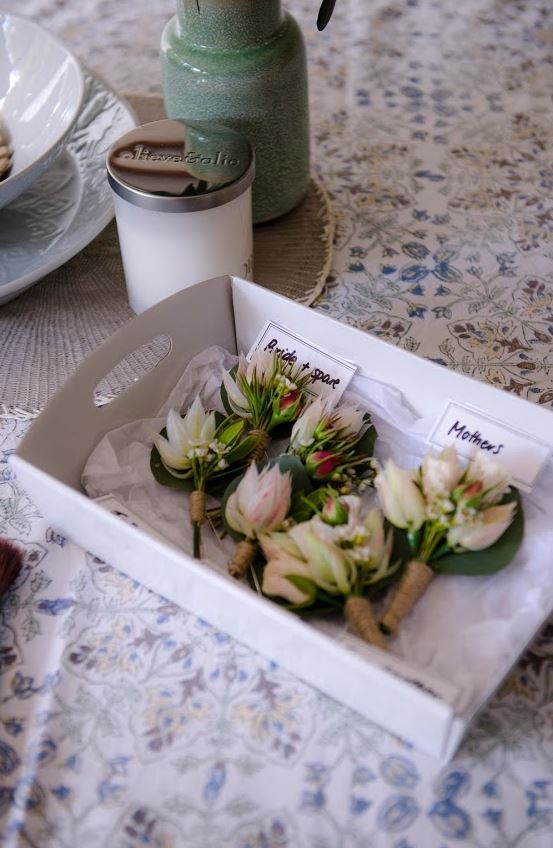 How to find a quality florist
"When you're choosing a florist it's about the product and the price, but you also want a florist you feel comfortable with," Ben says.
"There is nothing worse than choosing the best florist, but they have terrible customer service and don't answer your emails. You want someone who is easy to communicate with and you can work with on any changes."
"Check reviews and look at their work through social media. A recommendation from someone you trust is also always a good thing."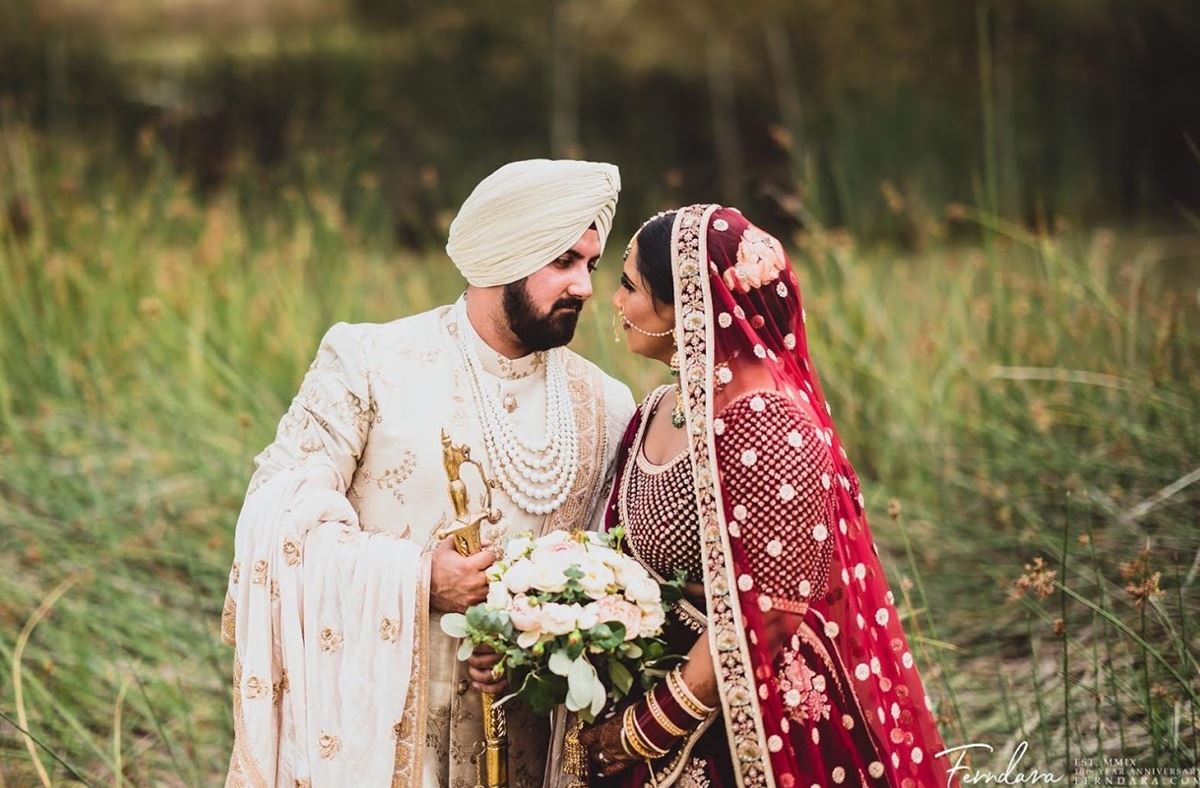 "Most artificial flowers are cut from fabric, but not all fake flowers are equal," says Lee.
"The quality range is vast, going from the very cheap and nasty silks that fray when you look at them, all the way up to the highest quality latex dipped, real touch variety."
"In short, it's the thread count. Imagine a set of sheets. On the cheaper sheet, you will be able to see the woven strands of thread that make up the entire sheet if you look closely. Whilst when you look at a very high quality 1000 thread count sheet, it's silky smooth and impossible to separate the threads once it's been woven so tightly."
"The same goes for silk flowers. The higher the quality of the fabric that has been used to create them, the more natural and durable they'll be."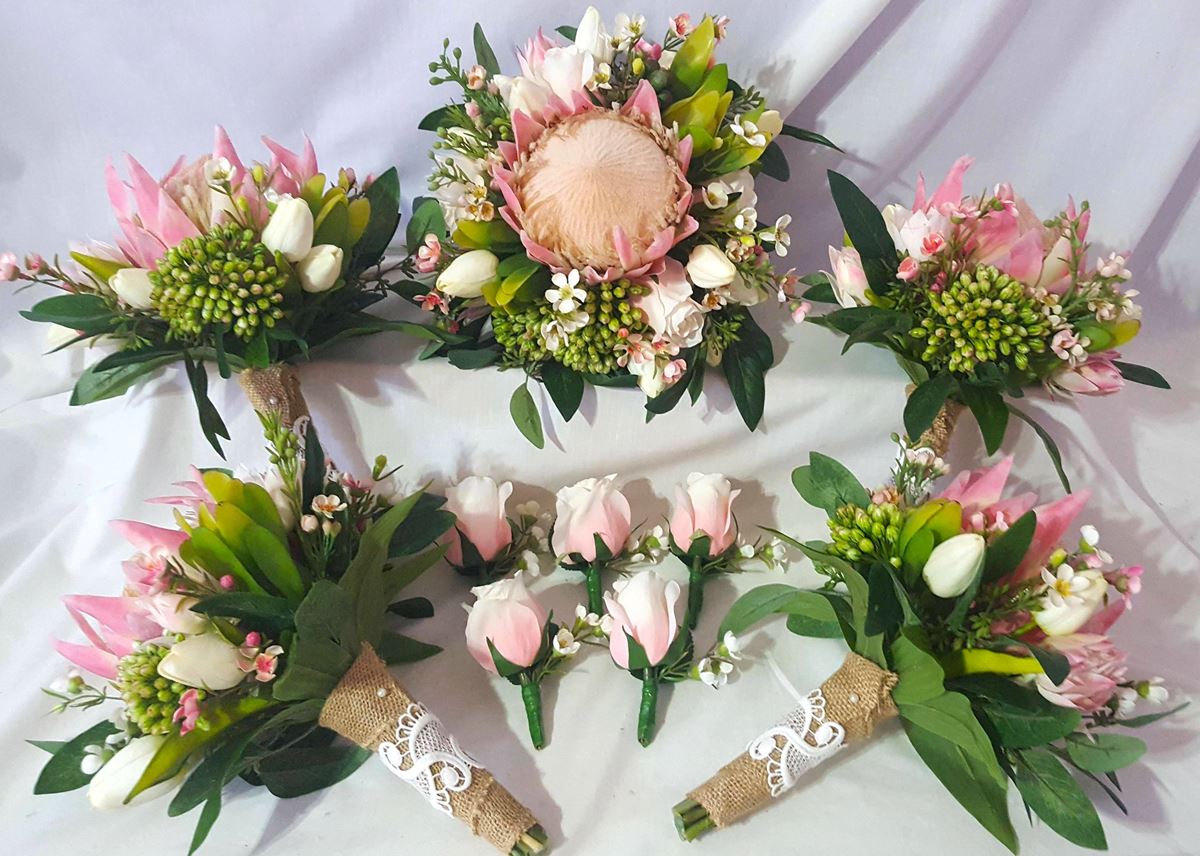 Favourite pieces
We'd be remiss if we didn't include some inspiration for both artificial and real florals in this piece. So we asked our experts what some of their favourite pieces are.
"One of my favourite designs was this sea shell and succulent set for Tayla," says Lee.
"The bridal bouquet weighed approximately 1kg which is quite heavy in terms of artificial flowers. All-natural seashells and starfish were individually wired and stemmed then paired with artificial succulents, moss and vine to create this beauty, finished with burlap stem wrap. We also created custom hair slides to match and Tayla was over the moon."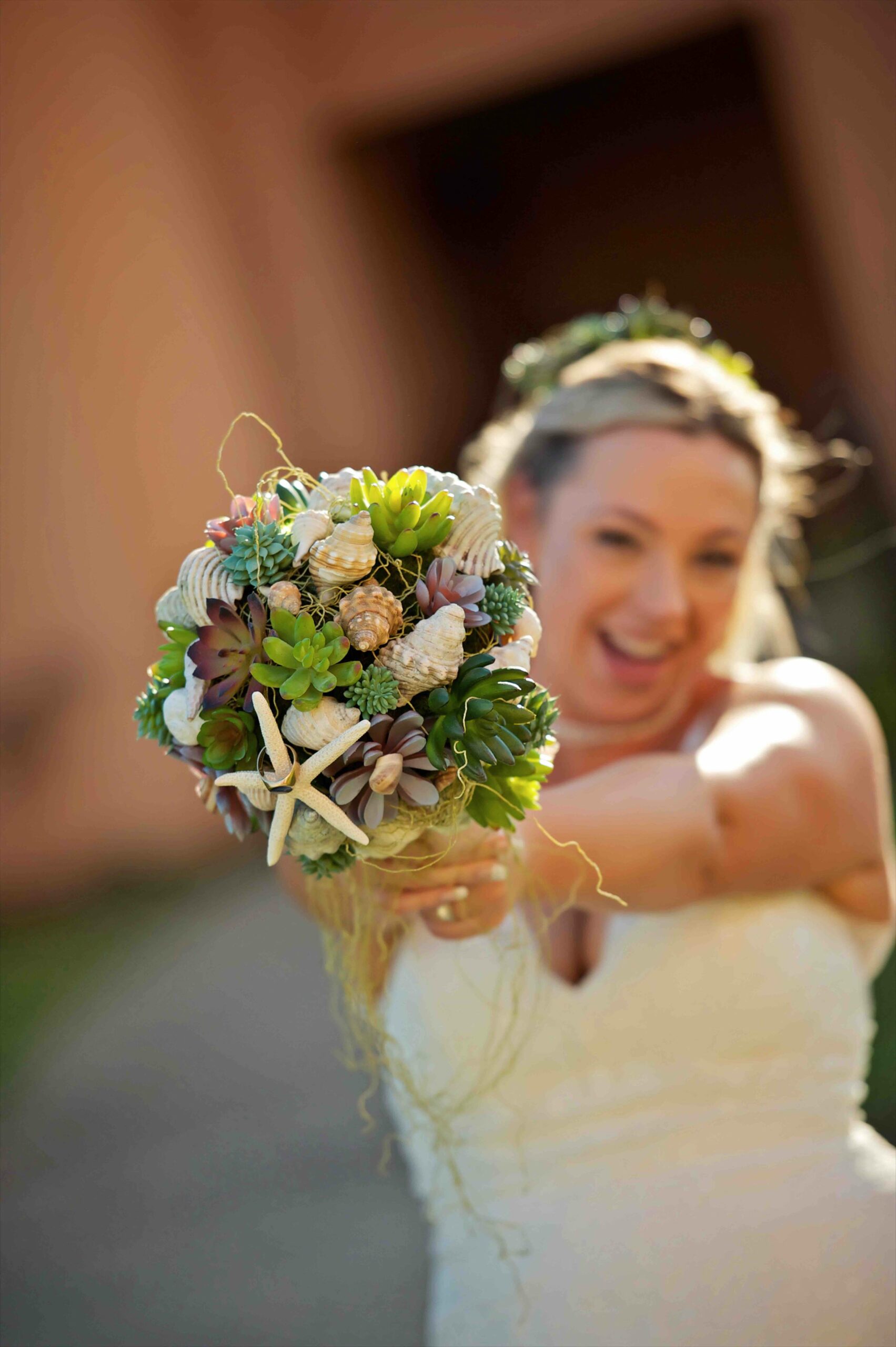 "Something quite popular now is dried flowers," Ben says. "So like palm leaves, pampas grass, cotton etc. Using a mix of dried florals and fresh florals is something that is quite popular at the moment."
"We're getting a lot of Pinterest-savvy couples who are looking at dried flowers and coral palettes. It's something a bit different and they are quite robust. And you can keep them after the day. They're already preserved so long as they don't get moisture on them and you look after them, they will last."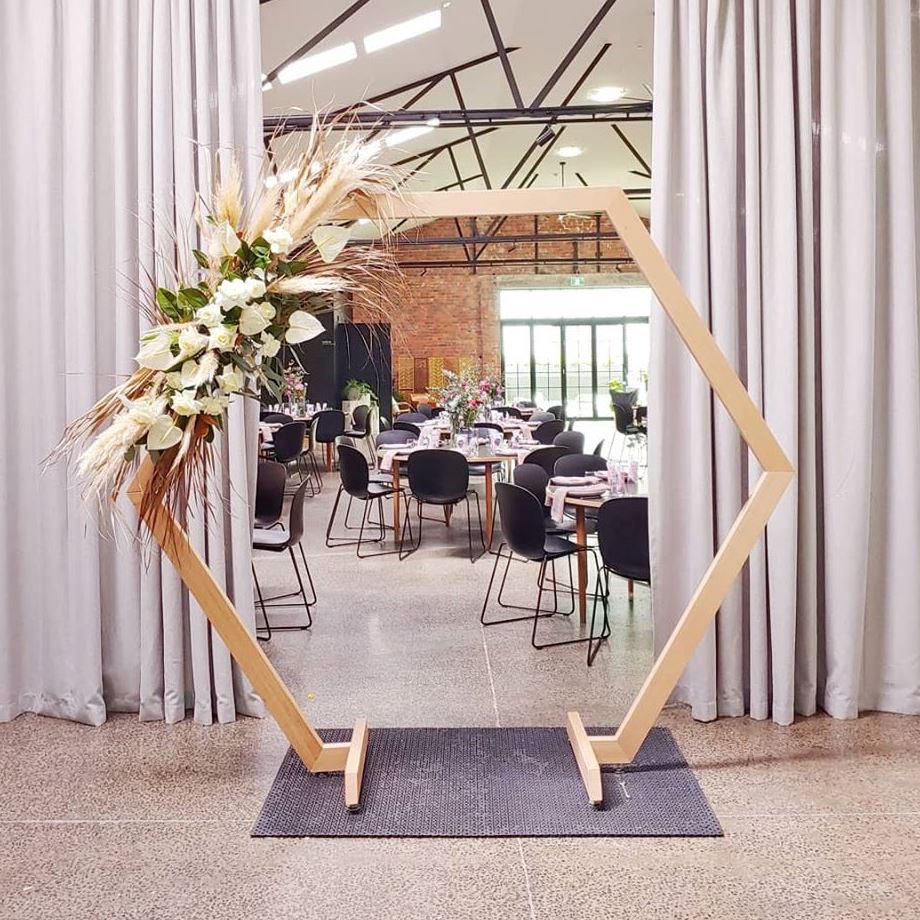 The differences in price
The average couple will spend around $1,620 on flowers for their wedding day. However, the price of what you spend will depend on how many elements you purchase for your big day.
"In some instances, real flowers may be a cheaper option, depending on what you want," Lee says.
"Pink roses may be in abundance and in season, so you may get a great price on those from a fresh florist. However, if you opt to go with the artificial variety which might be a touch more expensive, you then have the option to keep them, gift them to family and friends, or sell them on to recoup some cash."
"It's always best to consider the value, not just the cost. With so many options available to couples, it all comes down to cost, customer service and quality."
"No matter whether you choose fresh or fake flowers, ensure those three boxes are checked in accordance with your expectations. And you won't be disappointed."