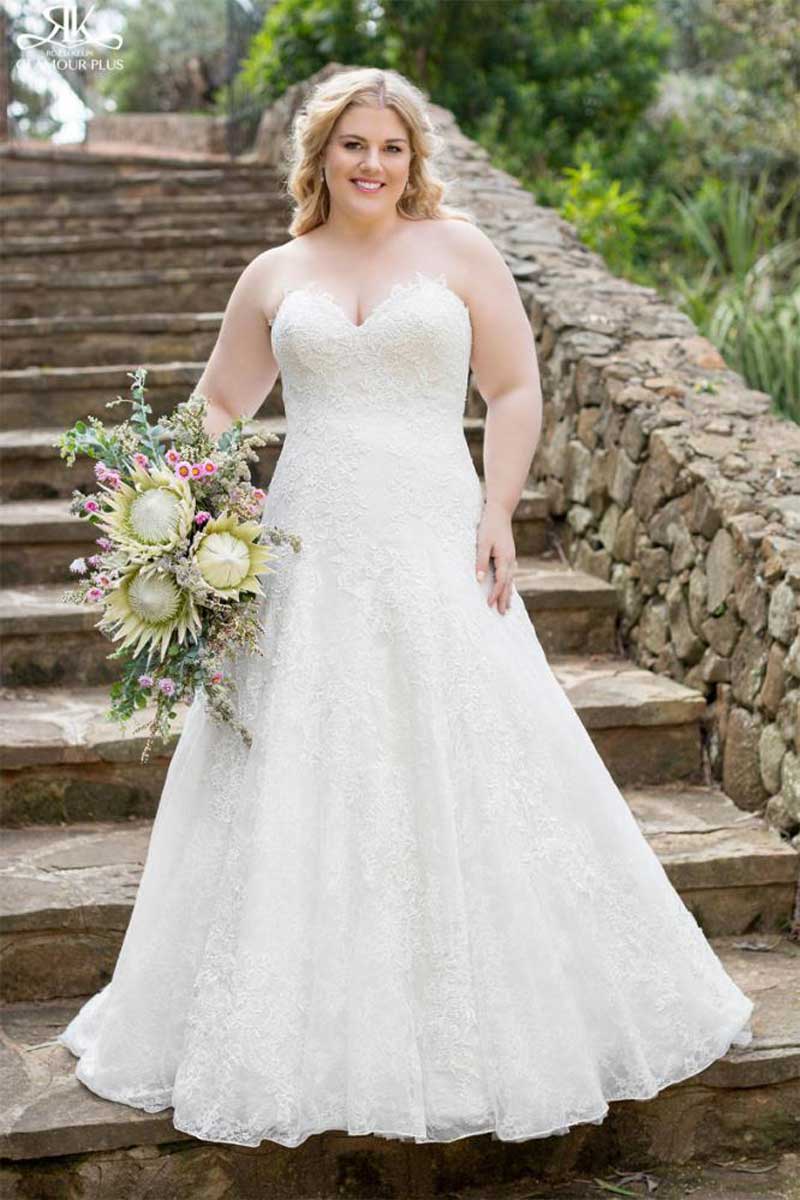 When you're a plus-size bride – or, even, a bridesmaid with the odd 'problem' area, shopping for a dress can be painful, but it needn't be. Not only do (beautiful) plus-size only wedding dresses abound, so too do wedding dresses designed to flatter any part of your body that may be causing you concern.
Rebbeca Sykes, co-owner of And The Veil Bridal in Hoppers Crossing, Melbourne, understands this pain better than most. When she went searching for her perfect gown in 2011, she was shocked by the limited range of dresses available to her.
"There was just nothing for the average-sized person and some of the service we received was appalling," says the mother of one. "I just thought, it should be nicer than this."
The good news is that times have changed, and the plus-size bride and her plus-size bridesmaids are now well catered for across Australia, with some bridal stores even specialising in plus-size designs.
"The average person is around 16 or 18 these days, not 8 or 10," Rebbeca says. "The exciting thing is that these days plus-size designers are starting to move away from the one classic design, and now offer many different styles."
She says it's an acknowledgement that every woman's body is different and there is not one cut to suit all.
"Now with the structure they put into these gowns, a plus-size girl can wear almost anything."
That said, Rebbeca is quick to point out that some styles are designed to flatter certain body shapes. So, follow these tips of the trade to ensure your best assets are complimented on your big day: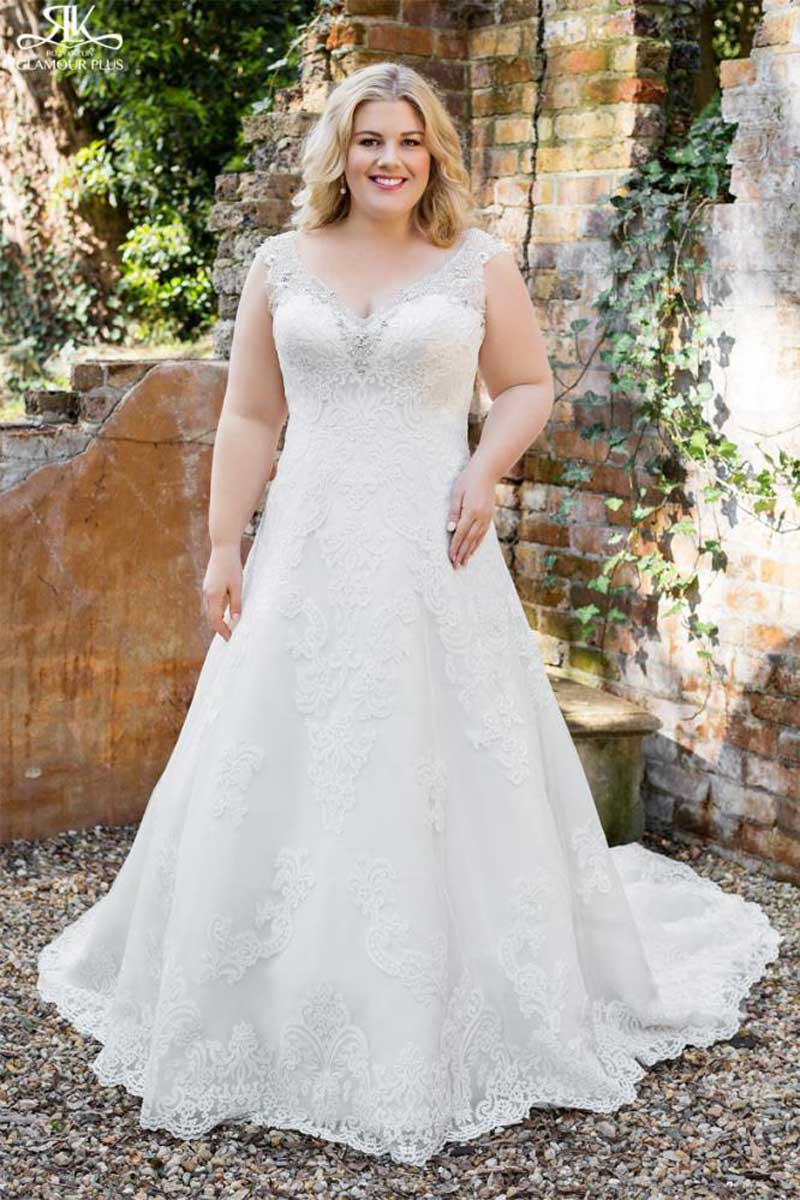 If you're short
"Too much volume will make you look shorter," says Rebecca. "Opt, instead, for a straight sheath-style dress that elongates."
A long veil will elongate you, but a fingertip veils may cut you off.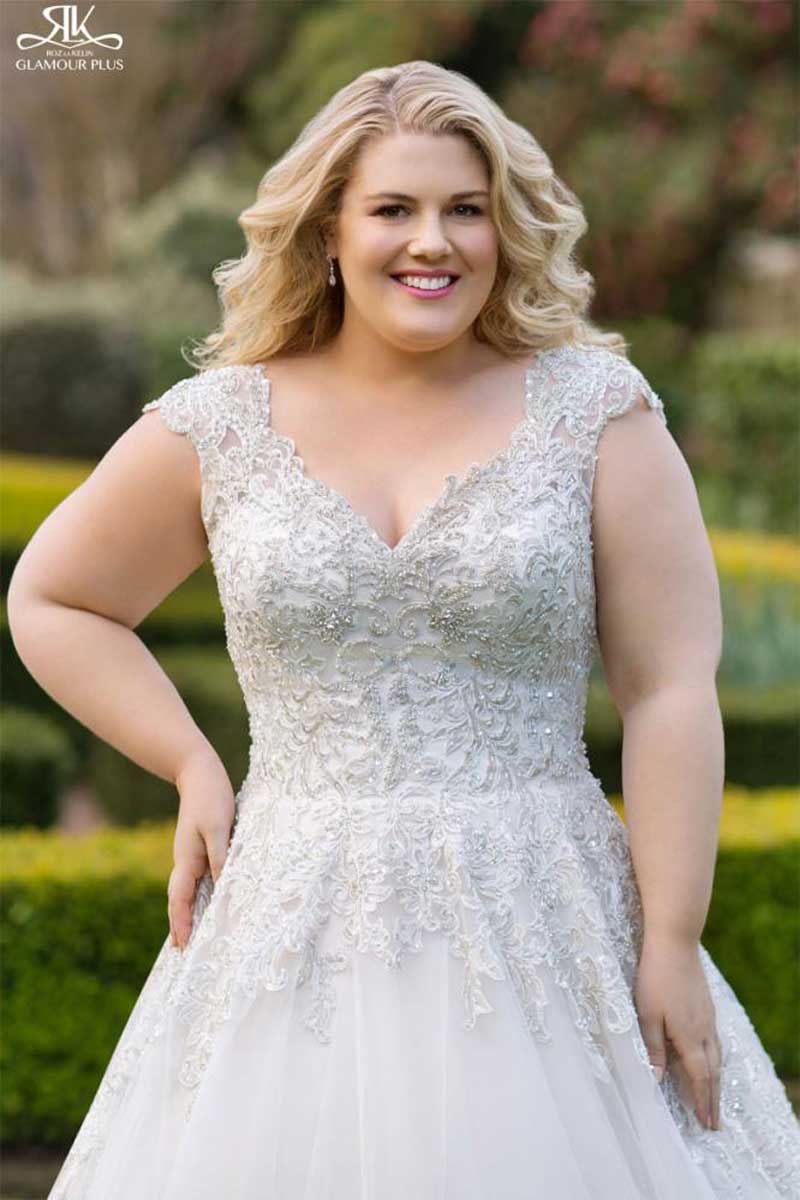 If you have a prominent tummy
"If your tummy is low, then an A-line with beading under the bust can be very flattering," suggests Rebecca. "For a high mummy tummy, an A-line may make you look pregnant, so it's better to stick with a dropped waist gown with corset that pulls everything in."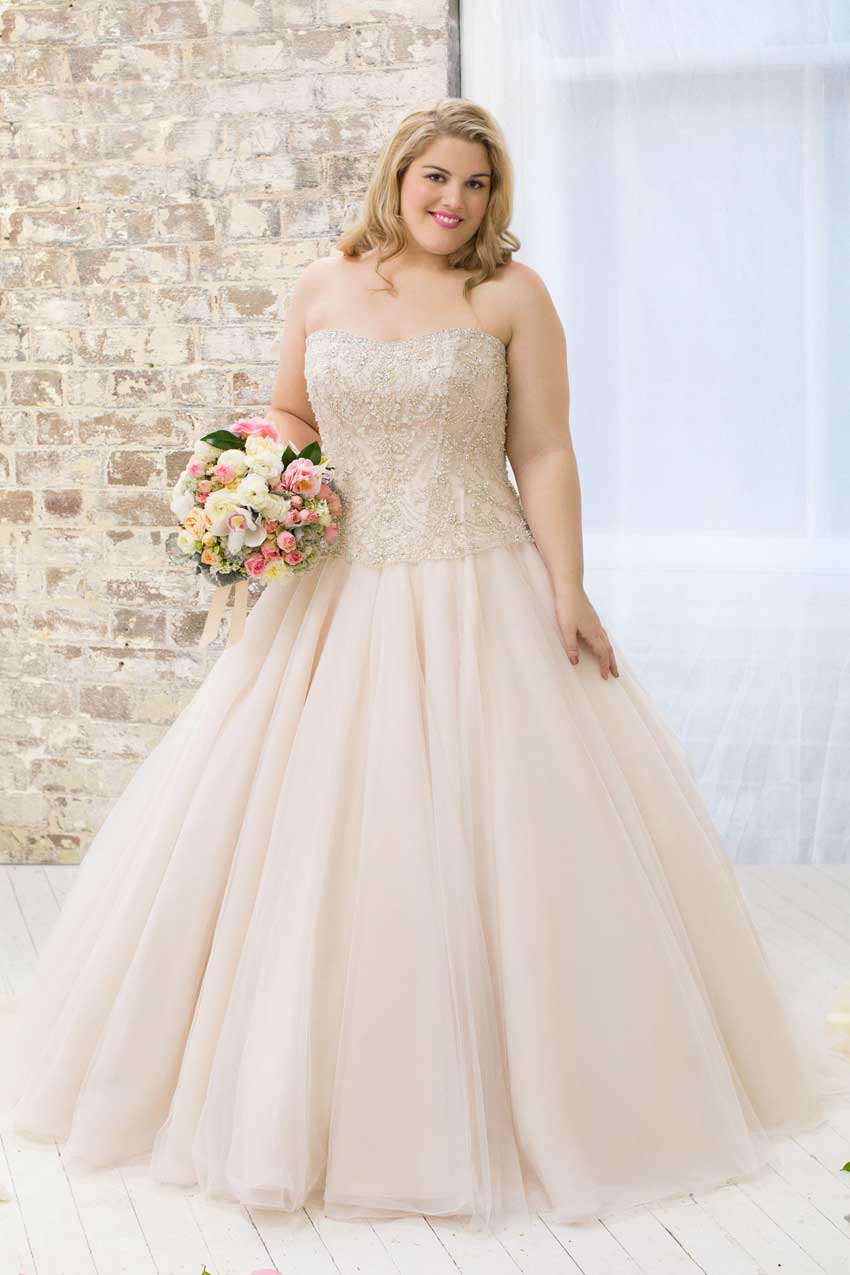 If you have an ample bottom
"Opt for a dress that is fitted to the hip and flares into to a fuller skirt," says Rebecca. "It will accentuate your waist and hide your rear."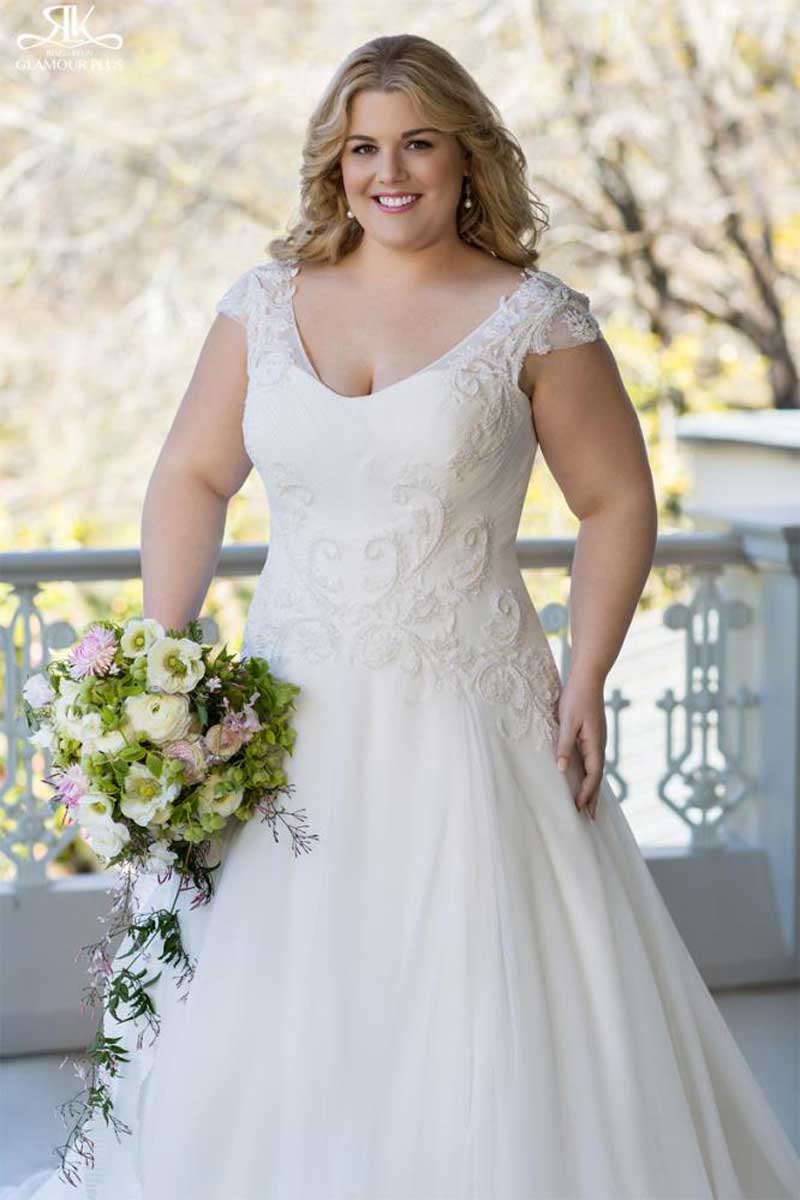 If you have a large bust
Definitely go for a corset or lace-up back to control the support, and straps can be helpful.
Rebbeca says the classic V neckline is also flattering for women with large busts.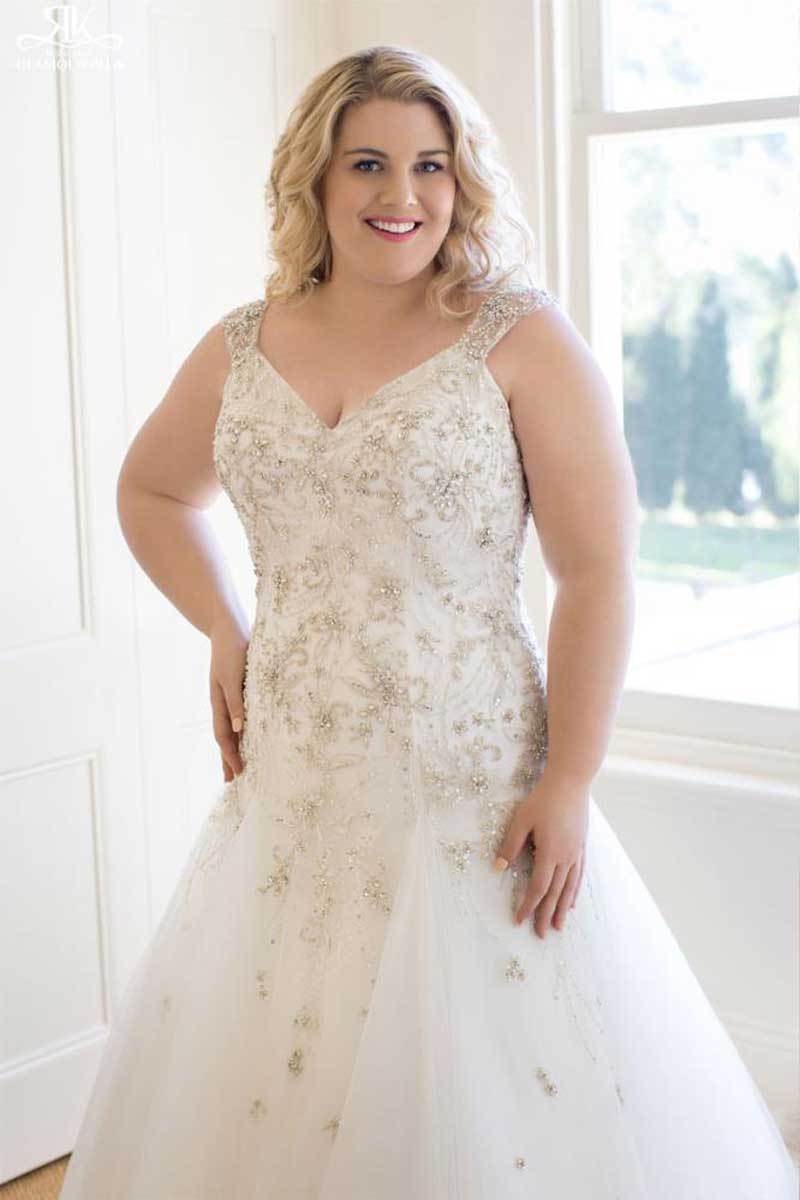 If you have broad shoulders
"A strapless sweetheart neckline is very flattering on a broad shouldered girl," Rebbeca says. "And this applies to a plus-size wedding dress as well as a gown that isn't plus-size."
If you have big arms
"Sometimes if you put a sleeve near an arm, it can actually make it look quite a lot bigger,' says Rebecca. "I think it's a common misconception."
Opt for simple straps or strapless instead.
Rebbeca's general tips for plus-size women
– Don't be afraid to wear a form-fitting dress. For many women, showing off your waist with a structured, flattering gown is just the ticket.
– Don't be afraid to try something a little out of your comfort zone in the safety of the bridal shop. Try three or four different shapes to get started, and once you've established the best shape for you, then refine your options within that category.
– Bring only 1 or 2 people to your dress fitting and make sure they are supportive.
– Ultimately, choose the dress that you feel most confident and comfortable in.
– Don't expect to lose a heap of weight and buy the dress that's your size now – you can reduce a dress by up to two sizes, but you can't make a dress bigger.