There are three ways you can tie your bouquets and flower arrangements into your wedding theme. Firstly you can choose varieties of flower that reflect your theme, secondly you can choose flowers that match your colour scheme, and thirdly you can accessorise your wedding flowers with objects that relate to your theme.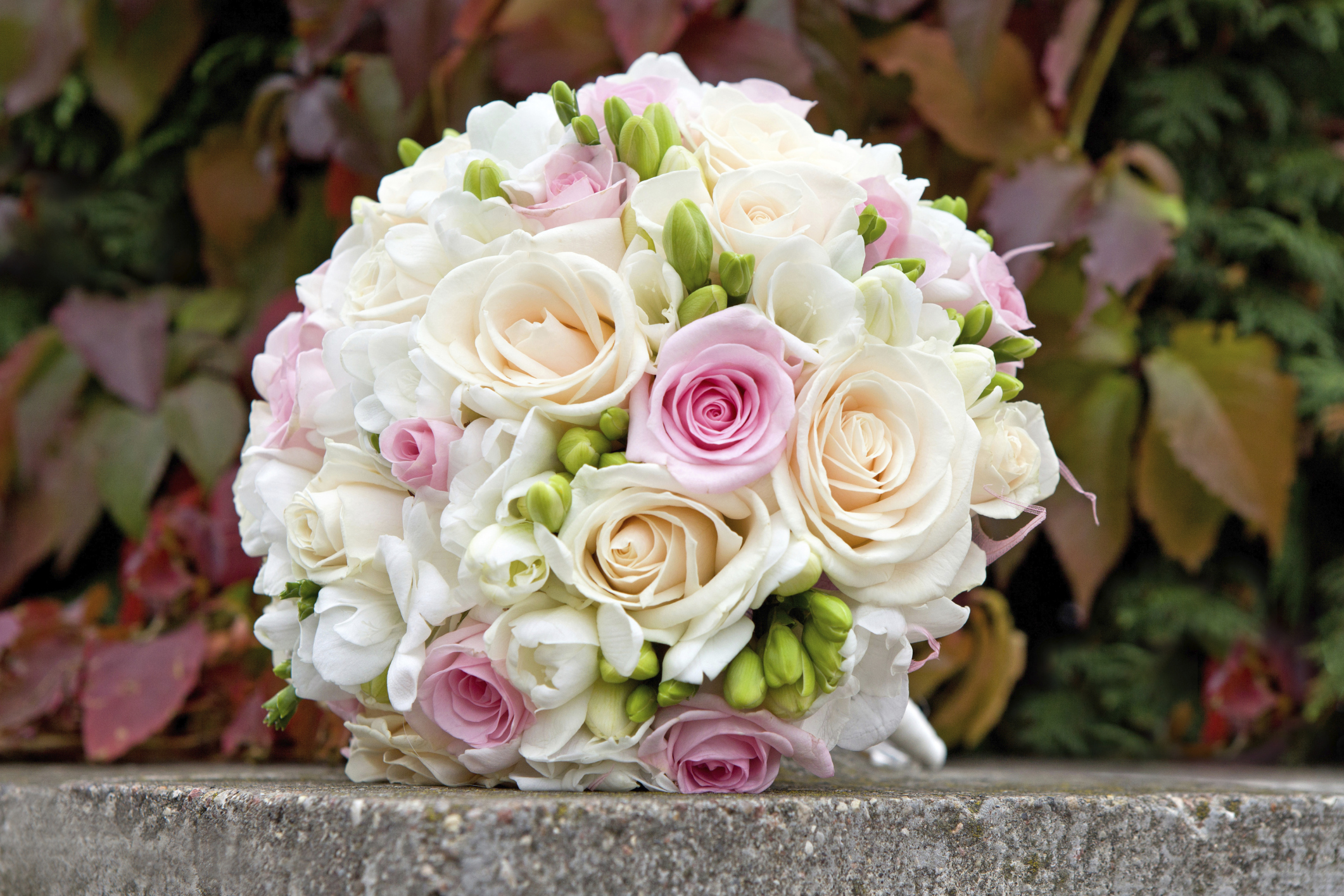 Here are some popular wedding themes and a few ideas for matching your flowers to your chosen theme.
Beach Wedding
Bouquets and flower arrangements for a beach wedding should be relaxed and unstructured to suit the style of wedding. The aim should be a natural, fresh bouquet using colours such as yellows and greens. Try accessorising your beach bouquet or arrangements with seashells glued to lengths of wire that can be bound together with the flower stems using natural materials such as twine. Flowers that work well with a beach theme include waxflower, veronica, eryngium and garden roses.
Polka Dot Wedding
Polka dot patterns are currently very fashionable, and a polka dot theme adds a fun element to any wedding. The most popular colour scheme for a polka dot wedding is white and pink, although you can have any combination you like; mint and duck egg blue also work well.
For your bouquet you could have a large nosegay of pure white blooms, with just five bright pink roses dotted amongst them. You could also tie your bouquet with polka dot ribbon, or use plain white ribbon and stick on three or four hot pink buttons in a row. Look out for oversized polka dot tea cups as table centres and fill them with simple roses.
Vintage Wedding
The colours to look out for when choosing vintage wedding flowers are dark reds, pale pinks and gold. To get a touch of gold try spraying some gardenia leaves gold and use them as the base of your bouquet. For your flower arrangements look out for vintage tea pots and vases and fill them with roses, peonies, celosia, dahlias, ranunculus and gardenias.
Winter Wonderland Wedding
For a true winter wonderland bouquet, your basic colour will be white, but you can vary this with shades of ivory, cream and green. Cala lilies are a popular choice for winter wonderland weddings, but you could also look for avalanche roses, delphiniums and hydrangeas. A perfect way to accessorise your winter wonderland bouquet would be to spray pine cones with sparkling silver paint and attach them to lengths of wire to insert amongst your flowers.

Musical Wedding
If you and your fiance are keen musicians, a musical themed wedding could be just right for you. Make music a part of your theme by hiring instruments such as French horns and entwining them with roses and freesias. These instruments can work well both as bouquets and table centres.
Hollywood Wedding
The glitz and glamour of a Hollywood theme wedding deserves truly stunning flowers. Look for colours that make an impact; red is a great choice as it ties in with the red carpet. A bouquet of scarlet roses would be great for a Hollywood wedding if it was accessorised with black feathers, perhaps using part of a feather boa. Each bloom could be decorated with individual crystal head pins.