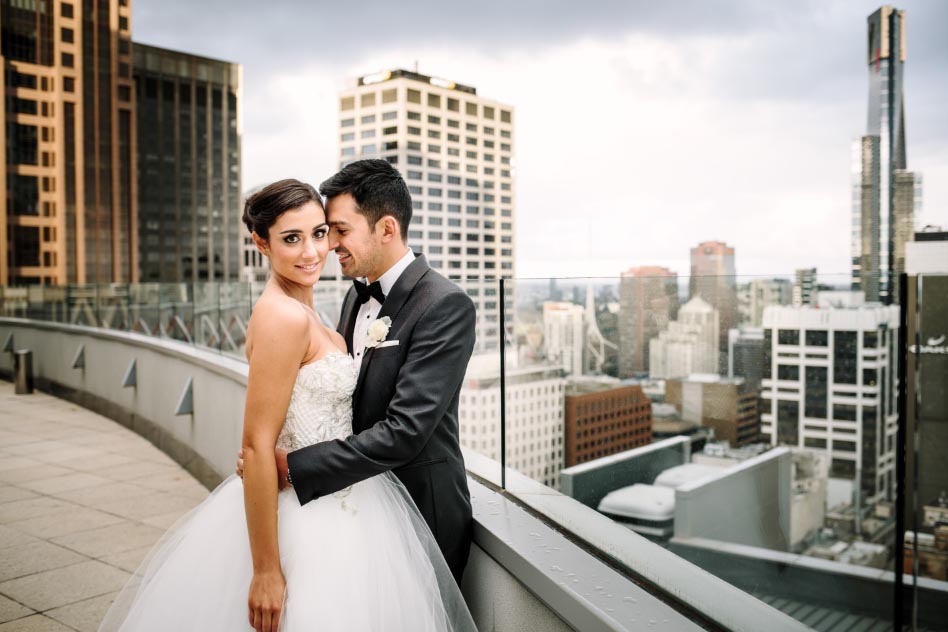 Wedding trends come and go, evolving with the changing seasons as brides and grooms discover new ways to create a memorable celebration. But despite all the ever-changing trends, there are core factors that underpin sensational weddings and help to create a sense of timeliness and joie de vivre that will linger long past the big day.
Here are three ways to tap into this spirit to create an amazing wedding.
Be creative with your food
The popularity of cooking shows such as MasterChef and My Kitchen Rules has been the catalyst for a growing appreciation and awareness of food that emphasises the journey as much as the flavour.
Concepts such as seasonality, paddock to plate and bespoke creativity have now gone mainstream, and it's an evolution further found in wedding receptions.
These days, the executive chef planning your wedding reception menu, from only the freshest ingredients, is likely to have a pedigree shaped in some of the world's culinary hotspots. And this opens an avenue to curate a menu that is less about chicken and fish and more about flair and excitement.
At the RACV City Club in Melbourne, for example – where the wedding team can cater for intimate gatherings, breakfast or brunch through to a cocktail party or 350-strong gala celebration – classics with a twist offer a feast for the eyes and tastebuds.
Think delights such as smoked garlic and nettle ravioli with morels, celeriac fondue and artichokes; Wagyu mignon, potato fondant, bacon-tossed green beans, bone marrow and béarnaise; or venison carpaccio, golden beets, salted cocoa and juniper aioli.
The menu descriptions alone are enough to get the mouth watering, and can be further complemented by the engagement of internationally trained culinary consultants to provide authentic and diverse menu offerings from around the globe, tailored for all cultural backgrounds.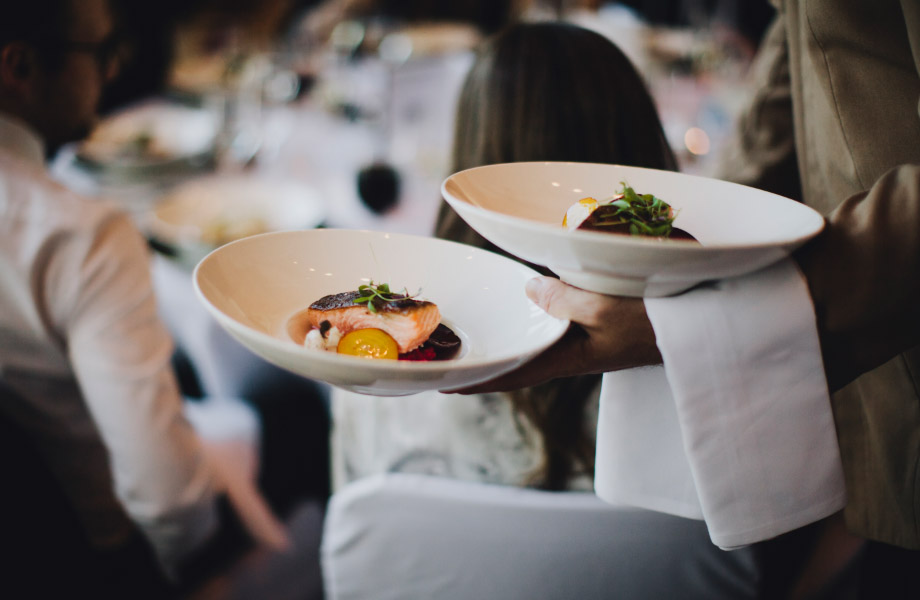 Many couples embrace the opportunity to have input with the menu design, and to provide their guests with a meal that reflects what they would choose if dining out or entertaining at home, explains RACV City Club wedding coordinator Rebecca McKenzie. "We offer a menu tasting prior to finalising the menu, with the couple having the final say in how they would like dishes presented on the day," she says.
Examples of this include discussing the type of dining experience their guests will enjoy at the wedding, be that a sit-down dinner with shared starter platters and side dishes to encourage conversation and interaction at the tables, or contemporary vegetarian options that draw on seasonal produce and global flavours to create plates with widespread appeal.
"People really care a lot more about food these days and enjoy putting thought and care into the finer touches on a menu, knowing their guests will appreciate the effort," she says.
Even dessert is a showcase of style, with RACV City Club, for one, offering the unmatchable boast of indulgences straight from its renowned Le Petit Gâteau pastry kitchen, headed by award-winning French pastry chef Pierrick Boyer.
Whether it's a strawberry Eton mess with meringues, custard and rosewater Chantilly, or a deconstructed New York cheesecake with blueberry crémeux, raspberry coulis and fresh fruit, the theme is one of elegant yet unabashed indulgence.
It's all about making the meal itself just as memorable as any photos taken on the night.
Top tip: If you want to add a little pizzazz to your wedding menu, consider creating a signature element of the night. At RACV City Club, for example, arrivals drinks can be upgraded with cocktails to create an elegant hint to the fun that lies ahead.
Aim to dazzle with your location
That certain glow all newlyweds sport is the best decoration a wedding could ever have. But there are lots of other ways to up the impact, be it vibrant splashes and swathes of colour, fresh floral decorations or touches of elegant decor.
Something else worth looking for is a venue that makes a statement all of its own. This could mean a historic building with a rich back-story, a high-rise haven with eye-catching panoramas or one imbued with such a sleek style that it creates a luxury experience unlike any other guests could experience.
Many couples enjoy taking a blank canvas and transforming it according to their own unique style, wedding theme and colour palette, says Rebecca, who helps them choose from the club's range of flexible function rooms. Others like to let the setting itself make the statement, with minimal adornment.
"If you look at our Club Pavilion on Level 2, which is popular for smaller weddings, there's a stunning chandelier in the centre of the room and views over Bourke St from the terrace, so it doesn't need a lot of enhancement," she says.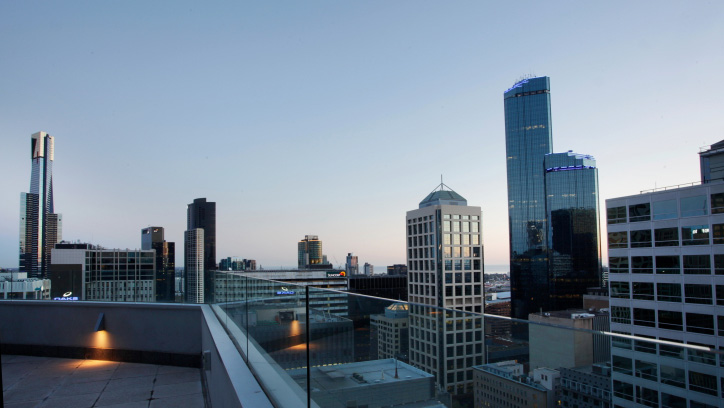 Then there's the acclaimed Level 17 space, which has breathtaking city views – including from a roof terrace perfect for pre-dinner drinks – stretching out across the city and Port Phillip Bay. Enhanced by inclusions such as a spacious foyer and lounge area, it creates a sense of privacy and prestige in the middle of the bustling CBD heartland.
And it's not just about summer celebrations. One of the benefits of having an indoor venue is it can be used at any time of year. 
"Winter weddings are just as spectacular as any other season, with the beautiful city lights and the rain on the terraces showcased to beautiful appeal," Rebecca says. "Its not about bringing the outdoors in, but in showcasing it to perfection.
"For example, with the Club Pavilion and Level 17, they both have floor-to-ceiling windows, which allow guests to enjoy the mood outside, no matter what the weather does." And in Melbourne, that's a definite advantage.
The award-winning club also has a President's Room, designed with the kind of opulent furnishings the name evokes – think chandeliers and leather-lined walls; the Wine Cellar, which seats guests at a handcrafted dining table surrounded by vaulted ceilings and fully laden wine racks; and the Conservatory, which boasts natural light and greenery making it ideal for a ceremony and reception.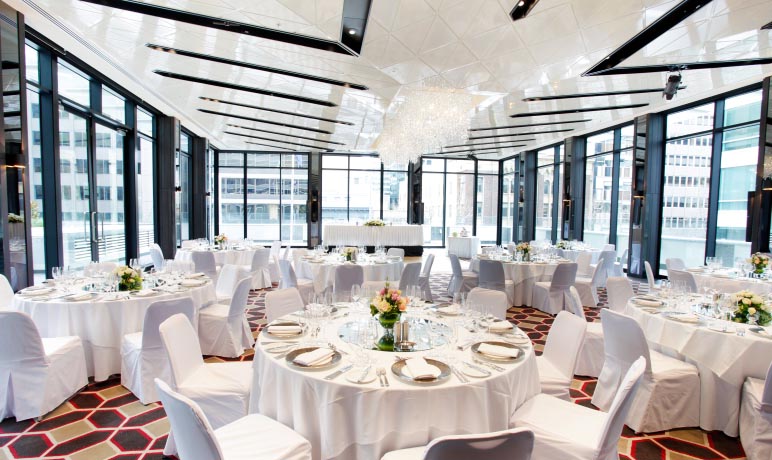 It's all about finding the perfect space to tie in with your personalities and your desires. Plus, remembering that first impressions count– so you want to make a great one.
Top tip: Building on the idea of a dazzling location, aim for somewhere that offers ready access to great photographic locations. At RACV City Club, interior settings include a sweeping marble staircase, wine cellar, billiards room and grand pianos, while the club also enjoys proximity to hidden laneways, parks and the Yarra River.
Make it about your guests
One of the best parts of a wedding is that you get to share it with guests, whether it's just your very nearest and dearest or a wider circle of the friends and family who make life enjoyable.
Something many couples look for these days – especially when people are so time poor – is to choose venues that offer a little extra 'me' factor for guests.
At its most straightforward, this can mean taking the basic standard inclusions of a wedding menu package, such as tea and coffee for guests, and giving them extra pizzazz by adding herbal infusions and pralines.
Another popular offering is access to wedding night accommodation at the same venue as the reception. After all, as Rebecca says, nothing wraps up a night more perfectly than being able to head straight from the celebration to your own room without having to navigate a long journey home.
Then there's the enjoyment that comes by way of access to facilities, such as those at RACV City Club, which are not normally available.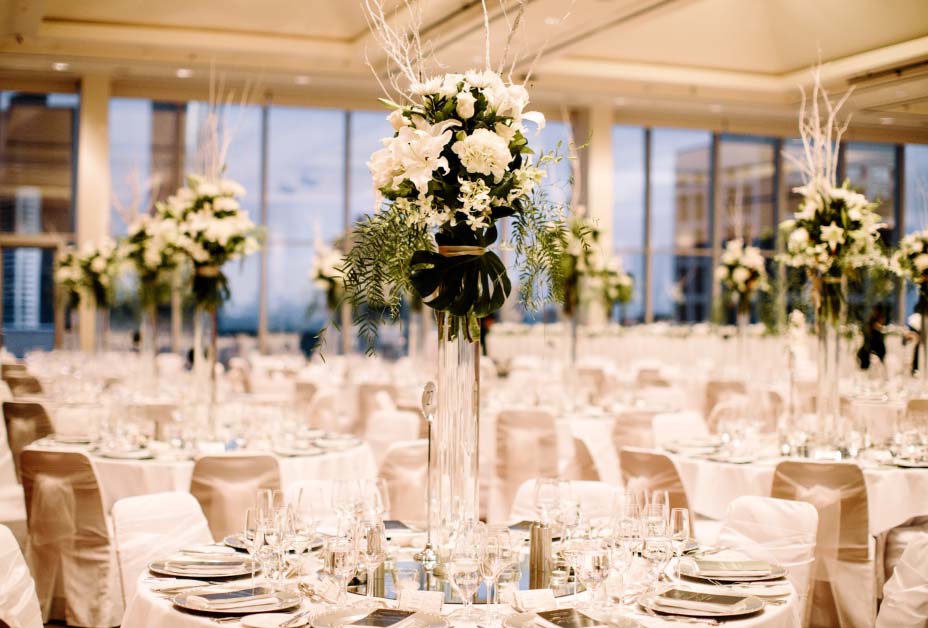 "Being a private club, our facilities are ordinarily only open to members," Rebecca explains. "However, for a wedding, we give the hosts and their guests the opportunity to make use of our accommodation and amenities." This then allows them to indulge a wide range of interests.
Depending on how much time they have, guests can relax with a pampering session in the day spa, hit the fitness centre, relax in the Carbine Bar or try their luck in the billiards room.
"The club almost becomes a bit of a home away from home, whether people live in the city and want to make a whole weekend of it, or are travelling from outside Melbourne or from interstate, which is quite a popular option," she says.
Again, it's all about that sense of consideration. About remembering that while it's your day, it wouldn't be the same without your guests, so anything you can do to make the event easy and enjoyable for them is a bonus.
Top tip: When choosing a venue, especially in a busy area such as the CBD, it's important to take the availability and expense of car parking into consideration. At RACV City Club, guests who attend a wedding but don't stay overnight can make use of discounted parking.
At the end of the day, it all comes down to planning a wedding celebration that best reflects your unique love story, and embraces and accommodates your guests in a way that lets them share in the joy of your happily ever after.
And if they go away proclaiming your day as the best wedding ever, so much the better.