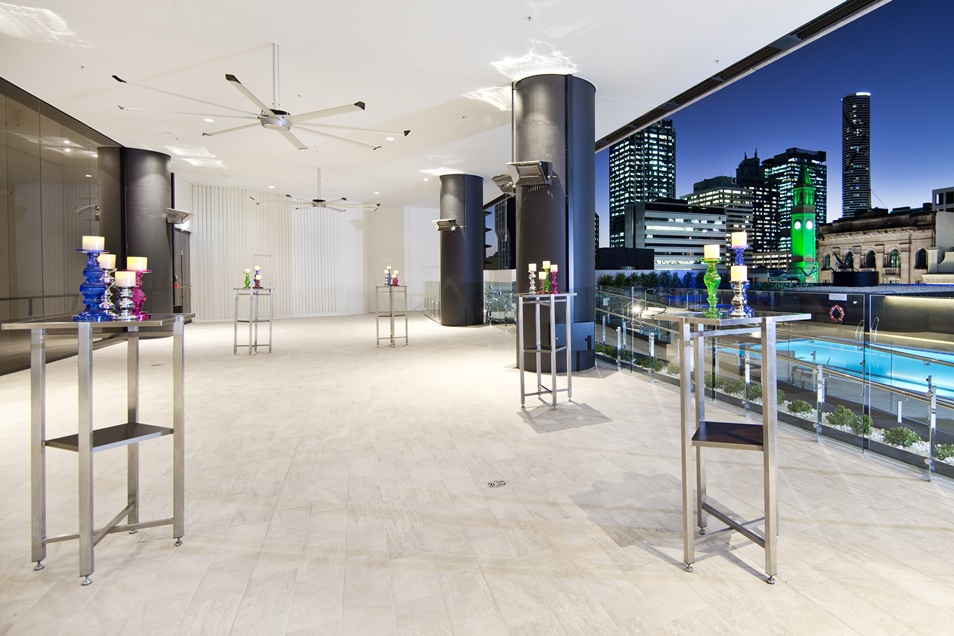 To make a real splash on your wedding day, look for a wedding venue that gives your guests something to really 'ooh' and 'aah' over (before they whip out their camera phone and hit up Instagram).
Maybe a chic view of the cityscape at night-time during your reception would be just the ticket, or perhaps rolling green hills at a winery as you exchange rings is more your style.
"Think about your two personalities and how this can be reflected in the venue of your choice," advises Chris Partridge, general manager at Hilton Brisbane, which has been hosting weddings since it was first established in 1986. "If you'd love a sophisticated wedding with style, a rooftop terrace would be perfect for you, for example."
"Make sure the venue is a right fit for what you are trying to achieve for the special day like the overall look and and feel and location. But if you can't get your dream venue, then focus on the amazing things the venue and team can offer you. Also look at how many boxes the venue ticks on your list, like the delicious food on the menu or the inclusion of accommodation."
Here are six fabulous wedding venues with a wonderful view to really knock the socks off your guests.
Chic and sleek
Imagine it – your glamorous guests sipping on delicious cocktails by the pool while admiring stunning 360 degree views of the city during your wedding on a rooftop bar. If you'd like your event to have a luxurious, sophisticated vibe, then this is a wonderful option for you.
Located in the heart of the city, the Hilton Brisbane recently opened up its brand new rooftop pool terrace last year.
"The pool terrace will leave a lasting impression on all of the wedding guests. Located on Level eight of the hotel and next to the beautiful outdoor pool – it's a great venue," explains Chris.
"Your guests will enjoy sweeping views across the city skyline, as well as beautiful views of new and old Brisbane, all while being fully protected from wet weather. The City Hall also lights up at night, which is absolutely stunning."
Don't be fooled into thinking rooftop pool bars have limited space for guests, either. The terrace at the Hilton Brisbane can fit up to 160 guests for a cocktail reception or sit up to 100 guests for a banquet.
Renowned for its luxury and modern decor, the hotel also offers bespoke menus created by the executive chef, a fabulous drinks menu produced by the resident mixologist and of course, stylish accommodation.
Romance by the vines
Surrounded by great rolling hills with the vast blue sky above, wineries are a great idea if you'd like a gorgeous country wedding.
Depending on the location of the winery, it is likely that it may be situated further away from the city where many of your guests may reside, so you may want to consider hiring a bus to transport them, suggests Chris.
Before you decide on the wedding date, consider what the vineyards may look like at that time of year. Depending on your aesthetics, you may like a summer wedding when the vines are luscious and green. In winter, the vines tend to be become dormant, so that's something else to think about.
"The cellar door may also be open to the public during your wedding in the daytime, so consider the fact that you may have other people walking around on the day of the event," adds Chris.
Of course, make sure you do wine tastings so you actually choose a venue whose drop you enjoy. After your wedding, you could even buy a few bottles to enjoy on your first year anniversary, too.
Love among the gum trees
"If you'd like to get closer to nature, having a bush wedding can be quite a magical experience," says Chris. "I think it would be quite romantic to get married under the trees with the scent of eucalyptus in the air."
There are many historic buildings located within national parks around Australia that are available for hire, from stately mansions to beautiful cafes and restaurants nestled in among the trees.
If you'd like your ceremony or reception on the grounds of a national park itself, be aware that permits are often required and there may be limitations around what kind of furniture or other items you may be allowed to bring in. Also, consider whether there may be ample bathroom facilities or parking for your guests.
A ceremony by the sea
Whether you say your 'I do's' on a glamorous cruise ship, at a waterfront restaurant or right on the beach, your guests will be blown away by the views of sparkling water on a sunny day or of the sun setting as they sip Champagne and nibble on canapés.
However, the weather is something to carefully consider. Windy evenings and late afternoons can be quite chilly and drown out the sound, so make sure your sound system is top-notch. It's also really important to come up with a wet weather plan, just in case it rains.
"And whatever you do, don't forget to pack the sunscreen – the last thing you want is to get sunburnt in your wedding photos!" advises Chris.
Roses are red, violets are blue
Garden weddings are perfect for serene afternoon tea parties or lovely civilised luncheons, as guests gaze over the perfectly manicured lawns and sniff the scent of fragrant rose bushes.
Use Downton Abbey or any period English movie as inspiration – think delicate chicken and cucumber sandwiches, games of croquet and boules and cups of English breakfast tea.
On the other hand, serene Chinese gardens make also make for a wonderful experience. Imagine holding your ceremony over a beautiful wooden bridge or under a maple tree.
Go wild
Love animals? Why not consider having your ceremony with a friendly giraffe strolling around in the background while you slip the ring on your loved one's finger?
"It would be quite a special to hear the roar of lions and birds sing as you walk down the aisle!" says Chris.
Quite a few zoos open up their grounds for functions around Australia, many of which also have beautiful spots that you could have your photos taken, from monkey forests to bird aviaries and elephant enclosures.