There are many factors that may affect your choice of wedding venue.  The size of your guest list is one; the range of venues available in the region you want to get married is another. Before you start making a list of possible venues to visit, however, think about the type of venue that would suit you best. It may be that there is an unusual venue type you haven't thought of that would suit your wedding perfectly.  Try to visit a good range of wedding venue types before you make a final booking.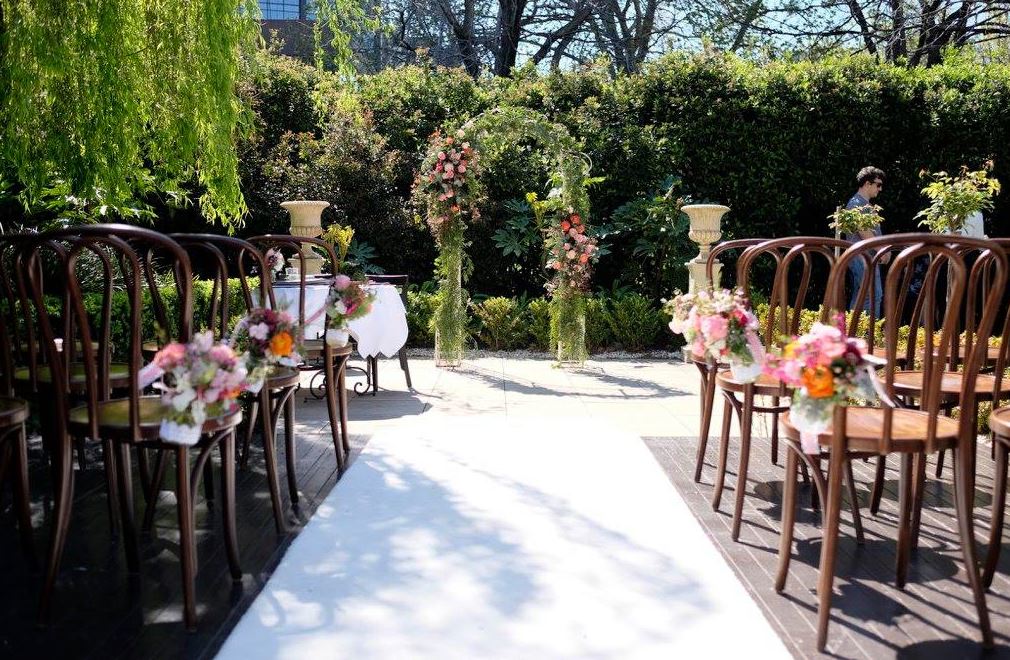 Here are some common venue types, along with some of their pros and cons:
Hotels
Generally very popular wedding venues as they usually have a touch of elegance, combined with practicality and convenience. Some couples find it is difficult to host a unique wedding at a hotel where you may be restricted by predetermined wedding packages.
Golf clubs
Becoming ever more popular wedding venues; many are now licensed for civil ceremonies and come complete with wedding planners and wedding packages.  Golf clubs offer a mixture of beautiful grounds and exclusive facilities, although few offer accommodation so you and your guests will need to arrange transport and local hotels.
Beaches
Provide the perfect setting for relaxed and informal wedding ceremonies, and as long as you don't mind putting a lot of effort into the planning, you could even have your reception on the sands. Try to find a venue with direct access to the coast, and make sure you visit the beach yourself before making a booking to check that it is private and fairly sheltered.
Vineyards
Make very romantic and picturesque wedding venues, and you can add local flavour by serving wines made on site.  You could arrange wine tasting for your guests to keep them entertained between the ceremony and reception.  Many vineyards make a sizeable additional income from wedding receptions, and offer wedding packages including their own caterers.
Water view wedding venues
Very popular, whether you are overlooking the ocean, a river, lake or harbour. The view adds a certain something to your wedding day, not to mention a perfect backdrop for your photos, but do be aware that many venues can charge higher rates based purely on their location.
Formal gardens
Perfect for summer weddings, and if the garden is in full bloom you won't need to do too much in the way of decorating. You can use the garden as inspiration for your wedding theme, using wrought iron furniture, rustic containers for your flowers, and key shades from the garden in your wedding colour scheme. Just make sure your guests have somewhere to shelter if the weather is unseasonable, and have plenty of sun cream and insect repellent to hand.
Parents' houses
Regaining their popularity as wedding venues, with many couples looking for a small intimate wedding on a tight budget.  If your parents have a large enough garden you can hire a marquee, making a home based wedding possible in any season. You may need to hire extra facilities such as portable toilets or catering facilities to supplement those in the house.
Community halls
May not seem like the most glamorous of wedding venues, but they do allow you to have a large number of guests without spending a fortune, and to have completely free reign over the suppliers, the catering, and the decorations. The facilities for entertainment and catering are great at community halls, and there is usually an outside area. You may have to do a lot of work to get a community hall looking like your dream wedding venue, but it can be worth it for the reduced cost.
Rustic
The rustic theme has increased in popularity in recent years, with wineries and barns being the most popular types of rustic wedding venues. There is usually a picturesque garden nearby for your photography session and it's easy to work a barn into your rustic theme, just add candles, some hay bales and some hessian details.
Castles
Perfect for a romantic couple who wants a real life fairy tale wedding, a castle will make your childhood dreams come true. This makes for some amazing photographs and a night your guests will never forget.
Industrial
Think exposed brickwork, wood and glass. An industrial wedding venue is perfect for a modern couple. It is often coupled with vintage lights with exposed elements. Many couples are also incorporating greenery and fairy lights into these venues to bring the blank canvas some warmth.