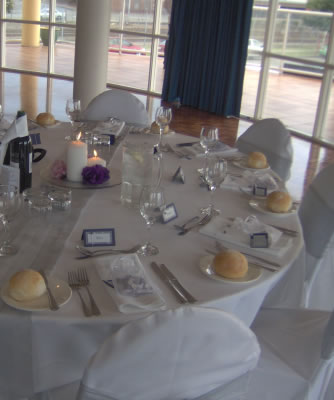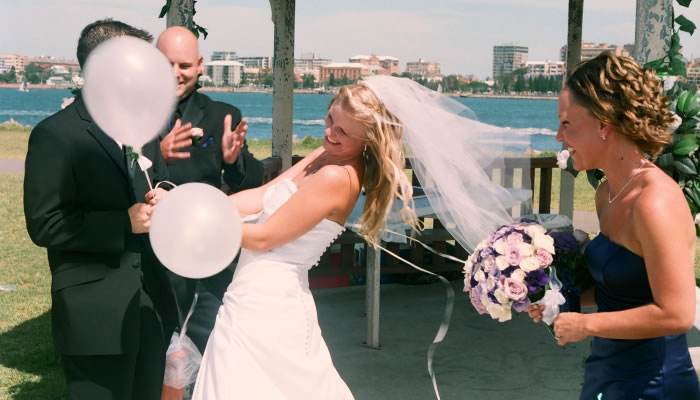 Comments
Accessories:
My accessories were all yellow gold as this matched my engagement and wedding rings. I wore a two layer, elbow length white veil which dropped into four points. Each of the four points featured a sparkling crystal. My veil was fixed with a yellow gold veil comb which featured three rows of bezel set diamontes. I wore matching bezel set earrings and pendant. The necklace the pendant was strung on was given to me by my late Grandfather when I was seven years old, so it was very special to wear it on my wedding day. I also wore a gold bangle that Jamie had given me for my birthday a few months before our wedding. My shoes were white satin, with three straps. Two of the straps were connected by a gorgeous sparkling diamonte cross. As I had a split in my dress I needed great shoes to show off.
Bridesmaids
My Bridesmaid wore an amethyst coloured satin, A-line dress bought from Callabro. The bodice swept to one side in small folds, which was similar to my gown. The bridesmaid dress also had a small train. My bridesmaid wore silver shoes with diamontes across the toes.
Flowers:
My bouquet was a tight, round possie containing 2 dozen white roses, 2 dozen blue moon roses, and purple and mauve lisianthas, all surrounded by green leaves. The stems were left raw. My bridesmaid had the same bouquet with fewer flowers.
Ceremony Reception Decor
Our ceremony was outdoors so the biggest decoration was the view! We walked down a white carpet covered in rose petals to a gazebo decorated with white tulle and vines. We also had a topiary tree with white flowers on either side of the gazebo entrance. Our reception venue was decorated with fairy lights strung across the ceiling, glass plates with white candles, purple and pink flowers and purple glass beads on every table and gorgeous sparkling silver organza table runners and chair ties.
Entertainment:
We hired a Mobydisc DJ who played a great variety of music all night. She took requests as well which kept the guests happy and on the dance floor all night.
Honeymoon:
We went to Long Island Resort in the Whitsundays. We lazed around the beach for one week and tried every cocktail on the menu! While in the Whitsundays we went on a fantastic Great Barrier Reef cruise and snorkelled amongst hundreds of tropical fish.
Special Moments:
My special moment was walking down the aisle with my husband to be. He helped me out of the car and together we walked down the aisle. This to me was the most special and meaningful time of my life. When I asked Jamie what his favourite special moment of the day was, not telling him what I thought, his reply was, "Walking down the aisle"! I guess we got married for a reason...
Tips:
Make your wedding day "Your Day"! Let it really reflect you and your personality. Relax, have fun, and take a moment with your brand new husband to sit back and take it all in! All the small things that you stressed about for months suddenly will all seem so insignificant. It will be the best day of your life!