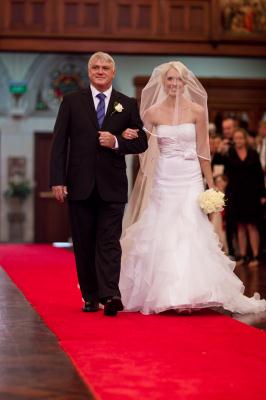 Comments
How We Met:
We meet at the beach one day, years and years ago in summer time. Then two years passed of not seeing each other nor hearing about each other. Every now and then I would think of him and wonder what he was doing. Two years after meeting we ran into each other again at the beach, it was really meant to be. We just hit it off like we had known each other for years. We share the same interests and from that moment we knew we had something very special. Feels so amazing to have married the guy I had my eye on for years.
The Proposal:
On Saturday the 10th of April Dave said he would take me out for dinner, just the normal date night. At the time I was meant to meet Dave for dinner, his brother Dan came to my door and explained that Dave was running late and that he was also coming to dinner now. Living on the harbour on the beaches, we both just walked towards Manly (where dinner was meant to be). Dan walked me from my house at Fairlight past Fairlight beach along towards my favourite little private beach, Delwood Beach. It was such a nice evening the sun was setting and it was still super warm. We walked around to Delwood beach and as I looked down I saw a pink ribbon tied around the stairs, followed by on the beach an isle of candles that led into a heart shape. As I walked along the beach in the isle there were pink cards that I picked up along the way with 10 reasons why he wanted to marry me (that im keeping for the rest of my life) & of course Dave standing in the middle of this big love heart lit up my candle lanterns. I have to say at that stage we were both SO nervous! I was in shock therefore not remembering all the lovely things he was saying, although I do clearly remember him getting down on one knee, opening a ring box, with the most amazing rock in it and asking me to marry him! Of course I said YES!! ha-ha. It was just amazing! The sun was starting to go down and we were standing on this tiny beach on the harbour alone soaking in this amazing moment! After a wiping away the tears, Dave popped a bottle of champagne that we shared on the beach. Dave also had organised a celebration dinner at Centre Point Tower. It was the most amazing dinner and night, for weeks you couldn't wipe the smile off our faces!!! To me the proposal was so well thought out and absolute perfect in my eyes. He went to so much effort. I feel like the most blessed girl in the world!
Wedding Dress:
I wore a dress by Madeline Gardner New York. When Dave's proposal got sprung on me, I really hadn't thought to deeply on what kind of wedding dress id love to wear, so the day we looked for wedding dresses I was a blank canvas. My four closets friends came with me for a day of wedding dress shopping and our first stop was Marry Me at Mosman. I was so overwhelmed by the dresses I ended up choosing 5 random dresses off the rack. The first dress I tried on, I just absoulty adored! I tried the rest on then we went to 5 other bridal shops that day. The first dress just wouldn't get out of my mind so my bridesmaids and myself went back there in the after noon to try on my first dress again, and I juts loved it. So this ended up being my wedding dress. The shape of the dress is strapless with lace and beading detail around the chest area, into a bow just under my cheats, then it is fitted all the way down until my hips, then it flows out in beautiful organza, with a long train, in a pure white. I just loved it due to all the beaded details and bows.
Accessories:
As my wedding was in a large chapel I wanted a long veil, so I brought a veil with tiny diamond detailing on the edge of the veil. I was looking for months for a pair of shoes to match my dress and style. Eventually I found a gorgeous pair of RSVP peep toe heals in pure white with diamond detail at the back of the heal, which I had ordered from the States! They were just perfect! So comfortable and went with the theme. I wanted to keep my jewellery simple due to my dress. I purchased swarovski crystal diamond earrings that were simple (similar shape to my engagement ring) although still stood out.
Groom's Attire:
The men wore black Zenetti suits that were all altered for slim fitting, along with white shirts. Dave wore a white tie and the groomsmen all worse silver ties to match back the bridesmaid's shoes. All ties and shirts were purchased from David Jones. Suits were purchased from Spurling Miranda. Dave had four groomsmen, His Brother Daniel Gorter (best man), Ben Dobson, Dave Muller & Matt Dobson.
Bridesmaids
My maid of honour was my sister Amanda Ryan. Bridesmaids-, Melody Grace, Kathleen Piper, & Brooke Bailey. Therefore having four of my closest friends as bridesmaids and my youngest sister as the flower girl. The girls wore beautiful soft lavender seduce dresses. Which were brought at a boutique store in manly called "Rouge", which were knee length, as I wanted it to be a dress they could wear again. The dresses were flowly with beautiful soft fabric hand feel. As my wedding colours were silver and white, the lavender was such a nice soft pop colour to add to the day. To use the silver that was a main colour for my wedding, the girls wore gorgeous Forever new earrings, silver peep toe heals, a silver clutch. Their hair was curled and then pined up, slightly different then my hair. Make up using soft blush and light lavender to their eyes.
Wedding Theme:
For my my wedding I wanted soft colours, whites and silvers. When I started planning the colours just all fell into place, using white rose petals, crystal candabras, tea light candles, scented glasshouse candles around the room, fairy lights tied back with white bombiares and white cake with silver decorations. I just wanted the wedding to have soft colours that would make the room cosy, romantic and elegant. This way not being over the top I could add little bling touches to add detail. This made my bridesmaids lavender dresses stand out, and the bright colours the guests wore really added colour.
Flowers:
I wanted rosed as they are just so beautiful, simple and elegant. I had white roses while my bridesmaids and flower girl had half white roses and half soft lavender roses to match their dresses. Dave worse a white boutonnière, along with both of our fathers. The groomsmen wore soft lavender boutonnières to match the bridesmaids. We opted to not have flowers as a centre piece at our reception, instead having unique candelabras as our centrepieces along with white roes petals, scattered on the tables.
Ceremony Reception Decor
The ceremony was in a beautiful chapel on a hill over looking the ocean and Manly. This chapel and its building is so huge, that when I was a girl growing up in the area I used to think it was a castle. I told my parents on nurmours occasions that one day I would marry my prince there. and I did. The chapel is on beautiful grounds, long drive way and you can feel the history of the place from the second you arrive. Inside the chapel is breathtaking, Beautiful stain glass windows, high ceiling, beautiful alter and unique features that are rare to find in chapels these days. The chapel its self is just so beautiful we wanted to keep it as the main feature, so we only added a long red carpet, candles, and two very large flowers on either side of the alter for decoration. After the reception we had champagne and nibbles on the estate grounds over looking manly and the ocean. As I grew up as a competitive surfer and loved the beach, it was the most amazing setting for us both, looking over the ocean. Our reception was a 5 course sit down meal, while our wedding was in the large chapel; we thought it was appropriate to have our wedding dress code formal. From this and working with the colours we had, the theme and stationery became more elegant, and glamorous with touches of acrylic diamonds candelabras on each table. It all just really fell into place once I started planning. Saying this when I first got engaged I was so over whelmed by all the different options and colours. Although once I started planning Dave and my personalities started coming through what we were choosing, our colours and decorations.
Transport:
For our wedding we had a Chrysler stretch limousine for the day. On the way to the chapel in the limousine was my self, my father, flower girl and four bridesmaids. After the service our entire bridal party was in the limousine. Was so much fun to celebrate the exciting moments with all of our closets friends in the same car, with champagne! Following the reception we had a Chrysler sedan for our get away car. Was perfect for the two of us and toped off of course with white ribbon at the front of the cars through-out the day.
Bomboniere:
We made our own Bonbonnieres, filling little white boxes with wrapped lint chocolates, with a white ribbon around it. Matched the wedding décor perfectly!
Cake:
We had a lovely three tiered chocolate and vanilla swirl cake, which was white with beautiful icing decorations and edible (look alike) acrylic diamonds. On the top we had D&T in mirrored letters to match the décor of the room.
Entertainment:
We had a three piece oristora, while guests were having canapé and cocktails (before the bridal party arrived to the reception). Throughout dinner we had soft jazz music playing, followed by a DJ to end the night. One of my closets friends Danielle Dobson MC the night. Was the best thing having a close friend MC.
Honeymoon:
Our first stop in Thailand was Koh Samui, Followed by a beautiful pool villa in Koh Toa, then we spent a few days in Phuket, followed by our last 5 nights on Phi Phi island! Was the perfect amount of time at each destination. We were in Thailand for 3 weeks We wanted a tropical honeymoon, filled with cocktails, massages, sun and shopping! It was all that plus more!
Tips:
The most special thing I was told is to hold your husband's hand the entire day. This way no friends or family pulled us separate ways, and we got to experience the whole day side by side and were both in the same conversations and have the same memories. I was so worried about the rain, and it did rain. I have to say it just made the day feel so magical and beautiful. My biggest advice is to just love what happens with your wedding day, when you look back, you want to have amazing feelings to tie in with your wedding.