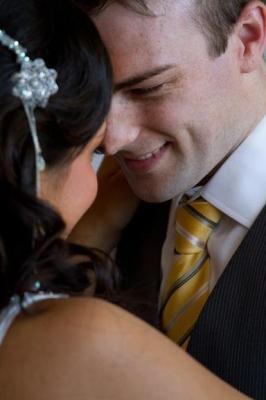 Comments
How We Met:
We met when I was 12 and Jamie was 16 at a tenpin bowling alley where we were both qualifying for a junior under 18s team. We both made the team but didn't chat much due to age difference. We saw each other at events over the years but mostly lost touch until my 21st birthday where he attended with a mutual friend. The dates began from there, we got together quite quickly, travelled, lived together and realised we didn't want to be apart.
The Proposal:
I'd seen a ring I loved not realising it was an engagement ring at first. I fell in love with it and Jamie agreed I could have it as a Christmas present. We discussed marriage more and he revealed he wanted to buy me another ring when the time was right. Instead, I took my ring off, put it back in it's box until he was ready. We went through some hard times and months later I came home one day exhausted sprawled out on the bed. He told me to get up and when I did he was holding the ring. I love that it was a moment for just us to share. He wanted to re-do it in a more romantic way but I laughed and said no - it was special as it was
Wedding Dress:
It was the first wedding related purchase. My bridesmaid was keen to go looking but I wasn't for fear that I wouldn't find something I remotely liked and would panic and I had heaps of time to look. I found it at Spurling Formalwear - it was the second dress I tried on and I got it three months after we got engaged. I thought I wanted a princess dress but I just loved this dress right away. I still do.
Accessories:
Pearl bracelet and earrings from Bevilles, a bracelet from Jamie as a wedding gift and pearl studs borrowed from my mum who wore them to her own wedding. I also had an amazing hair accessory custom made for me from my ideas and research from Black Cats Angel Designs. I got so many compliments on it and can't wait to wear it again some day. It's very special.
Groom's Attire:
Jamie and his groomsmen got their attire from Formal Red - dark charcoal grey suits to suit our contemporary theme of dark grey, yellow and white. Jamie's tie is a perfect mix of them, mainly yellow from David Jones.
Bridesmaids
Dresses were custom made in a silvery grey and they wore diamante hair pins and cute necklaces from Alannah Hill with coordinating clutches and adorned sandal flats from Aldo.
Wedding Theme:
Dark grey, yellow and white
Flowers:
The flowers were done by a lovely lady who did her own just before our wedding and had a keen interest in doing others. With her beautiful personality and creative flair, she put together some beautiful bouquets for myself, bridesmaids and flower girl and also the mums corsages and fathers boutonierres using all different kinds of flowers - I let her decide and it paid off. The bridesmaids had yellow bouquets and I had yellow and white. My bouquet was adorned with the materials I'd chosen and my new surname initials.
Ceremony Reception Decor
Ceremony was in the morning at St Kilda Botanical Gardens VIC in the rose garden. We chose it as my sister and I used to play together there as kids so it held good memories. Our families, bridal party and only a few friends were in attendance. The reception was a casual cocktail style in the afternoon to evening at True South in Black Rock. It's a cafe & micro brewery. We had a few big tables, lots of tall bar tables, some ottomans and umbrellas out on the deck as it's a two storey that overlooks Black Rock Beach. The inside ceiling was a canopy of draping and chinese lanterns. Yellow flowers dotted the room and we used lemons for our centrepieces.
Transport:
Cars were borrowed some work colleagues of Jamies as they work for Nissan. They were new black maxima sedans. We attached the ribbons and decals ourselves.
Bomboniere:
Boxes of kisses from the Mr & Mrs - Little silver and white boxes of personalised Hersheys kisses labelled.
Cake:
Made by our best man's wife and her mum. Vanilla cupcakes and tier cake with white and yellow icing it looked and tasted amazing. Our birdie cake toppers were from Etsy.
Entertainment:
As it was casual afternoon cocktail we didn't have a DJ and made use of Wedding DJ - An App we used on an iphone to plan and time playlists. It worked really well.
Honeymoon:
Mainland Bali, Gili Trawangan Island and Gili Air Island. A little shopping, relaxing by the pool or on the beach with fresh drinks and great food - we really indulged. We met some lovely tourists along the way too. It was great.
Special Moments:
Having my dad give me away. One of my friends asked him if it was hard to do - he replied ''Not to a man like Jamie". It was very sweet. Also Jamie and I had planned to have kids straight away and learnt that we were pregnant just before our wedding. It was special when he announced it to our nearest and dearest there during his wedding speech!