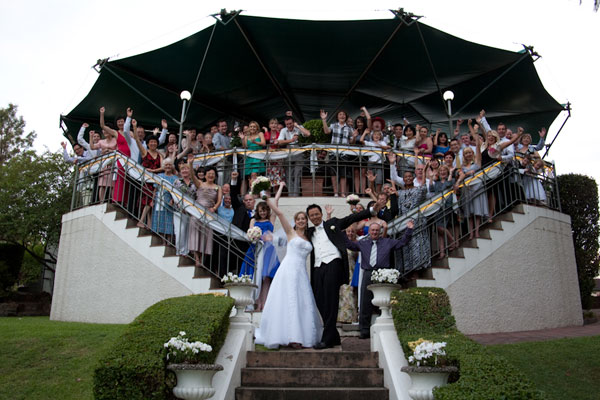 Comments
How We Met:
In the secong year of my uni degree, I took a music subject as part of the arts component of the course. Little did i know that my future husband was one of the teachers of the course. He was not my teacher, but taught the other class. He came in one afternoon as I was leaving and I recognised him. (Terence also worked at the conservatorium where my brother was studying.) We introduced ourselves, chatted via email for a week, and then he took me out to dinner. The rest, they say, is history.
The Proposal:
After 5 year together and 2 year living together, we had discussed the idea of marrage. We both looked for rings and I pointed a few out. Then he went and ordered a ring and told me nothing of was what to come. One Sunday afternoon, he drove me to the watangan mountains and we had a picnic.It was on the second look-out that he dropped to one knee and popped the question.
Wedding Dress:
I wanted something classy and elegant. A bit of lace, beading and sleeves. I found, in the second shop I looked in, exactly that. An Angeline design at Farrari Foramal and Bridal. It is a coat effect tulle gown with decorated dreading and appliqued lace with a chapel length train. I loved it!
Accessories:
I bought most of the jewellery and borrowed and bracelet and wore my grandmother wedding ring. I also bought a short veil for decoration.
Groom's Attire:
Simple black suits with vest and tie.
Bridesmaids
Peacock blue dresses with beading. It was only the second dress that they tryed on.
Wedding Theme:
Simple and elegant was the theme with blue, white and gold.
Flowers:
I always wanted white roses, and my florest suggested adding a colour, so i chose pink with black berries.My bouquet was a tear drop shape and the bridesmaids had posies.
Ceremony Reception Decor
The cemony was in a private garden and the beautiful surrounds made decorating easy, white carpet and covered chairs was all we needed. The reception was decorated as part of the package. 3 tired candle holders with the blue, white and gold theme in the gifts for our guests. Silk arrangements in ceramic vases completed the look.
Transport:
The bridal party traveled to the venue in a 1960 Austin Princess Limo.
Bomboniere:
Fruit cake and chocolate. They were placed alternate on the tables.
Cake:
3 tiers, 2 with friut cake and one with white mud. White icing with blue ribbon. Finding the bears for the top was a bargain - eBay!
Entertainment:
As my husband is a musician, it wasn't even talked about. We knew exactly what would happen. 4 peice band, piano, bass, drums and sax. Our guest commented how wonderful it was to have a live band to dance to. They made the atmosphere very special.
Honeymoon:
We went to Hong Kong and Vietnam and the most fabulous time ever!
Special Moments:
There were so many, but I would have to say one special moment was when my dad handed me to Terence where we stood hand in hand looking into each others eyes.
Tips:
Everyone will tell you it goes so fast, and it does. But jump on the rollacoasta and go on the most fabulous ride of your life.