"We never thought it was going to last so long. It was our first relationship for both of us."
10 years since they first met at Monash University Commerce camp, Priti Bhatia and Justin Roberts' Catholic-Hindu fusion wedding kicked off with hair and makeup at 6am (for Priti anyway… Justin got a sleep-in till 8am), and in Part 1, we saw them take the first of their vows at St James Catholic Church in Brighton.
With a break in the middle for photos and lunch, Priti – who migrated to Australia from India when she was nine years old – was back in the styling chair at 2.30pm where she changed into traditional Indian dress for their 3.30pm Hindu ceremony at The Langham Melbourne.
Half English-half Sri Lankan Justin also donned traditional costume – ever so enthusiastically – even choosing to wear the headdress, the safa. "It was his choice but he really loved getting dressed up," says Priti.
Witnessed by 120 guests, the hour-long Hindu ceremony finished with the bride taking a ride in the traditional Palki (much to her mum's delight), though lucky for her escorts it was just a short 10-metre stroll out to the front of the hotel (and not an arduous journey between villages!)
Priti and Justin's magical wedding day ended wistfully at midnight after partying Bollywood style with 200 guests in The Langham's Clarendon Ballroom.
Gold charms are placed onto the bride's arms as blessings from her family members.
Justin waits for Priti while she is escorted under veil by her unmarried female relatives and four significant male relatives.
Grains of rice are thrown into the fire to signify offerings to God.
Priti takes a ride, albeit a short one, in an impressive gold Palki.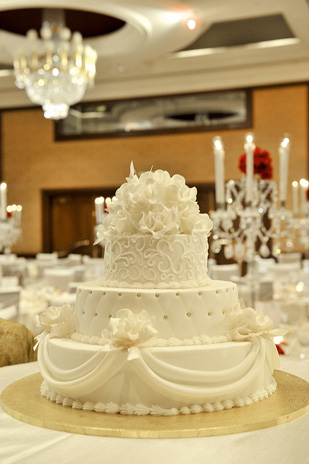 Decor It created a formal and romantic feel to the event combining The Langham's dazzling centrepieces with a white palette and a smattering of red roses and petals throughout.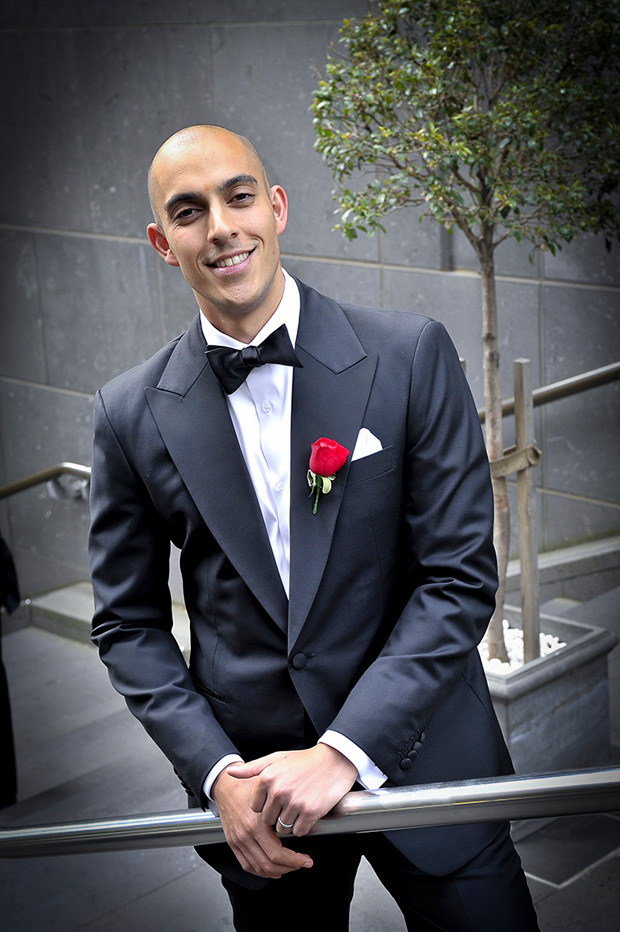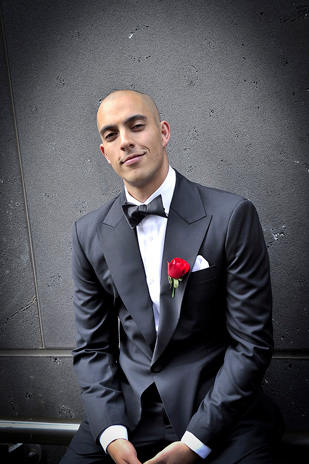 Justin's peak lapel dinner suit and black tie ensemble was from Bespoked. "The boys looked amazing in their tuxes," beams Priti.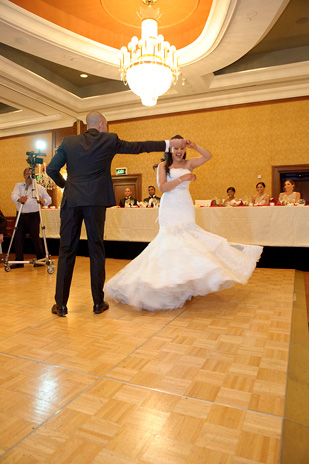 Guests partied till midnight with the help of high-energy band The Playoffs – as well as Bollywood DJ Richi Madan who intensified the atmosphere playing Indian drums around the dance floor.
Photos courtesy of Marc Grist Photography.
Featured Suppliers:
Brides Accessories: Bride's mum and Mumbai, India / Brides Gown: Mumbai - India, Amaline Vitale / Brides Shoes: Jimmy Choo / Bridesmaids Accessories: Aden Jewellery / Bridesmaids Dresses: Online / Ceremony Venue: The Langham Melbourne - Alto room / Entertainment: Richi Madan (Bollywood DJ), The Playoffs (band) / Flowers: Brides Made Flowers / Grooms Attire: Bespoked / Groomsmen Attire: Bespoked / Hair: Dulhan Make Up / Invitations: Mumbai, India / Makeup: Dulhan Make Up / Reception Venue: The Langham Melbourne - Clarendon Ballroom / Rings: Blue Nile / Venue Decor: Decor It / Videographer: Black Magic Films / Wedding Night Accommodation: The Langham Melbourne