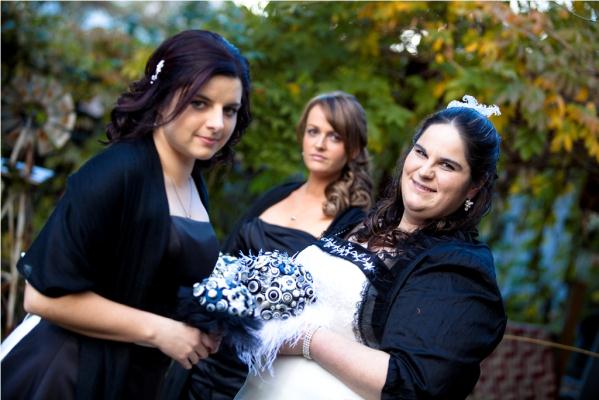 Comments
How We Met:
Through out mutual love of cars - we were both in the same car club and met via that.
The Proposal:
We went away one Valentines day weekend to Warburton and Chris finally proposed. (We had been together 3 years) When he asked - my response was are you serious?" followed by laughter before I realised he really had a ring and was serious! Of course I said yes!"
Wedding Dress:
I was on a tight budget and want to trash my dress down the track as well for fun. I never had the dream of a fancy wedding dress so I went looking for options. I came across Catch The Bouquet who made me a perfect dress for $320. The detail is amazing and everyone thats seen it cant believe what i paid! I wore a black tulle petticoat edged with purple ribbon under the dress.
Accessories:
Simple pearl earrings, necklace and bracelet from etsy.com for myself and the BM's I made button bouquets for myself and the girls as well. I also had purple shoes!
Groom's Attire:
Black pinstripe suit - again on a budget we decided as the boys all owned pinstripe suits already they would wear these. Chris wore a self stripe ivory tie and a black shirt. No vest and purple socks :) Along with a little button brooch on his lapel.
Bridesmaids
The girls picked their own dresses, the only requirement was they were black. As one was overseas until 2 weeks before the wedding, it made life much easier. My sisters came from Catch The Bouquet and Kerrie's was from a store in Canada.
Wedding Theme:
Black ad white/ivory with splashes of purple
Flowers:
I had button bouquets that I made myself. I customised these with little charms to do with animals as we are all animal lovers. I also had a Holden Ute badge on mine - as I am a Holden Ute nut!
Ceremony Reception Decor
It was in a hall with lots of DIY. Ivory tableclothes with a black lace runner. wrought iron holders with candles hanging from them and crystals as well, tables scattered with glass drops. I made place cards myself and the bon bons were little packs of jelly beans!
Transport:
2 VE SS Commodores and a WRX (the WRX and one of the commodores belong to us and the other commodore was a friends).
Bomboniere:
Little packs of jelly beans and wine glass rings.
Cake:
Black Forest Cup Cakes - made my my mum!
Entertainment:
Killa DJ's
Honeymoon:
Norfolk Island
Special Moments:
When our guests recited their promise to us one of our dogs barking at the exact right time after we said I Do, it wasnt planned but it was as if he knew it was the right time! Having our photos at Keppels and the clouds clearing for a little to allow us to go ahead with them.
Tips:
Just dont stress, if you plan well and make sure the people that are helping are clear on what they need to do it will all go right , and if it doesnt trust that it will be ok! I was relaxed and not stressed and had a fabulous day!