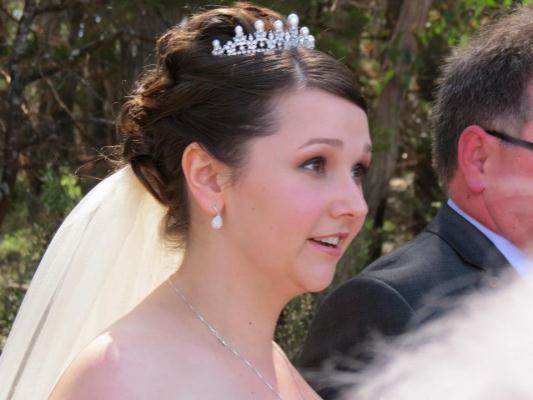 Comments
How We Met:
We met while volunteering for St John Ambulance at World Youth Day in Sydney in 2008. From then on we were a couple and knew we would get married one day.
The Proposal:
We were taking photos along the Barwon River in Geelong when Matt asked me to hold his camera and try take photos. I then looked across and he was holding out a ring. Naturally I said yes.
Wedding Dress:
I went shopping at Rafaelle Ciuca with my maid of honour, just to have a look. The sales lady got me to try on a dress. As soon as I put it on I knew I had to get it. I felt like a princess.
Accessories:
My parents brought me a Tiara from Buckingham Palace while they were on holidays in the United Kingdom. The tiara was just amazing and matched the dress perfectly.
Groom's Attire:
We bought the suits online, as Matt had no preference for what he wore. We ended up getting a 3 piece vested suit in black and he looked great!
Bridesmaids
My bridesmaids wore Multi-way purple dresses from Victoria Secret. I wanted them to have dresses that would flatter their figures and suit their style. Each bridesmaid wore their dress a different way and they looked stunning. My bridesmaids were my sister Ceri, sister in law Hannah and my maid of honour was my best friend Jess.
Wedding Theme:
My favourite colour is purple and Matt decided the other colour should be green to suit our Native theme.
Flowers:
Given that we were getting married in a National Park we chose to have natives as the flowers. They looked amazing!
Ceremony Reception Decor
We got married at a Lookout so didn't need much to decorate apart from an aisle runner. At the reception I had made the decorations myself. I made these miniature tree's and had photo's of each of the guests glued to hearts hanging from the tree's. The guests loved them and most took them home as a memento.
Transport:
I hired a limousine to transport us around, my flowergirl loved it!
Bomboniere:
I painted pots purple and green and planted a native seedling in them for guests to take home. The seedling will flower in November as a reminder of our Wedding Day.
Cake:
A friend of mine made the cake, it was a gorgeous 3 tier cake, the bottom tier was a Caramel Mud Cake and the top 2 tiers were Fruit Cake
Entertainment:
A friend of ours doubles as a DJ so he ensured we danced the night away!
Honeymoon:
We will be taking a honeymoon in February next year when Matt has leave from work. After the wedding though we spent a few days relaxing in Halls Gap.
Special Moments:
It was so special seeing all of our friends and family watching us get married. Another moment I´ll never forget is my dad picked a surprise song for him and I to dance to, it was My Little Girl by Tim McGraw
Tips:
Don´t get caught up on little things and remember you can´t plan everything. Matt and I did not stress at all leading up to and on our Wedding Day and I think that´s why it was perfect.