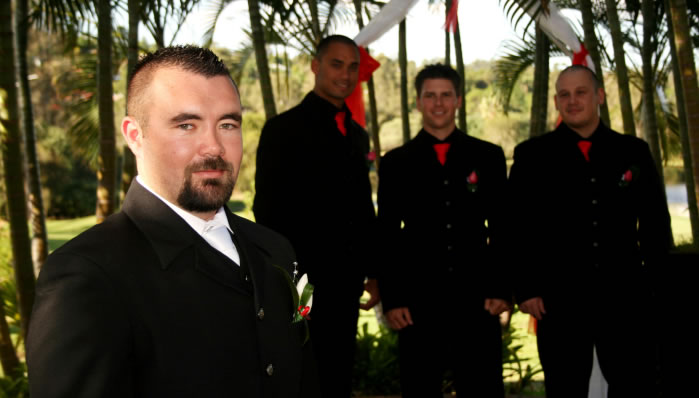 Comments
How We Met:
Derek and I attended high school together however never really knew each other as he was a grade above me. Several years later at a pub he introduced himself to me. We exchanged numbers and hit it off straight away.
The Proposal:
We got engaged on Anzac Day 2008. We were staying on the Gold Coast for the weekend and on that day we had been together for 2 years and 1 month. As 21 is my favourite number Derek thought it was the perfect day. The proposal was quite simple however we had a fantastic weekend celebrating our engagement with our close friends.
Wedding Dress:
I had the most beautiful Maggie Sottero dress. I felt like a princess it it. It was a strapless corset style dress with Swarovski crystal bodice and organza skirt.
Accessories:
As my dress featured so many Swarovski crystals I bought Swarovski jewellery to complement it.
Groom's Attire:
Derek wore a black suit and vest with silver buttons. All the boys wore converse shoes and they looked fantastic.
Bridesmaids
My girls were beautiful dresses from Calabro. Red corset strapless dresses with crystals around the top of the bodice.
Wedding Theme:
My theme was red, white and black. I have always loved those colours together. Very romantic and effective.
Flowers:
We all had tulips which are my favourite flower and as I am part Dutch, so I went with their national flower. I had a tea drop style with red tulips and white diamantes and the girls had white tulip posies with red diamantes.
Ceremony Reception Decor
Our ceremony and reception were held at the McLeod Country Golf Club. The reception room was magical, the guest tables had black and chair covers with a red runner and sashes. Each table had a glass bowl centerpiece containing black stones, a white candle and one red tulip. Each glass bowl sat on a round mirror with tea light candles placed around the mirror. The room just sparkled.
Transport:
White stretch limousine with red ribbon.
Bomboniere:
Each guest received a white organza bag filled with rock candy which had Derek and Eden through the lolly.
Cake:
I had a three tired round cake. I went for a more funky cake as the cake topper was a bride pulling the groom away from a Harley motorbike. Each tier had a red ribbon at the base with a different design on each tier.
Entertainment:
We hired a DJ to play all our favourite music during the night.
Honeymoon:
We spent 7 days at Daydream Island. It was beautiful unfortunately I was quite sick the entire time but I did not let that stop me however I have a reason to have a second honeymoon now.
Special Moments:
The entire day was special. We both had a fantastic day and it was everything I could have imagined. I wish I could do it over and over again.