Here's story of a Serbian/Italian fusion wedding that brought a huge smile to my face.
At 21, Melbourne girl Danijela Medojevic met Italian beau Marco Quadara – "I had a huge crush on him, he was hot, funny and loved his mum," – and after a painstaking year in the "embarrassing friend zone" they finally started dating.
Fast forward five years and Danijela, now 28, recounts: "In 2011 I went on a family holiday to Serbia with my sister and parents to visit the rest of the extended family. Given that he didn't know the language, Marco [29] didn't come. It was two weeks into the trip and I was at my grandparents' house in a bit of a grumpy mood; mum and dad called me to come outside, and in a huff I stormed out asking them what they wanted.
"Suddenly all I hear from behind me was Marco's voice saying, 'Now, now, settle down'! I was in hysterics! I was shocked that he was there and honestly couldn't believe my eyes! I was so excited and so happy to be able to show him where I come from and introduce him to my family overseas.
"We went into the house and I was still in shock, pacing like a headless chook. Eventually, overwhelmed, I sat down, saying, 'Wow this has just been the biggest/best day!' to which Marco replied, 'Well it's about to get bigger'. He got down on one knee and asked me to marry him!
"We celebrated with an engagement party in Serbia, then extended the trip to Italy so I could see where he his family come from. We have always respected each other's values and heritage and it was so amazing for us both to share these amazing memories together.
"In January this year we topped it off with an amazing wedding day! A culturally-infused, summer-loving, fun celebration which was all about us and joining our families."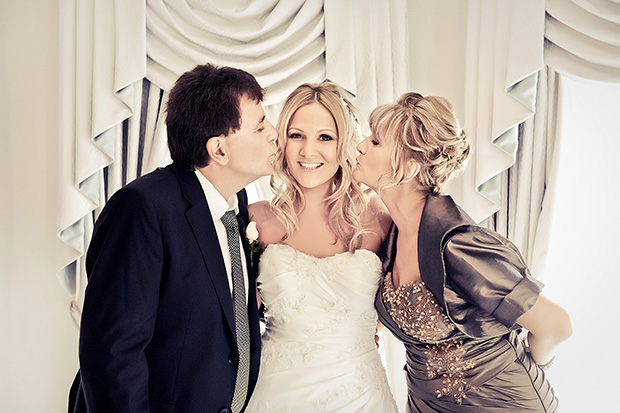 Danijela says Marco is "obsessed with fishing and I remember impressing him with my fearless approach in baiting, catching and gutting fish and not being afraid to get my hands dirty," she laughs.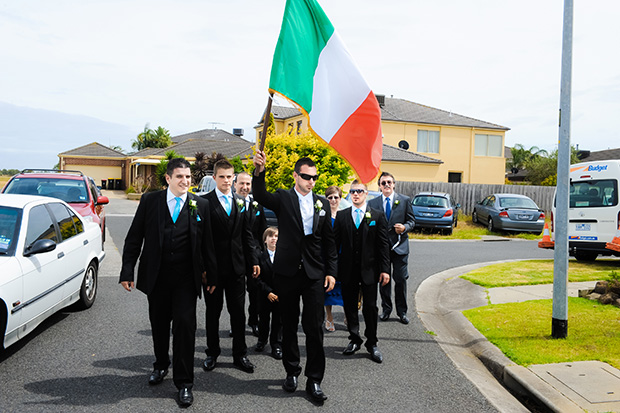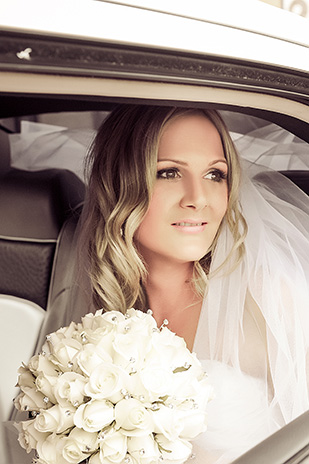 Starting the morning with a traditional Serbian celebration at the bride's family home, the pair later exchanged vows at St James Catholic church in the bayside suburb Brighton.
Seating a whopping 330 guests, Sheldon Receptions in Melbourne's west is "perfect for a bride who wants to make a grand entrance," says Danijela.
Photos courtesy of Dreamlife Photos & Video.
Featured Suppliers:
Bomboniere: eBay / Brides Accessories: Swarovski / Brides Gown: Moonlight Bridal / Bridesmaid Shoes: Windsor Smith / Bridesmaids Accessories: Swarovski / Bridesmaids Dresses: Light in the Box / Ceremony Music: Annabelle Eve / Ceremony Venue: St James Catholic Church - Brighton / Entertainment: Studio Live / Flowergirl Dress: Baccini & Hill / Flowers: Marianna Flowers / Gift Registry: Myer Gift Registry / Grooms Attire: Bossini Menswear / Grooms Shoes: Aquila / Groomsmen Attire: Bossini Menswear / Honeymoon: Flight Centre (to USA & Hawaii) / Invitations: Ashlea Collins / Pageboy Attire: Industrie / Reception Venue: Sheldon Receptions / Rings: Anton Jewellers / Transport: Night Owl Limousine / Videographer: Dreamlife Photos & Video / Wedding Night Accommodation: Crown
Additional Suppliers: Lost in Love (lolly buffet)