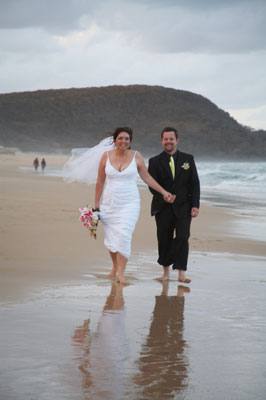 Comments
How We Met:
We first met through a friend at school as Dave is a year younger then me, but became friends in Mechanics while both being apart of a Engine Time Trial Team. From being close friends it bloomed to more, when we were both finally single and admitted our feelings about each other. We will have been together 10 years in November this year, as we have been together since we were 15 and 16.
The Proposal:
Dave is not very traditional. He was having a New Years Eve Party at his house, after we have only been going out just over a month. I was sitting out the front when he came up and sat cross legged in front of me and asked "What would you say if I asked you to marry me?" To which I said "Yes" and he followed by doing back flips down the street. A lot of people probably thought we were nuts being so young, by making such a commitment to one another but we just knew .The ring followed on Valentines Day
Accessories:
I wore a 2 layered veil which my MIL attached hundreds of swarovski crystals too. Including pink butterfly swarovski crystals to the hem, as there was a butterfly theme to the wedding. I wore silver and crystal butterfly earrings, necklace and bracelet. And I wore simple silver flat sandals with diamonds on toes, suitable for the beach.
Groom's Attire:
Dave also found his simple black suit cheap from DFO. He wore black shirt and yellow tie. The groomsmen wore black shirts and pants, with yellow tie. They all wore black thongs on the beach. Our godson was our ring bearer and wore black pants, shirt and yellow tie and also wore matching black thongs.
Bridesmaids
The brides wore pale yellow just above the knee dresses from Rockmans with silver sandals. They wore silver with blue topaz necklaces I bought them as gifts, as blue is both their favorite colour. Our goddaughters were our flower girls and they wore pink fairy dresses with wings and had fairy wands.
Wedding Theme:
We had a butterfly theme but as always wanted pink and Dave wanted yellow we combined the two and I think it worked well. We had a butterfly release which was beautiful and memorable. daves butterfly kept flying back to me. Butterfly release was from Butterfly Encounters.
Ceremony Reception Decor
We had a short ceremony with vows that were meaningful but had a bit of a funny side to it, to lighten the mood and made us laugh. Very us. On the beach we had a few chairs for parents and grandparents to sit in and 2 white bali flags, and a table to sign at, other wise very simple. And had bubbles instead of confetti or rice. Friends and I decorated the reception ourselves, with the pink, yellow and butterflies continuing. I had white table cloths with pink table runners, and in the middle were candles and vases filled with marbles and pink yellow butterfly orchids.
Bomboniere:
I filled pale yellow noodle boxes with my home made lindt butterfly chocolates and attached pink thankyou tags with pink. These matched all the stationery, as I made all my own rsvps, invitations, thank-yous and name tags. The name tags were yellow with pink butterfly with diamonds
Entertainment:
We had a DJ that used a mix of old and new music and got everyone up on the dance floor. We had a lot of fun. Dave didnt know what song we were having as our first dance but it was actually the theme song from his favorite TV show "Smallville" Everything by Lifehouse. The DJ was from Elite Sounds.
Honeymoon:
We honeymooned in Cairns and Port Douglas. We had a wonderful time exploring the reefs, rainforests and everything Cairns has to offer.
Special Moments:
I didnt feel like the day was real and actually happening until I worked down the stairs to the beach and saw Dave and everyone waiting for me. All day I felt like I was watching it form someones else point of veiw. But when I saw Dave a flood of emotions hit me and it felt very real and amazing, very hard to explain. It brought tears to my eyes, but when I got closer to Dave and realised he had tears in his eyes too we both laughed and the tears disappeared.