Sydney bride, Carly Brown, knows a thing or two about getting married. As a young wedding celebrant she has officiated numerous unions (including this one with Stacy & Michael) and so it was no surprise that she had some very grounded advice for other brides-to-be planning what can become an all-consuming event.
"Don't worry about the details!" she says. "The focus should be the fact that you are getting married, not the wedding itself. There will be other days in your life where you wear a pretty dress; you will get other nice photos of yourselves at other events; you will eat great food again and; you will – believe it or not – have nice wine and cake again. But you will never say I do with your true love again (hopefully!) so that's all that really matters."
With this mindset, Carly and hubby, John Van Rooyen, took quite a pragmatic approach to planning their Pymble Golf Club wedding. To save money – and the environment – they sent out e-invitations instead of paper ones (despite objections from some of the traditionalists in the family).
To ensure they could be worn again, Carly asked each of her bridesmaids to choose their own dress – so long as it was dusty pink. It was the perfect surprise on the day to see that they were all in harmony.
Carly's mum took care of the lolly buffet which was hugely popular – and bottomless – all night long and, the lovely two-tier wedding cake was a joint effort between the mother of the groom and bridesmaid, Lauren.
This practical bride even did her own hair on the day! But despite having a more relaxed attitude about the styling of her wedding, Carly's photos did turn out amazingly – perhaps because what shines through the most are two very happy and in love people.
Congratulations.
The funky retro VW Kombi was borrowed – from Carly's brother. "It was in amazing condition," she says. "A real collectors item. And it was hit amongst the guests and more meaningful for us than a hired car."
The ceremony was held at John's old high school – Barker College – where he was school captain and in the same year a young Craig Tubman was prefect. Craig went on to become Reverend Tubman and did the honours of marrying the pair on the day.
Carly's gorgeous gown was by Rhonda Hemmingway Couture, whom Carly describes as "an absolute perfectionist."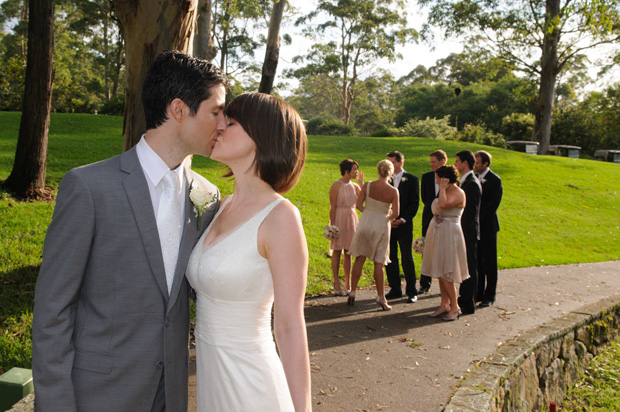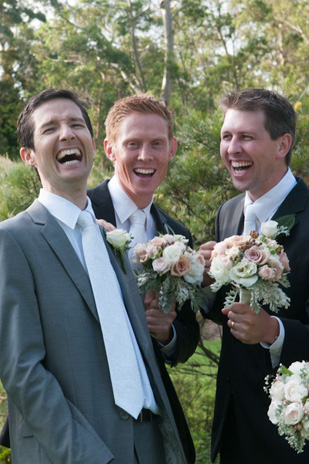 The romantic and feminine bouquets were arranged by a friend of the family and each bridesmaid sourced her gown and shoes from a different retail store. John's suit was by Oxford and the groomsmen were dressed by Gentleman's Club.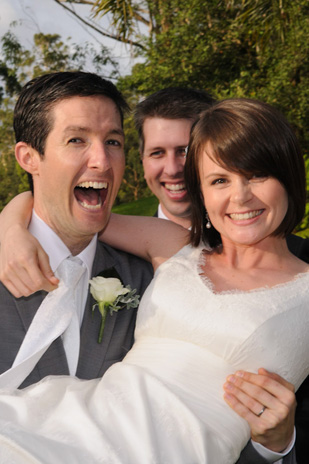 Pymble Golf Club offered "excellent service and fantastic food," says the bride. "Also, a lovely outlook over the golf course."
Carly and John have since given birth to a baby girl, whose arrival was "a fantastic amount of excitement, anticipation and pure joy for both of us," beams Carly.
Photos courtesy of RT Photos.
Featured Suppliers:
Bomboniere: DIY lolly buffet - mother of bride / Brides Accessories: Gifts from grandparents / Brides Gown: Rhonda Hemmingway Couture / Bridesmaids Dresses: Various stores / Ceremony Venue: Barker College chapel / Flowers: Friend of family / Grooms Attire: Oxford / Groomsmen Attire: Gentleman's Club / Hair: DIY / Honeymoon: Port Stephens / Invitations: Sent e-invites / Makeup: Mary Kay / Reception Venue: Pymble Golf Club / Rings: Flawless Investments / Transport: VW Kombi - groom's brother / Videographer: Friend
Comments