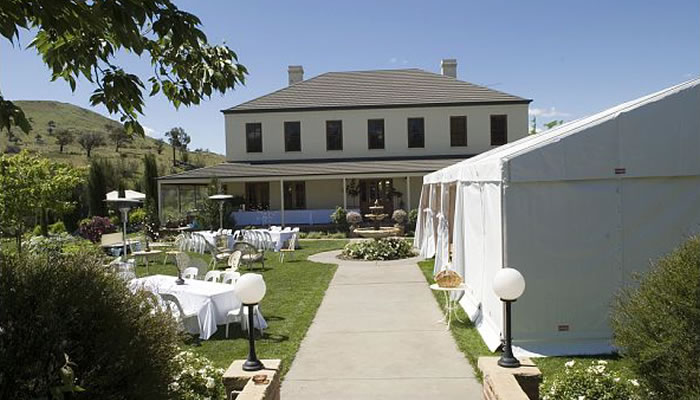 Comments
How We Met:
We met in a bar in Canberra, two weeks before I flew out to work in London and Ian flew out to work in New Zealand. It was love at first sight and I ended up leaving London and moving to New Zealand so we could be together!
The Proposal:
After travelling around China for a few weeks we enjoyed a one-week break in Hong Kong before flying back home. It was our two-year anniversary and Ian proposed over dinner in the Peninsula Hotel restaurant Felix.
Wedding Dress:
A beautiful strapless light champagne wedding dress designed by Wendy Makin and purchased from Brides of Manuka. The dress had a short train that hooked up to the back of the dress after the ceremony.
Accessories:
Simple pearl necklace and earrings. In my hair I had light cream baby roses.
Groom's Attire:
Ian wore a black suit with a vest and a light champagne tie. The groomsmen wore black suits with open shirts (no ties) and vests. All wore cream roses.
Bridesmaids
The bridesmaids wore chocolate brown skirts, strapless chocolate brown tops and strappy shoes.
Wedding Theme:
Light champagne and chocolate brown.
Flowers:
Bouquets of cream roses with green foliage.
Ceremony Reception Decor
The ceremony was held in the garden on the grounds of the homestead overlooking the creek and with the mountains in the background. The reception was held both in the garden and in a marquee at the front of the homestead.
Transport:
Ian arrived in a helicopter with two of the groomsmen!! and myself and the bridesmaids got ready at the venue.
Bomboniere:
Beer coolers!
Cake:
Mini chocolate cupcakes!
Entertainment:
A string trio played during the ceremony and pre-dinner drinks which was followed by a DJ.
Honeymoon:
Brampton Island, Queensland for a week of sun and fun!
Special Moments:
Dancing all night and kissing my beautiful husband for the first time!!