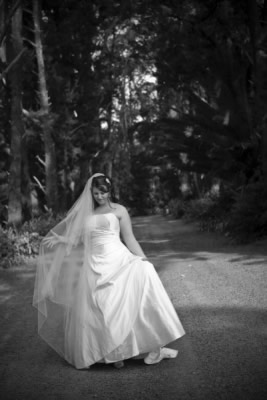 Comments
How We Met:
We first met through a mutual friend while he was playing piano for her HSC. We met up again a year or so later...a friendship blossomed and the rest is history...
The Proposal:
We had been talking about marriage for a while but not really with any detail...then one Saturday afternoon while strolling along the beach that we went to on our first date he dropped to one knee and asked me to be his wife. He had to ask again because I was taken off guard and it didnt really register what had happened! Very casual but very us!
Wedding Dress:
I wore a beautiful Jean Fox gown and felt like a princess! I had tried on so many gorgeous dresses but this one made me feel like a bride the moment I looked in the mirror and tears were running down mine and my mums cheeks!
Accessories:
Gorgeous swarkovski teardrop earrings and headpiece.
Groom's Attire:
Scott wore a 3 piece black suit with a black vest and ivory shirt and tie. His groomsmen wore all black suits with blue ties made by Scotts mum. All suits were hired from Hire for Him at Somersby.
Bridesmaids
Stunning floor length strapless dresses in Petro Blue with lace up backs and diamantes down the side. Made and designed by Australian Bridal Group.
Wedding Theme:
Both Scott and I are very musical so it was no suprise that we wanted to make our day a reflection on that. So our theme was Glitz and Glam I guess you could call it. We primarily used black and white with a touch of blue for effect. It looked very elegant and classy!
Flowers:
I loved my bouquet! Designed by Judith at Malobel. It took a while for us to come up with a bouquet I loved but in the end I was amazed with the result. The bouquet consisted of white lillies, white roses, blue and purple feather roses, white orchids and diamantes to add a bit of sparkle. I love that they were all silk and latex so that I can keep it forever! The girls bouquets were made up of blue hydrangea, white orchids, and white, blue and purple feather roses. Scott´s grandma made the boys buttonholes also out of the feather roses.
Ceremony Reception Decor
Black and white chair covers with black and white sashes. Black lycra table covers with white table runners. We had stunning crystal chandelier centrepieces with candles and scattered purple and blue woodcurls provided by Decorations to You. Hanging from the roof were two gorgeous crystal chandeliers full of fresh roses and hydrangea and ivy provided by Event Decorators.
Transport:
This was my Dad´s job and he was very excited with the outcome! We had 3 Chrysler 300C´s in Navy Blue and Silver.
Bomboniere:
Each guest was given a goody "showbag" which had our program, bubbles, and a cd of our wedding songs inside. Each placecard in the reception had blue jellybeans tied in organza bags attached to them.
Cake:
3 tier square iced white with diamante trim and decoration. We had white chocolate and jaffa flavours.
Entertainment:
A DJ.
Honeymoon:
We honeymooned for a week in LA and Anaheim (Disneyland) and then relaxed for a week in Maui! It was just what we needed after planning for 2.5 years!
Special Moments:
Seeing my Hubby to be at the alter with tears in his eyes was pretty special as was our first dance which was choreographed by a friend and involved the whole bridal party! It was so much fun!And we managed to pull it off without a hitch! Also when I sang a song I had co written to my new husband! There wasnt a dry eye in the room!
Tips:
Enjoy every moment of it!! The planning, the wedding, the honeymoon! It goes way too fast!! Make sure you take time out during the day to have quiet moments together and dont worry if you dont personally greet each guest just enjoy being surrounded by the people who love you. Also spend some time relaxing with your bridesmaids in the lead up to the big day! We had a girly lunch and a pedicure which was fantastic for destressing!