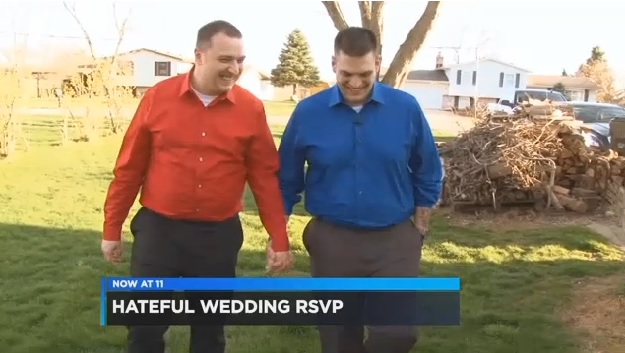 A gay couple who received a truly hateful response to their wedding invitation has received a torrent of support from across the globe.
When Keith Alan and Chad Michael from Canton, Ohio in the United States sent their wedding invitations out to friends and family, they simply expected a 'yes' or a 'no,' but one anonymous recipient replied in a manner so unexpected and offensive, it has gone viral (over 1,800 shares on Facebook.)
The anonymous RSVP threatened the couple and informed them that their invitation had been forwarded to an anti-gay group who were planning on crashing their May wedding.
The letter signed off with 'SEE YOU AT THE ANTI-GAY SHOW!!'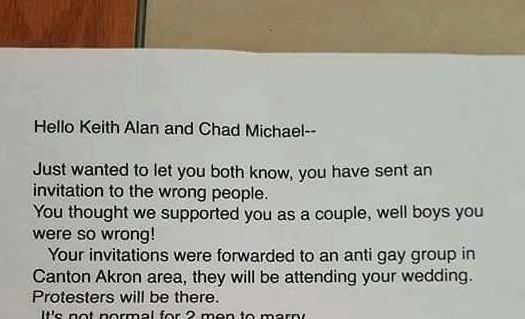 But, though Keith and Chad were shocked by the hateful response – and had no clue of its origin, it only inspired them to keep going with the ceremony that they have been planning meticulously.
"Other than our initial shock of the letter, this made us both want to do it more." Keith told the Fox News Network in America. "Love will win in the end. That's what it comes down to."
The same-sex pair, who met nine years ago, have been planning their big day in great detail.
They even created hand-made bomboniere for guests – and a lovingly hand crafted wooden cake stand.
Thankfully, the couple has received a flood of congratulations and words of encouragement from across the globe in numbers that far outweigh the haters!
Planning your wedding? Browse through thousands of wedding suppliers here.